Gorilla Trekking Permit Rwanda 2023 – All You Need to Know: Rwanda is one of only 3 countries in the whole world where you can see mountain gorillas.
These are the world's largest primates, weighing up to 220 kilograms, and among the most endangered, with an estimated global population of just over 1,000 individuals in 2023.
Mountain gorillas in Rwanda live in Volcanoes National Park, a well-organized safari destination where primate enthusiasts can also hike to the tomb of the legendary American Primatologist, Dian Fossey. Gorilla trekking in Rwanda's Volcanoes National Park is one of the most exciting wildlife experiences in Africa, but before you can do it, you need to buy a gorilla trekking permit.
Here we explain exactly what you need to know about the Rwanda gorilla trekking permit:
1. Why Is a Gorilla Trekking Permit Required?
A mountain gorilla trekking permit is legally required by all people who want to see gorillas, whether they do so in Rwanda's Volcanoes National Park or the neighboring country of Uganda.
You can read about the Uganda gorilla trekking permit.
This permit system allows the national park authorities to regulate exactly how many people visit any given gorilla family on any given day. Also, the associated gorilla permit fee makes a vital financial contribution to the conservation of the highly endangered mountain gorillas and their habitat.
And 10% of the Rwanda gorilla trekking permit prices are fed back into the surrounding communities to develop infrastructure and improve livelihoods. This culture of sustainable tourism is rapidly becoming a proud (and successful) tradition of Rwandan conservation.
2. How Much Does a Rwanda Gorilla Trekking Permit Cost in 2023?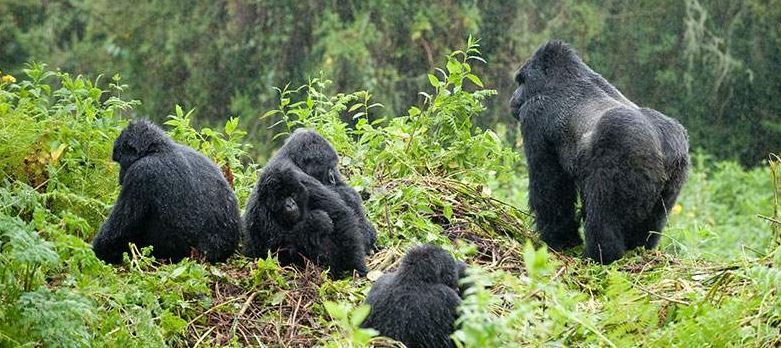 As of 2023, the cost of a single gorilla permit in Rwanda is US$1,500 for visitors from outside Africa.
This price is discounted to US$200 for citizens of Rwanda and other East African countries. The permit cost for foreign residents of Rwanda, as well as for citizens and residents of other African countries, is US$500. For comparison, the cost of a gorilla permit in Uganda's Bwindi Impenetrable National Park or Mgahinga Gorilla National Parks is US$700, while in the Democratic Republic of Congo (DRC) it is US$400.
During the low season months of November to May, a discount of 30 percent is offered on gorilla permits in Rwanda. This reduces the cost for non-African residents to US$1,050.
However, the discount applies only to tourists who pre-book at least 2 nights in either (or one night in each) of Nyungwe Forest National Park and/or Akagera National Park.
3. How Do You Get a Rwandan Gorilla Permit?
Independent travelers who would like to book a mountain gorilla trekking permit directly can do so online through the Rwanda Development Board website.
However, if you are traveling with a tour operator, it is more usual to allow them to make the booking of your Rwanda gorilla permit. Gorilla permits for any given day are often booked solid well in advance, so it's a good idea to book yours before you commit to any other travel dates.
4. How Many Gorilla Permits Are Available in Rwanda?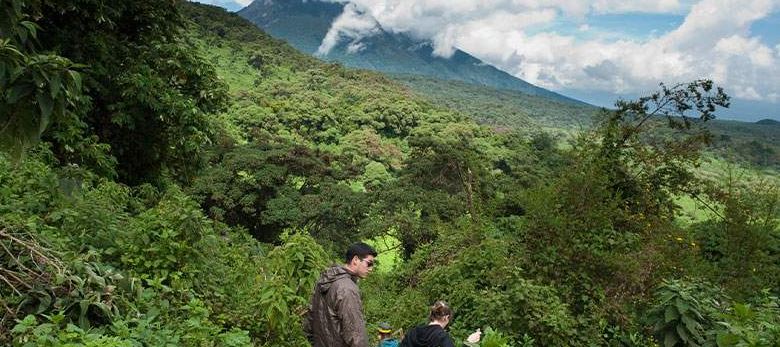 Rwanda offers a total of 96 gorilla permits on any given day. This breaks down into 8 permits daily for each of 12 habituated gorilla families in Volcanoes National Park.
These include the Susa, Igisha, Karisimbi, Sabinyo, Amahoro, Agashya, Kwitonda, Umubano, Hirwa, Bwenge, Ugyenda, and Muhoza families. Another 8 habituated families of gorillas are resident in Volcanoes National Park, but they are more difficult to reach and are mostly visited by researchers.
Should it happen that one of the mountain gorilla families designated for visitors crosses into Uganda or the Democratic Republic of Congo, then one of the families usually visited by researchers will be allocated for a tourist visit in its place.
4. What Does the Gorilla Trekking Permit Rwanda Cover?
Whether you trek for gorillas in Rwanda or elsewhere in Uganda, the gorilla trekking permit only covers the entrance to the relevant national park, the guided trek, and a maximum of one hour with the gorillas.
It excludes porter fees, tips to trackers and guides, or any costs relating to transport, accommodation, meals, or other safari activities.
However, for the true gorilla devotee, it is well worth visiting Kiwita Izina – an annual naming ceremony for baby gorillas modelled off a Rwanda tradition of naming children. Conservation champions are honored with the opportunity to bestow a name upon one of the tiny bundles of primate joy, every one of which is of vital importance to the future survival of the species.
Since 2005, 328 gorillas have been named in this way, and the ceremony includes live music, dancing, and, of course, essential conservation talks. A well-timed visit allows additional opportunities to speak to gorilla conservationists and park staff. The ceremony usually takes place in September to coincide with world gorilla day.
5. Is There an Age Limit for Gorilla Trekking Permits?
By mutual agreement between all three countries where gorilla trekking can be done, a minimum age of 15 years is strictly enforced. No upper age limit is imposed on mountain gorilla trekkers; however, gorilla trekking is quite a physically demanding activity. So, elderly travelers or those with limited mobility must decide for themselves whether they are up to it.
6. Is It Possible to Cancel Your Gorilla Trekking Permit Rwanda?
Should you cancel your safari to Rwanda or fail to turn up on the day, for whatever reason, the cost of your gorilla permit in Rwanda will not be refunded.
It is also not permitted to sell or give a permit to somebody else, as your passport details will be checked against the gorilla permit before you go gorilla trekking. However, if you book your gorilla trekking permit in Rwanda through an operator, then it is usually possible to reschedule to another day with a minimum of 30 days' notice.
An exception to the above is that people who fail to track due to unexpected movement of their allocated gorilla family will be given the choice of trying again the next day or receiving a full refund. If you track all day and fail to find the mountain gorillas, a 75% refund is due.
Please note: If you have a cold, flu, or a contagious infection, please avoid gorilla trekking as the endangered mountain gorillas are susceptible to human infections, particularly respiratory ones.
7. Should I Visit More Than One National Park in Rwanda?
While the top tourist activity in Rwanda is mountain gorilla trekking, there are plenty of other tourist attractions. Nyungwe Forest National Park protects a vast forest where you can track wild chimpanzees and see a wide variety of other forest-specialized birds and primates.
By contrast, Akagera National Park is a more conventional safari destination that supports all the Big Five animals (elephant, lion, leopard, buffalo, and rhino). It is worth combining a visit to one or both of these national parks with mountain gorilla trekking at any time of year.
And if you do so over November to May, assuming you spend at least two nights across the other two national parks, you will be rewarded with a 30% discount on your gorilla trekking permit.