A honeymoon in Zanzibar is one of the most romantic ways to begin your marriage.
What could be better than escaping to this tropical island paradise for a few days of leisure after all the organization and pressures of your wedding?
Zanzibar is endowed with pristine white, powdery beaches for relaxation, year-round tropical temperatures and fantastic snorkelling and diving sites.
It is an ideal destination for a post- safari, lazy-day African beach honeymoon. It is also so much more than just a beach vacation. Zanzibar is a colourful and intricately woven tapestry of architecture, history, myth and magic that cannot be found anywhere else in the world.
And every hotel and resort in Zanzibar offers a wonderful selection of activities. From sunset dhow cruises and swimming with dolphins to cultural visits and spice tours, a honeymoon in Zanzibar will seduce even the most sensible of romantics.
Top 5 reasons for a honeymoon in Zanzibar
Zanzibar really delivers on its reputation, with its untouched sands and understated charm perfect for honeymooners who are looking for luxury and privacy in one place. It really is somewhere you and your loved one can escape to and disconnect from the rest of the world.
2. Snorkelling and Diving
Zanzibar is surrounded by pristine coral reefs hidden beneath the shimmering waves of the Indian Ocean. Put on a snorkel mask or zip up a wetsuit and get exploring these incredible underwater worlds of kaleidoscopic coral, tropical fish and a magical array of marine life, including spotted eagle rays, green turtles, reef sharks and dolphins. Visibility is fantastic throughout the year, so it doesn't matter when your honeymoon is!
Thankfully, the accommodation in Zanzibar matches the archipelago's simple charms. Authentic retreats front footprint-free beaches, rustic wooden hideaways blend in with the spectacular scenery and eco-chic luxury is the mantra of most resorts here.
For a long time, Stone Town was a trading station for spice merchants heading from Africa to Arabia. Its role as a trading checkpoint has meant Stone Town today has become a cultural melting pot.
Here, locals of Arab, Indian, European and African origin have influenced everything from the food to the ancient buildings. It is a truly fascinating place to wander and great day trip for honeymooners who want a break from the beach!
A boat trip of some sort is essential on a honeymoon in Zanzibar, and there are few things more romantic than renting your own dhow for the day. You can visit remote tidal sandbars and snorkel pristine coral bays on your Zanzibar honeymoon. The more upmarket lodges will often have their own dhows for guests to use.
6. Combine It with a Safari
top 9 Zanzibar Honeymoon Resorts
Exclusive, yet unpretentious, Mnemba Island Lodge is located on the northeast coastline of Zanzibar. The lodge offers a romantic getaway for honeymooners. If you want to appreciate a sublime sunset in privacy, fresh sushi and chilled champagne can be delivered to beach loungers, or romantic candlelit meals can be served against the backdrop of waves softly breaking.
Highlights:
Private sunset dinners
Spend time in the Indian Ocean snorkelling and scuba diving
Enjoy whale watching and turtle tracking
Indulge in relaxing spa massage treatments
2. The Residence Zanzibar
Located on the south-west coast of the Spice Island, The Residence Zanzibar is the only member of the Leading Hotels of the World in Tanzania and offers an unparalleled seaside experience. This hotel is perfect for romantics; the private villas are dotted along the mile-long, pristine beachfront and are surrounded by 32 hectares of tropical gardened paradise.
Here, you can spend lazy days beside your private plunge pool or at the large, glass-sided communal pool. You can also spend days on the powdery beach, swimming in the Indian Ocean. You indulge in pampering treatments at the spa, or head out to explore the surrounding area. Activities include:
Kayaking
Snorkelling
Paddle boats
Kite surfing
Deep sea fishing
Traditional Dhow cruises.
Stone Town tour
3. Zuri Zanzibar Hotel & Resort
Zuri Zanzibar is located in Kendwa, a long stretch of soft sand extending down the sunset-facing Zanzibar Island west coast.
This idyllic location enjoys favourable tidal patterns that ensure safe swimming conditions all day long. With a gorgeous cliff backdrop and 300 metres of private beach to enjoy, Zuri Zanzibar offers honeymooners ample space to relax in total privacy.
The tropical beauty of Zanzibar and its warm turquoise waters lie at your feet at this stylish beachfront resort. Zuri is the first hotel in the world to be awarded EarthCheck's highly esteemed Sustainable Design Gold Certification, which facilitates environmentally-, socially-, and economically sustainable design and construction management.
EarthCheck is the world's leading scientific benchmarking, certification and advisory group for travel and tourism. Zuri offers a wide range of activities to enjoy throughout the resort or on the island itself; these include:
Snorkelling
Diving lessons
Beach games like volleyball and pétanque
Sunset dhow (traditional sailboat) cruises
Fishing trips
Diving and snorkelling spots
Cooking class to learn more about authentic Swahili cuisine
Historic Stone Town tours
Spice tours
Yoga and cooking classes in the Spice Garden
Situated on pristine Pemba Island off the Zanzibar south-western coast, Fundu Lagoon is a rustic resort set on a stunning private beach. Accessible only by boat, the island delivers a classic Indian Ocean honeymoon holiday experience and is a perfect post-safari destination.
The area is one of the top 5 diving destinations in the world but because it is located on a remote beach you can escape the holiday crowd. This tropical haven, blending exciting water sports and activities with relaxing spa treatments, offers peace, quiet and outstanding natural beauty.
Highlights
Private beach – accessed only by boat
No crowds and barefoot luxury
Personal service and friendly staff
Warm water, pristine reefs and visibility
Delicious gourmet food and great wines
Sundowners with freshly made sashimi
Perfect escape for special occassions
With a prime position on the southeast coast of Zanzibar, just an hour's drive from the airport and with a minimum guest age of 16, Zawadi is a perfect place for a romantic getaway. The hotel has 12 spacious villas that are designed in an elegant yet laid-back beach style.
Here, you can relax next to the pool while enjoying a chilled drink and watching the dhows with their white sails glide along the horizon or go snorkeling off the shores of the white sandy beach.
Guests can also look forward to sailing, boat trips, diving and kite surfing. If you would like a more cultural experience, you can learn to play bao, a traditional Swahili game, or take part in palm weaving, coconut harvesting or a cooking class with the hotel's chefs.
Highlights
Located on the quieter southeast coast of Zanzibar
Above an unspoiled sandy beach cove, safe for swimming and snorkelling
Learn to scuba dive at the PADI-certified dive centre
Spa offering a range of treatments and an infinity pool
Romantic retreat for couples or honeymooners
Situated on the northern coast of Zanzibar, Kilindi is a creatively-designed boutique hotel with a unique architectural style. Embracing a sense of calm and tranquility it is an ideal place for a honeymoon in Zanzibar. The hotel features white and cream-coloured walls, interesting curves and dome-shaped roofs and offers 15 pavilions surrounded by cascading rain-water pools, tropical gardens, and private places for relaxation.
Any number of Zanzibar activities can be arranged:
Scuba diving
Snorkelling
Spice Tour
Visit historic Stone Town
Dhow cruises
Situated in the heart of the historic Stone Town, Jafferji House is a beautiful boutique hotel. The hotel brilliantly combines modern luxury with the captivating legacy that has moulded Zanzibar's history, recalling the enchantment of travel.
Personal attention to detail is evident throughout the hotel, and it confidently pays homage to the comfort, luxury, and hospitality of the modern world as effortlessly as it embraces the charm of the ancient world.
Highlights:
Elegant design and opulent suites
Attentive and personalized service
Rooftop massages and yoga classes
Dining on the open-air rooftop
Explore on a spice tour in Stone Town
Baraza Resort and Spa is a 5-star all-inclusive resort. It was named one of the world's 60 finest new hotels by the prestigious travel publication, Condé Nast Traveler. The resort captures a fusion of Swahili, Arabic and Indian culture in its design and décor.
Here, you can immerse yourself in the Indian Ocean's crystal-clear waters, taste a freshly cut coconut from resident palm trees, relax with a wellness massage, dive colourful coral reefs, and enjoy welcoming Swahili hospitality. Baraza Resort offers an unforgettable African beach honeymoon experience at one of the most renowned Zanzibar resorts.
Highlights:
Appreciate Zanzibar's cultural diversity with Swahili lessons
Learn palm weaving on the beach
Embrace Swahili cooking classes
Visit Stone Town for cultural and interactive tours
PADI diving certifications at the Rising Sun Dive Center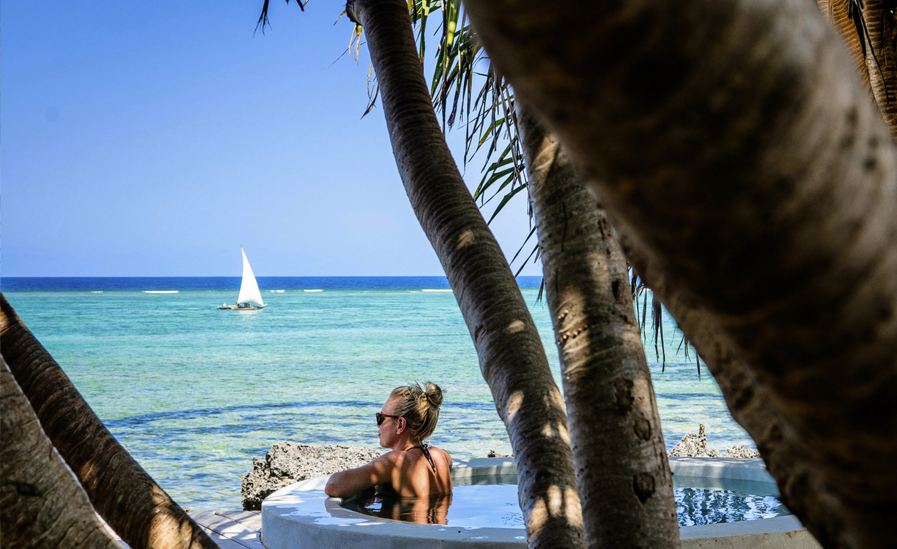 Covered by white shorelines on the warm Indian Ocean coastline, Matemwe Lodge in Zanzibar offers a backdrop for bliss. The lodge is the benchmark for luxurious tropical honeymoon holiday in the protected coral-fringed lagoon that each chalet overlooks.
Here, you can soak up the sunset in a hammock poolside or enjoy water activities and revel in marine wildlife encounters. You can also explore the coral reef and its rock pools, set sail on a traditional dhow, snorkel, or dive the pristine Mnemba Atoll. You can relax at the spa when you are not out enjoying the many historical and recreational seaside activities.
Highlights:
Daily cultural excursions into Stone Town for a spice tour
Snorkel in aquamarine waters of the Mnemba Atoll
Visit Muyuni Beach for picnic lunches
Open-air restaurant dining; sustainably curated gourmet dishes
Swim with wild dolphins and turtles in colourful reefs
Situated in remote Zanzibar, Matemwe Retreat comprises luxurious villas. Soft and easy relaxation is promised in this tranquil space, leading onto private plunge pools that overlook panoramic views of inviting Indian Ocean shores.
Dedicated to luxury and seclusion, Matemwe Retreat is only a 30-minute boat ride from Mnemba Atoll, a great destination for first time divers and marine wildlife enthusiasts with over 400 species of fish to encounter. After a day of activities, you will return to seafood buffets, rooftop bar cocktails or lunch excursions to the local sandbank and Muyuni Beach.
Highlights:
Private roof terrace and plunge pool in villa
Massage and spa treatments
Historic excursions into Stone Town for spice tours
Scuba diving, snorkelling and reef exploration
Sundowner dhow cruises at dusk
Best Zanzibar Honeymoon Packages