The entire site at Lake Victoria Serena Golf Resort & Spa is designed to echo a lavish Roman villa, with pastel buildings and terraced gardens leading down to its boating marina and surrounding golf course. This luxurious/ 5-Star hotel is run by Serena Hotels, a company with an impressive portfolio of deluxe properties across Africa and Asia.
The resort is set on the beautiful shores of Lake Victoria. It is conveniently located just 35-minute drive from Entebbe International Airport – and it is also just 35 minute drive from Kampala, offering the chance for guests to tour Uganda's capital too. Lake Victoria Serena Resort & Spa is also a perfect overnight stop before or after a wildlife safari in Uganda.
Accommodation here suits all types of traveller, and one category has even won Uganda's Leading Hotel Suite for three consecutive years at the World Travel Awards.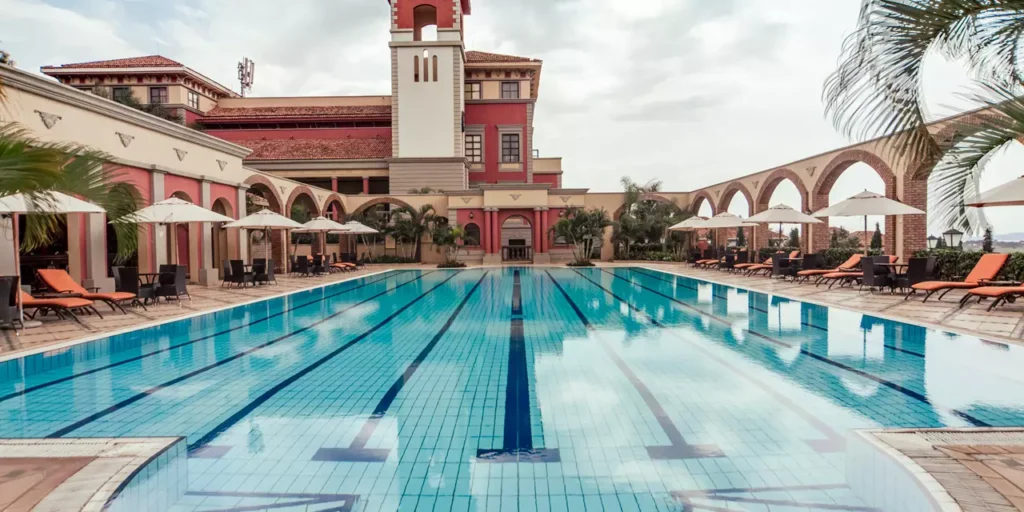 Ultra-luxurious golf resort and spa, 20 minutes' drive from Entebbe
Grand total of 124 sumptuous suites and rooms
Superb views of Lake Victoria over manicured grounds
Relaxing lounges, restaurants, bars, gift shop, gym, fully equipped spa, golf course, marina, conference centre, travel desk
Large swimming pool & child-friendly environment
Plenty of on-site activities, and easy access to Entebbe's main attractions
Extremely convenient location
Wide range of dining options
Facilities at Lake Victoria Serena Golf Resort & Spa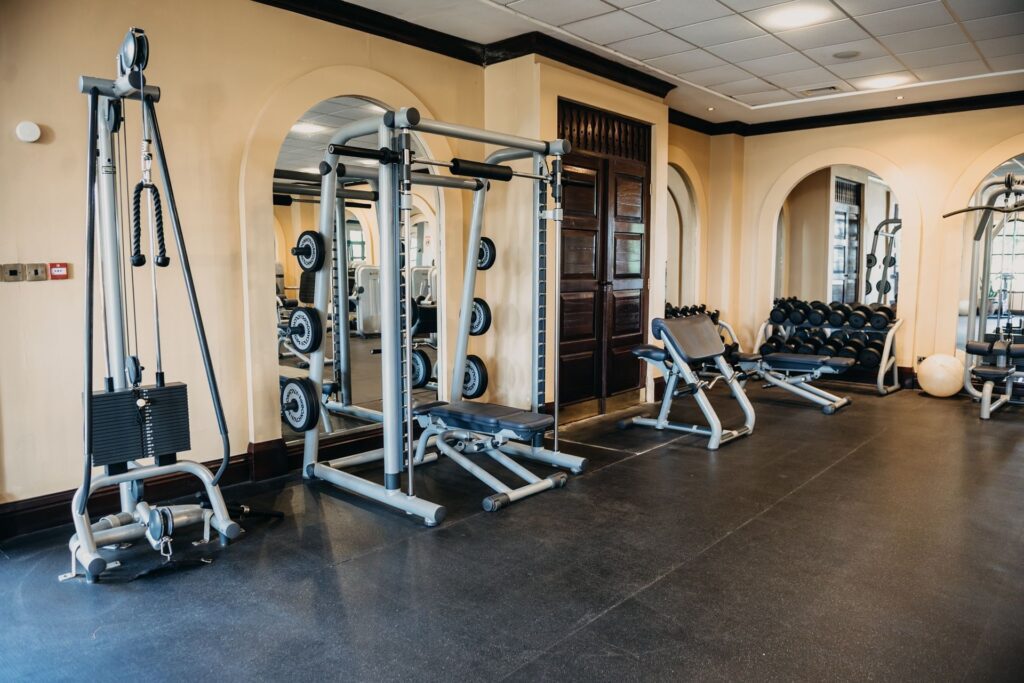 All interiors at Lake Victoria Serena Resort & Spa are absolutely lavish, boasting abundant lounge areas with gorgeous views across Lake Victoria.
When it comes to bars and restaurants, guests are truly spoilt for choice.
The Maisha Mind, Body and Spirit Spa is adjacent to the sunny pool deck and has a state-of-the-art gym and cardio studio. Maisha has a 25 meters / 82ft pool, an aerobic studio to practice yoga, kick boxing, dance and Tai chi, a steam room, a sauna and a plunge pool to cool off in.
The treatments range from facial and body regimes from Elemis, and ayurvedic head massages to reflexology and the Maisha coffee body scrub. Honeymooners will enjoy a combination of massages, wraps and body brushes designed to achieve peak relaxation.
If you want to work up a sweat outside the gym, hit the volleyball or tennis courts or join a fishing excursion on Lake Victoria. Children are catered for with child-friendly menus, a babysitting service, a paddling pool and extensive, secure gardens. They also have access to an age-appropriate library as well as a selection of fun board games.
Other amenities at Lake Victoria Serena resort and spa include a gift shop, a 25-metre swimming pool, the very scenic championship golf course and 40-hectare marina, and a state-of-the-art conference centre with capacity for a maximum of 300 delegates. Please contact us for further information if you are interested in holding a business event here.
Accommodation at Lake Victoria Serena Golf Resort & Spa
Lake Victoria Serena's impressive array of communal areas is matched by the very high quality of its guest accommodation. In total, there are 122 suites and rooms. These come in three categories – Deluxe Rooms (112), Executive Suites (8), and Presidential Suite (2). All rooms are located within villas dotted around the resort's garden grounds. Each room is beautifully furnished using a pleasant palette of cream and terracotta.
Lake Victoria Serena Resort's deluxe rooms feature splendid views of Lake Victoria. Guests staying in these rooms may select either twin beds or a queen-size bed. Other room features include
Bedside tables
A dressing table
A desk and chair
A seating area
Private balcony
A gorgeous marble bathroom
Bathrobe and slippers
Air conditioning
Direct-dial phone with voicemail
Flatscreen satellite television
Complimentary wireless Internet (Wi-Fi)
Tea and coffee-making facilities
Mini-bar
Safe
Hairdryer
A workstation
Flat-screen TV with satellite channels
Air conditioning
A balcony and a lavish marble bathroom with a walk-in shower.
If you opt for an Executive Suites at Lake Victoria Serena Resort, you can enjoy all the amenities of a Standard Room, but with a:
Larger seating area
A larger desk, and
Two balconies
And for a super-sumptuous stay, Lake Victoria Serena Golf Resort & Spa has an award-winning Presidential Suite category. The two suites are found within the main building, at penthouse level.
They have all the features of the Executive Suites, but the bed is king size. There is a lot of extra space in the form of a reception room, a dining room adjoining a private kitchen, a private event or conference room, and accommodation for staff. The Presidential floor also boasts its own private event or conference space.
In-Room Amenities
Private balcony
Complimentary wireless Internet
Room service
Dining room with private kitchen
Kitchenette
Flat-screen TV with satellite channels
Deluxe bath amenities
Furnished terrace and
Access to private event or conference space on Presidential floor
Minibar
Bathrobe and slippers
Coffee/tea making stations
Staff accommodations
Work desk and chair
Microwave
Reception room
Air conditioning
Safe
Master bedroom with King bed
DVD player
Dining at Lake Victoria Serena Golf Resort & Spa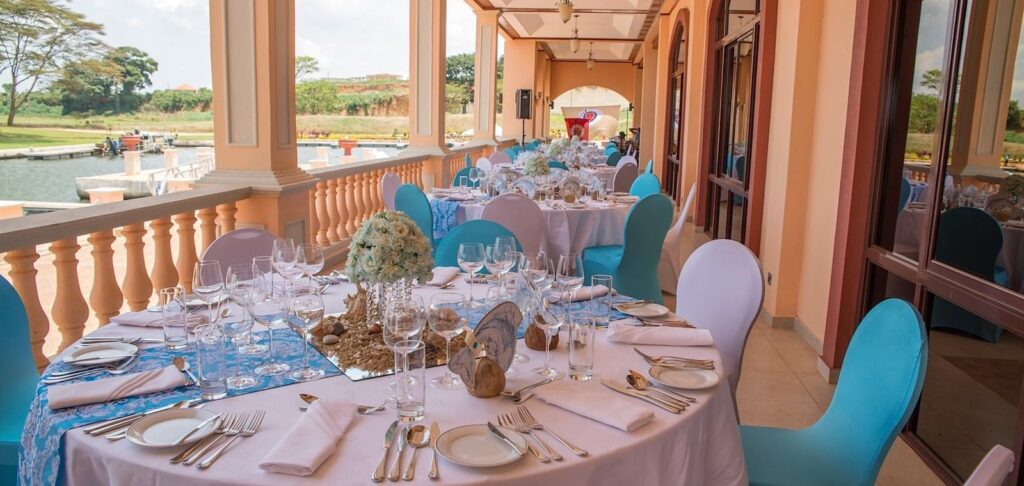 Lake Victoria Serena Golf Resort & Spa has many dining options. And the chefs here take pride in sourcing almost all of their produce from the farming communities near the resort.
The resort's 24-hour Citadel Restaurant offers international brasserie cuisine that includes large breakfast and lunch buffets and an a la carte dinner menu inspired by the Mediterranean and Uganda.
On Saturdays, a plentiful Italian lunch buffet is followed by an evening barbeque at the pool deck. On Sundays, the chefs indulge guests with all all-day American brunch menus. The Citadel looks out over the Ocean-sized Lake Victoria and has rustic touches like low wooden beams and mosaics depicting Tuscany.
Adults will enjoy spending time at the Kigo Bar where the brick archways are a nod to the ancient cellars of a traditional Tuscan vineyard. Here, you will find the very best Ugandan teas, exciting cocktails, wines from across the world, as well as authentic Italian espressos and cappuccinos.
Next to to The Citadel is the Pool Terrace, an al fresco playground that has views of the rose gardens and offers café-style dining, snacks and cocktails.
Take afternoon tea or have a nightcap in the Courtyard Lounge and Piano Terrace, which has views over Lake Victoria and is lit with Roman lanterns in the evenings. As a pianist play the piano, choose from home-baked pastries and cakes, tasty snacks, Italian ices, and a lengthy cocktail menu.
Children can be accommodated with baby-appropriate food, earlier meal times and high chairs.
Lake Victoria Serena Resort & Spa also provides round-the-clock room service. It includes everything from a classic club sandwich or tasty curry to sundowners and canapés on your terrace.
Activities at Lake Victoria Serena Golf Resort & Spa:
If you have time to tour Entebbe Town during your stay here, you need only pop down to Lake Victoria Serena's travel desk for advice and information on all the local attractions in Entebbe.
Among these are Lake Victoria itself, for fishing, boat cruises, and some wildlife watching – the wetlands Mabamba on the lake shore are among the best places to see incredible Shoebill birds.
Close to Lake Victoria Serena are Entebbe botanical gardens – a lakeside paradise of lush vegetation, gnarled trees, birds, and troops of beautiful colobus monkeys. Here you can see the rainforest zone, which was the location used in the filming of the original 1940 Hollywood classic, Tarzan.
The Uganda Wildlife Education Centre (UWEC) is worth a visit too, as are Ngamba Island Chimpanzee Sanctuary. And the centre of Entebbe contains plenty of bars, cafés, and restaurants, offering a thrilling medley of local and international cuisine.