Ssese Islands Kalangala | Lake Victoria Holiday
The Ssese Islands is one of Uganda's hidden treasures, situated in the middle of Lake Victoria – Africa's largest lake. This lush archipelago of 84 islands has been branded as one of the world's best secret islands by Lonely Planet.
It is an ideal destination for peaceful lakeside holidays or short weekend getaways from Kampala. It is perfect place for holiday makers, couples, lovers, and honeymooners.
Here, you'll be blown away by the islands' gorgeous white sand beaches, shimmering waters, warm sunny weather, palm trees, and gentle tropical breezes. Each of the islands hosts a diverse biome that is home to rare wildlife, birds, plants, trees, and monkeys.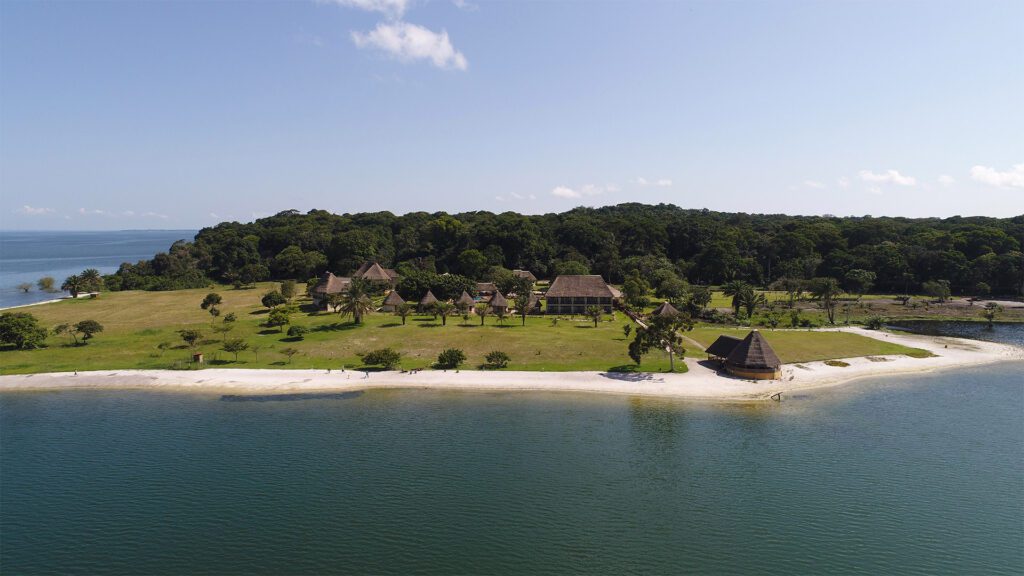 These Islands are also the perfect setting for ending a safari in Uganda with sun, sandy beaches, sun bathing, fishing, swimming, nature walks on private islands, fishing village tours, birding, canoe rides, horseback riding, bike riding, quad biking, boating, jet skiing, windsurfing, zip lining, sunset cruises and night bonfires.
The Ssese islands are located on northwestern corner of Lake Victoria.
The largest island in the archipelago is called Bugala, which accounts for around 50% the archipelago's land area. Its largest town is called Kalangala, which is located about 51 kilometers across water, southwest of Entebbe city on the Ugandan mainland.
Ssese Islands is reached by a 3½ hour ferry cruise from Nakiwogo docking site in Entebbe or a 15 minute ride on a ferry from a harbor close to the town of Masaka.
If you are coming from Uganda gorilla safaris in the west, the best route is to take the ferry at a harbor near Masaka on the way to the islands.
The Bugala Island is the 10th largest lake island in the world.
The island covers an area of approximately 275 square kilometers. It is the most visited of the 84 Ssese islands with its infrastructural developments and high efficiency of receiving visitors.
Bugala Island is surrounded with amazing hills and the variety of tourist activities makes it a suitable Uganda safari holiday destination for visitors.
The island is home to some primates such as Vervet and Colobus Monkeys. It is also home to Bushbucks, hippos, waterbucks, and numerous birds.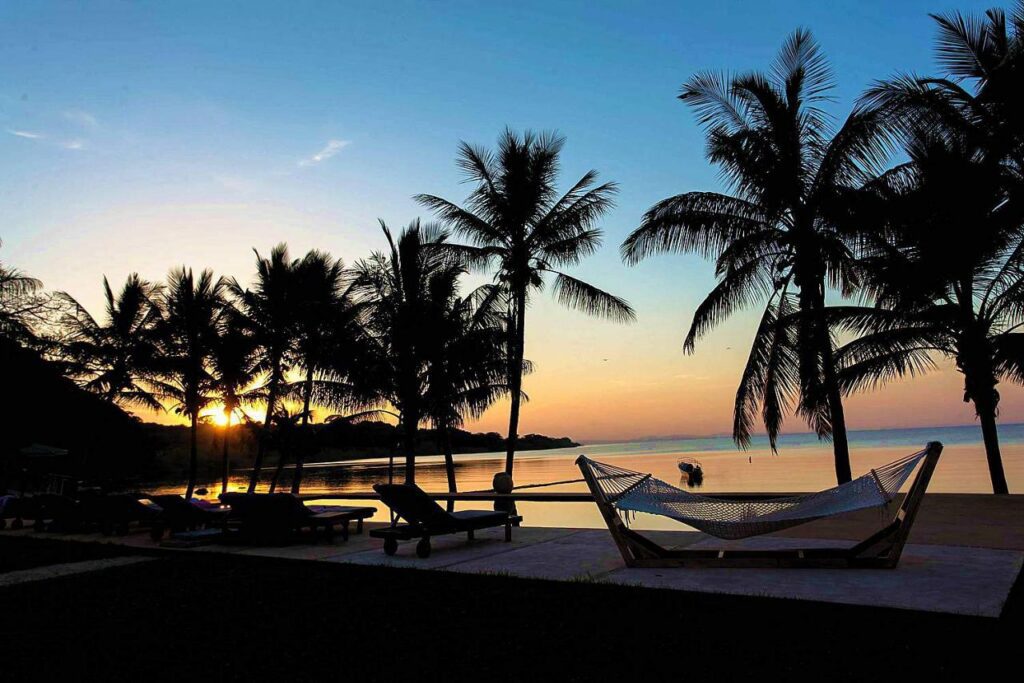 The Ugandan people at Ssese islands are super friendly. The main language spoken in Ssese Islands is Luganda and Lussese. Lussese is a distinct Bantu language but similar to Luganda and Lusoga.
It was the original language of the Islands until residents were forced to flee the Island during the Tsese Fly crisis about 100 years ago.
By the time everyone came back in the 1980's, the original Lussese language had almost become extinct. The Ssese Islands residents live modestly valuing relationships and friendships unlike in the urban cities on the mainland.
Many of the people at the Islands are fishermen while others work in the large Palm oil plantations or rare animals like goats, cattle, and chicken.
Prostitution is ripe here and the HIV prevalence rate is higher in the Ssese Islands than anywhere else on Uganda mainland.
According to legends hundreds of years ago, the Ssese Islands, were inhabited by the Abassese tribe, a race of super humans known not only for their impressive size and strength but their connection to the supernatural world.
The Abassese believed in a spirit called Mbirimu, a shape shifter, who could take the form of human or animal. One day, Mbirimu was lonely, so he took the body of a woman and gave birth to two creatures, a python and a human.
The twin brothers went to live on the island of Bugala, the largest of the Ssese Islands, and the python took the name of Luwala. The human child built a shrine for his python brother, and the Abassese tribe began worshipping and consulting Luwala for advice.
His problem-solving skills were so renowned that people from far away sought his help, and his human brother acted as an intermediary between them and the python, becoming the first in a long line of traditional healers that still exists today.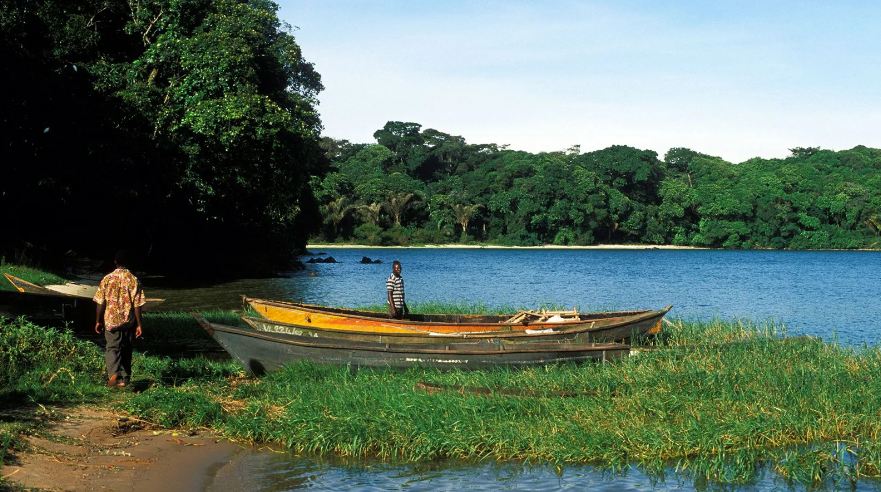 Called emandwa, which means 'the man who has a spirit sit on his head', the traditional healer is the only person who can speak to Luwala, and it is through him that all requests are made.
Only one emandwa can exist at a time, and he must be chosen by both his ancestors and the spirit, devoting the rest of his life to Luwala.
Many stories are told about these healers, whose omnipotence and ability to communicate with Luwala made them important players in Central and East African history. In fact, the Ssese Islands are still one of the country's spiritual centers.
According to legend, one of the largest tribal groups of what is now Uganda, the Buganda, asked an emandwa to assist them in defeating the Banyoro tribe.
The emandwa awarded them a special stick, called the Damula, for victory in battle, made from an enchanted tree on the island. That stick is still handed down between Bugandan kings today.
Ssese Islands Tours & Activities
Chilling on one of the beautiful white-sand beaches.
Ferry cruise on Lake Victoria from Entebbe
Trip to Naziri Falls – Minimum 35pax
Trip to Virgin Island/Sunset cruise to virgin island
Island tour to the solar plant, Bidco, fishing villages, min water fall, pelican beach and to the spiritual caves – 5 hours.
Visit the Palm Oil Plantations
Nature/forest walk to Kalangala forest – 3 hours
Visit the local fishing villages
Local fishing experience, it's from 3: 00pm until the client gets tired.
Guided bird watching tours – over 200 bird species.
Tour Ssese Island Wild Life Centre (Ssese zoo) – the island's best kept secrets.
Boat cruise on Lake Victoria (maximum 10 pax, 30 minutes) for groups.
Canoe ride across Lake Victoria (maximum 10pax) for groups 3 hours.
Boda boda (motorcycle) riding tour. It's a client's choice where he wants to go because it's self-ride.
Bicycle riding tour – own choice of the place for the whole day.
Trip to Banda Island
Zip linning
Quad Biking at Ssese Islands
Jet skiing
Playing beach Volley ball
Playing beach soccer
Swimming in the lake or pool
Sun bathing at the white sand beaches
Evening camp & bon fire at the some hotels.
Enjoy a candle dinner at the shores of Lake Victoria.
Sport Fishing adventures
Playing Golf
Visiting to a local school at Ssese Islands
Tree planting initiative
Camping at Ssese Islands
Bush Breakfast, Lunch/Dinner (weather permitting)
Cultural tours
Ssese Islands For Honeymoon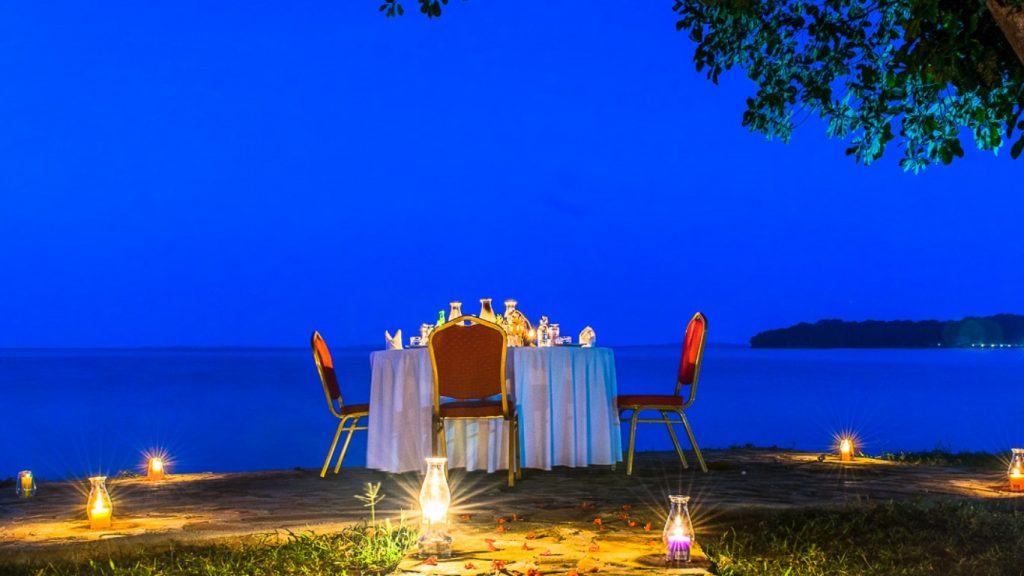 Ssese Islands are also an amazing and affordable honeymoon destination for anyone willing to spend some quality time with their partner. The islands offer amazing sunset and sunrise.
With relaxing hammocks, exhilarating sunset boat cruises, lazy sunbathing, and charming scenery, Ssese Islands offers honeymooners on a Uganda holiday a truly heavenly experience.
Your romantic holiday in Ssese can also involve romantic canoe ride, interacting with nature through guided walks, visiting fishing villages, romantic dining, evening bonfire at the lodge, and swimming among other exciting activities.
Ssese Islands Accommodation
A visitor cannot fail to find where to stay in most of the Ssese islands. There are many accommodation facilities offering budget and mid-range services.
Most are self-contained with bedding, showers, bathrooms, room service, food and beverage. The lodges are surrounded by beautiful scenery, sand beaches, fresh waters, green gardens and palm trees. Here are some of the lodges to consider when visiting the Ssese islands:
Mirembe Resort Beach hotel
Pearl Gardens Beach Resorts
Ssese Habitat Resort
Ssese Island Beach Resort
Brovad sands lodge
Victoria Forest Resort
How To Get To Ssesse Islands – Kalangala
From Entebbe International Airport or Kampala City, you drive to Nakiwogo landing site near Entebbe Town. There you will find the MV Ferry Kalangala that heads to the Ssese Islands.
The ferry leaves at 2.00pm daily from Nakiwogo in Entebbe and arrives in Lutoboka Bay in Ssese Islands, Kalangala Town at 5.30pm.
The MV Kalangala ferry docks at Lutoboka from where you transfer to your resort hotel. On the way back to Entebbe from Kalangala, the ferry leaves at 8 am.
Taking the Ssese Masaka Ferry (MV Pearl and MV Ssese).
The government introduced 2 marine vessel ferries operated by Kalangala Infrastructure Services (KIS) (MV Pearl and MV Ssese) from Bukakata near Masaka to Luku (Bugoma Landing Site).
Getting to Bukakata landing Site, the site is situated two and a half hours from Kampala to Nyendo (Masaka). The easy shortcut can be to branch at Kabale Bugonzi, look out for the signage (Bukakata Road)
40 minutes from Nyendo to Bukakata
30 minutes crossing by ferry from Bukakata to Bugoma (Ssese Islands)
40 minutes from Bugoma Landing Site to Kalangala Town
Best Time To Visit Ssese Islands
The best time to visit Ssese Islands is during the dry season months of June to September and February to December. However, you can visit Ssese Islands at any time of the year.
The tropical climate of Ssese Islands gives a pleasant all year long weather with temperatures ranging from 21 to 28oC during the day and 12 to 18oC at night.
Are You Ready To Start Planning Your Trip To Ssese Islands?
Get in touch with our team of Uganda Safari Experts to help tailor-make a Uganda trip to Ssese that's right for you: