Below you can find best Tanzania beaches you can visit on your holiday.
Most visitors go to Tanzania for prime wildlife game-viewing in game parks like the Serengeti, Tarangire, Lake Manyara, and the Ngorongoro Crater.
But when you have had your classic safari adventure fill, the country's Indian Ocean coastline features idyllic sand beaches for relaxing holiday. Tanzania is blessed with over 1420 km of coastline dusted with some of the best beaches in Africa. This makes it a top choice for those interested in an African safari and beach holiday combo.
You'll be spoilt for choice with a variety of beautiful Tanzania beaches, while another major drawcard of the destination is the many luxurious beach resorts on Tanzania's main tourist island, Zanzibar.
Here's a guide to the best beaches in Tanzania:
1. Zanzibar: The Island of Spice
Zanzibar Island is the jewel in the crown of beautiful Tanzania's coastal treasure chest.
It is most famous for its idyllic setting and boutique beach hotels (not to mention outstanding scuba diving). Zanzibar is a must-visit while on a Tanzania beach holiday.
The historical quarter of the island's capital Zanzibar Town, the Stone Town offers the inquisitive traveller the chance to explore winding alleys, historic building, mosques and markets.
Dotted around Zanzibar are tiny, off-the-beaten-track islands. These offer an incredible location for those seeking a romantic honeymoon or a get-away-from-it-all vacation.
This tropical island is good to visit at most times of the year, thanks to regular sunshine, however the best time to visit Zanzibar would be the dry season months from June to October.
2. Mnemba Island: An Exclusive Escape
When visiting the Tanzania beaches, many come to a pause at Zanzibar and look no further. But, there are an incredible variety of beautiful island destinations that need to be explored.
One such place is Mnemba – a tiny island paradise lying about 2.5 kilometers north-east of Zanzibar Island. Home to the superb Mnemba Island Lodge and pristine beaches, this intimate island is the epitome of exclusivity and privacy off the Tanzania coast.
What's more, its legendary coral reef offers some of the best diving in the Zanzibar Archipelago.
If you are not certified, swimming and snorkeling make wonderful alternatives. You can expect turtles, dolphins and sometimes even whales to swim past at any moment.
Visitors from Matemwe, Muyuni, and other nearby islands visit the waters around Mnemba for diving and snorkeling, but they cannot go onto the island.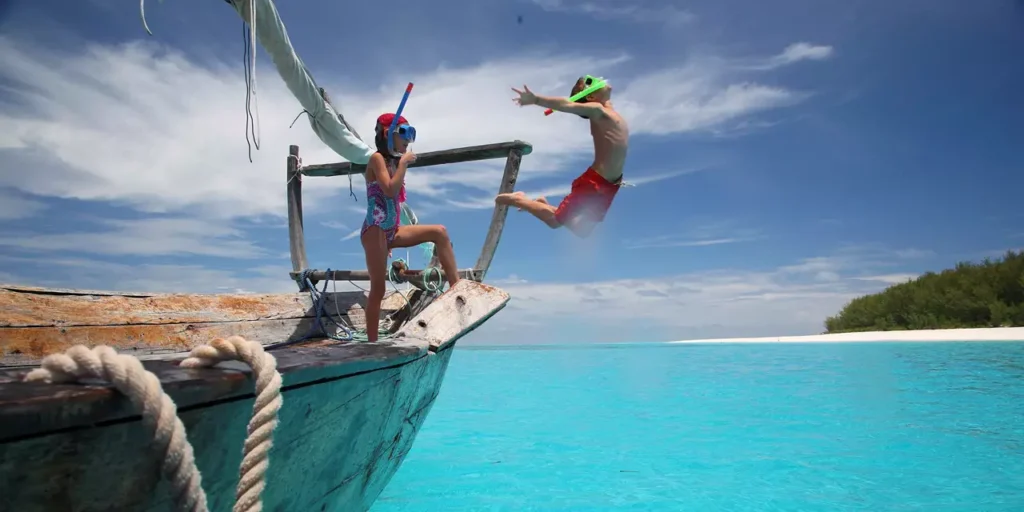 3. Pemba Island: Honeymooners' Paradise
Set 31 miles (50 kilometres) from Zanzibar Island and long in its shadow, those who visit the wonderful island of Pemba are rarely disappointed.
Not many know of the wonderful island off the Tanzania Coast, but it offers a spectacular experience all of its own with a unique topography and the once-in-a-lifetime chance to stay at The Manta Resort – an underwater hotel.
Covered in forest and spice plantations and ringed by great beaches, it is still early days for tourism to Pemba which makes it perfect for people looking for a Tanzania beach holiday without the crowds.
4. Mafia Island: A Hidden Gem
It is difficult to imagine there are beaches in Tanzania that have not yet been occupied by sun-hungry tourists.
But lying a hefty 99 miles (160 kilometres) north of Zanzibar, Mafia Island has managed to remain under the radar for decades, a true hidden gem.
Part of a larger archipelago where a quintessential beach holiday experience awaits, it is home to one of the best dive sites in the whole world.
There are a few accommodations on offer, all of which creates an ideal base from which to relax after a day exploring, and swimming in crystal-clear waters of the Indian Ocean.
5. Chumbe Island: A Protected Coral Reef Sanctuary
If the crowds of Zanzibar Island or Dar es Salaam are not your cup of tea for a beach holiday in Tanzania, then perhaps an uninhabited island 7.5 miles (12 kilometres) south of Zanzibar Town will grab your attention.
Home to an unspoiled coral reef and private marine reserve, Chumbe Island makes an ideal day trip for keen divers and snorkellers looking to escape busy holiday goers.
And, if you are looking to stay a night or two, make sure to visit the eco-friendly Chumbe Island Coral Park. The small, state-of-the-art eco-lodge provides accommodation in unique thatched bungalows right on the beach.
6. Chole Island: A Peaceful Haven
Remote Tanzania beaches are often more sought-after than the busy ones, given they are considered to be some of the best beaches in Africa.
This tiny scrap of land is just one kilometre long. And it is easily accessible via a 15-minute boat ride from Mafia Island. Chole Island is certainly considered to be off-the-beaten-track. The island lies at the heart of the Mafia Island Marine Park, where its shallow-water reefs teem with life and you are assured of a remarkably exclusive experience at the magical Chole Mjini Treehouse Lodge.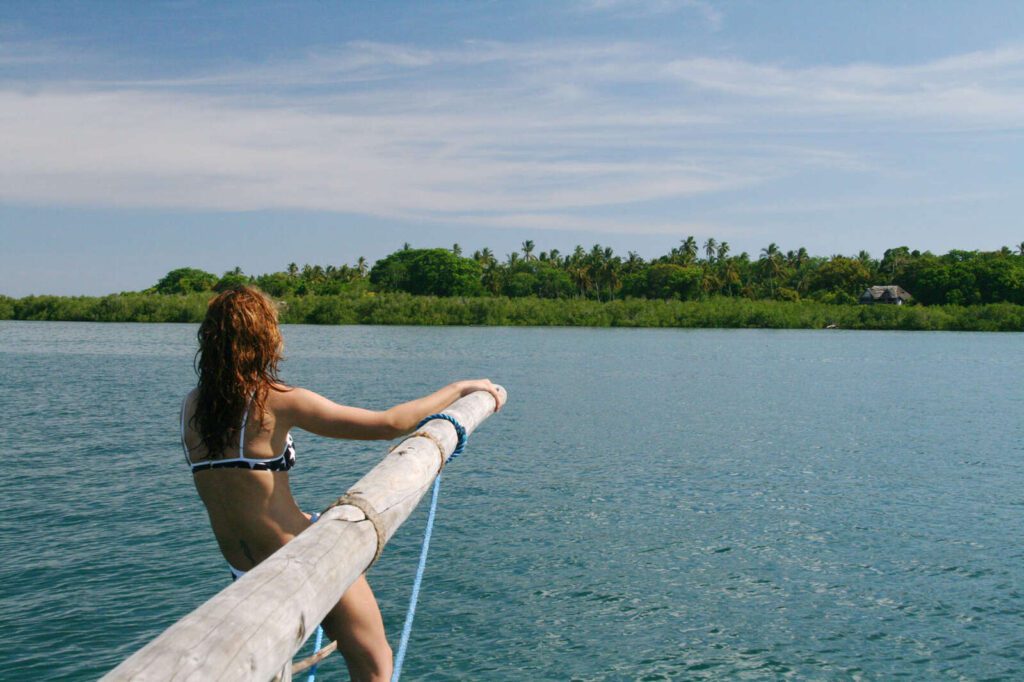 7. Thanda Island: Another Hidden Gem
Just 30 miles (48 kilometers) from Tanzania's mainland sits the exclusive paradise of Thanda Island. "Thanda" is a Zulu word (from the South African tribe), which means 'love'.
It was aptly named so by the island's owners, the Olofsson family. This name captures the Olofsson's admiration for Africa and profound commitment to ocean and marine life.
Thanda Island is so exclusive that it has only a single, private villa on the entire island. There are also 2 fabulous beach 'bandas' for additional accommodations.
But the island only rents on a single-serve basis: once booked, guests are assured to have the entire island to themselves for the duration of their stay. This is a fantastic location for a totally private honeymoon or romantic occasion. The couple is guaranteed a secluded island paradise.
Likewise, the 5-bedroom villa and additional rooms in the bandas offer a super opportunity for families, even extended families, to enjoy an exclusive holiday on a private island in the Indian Ocean.
On Thanda Island, guests will experience the beauty of the Indian Ocean by diving, swimming with whale sharks and exploring coral reefs, all while staying at what has been rated one of the best, most exclusive and environmentally-friendly hotel options in the world.
Forbes has reported on Thanda Island as a top luxury vacation destination several times.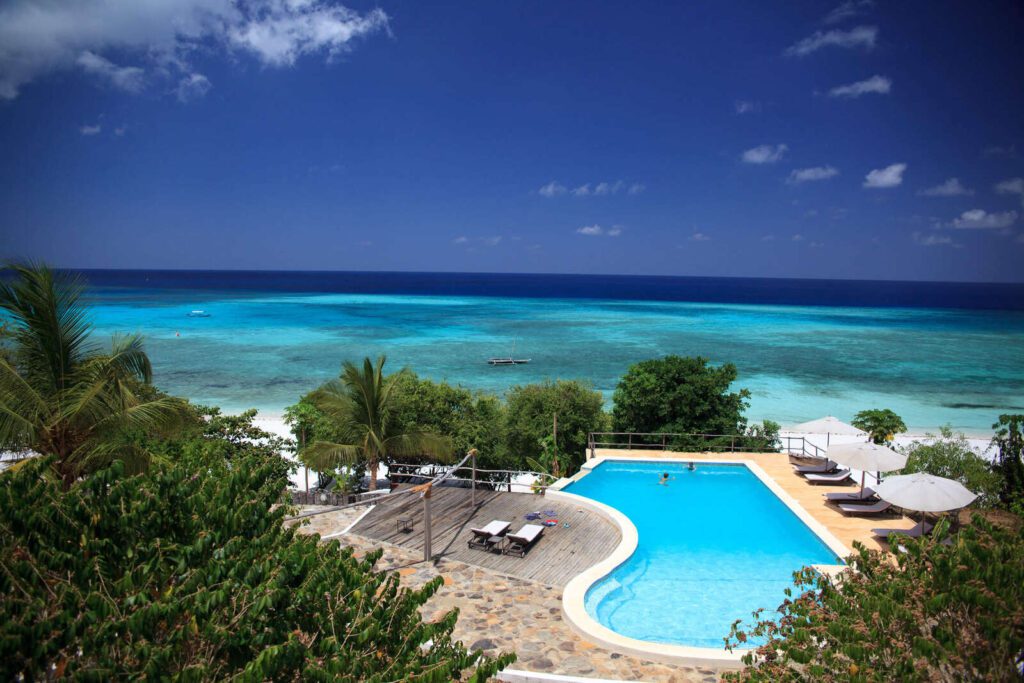 Planning Your Trip to the Best Tanzania Beaches?
Our local experts can plan wonderful trips for you in Tanzania. Simply get in touch when you would like to travel. We will then create a personalized itinerary, which you can amend until you are totally happy with every detail of the booking.
All of our planned itineraries can be tailored to meet your specific needs.