The 23 Best Things To Do In Zanzibar In 2023 For A Tropical Holiday Fun!
From lounging on gorgeous powdery sand beaches, swimming in warm tropical waters, scuba diving and snorkeling in crystal clear waters, relaxing on sunset dhow cruises to fascinating cultural and historical tours, there are so many exciting things to do in Zanzibar on your holiday. And we have come up with a checklist to make sure that you don't miss out on anything in this idyllic island paradise.
What is Zanzibar best known for?
Zanzibar is a long-standing favorite Indian Ocean beach holiday destination for many travelers. It features fabulous stretches of palm fringed whited sand beaches and some of the best diving spots in the world. It is also one of the world's most romantic honeymoon holiday destinations.
Zanzibar has accommodation that ranges from luxury beachfront cottages to exclusive boutique hotels and elegant spa resorts. Parents on the other hand will be delighted by Zanzibar's family-friendly hotels and safe-swimming beaches.
Accessible from Dar es Salaam, the travel hub and combining easily with top Tanzania safari destinations such as the Serengeti National Park and Ngorongoro Crater, Zanzibar can be part of a safari and beach holiday package or as a stand-alone holiday.
Here Is A list of the Best Things To Do In Zanzibar, Tanzania
Explore the Historic Stone Town
Take a Spice Tour
Take a Swahili Cooking Lesson
See the Former Slave Market
Take a Stroll to Freddie Mercury's House
Go Shopping At the Darajani Market
Eat a Zanzibar Pizza at Forodhani Gardens
Swimming in Indian Ocean
Relax on Zanzibar Beaches
Enjoy Lunch at Rock Restaurant
Stay On Mnemba Island for Lavish Privacy
Stay At Pemba Island
Take A Boat Ride To Prison Island & See the Giant Sea Turtles
Swim With Dolphins
Spot Wildlife in Jozani Forest
Snorkel and dive the coral reefs
Go Scuba Diving
Relax On a Sunset Dhow Cruise
Cycle the Island
Go Deep Sea Fishing
Horse riding
Visit the Butterflies Centre Zanzibar
Zanzibar Safari Blue Trip
Zanzibar is an insular semi-autonomous province which united with Tanganyika in 1964 to form the United Republic of Tanzania. It sits in the Indian Ocean, off the coast of Tanzania.
Zanzibar is actually an archipelago which is made up of 3 main islands (Unguja, Pemba and Mafia) and a number of smaller islands. Unguja, the largest island, is the place most people are referring to when they talk about Zanzibar Island, and that is what we are covering in this article.
Things to do in Zanzibar Stone Town
A historical centre of Zanzibar city, the Stone Town was declared a World Heritage Site by UNESCO in 2000. The town is one of the most interesting places to visit in Zanzibar.
It is an ancient culture-rich melting pot, where Persian, Arabic, Indian, and European cultures have merged over centuries offering a unique and fascinating destination.
This warren of alleyways, shops, bazaars, and mosques is home to some of Zanzibar's oldest and most historic buildings. There's so much to do and see in this captivating town, but here are some of the key things you won't want to miss in Stone Town…
1. historic Walking Tour Of Stone Town
One of the best things to do in Zanzibar, in order to get a true understanding of the island, is to take a walking tour of the fabled stone town where history appears to stand still.
You stroll through the alluring alleyways of the town and marvel at a mixture of Arabic, African, Persian, and European influenced architecture.
Along the way, you will encounter an array of abodes adorned with intricately carved doorways, complete with fancy metal studs, picturesque overhanging balconies, and windows laced with intricate patterns.
The walk itself is amazing when you let the streets carry you forward, turning off at intersections in any direction. In fact, there are two ways to walk around Zanzibar's Stone Town: by roaming in circles without purpose and just enjoying the special atmosphere of the old town or by following a pre-constructed route.
The second method is unlikely to be put into practice without a guide. To enjoy the first method, you need patience and time if you want to find all the most interesting houses and places that we have listed below.
The oldest building in Stone Town, the Old Fort is located on the seafront. The fort was built by Omani Arabs when they seized the island from the Portuguese in 1698. Over the centuries the fort had various uses, from prison to tennis club. Today the scale of the fortifications is still impressive.
It features an open amphitheater and Cultural Arts Gallery, where you can view local art. Also here is the imposing House of Wonders, which boasts what are said to be the largest carved doors in East Africa.
Zanzibar is called 'The Spice Island' due to the spices grown on the island. Spice plantations established during Arab rule brought great wealth to Zanzibar.
The archipelago even became the world's number one exporter of cloves. Zanzibar is today still farm cloves, as well as cardamom, turmeric, cinnamon, chilli, and black pepper.
So a spice tour is an important part of any Zanzibar holiday! You will see, touch, smell and taste the fragrant spices that are synonymous with the islands. You will also learn about the growing, harvesting and preparing of spices, as well as how they're used in traditional cuisine.

4. Take a Swahili Cooking Lesson
For those who really love their food, you can take things one step further and combine a spice tour with a cooking class. If you want to hit two birds with one stone, I recommend doing a spice tour with a Darajani market trip and a cooking lesson from Tangawezi Bistro in Stone Town.
There is a lot more fun here and great to see the spices through their full journey. That way, you go home knowing how to replicate the delicious flavors that stole your heart!
Just a note to check which spices and seeds you're allowed to bring back to your country before loading up your suitcases to the brim with them!

5. See the Former Slave Market
Another thing traded on Zanzibar Island for many years was slaves, marking a much darker side to this island's history. Stone Town was host to one of the world's largest slave markets until it was shut down by the British in 1873.
There is an Anglican church which now stands on the site of the former market, with a memorial statue. This building houses many tributes to the city's tragic past. Outside the cathedral, there is an exhibition center that documents the history of slavery in Zanzibar, Tanzania.
One of the altars inside the building was built over the spot where the whipping post stood. All newly captured Africans were tied to the tree here and whipped with a stinging branch to test their mettle. Those who did not cry or faint fetched a higher price at market.

6. Visit Princess Salme Museum
A little jewel box of a museum it is dedicated to the story of Princess Salme. Growing up in Zanzibar, as one of the sultan's 36 children, Sayyida Salme had everything except her freedom.
But at the age of 22, the princess fell pregnant by a German merchant out of wedlock, converted to Christianity and changed her name to Emily Ruete. It caused a scandal and – fearing for her life – she fled Zanzibar for a foreign land. Her tragic, colourful, story inspired her to write a book.
Her book, Memoirs of an Arabian Princess from Zanzibar, is the first known autobiography by an Arab woman. It provides a glimpse of a lost world.

7. Take a Stroll to Freddie Mercury's house
Yes, Queen's famous frontman was born in Stone Town in 1946! Freddie Mercury was a British singer and songwriter. He is regarded as one of the greatest singers in the history of rock music. The family's former home is now a small museum paying homage to Zanzibar Island's most famous inhabitant.

8. Go Shopping at the Darajani Market
For a truly awesome, immersive, and sensorial shopping experience, head down to Darajani Market, the heartbeat of Stone Town. It's a great, local experience as well as one of the free things to do in Zanzibar Stone Town (well, that is if you don't buy anything).
Here you'll find vendors selling all kinds of useful stuff – spices, clothing, mobile phones, oil, plastic goods, cooking utensils, fabric, fresh bread, fruit and veg, meat and if you go early in the day, you may catch the big fish auction.
You can grab a samosa or chapati from a street food stall to keep your strength up as you wander around. Also don't be afraid to have chat and enjoy the bartering process – Zanzibari people are very friendly!

9. Eat a Zanzibar Pizza at Forodhani Gardens
Situated opposite the Old Fort, the Forodhani Gardens is a glorious seafront evening market, bustling with tourists and locals alike.
Here, chefs in white jackets and top hats set up stalls to create a medley of Tanzania's finest street food. The tables are laden with falafel, cutlets of tandoori chicken, nyama choma (roasted meat), sizzling skewers of octopus, fish and other seafood, spicy samosas and coconut bread.
But be sure to try the Zanzibar Pizza whose origins trace back to Oman of which the island was a colony. It is really an omelet of fried eggs, dough and diced veggies. You can wash it down with cool sugarcane juice.

10. Enjoy Sunset Drinks or Dinner at a Rooftop Restaurant
Eating at a rooftop restaurant is one of the most romantic things to do in Zanzibar Stone Town. These famous restaurants are also the best spot to enjoy golden hour over Zanzibar Island. Watch the beautiful sunset with panoramic views and listen to the evening call to prayer for an exotic-feeling evening.
Best Things to Do in Zanzibar - Beyond Stone Town

1. Relax on Zanzibar Beaches
Whether as post-safari relaxation or as a stand-alone destination, the beaches of Zanzibar offer an archetypal tropical island paradise.
Here, fine white sands edge clear turquoise blue waters, traditional Arabic dhows sail into the dawn, silhouetted against pastel-tinted skies. And coconut palms wave gently in the breeze. Each beach has its own character. Some of the best beaches on Unguja Island for swimming, strolling, wading and lazing are:
Paje beach is located on the southeast coast of Zanzibar. The beach is perfect place for those interested in fishing and local life. Also here, long walks are almost mandatory. The shoreline is dotted with beautiful palm trees, whose fronds provide some welcome shade from the intense sun.
Out at ocean, the water is virgin blue, flawless to the horizon, where it seems to melt into the sky. Paje beach has a local feel. Zanzibari women in colorful headscarves walk this beach every day en route to local seaweed farms that harvest therapeutic seaweeds for export to Asia.
Other local people herd their cattle inshore from the sand – the mood is active, but relaxed. The Kiswahili word jambo – used as an informal "hello" – is a popular greeting when meeting local people. You can also use the phrase As-Salamu Alaykum (the Arabic phrase for "peace be with you").
The famous Nungwi Beach is located about an hour's drive north from Zanzibar town. It is a place to come for white sand, blue water and well-developed tourist infrastructure.
It is the kind of beach that will appeal to all kinds of travelers. Beach traders set up at dawn to sell their wares on the sand, as the sun sends its pink and purple rays over the sparkling Indian Ocean waters.
You can spend your day swimming, snorkeling, diving, jet-skiing or parasailing, or simply relax all day on the sand, saving the activity till sunset with a cruise on a hand-carved wooden traditional sailboat (dhow).
If you get tired of beach days, you can hire a local guide to take you on a spice tour. Look for a trip that includes a cooking lesson. If you would rather let someone else do the cooking for you, there is a variety of restaurants on this stretch of coastline, beckoning to hungry travelers with arrays of freshly-caught seafood. They also serve up delicious cocktails that capture the tropical mood of the island.
Found on the coast of Zanzibar, Kiwengwa Beach is perfect place for families on holidays. Its low tide and shallow water are perfect for safe swimming and kids can seek starfish and sea urchins in the exposed pools. In between sessions of taking it easy on the white sand under pastel-colored umbrellas, you can dig in the sand, play beach volleyball or walk out to the sandbar to view the exposed top of the reef.
Kiwengwa Beach is also a great base for exploring the rest of Zanzibar. You can tour the historic Stone Town or go quad biking along dirt roads through the island's forested interior.
Ushongo beach is located on the northeast cost of Zanzibar, fronting a traditional fishing village. Here, you can enjoy warm days in the shadow of palm trees, while walking along pristine, empty stretches of pale sand. With few people, and no 'beach boys', you'll be free to reflect quietly.
It's paradise, but if the quiet days start to feel a little too quiet, you plan an excursion to nearby Maziwe Island. This protected marine reserve is perfect for snorkeling and scuba diving on healthy coral reefs and boat tours can be arranged with dive operators at Ushongo.
Kendwa Beach is sometimes referred to as the "little sister" of Nungwi. It located a 10-minute drive from Nungwi and is much quieter than its sibling.
There is some nightlife to be found here though. After the sun sets, this small coastal spot comes alive with relaxed beach parties. This is one of the few beaches on Zanzibar Island where the tide doesn't really change, which means it's perfect for swimming, snorkeling, and diving.
And the sunsets at Kendwa Beach are spectacular. So sit back and enjoy it when the sun starts to go down over another day in this tropical paradise!

2. Enjoy Lunch at Rock Restaurant
As its name suggest, Rock Restaurant is perched on a rock just offshore, about 20 minutes from Paje. This tiny restaurant has become world-famous thanks to its iconic location!
To reach it when the tide is in, take a small boat, while at low tide, you can simply walk to it. Lunch is definitely the best time to go, as by dinner time it is usually too dark to properly appreciate this unique setting.
The Rock Restaurant experience more than satisfies your physical appetite, it elevates it. While European-inspired, everything on the menu is a fusion of local ingredients (seafood, fruit and vegetables) and sultry spices – the perfect mixture of Asian and African influences.
The grilled lobster served with scarab potatoes and salad is heaven's gift to mere mortals. Please note that the food here is more expensive than in most places on the island, but it's an unforgettable experience so certainly makes for one of the best things to do in Zanzibar.

3. Stay on Mnemba Island for lavish privacy
Mnemba is a tiny island about a kilometre or half a mile north-east from Zanzibar Island.
This luxurious island is blissful beach sanctuary for those who can afford the high accommodation costs. Rates of US dollars 1320 per person per night give you exclusive access to this private island and its lush soft sand beach shadowed by casuarina trees.
Only 24 guests are permitted to stay on the island at any one time, with accommodation in gorgeous bandas, each with a personal butler. The surrounding coral reefs are a treat for enthusiastic divers. If you're not certified, swimming and snorkeling make wonderful alternatives. You can expect turtles, dolphins and sometimes even whales to swim past at any moment.
Lying 50km north-east of Zanzibar, Pemba is the second-largest island in the Zanzibar archipelago, edging north towards Kenya. It is regarded as the most beautiful of all the islands in this archipelago.
This jewel was dubbed El Huthera or "The Green" by early Omani sailors. And as soon as you arrive from the mainland you'll see why. The Ngezi Forest explodes from the island's fertile soil, home to monkeys, bushbabies, Pemba fruit bats, a plethora of bird species and untold kinds of flora, as well as butterflies and a fresh-water lake.
Edging the forest are neatly-cropped farms that raise beans, cassava, banana and mango, and the air blows a gentle breeze on which you can smell a hint of cloves and cardamom. This wildly rich ecosystem hosts 42 types of coral and more than 300 species of fish, while the island's fringing, snow-white beaches a visited by a rare subspecies of vervet monkeys and serve as a nesting site for green and hawksbill sea turtles.
And as if that's not enough, bottlenose and spinner dolphins also love to play in these waters. Snorkeling and diving day trips to Misali Island are easy to arrange at resorts and hotels in Pemba.

5. Take a boat ride to Prison Island
Another of the best things to do in Zanzibar is taking a 30-minute boat ride from Zanzibar town to Prison Island, also known as Changuu Island. This island was never actually used as a prison, even though a prison building was constructed on it in the late 1800s. It is today a popular relaxation spot for Zanzibar locals and tourists, who come to swim, snorkel and sunbathe.
There's a resort on the island, complete with a swimming pool, sun loungers, and a restaurant, so it has everything you need for a day trip.
But what also makes this island special is that it is now a sanctuary for Aldabra giant tortoises – one of the largest tortoises in the world, and thought to be one of the longest-lived creatures in the world. It's estimated that the oldest tortoise on Changuu is 196 years old – now that's a Zanzibar attraction!
Did you know that a group of tortoises is called a creep? It makes sense given their super-slow pace!
If you love animals, then swimming with dolphins is a must during your holiday in Zanzibar! To swim with the dolphins, drive or take a boat trip to a small fishing village on the southern coast of Unguja Island, called Kizimkazi. Here you can join a boat trip where you will be taken out to meet and swim with the dolphins. The trip usually lasts two to three hours.
Please note that the phrase 'swimming with dolphins' does not mean you should try to get too close to these wild sea creatures, nor try to touch them. Always listen to your guide, stay close to the boat, and do not make sudden movements or loud sounds.

7. Spot wildlife in Jozani Forest
Jozani Forest is the largest area of indigenous forest on Zanzibar. The forest provides a glimpse of the vegetation that once covered much of the island. It is famous for its Zanzibar red colobus monkeys, an endangered species primate found only here.
Jozani forest is also home to other species of monkeys, as well as bushbabies, duikers and over 40 bird species. The forest can easily be visited as a day trip from Zanzibar Town or as a stop en route from town to the beaches. You can allow a couple of hours to walk the forest trail and enjoy the nature

8. Diving and snorkelling
Zanzibar is Africa's paradise, with warm sky-blue waters gently lapping shores of fine white sand that stretch for miles – the stuff dreams are made of.
But wait until you explore what lies beneath. Schools of colorful fish, frolicking bottlenose and spinner dolphins and majestic whale sharks deftly wander in and around the captivating, kaleidoscopic coral reef.
The waters around Mnemba Island and Kizimkazi Beach are the best places on the archipelago for aquatic adventures, although any of the numerous beaches offer wonderful opportunities.
A great way activity to do Zanzibar is to take a two- to three-hour dhow cruise from Nungwi. The word 'dhow' commonly refers to any traditional seafaring vessel used off the coast of East Africa. Often comprising of dugout canoe-type boats made by hollowing out the trunk of a large tree (the mango tree is favoured today) and attaching a sail, these traditional watercraft line Zanzibar's horizon.
If timed properly, your cruise should end just after sunset so that you can enjoy the spectacle from the dhow. The village of Nungwi on the northern tip of Unguja Island is the traditional centre of dhow building in Zanzibar, and you can still find craftsmen at work on the beach making these picturesque vessels.
When it comes to choosing a dhow cruise, note that you can opt for a private ride or join a group one. Drinks are usually included in the price.
How cool would it be to cycle the circumference of the island? Bike Zanzibar, is your one-stop shop for cycling activities in Zanzibar. These guys offer day tours, cycling holidays (including women-only trips), bike rental and tailor-made trips.
Tip: They also offer a spice tour by bike, which takes you to see the red colobus monkeys in Jozani Forest too. So if you are short on time (or just want to be really efficient) this could be a great combo!
Zanzibar is a mecca for deep-sea fishermen! With its position, far out in the Indian Ocean, the Zanzibar Archipelago attracts all kinds of weird, wonderful and big game fish, like barracuda, wahoo, kingfish, yellowfin tuna, sailfish, and marlin (blue, black and striped) to name but a few (all seasonal). You can spend a day on a boat, bobbing around in the middle of the ocean, and trying to reel in some fish.
12. Horse Riding Zanzibar
Another of the fascinating things to do in Zanzibar is Horse riding. There a variety of unique ride types to suit your interests. These include morning beach rides, evening beach rides which include the sunset, swimming with horses in the ocean and riding in the local villages.
There best places for horse riding include Kama beach, Seacliff Resort and Nungwi beach. In case you will want to leave your Hotel early before sunset time, then you can combine two activities, swimming with the Sea turtles and then Horse riding or Spice farms tour then finalizing with Horse riding activity.
13. Visit the Butterflies Centre Zanzibar
Go visit and witness free-flying butterflies in the tropical gardens of Zanzibar Butterfly Centre, one of the largest and most popular butterfly farms in Zanzibar islands, the centre has many exotic butterfly species you can take photos with.
If you are a butterfly lover or you travel with family, this place is very worth visiting. You will be able to explore the life cycle stages of some of the butterflies, starting with their curious cocoons in the Farm. This centre is located near Jozani Forest. For the best experience of your day, it is ideal to combine this tour with the Jozani Forest.
14. Zanzibar Safari Blue Trip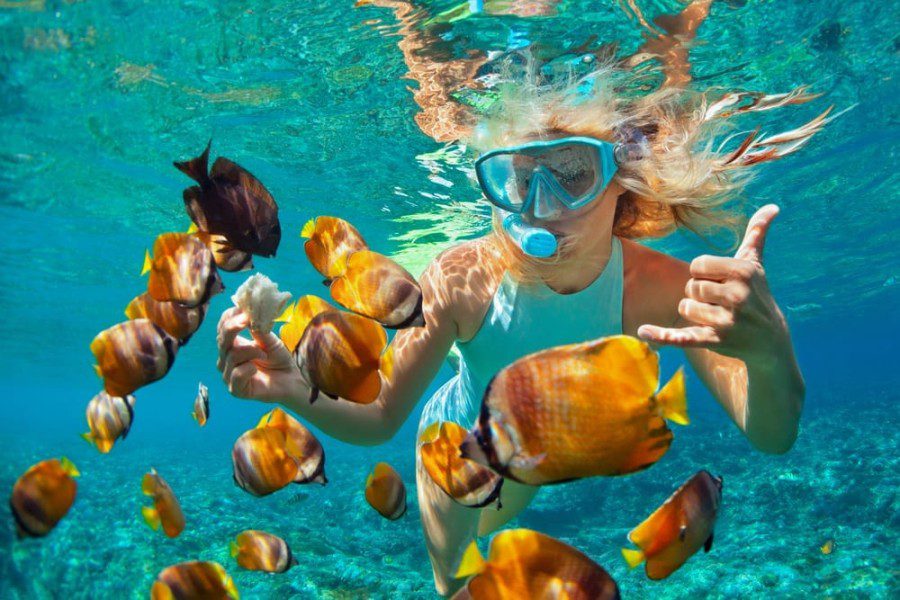 Safari blue is one among the most enjoyable things to do in Zanzibar on your vacation. It is called Blue Safari because of the ocean blueness that you feel during the tour.
It is totally a full day adventure that takes in Menai bay conservation area, west south coast of Unguja Zanzibar. This is the largest marine conserved area with 470km2, encompassing extensive coral reefs, colorful tropical fish, a lot of sea creatures, and mangrove forests.
Main activities in the tour includes exploring the naturally occurring sandbanks, snorkeling and swimming in the crystal clear waters, visiting Kwale island with its natural green lagoon and Climbing the old Baobab tree for spectacular view of the Island.
During the tour, you also enjoy the fresh seafood barbeque; Octopus, Lobsters, squids, Calamaris, Fishes. Exotic fresh fruit tasting like Banana, Watermelon, Pineapple, Mangoes.
A Zanzibar Island Holiday Awaits!
In our opinion, spending some time in Zanzibar is one of the best things to do after climbing Mount Kilimanjaro. We do offer Kilimanjaro climbs and Tanzania safaris, where we take you to world-class reserves like Ngorongoro Crater and Serengeti National Park to the see the Big Five and the Great Migration! Many people heading to Tanzania like to do a Kilimanjaro climb and then reward themselves afterwards with a safari and a visit to Zanzibar. These three destinations together make for the perfect East African getaway in our opinion!