Where to Stay in Kampala Uganda: 12 Best Hotels
Looking for where to stay in Kampala city? Well, as Uganda's capital, Kampala offers a variety of accommodation choices. Accommodation in Kampala ranges from luxury city hotels to relaxed suburban resorts and guest houses – enough to suit all tastes, budgets and trip types. Whether you are looking for a place to stay before or after your Uganda gorilla safari adventure, or if you want to enjoy Kampala's many attractions, our selection of Kampala hotels is sure to inspire you and will make planning your Uganda safari tour so much simpler. Here are our recommended places to stay/hotels in Kampala:
1. Latitude 0° Hotel in Makindye (Luxury)
Latitude 0° hotel is situated in a peaceful suburb of Kampala called Makindye. The hotel is located about a 45 minute drive from Entebbe International Airport.
It is the latest addition to the impressive portfolio of Latitude Hotel brand, joining the collection that already includes hotels in Lusaka and Lilongwe.
Latitude 0° Hotel offers high-quality accommodation in Kampala which is booked on a B&B basis. It's an excellent option for stopovers in Kampala city, as well as longer stays.
Guest accommodation comprises 47 exquisitely furnished rooms. Solo travellers or couples here on a stopover can stay in the entry-level rooms. These rooms have everything you need including comfortable bed/s, bedside stands and lighting, a writing desk and chair, a wardrobe and other storage units, and well-appointed en-suite facilities.
There are also spacious suites with two bedrooms, making it perfect for family use. All options provide spectacular views, either over Lake Victoria or over the busy Kampala city.
Highlights
A chic hotel in a peaceful suburb of Kampala
Total of 47 guest rooms, all with lake or city views
Stylish lounge, restaurant, bar, spa, conference facilities, fitness centre with swimming pool
First-rate option for safari stopovers as well as longer stays
2. Lake Victoria Serena Resort & Spa (Luxury)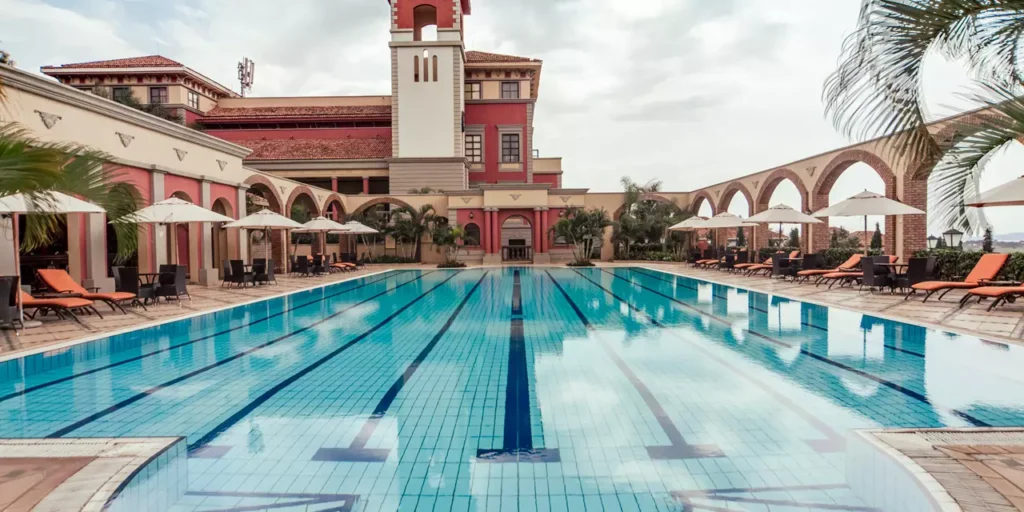 Lake Victoria Serena Resort & Spa is situated on the beautiful shores of Africa's largest lake, Lake Victoria. The resort is convenient for the international airport, located just 35 minutes from Entebbe.
And it is also only a 35-minute drive from Kampala, offering the opportunity for guests to explore Uganda's capital city too. Lake Victoria Serena is run by Serena Hotels, a company with an impressive portfolio of deluxe properties across Asia and Africa.
Accommodation here suits all types of traveler. And one category has even won the Leading Hotel Suite in Uganda for three consecutive years at the World Travel Awards.
Designed to echo a lavish Roman villa, the Serena also offers several restaurants and bars, sporting facilities that include tennis and volleyball courts, blissful sunset cruises, and babysitting services. There is also a fully equipped spa that boasts a sauna, cardio studio, yoga, Tai chi and a range of holistic treatments.
In keeping with the Italianate theme, rooms are done in shades of terracotta and have all the amenities you would expect from a modern hotel, including 24-hour room service, Wi-Fi and satellite television.
Highlights
Ultra-luxurious golf resort and spa, 35 minutes' drive from Kampala
Grand total of 124 sumptuous suites and rooms
Relaxing lounges, restaurants, bars, gift shop, gym, spa, swimming pool, golf course, marina, conference centre, travel desk
Plenty of on-site activities, and easy access to Kampala and Entebbe's main attractions
Superb views of Lake Victoria over manicured grounds
Extremely convenient location
Wide range of dining options
3. Cassia Lodge Buziga (Midrange)
Cassia Lodge is located on Buziga Hill, one of the highest hills of Kampala close to Lake Victoria. The hotel is situated about 4 km from Ggaba Beach and 10 km from Kabaka's Palace.
The environment here is cool, with panoramic views of Lake Victoria and the city. It has 20 safari-style rooms decorated and equipped with a fridge, telephone, Wi-Fi, satellite TV and balcony with spectacular views of Lake Victoria. Cassia Lodge has a swimming pool for guests interested in a good swim.
It's a perfect place to relax after a day's Kampala City Tour. Cool down in the outdoor pool or keep in touch with complimentary Wi-Fi. Each room at Cassia Lodge is air-conditioned and is equipped with a mosquito net, sitting area and work desk. The bathroom is equipped with a shower and free toiletries.
Guests can enjoy a Ugandan or European meal at the on-site restaurant. A continental breakfast is included in the rates, and guests have the option of indulging this in the privacy of their rooms.
Highlights
Comfortable midrange accommodation in Kampala
Panoramic views of Lake Victoria and Kampala City
20 safari-style rooms, swimming pool, Wi-Fi
4. Speke Resort Munyonyo (Luxury)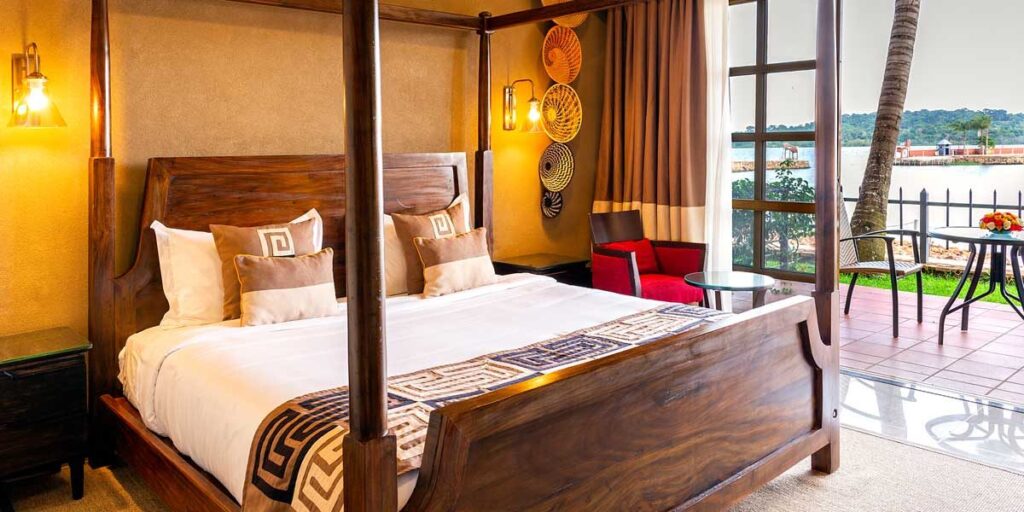 Speke Resort Munyonyo is conveniently located only 12 km from the centre of Kampala.
The resort offers you the ultimate in luxury accommodation and leisure facilities together with the finest conference and business meeting location in East Africa – all situated in an idyllic setting on Lake Victoria shores. It is no wonder Speke was built in this location to accommodate the visiting Presidents and Prime Ministers at the 2007 Commonwealth Conference (CHOGM).
The hotel offers the best conferencing facilities for national and international clientele. There is a choice of luxury accommodation to suit individuals, couples, families or groups on long or short stays.
The Resort has 59 Presidential suites, in addition to cottages, one bedroom and two bedroom apartments or studio rooms. Speke also offers 10 state-of-the-art conference rooms including a 1,000-seat ballroom and 9 multi-functional meeting rooms that accommodate groups of 10-300 people.
Leisure facilities include the only Olympic size swimming pool in Uganda, an equestrian centre and a choice of fine restaurants and bars, all with different international menus.
Highlights
13 kilometers from Kampala city centre
An idyllic setting on the shores of Lake Victoria
Ultimate luxury accommodation and leisure facilities
Best conferencing facilities
5. Serena Hotel Kampala (Luxury)
Among the top, most consistently popular hotels in Kampala is the Serena Hotel. The property is well situated in the very heart of Kampala, amidst 7.2 acres of landscaped grounds and water gardens. This 152-room world-class hotel is the epicenter of national, regional, commercial, political, and social life.
It is surrounded by the seven hills of Kampala. Serena Hotel Kampala draws its architectural inspiration from the abundance of Uganda's lakes and rivers. Dining at the Serena is a highlight at the Lakes Restaurant, a patisserie, a champagne bar and four other bars and restaurants. Elegantly appointed rooms include East African artworks and a double sink in the bathrooms.
Highlights
Strategically located in Kampala city centre, making it easy to visit the varied attractions.
Decor inspired by the rivers and lakes of Uganda
Located on 7.2 acres of beautifully landscaped gardens, terraces, and rock pools
Total of 152 air-conditioned rooms in categories
Choice of Deluxe Rooms, Executive Rooms, Executive Suites, Business Suites, and Presidential Suites
Ensuite bathroom with bathrobes, slippers, shower, and a bathtub
6. Sheraton Hotel Kampala (Luxury)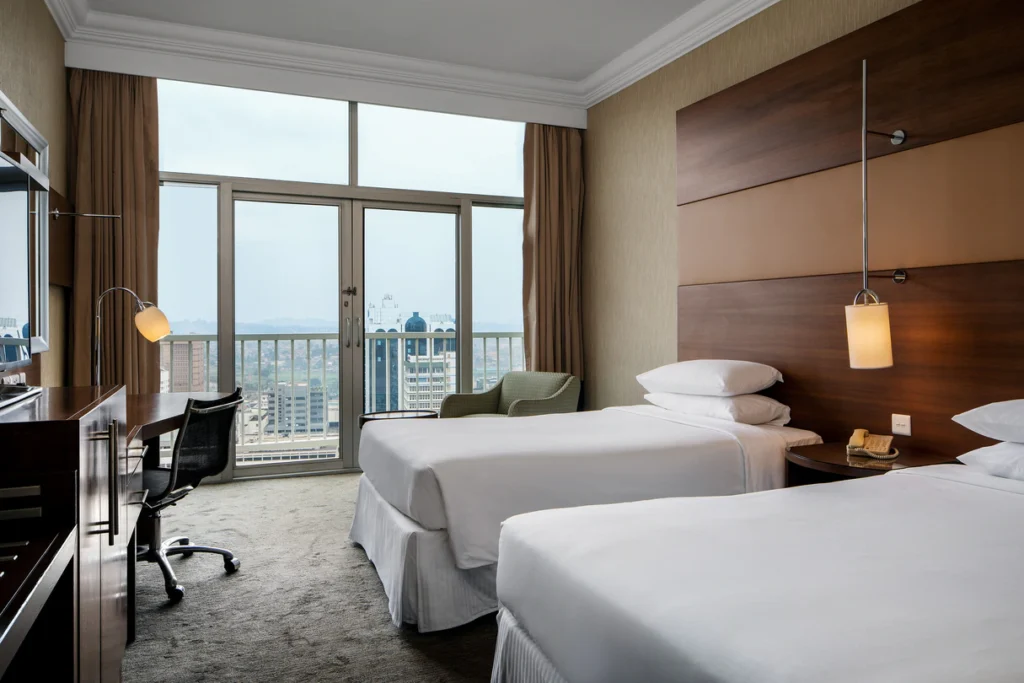 Encircled by well-landscaped gardens in Kampala's Nakasero area, Sheraton Hotel is well-suited for business travelers. The rooms occupy a multi-story structure that offers amazing views of the city spread below. It has a range of facilities including rooms that are specially furnished for the convenience of physically challenged guests. You can relax beside the pool in loungers and enjoy the lovely climate of Kampala city or work out in the fitness center. The hotel also has a tennis courts, a spa offering soothing massages, plus a sauna, steam room and a Club Lounge.
Highlights
Set in Nakasero, an upmarket locale in the center of Kampala city
Housed in a multi-story skyscraping structure offering stunning views of the city below
Swimming pool with loungers for sunbathing or enjoying the lovely climate
Fitness center for working out and tennis and squash courts
Spa offering soothing massages sauna and steam room for rejuvenating sessions
Total of 236 air-conditioned rooms including 30 suites
Visit to attractions like Uganda National Museum, Baha'i Temple, Gadhafi mosque
Viewing the Kasubi Tomb, a UNESCO World Heritage site
7. Protea Hotel by Marriott Kampala (Luxury)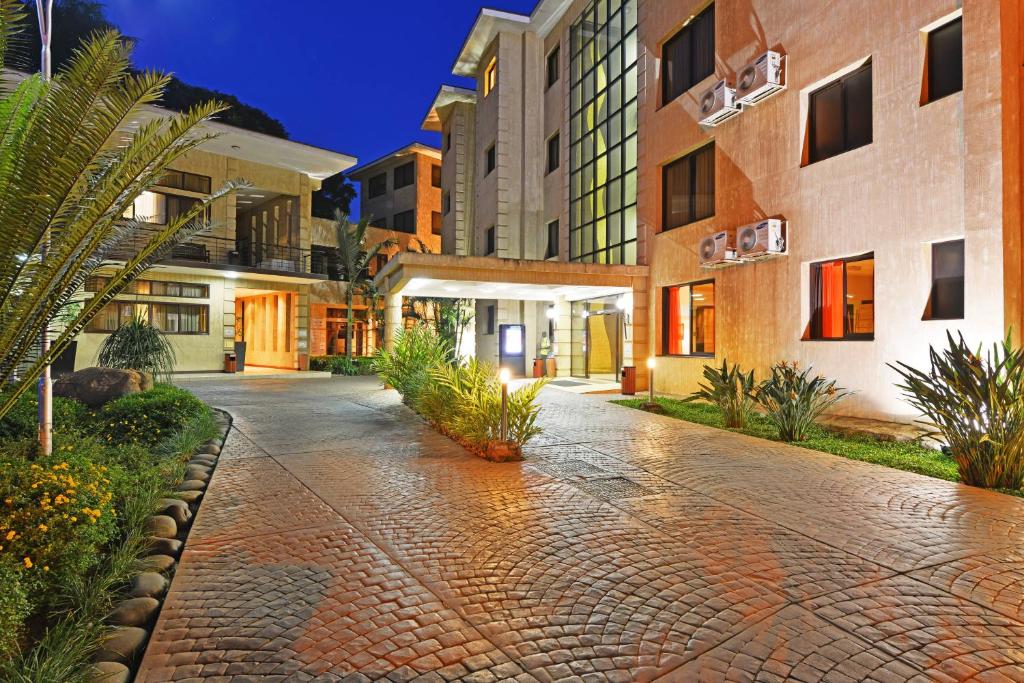 Protea Hotel by Marriott Kampala is another luxurious hotel amidst the captivating cityscape. The hotel is located in the up-market suburb of Kololo. It features refreshing en suite rooms with air-conditioning, a business center, 24-hour reception and 24-hour room service. It offers a serene retreat for relaxation while providing easy access to the best attractions of Kampala city.
Protea boasts world class amenities such as the outdoor swimming pool where you can unwind, complimentary Wi-Fi to keep you connected and a well-equipped fitness center and spa. The on-site restaurants and bars offer a culinary journey, ensuring a delightful dining experience.
Highlights
59 rooms and 11 suites, all ideal for business or leisure travel in Kampala
Visit the Kasubi Tombs, Uganda National Museum, the Crafts Village
Wi-Fi, fitness centre, spa, swimming pool, business centre
8. Protea Hotel by Marriott Kampala Skyz (Luxury)
This luxury hotel in Kampala with stunning design is located in the prime lands of Naggulu, a Kampala suburb. Having been built on a hill, Protea Hotel by Marriott Kampala Skyz offers breathtaking views of Kampala city skyline, creating a captivating ambiance for guests.
It's remarkable beauty, convenient location, and recent affiliation with the Marriott program, Protea Hotel has rightfully earned its place on best places best hotels in Kampala.
When it comes to facilities and amenities, Protea has elegant rooms and suites that are fully furnished, to rooftop swimming pools where you can bask in the sun while admiring panoramic views of the city to high-speed Wi-Fi and a well-equipped gym.
Highlights
A grant total of 141 rooms – standard rooms and presidential suite
Gift Shop, Outdoor pool, fitness centre
Fine dining restaurant, well-stocked bar, 4 rooftop bars
Swimming pool area with its own bar
2 conference halls,
9. Golden Tulip Canaan Kampala Hotel (Luxury)
Golden Tulip Canaan Kampala hotel is located about 2 kilometers away from the city center along Kafu Road. The hotel is situated close to the main places of interest: the Uganda National Mosque, the Kasubi Royal Tombs and the Baha'i House of Worship.
The hotel has been thoughtfully designed to provide the utmost comfort for both business and leisure travelers. It features 122 guest rooms and suites all with all the amenities the modern traveler needs. Whether you are visiting Kampala for work or pleasure, their rooms will offer you a haven of relaxation and luxury, ensuring a delightful stay.
Golden Tulip Canaan has everything you need in order to relax: modern furniture, free Wi-Fi, LED TVs, conference rooms, wellness facilities. Plus, it's the only hotel in Uganda with IP TV and with a smart in-room communication system.
Highlights
A total of 122 guest rooms and suites
Free Wi-Fi, LED TVs, conference rooms, wellness facilities
Explore Kasubi tombs, Uganda museum, local culture at the Ndere center
Take in a traditional show at the national theater and craft village
Contemplate the art exhibitions of the Nommo gallery
10. Le Petit Village (Semi-Luxe)
Le Petit village is a lovely Botique Hotel, located less than 9 km from the heart of Kampala city. The hotel is close to the US embassy, local bakery, wine store, pharmacy, fruit store, gift shop, bank and also a mall.
This thatch-roof hotel caters to the demands of a variety of discerning travelers. Intimate rooms designed in Safari Chic rustic elegance makes Le Petit Village the ideal place to relax in understated comfort.
Each room is self-contained. You can enjoy a refreshing swim, chill out and enjoy a view of Kampala complete with natural and local sounds from your private terrace, or indulge in gourmet dining at the famous Le Chateau Restaurant.
Highlights
Within a distance of 9 kilometers (5 miles) from the city center
Total of 12 rooms
Located outside the main central city area in a secluded tranquil area of Kampala
Fusion decor comprising of a combination of rustic and urban facilities and amenities
Swimming pool with loungers for relaxing and sunbathing
Visit to the Kasubi Tombs, a UNESCO World Heritage site
Shopping for souvenirs at the Craft Village on Buganda Road
In-house restaurant, serves all meals for the resident guests
Selection of Continental and Belgian cuisines accompanied with fine wines from the cellars
Indoor and poolside alfresco seating for dining
11. Humura Resorts (Luxury)
Humura, meaning "state of relaxation and calm", is a city-based resort in a calm country atmosphere. This elegant 18 room resort within 5 minutes walking distance from the 18 hole Kampala Golf Club and an easy drive from Kampala's key attractions, including major shopping malls, is a tranquil oasis amidst the bustle of the central city.
Whether visiting the capital on business or pleasure, Humura's picturesque garden, outdoor swimming pool, restaurant, bar and gym facilities combined with impeccable service will provide you with a complete escape and will allow you to experience Kampala at its best. A special Program for Children is also available at the Humura Resort.
Highlights
Located in a tranquil section of the city on a property with lush tropical gardens
Blend of contemporary architecture with traditional African cultural artifacts
Swimming pool and fitness center with equipment for working out
Overlooks the 18-course Kampala Golf Club and its residential neighborhood
Total of 18 air-conditioned rooms in three specifications i.e. Standard, Deluxe and Suite
Interconnecting rooms for families and larger groups of guests traveling together
Ensuite bathroom featuring a shower stall, single vanity, and hairdryer
Indoor fine dining and alfresco poolside tables available
Pool bar for ordering drinks and cocktails
12. Emin Pasha Hotel - Luxury
Emin Pasha Hotel is strategically situated in the heart of Kampala city, so guests will not have to travel far to access the city's main attractions and international embassies and consulates.
This deluxe boutique accommodation combines the old-world charm of Uganda's colonial era with a favorable, urban location, which affords guests the best of both traditional Ugandan hospitality and the latest contemporary conveniences.
Touring visitors will enjoy the hotel's grand and classically styled interiors, tastefully decorated with soft furnishings and local artwork. The Emin Pasha Hotel's guests can relax on loungers beside the swimming pool or drop in at The Emin Pasha Spa for some relaxing holiday pampering, including a variety of massages, mani-pedis, and other beauty treatments.
Highlights
Standing on 2 acres of well-landscaped tropical gardens amid the city of Kampala
Combines facilities and amenities of traditional Ugandan and contemporary hospitality
The Emin Pasha Spa for enjoying expert massages and a range of beauty treatments
Swimming pool for taking relaxing dips or napping in loungers
Stylish traditional interiors adorned with local artifacts and soft furnishings
Total of 20 rooms and suites in 4 configurations
Rooms housed in two-story structures with a balcony or patio depending on the floor