Best Places To See Birds of Uganda: Uganda is among the most attractive countries in Africa to birders. Uganda bird watching tours offer you the chance to rack up fantastic sightings.
Over 1090 species of birds have been recorded in the country, which accounts for around 50% of all Africa's bird species and 11% of all bird species in the world.
This remarkable avian diversity recorded in an area similar to that of Great Britain – can be attributed to Uganda's incredible variety of habitats and location. Uganda is located at transition point between the east African savannah, the west African rainforest and the semi-desert of the north.
Below I've listed the best places to see the birds of Uganda:
1. Mabamba Swamp – Lake Victoria
Mabamba Swamp is a Ramsar Wetland of International Importance and bird watcher's dream destination. The 16,500-hectare swamp is one of the best places to see birds of Uganda.
It is located on the edge of Lake Victoria (Africa's largest lake) within easy reach of Entebbe and Kampala. Mabamba Swamp derives its name from emamba – the local name for a species of lungfish.
The swamp is home to more 300 species of birds including the massive shoebill stork – the most sought-after bird by Uganda birding tourists and nature lovers. In fact, Mabamba is the most accessible and reliable place in the world to see this incredible bird in its natural habitat.
Read more about Mabamba Swamp.
What is a RAMSAR site?
A RAMSAR site is a wetland site designated to be of international importance under the Ramsar Convention, or "The Convention on Wetlands". This convention is an intergovernmental environmental treaty established in 1971 in the Ramsar town of Iran by UNESCO and came into force in 1975.
2. Entebbe Botanical Gardens
The beautiful and bird-rich Entebbe Botanical Gardens are situated approximately 8 km from Entebbe Airport. They can be reached with in a 10 to 20-minute drive from any hotel or guesthouse in Entebbe.
These expansive gardens were laid out in 1898. They are located on the shores of Lake Victoria and ideal for a leisurely birding walk after checking into your hotel and after you have refreshed yourself.
Entebbe Botanical Gardens offer a very good introduction to birds of Uganda. They are a reliable site for the endangered and super-intelligent African Grey Parrot. Other Uganda birds here include Great Blue Turaco, Double-toothed Barbet, Black-and-white-casqued Hornbill, White-throated Bee-eater, Palm-nut Vulture, Orange Weaver, and Black-headed Gonolek.
What Kind of Birder are you?
Similar to birds, birdwatchers are tricky to classify. And mislabeling one can be perilous. I have referred broadly to birders, but what kind of birder are you? Generally speaking, it comes down to levels of enthusiasm and dedication.
Ornithologists are people who study birds, this is their profession.
A birder is someone who enjoys watching birds
Twitchers and chasers will travel far and wide to add birds to their lists, especially rarities.
Listers and tickers both keep lists of the birds they have seen, it's not uncommon for them to have many different lists including overall lists and local lists.
3. Bwindi Impenetrable Forest National Park
Bwindi Impenetrable Forest National Park which is home to half of the world's population of endangered mountain gorillas is undoubtedly the best forest birding spot in all of East Africa, if not the entire continent. This forest heaven boats about 350 species of rare birds of Uganda, including 23 Albertine Rift endemics. Here are the best birding spots in Bwindi:
Buhoma
The forest trails of Buhoma offers the best chance to catch a glimpse of olive long-tailed cuckoo, bar-tailed trogon, dusky tit, Abyssinian groundthrush, white-bellied robin-chat, equatorial akalat, grey-chested iladopsis, and red-throated alethe.
You can also see white-eyed slaty and white-bellied crested flycatchers, the enigmatic Chapin's flycatcher, white-browed crombec, Neumann's warbler, black-faced prinia, handsome francolin, Jameson's antpecker, black-faced rufous warbler, and northern double-collared sunbird.
Other special species of birds in Buhoma include;
Willcock's honeyguide
Black bee-eater
Black-billed weaver
Magpie manikin
The newly described Willard's sooty boubou
Sooty flycatcher
A variety of forest starlings like Waller's, Stuhlmann's and narrow-tailed.
What Is a bird-watching 'lifer'?
Birdwatchers use the word "lifer" to describe a species of bird that they have seen and positively identified for the first time. A bird becomes a "lifer" upon its first sighting, and many birders fondly remember their favorite "lifers."
The Neck
The Neck is a transitional area between Buhoma and Ruhija.
This area offers great sightings of pink-footed puffback, black sparrowhawk, western bronze-naped pigeon, Cassin's honeybird, cinnamon-chested bee-eater, white-chinned prinia, Petit's cuckooshrike, mountain wagtail, the rare tiny sunbird and the dapper brown-capped weaver.
Away from the indigenous forests, amongst vegetation fringing the tea estates you can see the highly sought-after dusky twinspot, streaky and thick-billed seedeaters, yellow-bellied, Kandt's and black-crowned waxbills, western citril and yellow-crowned canary.
Here, you can also find the noisy Chubb's cisticola, alert Mackinnon's shrikes, and with luck marvel at a sight of the striking Doherty's bushshrike.
Ruhija Sector
Ruhija is your next hotspot in Bwindi Impenetrable Forest. And although the trek down to Mubwindi Swamp is not for the faint-hearted, this a dream place for the serious birder looking for the most unique birds of Uganda. Down there resides the most wanted of Bwindi's Albertine Rift endemics – the rare and localised Grauer's broadbill – one of most sought-after birds in Africa.
This globally threatened species is only known from 2 sites on Earth, the other being a remote forest in eastern DR Congo.
Other species to watch out for in Ruhija include Carruthers's cisticola and the localised Grauer's swamp warbler, black-billed turaco, barred long-tailed cuckoo, the elusive dwarf honeyguide, Abyssinian thrush, white-starred robin, Archer's ground-robin, stripe-breasted tit, and mountain illadopsis.
You can also look for the mountain masked apalis, Rwenzori apalis, Grauer's warblers, white-tailed blue flycatcher, yellow-eyed black flycatcher, Rwenzori batis, mountain sooty boubou, the rare Lagden's bushshrike, strange weaver, and oriole finch.
On the flowering symphonias you can spot the incredible blue-headed, regal and scarce purple-breasted sunbirds, all highly desired Albertine Rift endemics. Also here are dusky, red-faced and the phantom-like Shelley's crimsonwing. As the sun sets, Ruhija sectors provides your best-bet African wood owl, Rwenzori Nightjar, and if you are very lucky, the rare Fraser's eagle-owl.
What are Uganda's endemic species?
An endemic species is any species that is found only in that area. Uganda one endemic bird species called the Fox's weaver that is found nowhere else in the world. Uganda also has 24 birds that are endemic to the Albertine Rift region but the can also be seen in Rwanda, Burundi and DR Congo.
4. Budongo Forest Reserve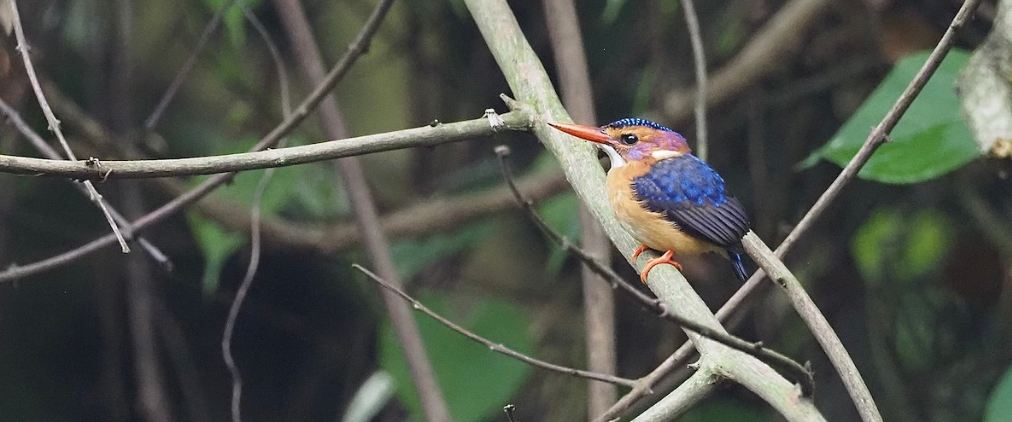 Budongo Forest is located on the southern edge of Murchison Falls National Park. It is a large (825 km2) tract of natural tropical rainforest that offers excellent birding and chimpanzee trekking in Uganda.
It is also the largest natural forest area in all of east Africa. The reserve is about 800 wild chimps and 366 species of birds of Uganda.
Budongo Forest has the legendary "Royal Mile". It is a premier forest birding road that lies under a lush forest canopy and that is probably one of Africa's most famous birding destinations. The forest road offers opportunities of spotting some fantastic birds like;
Nahan's Partridge
White-thighed Hornbill
Blue Malkoha
Sabine's and Cassin's Spinetail
Blue-throated Roller
Forest and Chestnut-capped Flycatcher, Speckle
Yellow-throated and Yellow-rumped Tinkerbird
Yellow-browed Camaroptera
Lemon-bellied Crombec
Ituri Batis
Tit Hylia
Forest Robin
Narina Trogon
Grey-throated, Yellow-billed, Yellow -spotted and Hairy-breasted Barbet
Great Blue Turaco, Plain
Greenbuls
Dusky Long-tailed Cuckoo
Chocolate-backed, Blue-breasted and African Dwarf Kingfisher
Black-capped Apalis
Red-tailed Bristlebill
5. Murchison Falls National Park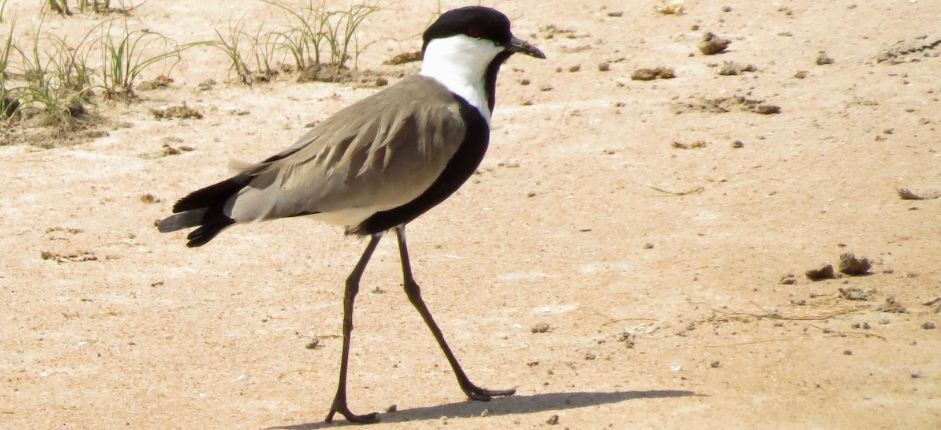 Murchison Falls National Park is Uganda largest national park boasting the world's strongest waterfall – formed as the mighty Nile River is forced through an 8-metre gap in the rocks. The 3,893 km2 parks have 76 mammal, including four of the Big Five.
The beautiful park is home to over 450 bird species. Birding here can be done on a boat cruise on the Nile, via a game drive, or a nature walk. The types of habitats include riverine woodland, swamp, forest, palm savannah and acacia-dotted plains.
The riverine thickets contain double-toothed barbet, white-crested turaco, red-throated bee-eater, Heuglin's francolin, brown babbler, buff-bellied warbler, silverbird,bar-breasted firefinch and black-headed batis. Near the chimp's research camp, you can find the Puvel's illadops.
The gorgeous palm dotted savannah offers excellent sightings of Abyssinian ground-hornbill, Secretary bird, Senegal lapwing, Shelley's rufous sparrow, and the strange-looking piapiac.
The Nile delta is of course home to the near-mythical shoebill stork and Grey-crowned cranes – the national birds of Uganda. On a night game drive, you can see a plethora of species like pennant-winged nightjar and greyish eagle-owl.
6. Kibale Forest National Park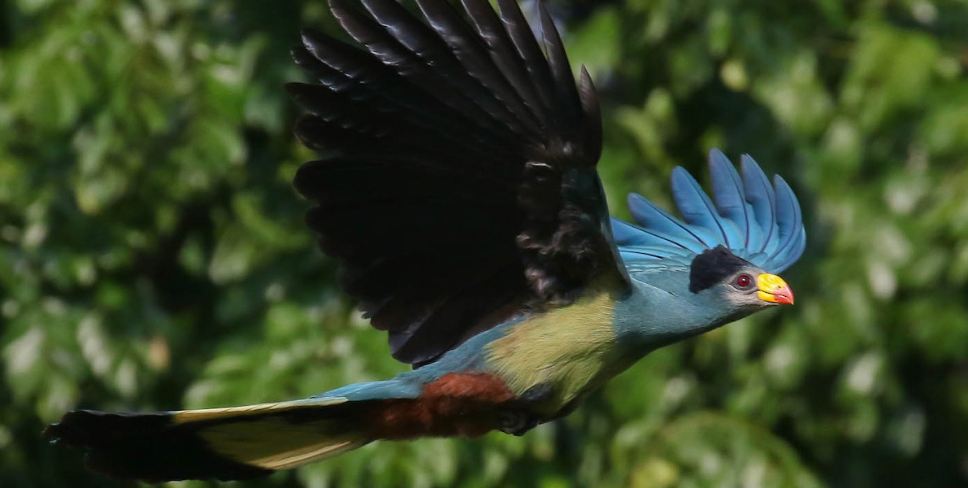 The 776 km2 Kibale Forest National Park is a verdant tropical rainforest, protecting diverse array wildlife. The forest is reputable for having the highest density and diversity of primates in Africa including over 1500 wild chimpanzees and numerous monkeys. Kibale is also home to 325 species of Uganda birds, including 6 species that are endemic to the Albertine Rift.
Some of the special birds of Uganda here include African grey parrot, African pitta,black-eared ground-thrush, olive long-tailed cuckoo, Abyssinian Ground Thrush, western tinkerbird, black bee-eater, black-bellied seedcracker, red-chested owlet, and the innately comic great blue turaco.
But the most sought after bird species is the Green-breasted Pitta. This enigmatic little bird is only found deep in Central Africa's tropical forests. Also the nearby Bigodi Wetland is a great haunt for specials such as speckled tinkerbird, white-spotted flufftail, Bocage's bushshrike, snowy-crowned robin-chat and western nicator.
7. Queen Elizabeth National Park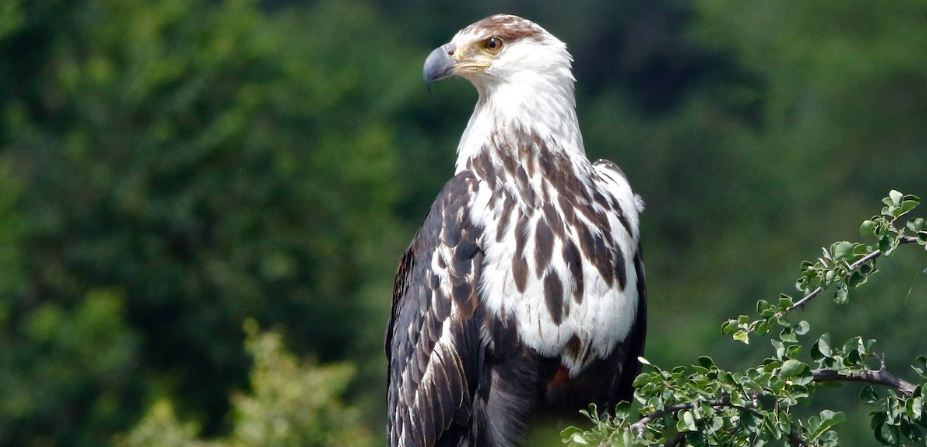 It is no exaggeration to suggest that Queen Elizabeth National Park is one of the best destinations for bird watching in Africa. The 1978 km2 park has an astonishing variety of habitats including savannah grasslands, tropical rainforest, wetlands, rivers, fresh-water lakes, and saline crater lakes.
These hosts 610 different bird species, the second-highest of any park on the continent. There is also 95 species of mammals including tree-climbing lions and over 5000 hippos, plus many antelopes and crocodiles. Lakes, rivers, and wetlands are home to a plethora of plovers, storks, herons, pelicans, egrets and several other birds of Uganda.
In forest of the Kyambura Gorge and Maramagambo, you can find cuckoos, woodpeckers, and warblers. Also impressive are the hundreds of flamingos that congregate at Lake Munyanyange from around August and November.
8. Semuliki National Park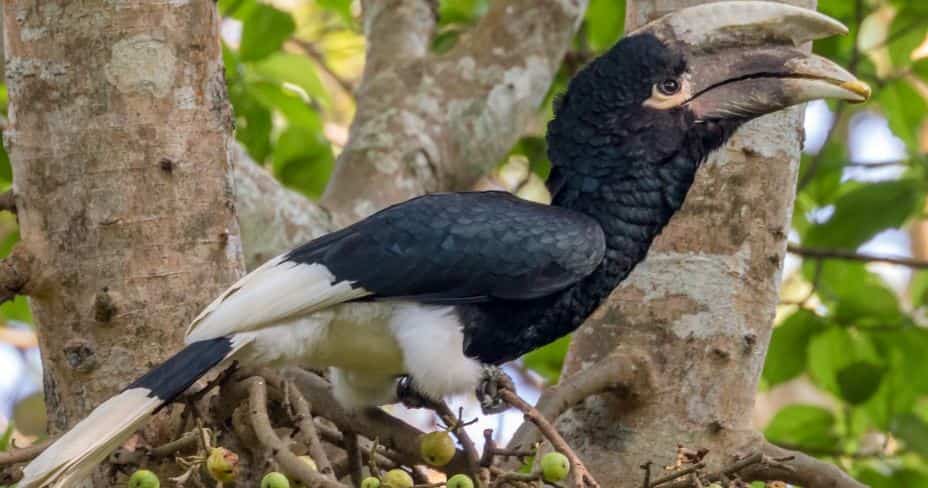 Semuliki National Park in the Albertine Rift Valley is an extension of West African jungle that stretches all the way from Equatorial Guinea through Congo, forming a habitat for some special Guinea-Congo biome species. The 219 km2 park contains east Africa's only lowland tropical rainforest, and is contiguous with the Democratic Republic of Congo's huge Ituri forest.
It is one of the richest areas of floral and fauna diversity in Africa, especially for bird and butterfly species. More than 440 bird species have been recorded in the forest, including 50 that are found nowhere else in east Africa!
The fantastic birds of Uganda to look out for here include the African piculet, Congo serpent-eagle, Maxwell's black weaver, long-tailed hawk,blue-billed malimbe, and yellow-throated nicator. You also look out for;
Nkulengu rail
Lyre-tailed honeyguide
Dwarf honeyguide
Black dwarf hornbill
Piping hornbill
White-crested hornbill
Red-billed dwarf hornbill
Black-wattled hornbill
Orange weaver
9. Mgahinga Gorilla National Park
Like Bwindi, Mgahinga Gorilla National Park the home of gorillas and golden monkeys offers some of the best birding in East Africa. It is located in the southern part of Uganda, bordering Rwanda and DR Congo and comprises dense highland forest on the slopes of 3 extinct volcanoes. Mgahinga offers
High levels of endemism and the challenges of forest birding make this one of the most electrifying places to search for the feathered specials that keeps eager birders awake at night.
This bird-watching haven has about different recorded species, including 12 Albertine Rift endemics. These birds of Uganda include Rwenzori Turaco, Rwenzori nightjar, Rwenzori batis, Handsome francolin, Kivu ground thrush, Dusky Crimsonwing, Red-throated Alethe, Archer's robin chat, Stripe-breasted tit and Regal sunbird.
You can also enjoy amazing sights of;
Black-headed waxbill
Western green Tinkerbird
White starred robin
Yellow vented bulbul
White-naped raven
Bronze sunbird
Red-faced woodland warblers
Pin tailed whydahs
10. Lake Mburo National Park
Lake Mburo National Park is home to about 320 species of Uganda birds. It is the most accessible national park in Uganda and home to many Zebras, Antelopes, Buffalos, and Giraffes.
The park habitats include lakes, wetlands, forest, dry hillsides, rocky outcrops and dense savannah. Birding is done on game drives, boat cruise and nature walks.
There some localised species in the park and topping that list are red-faced barbet, Tabora cisticola, green-capped eremomela, golden-tailed woodpecker, spot-flanked barbet, and grey penduline tit.
Other fantastic birds include, brown parrot, barefaced go-away bird, black-billed barbet, blue-napped mousebird, Nubian woodpecker, papyrus canary, papyrus gonolek, African Finfoot, and shoebill, white-winged warbler, African water rail and white-backed night-heron. You can also look for
Abyssinian ground-hornbill
Yellow-throated leaflove
Kingfishers
Coqui francolin
Black-bellied bustard
Red-headed lovebird
Lilac-breasted roller
Green wood-hoopoe
common scimitarbill
Narina trogon
Nubian woodpecker
Trilling cisticola
Northern black flycatcher
Chin-spot batis
Rufous-chested swallow
Yellow-throated longclaw
Southern red bishop.
African scops owl
Verreaux's eagle owl
Pennant-winged nightjar
Best Time For Birding In Uganda
Uganda has excellent birdlife all year round. However, the months of June, July, August, and September are the best time to go birding and see the amazing birds of Uganda is during the months, specifically usually in August, which are considered the optimal timing.
August is believed to be perfect for Uganda birding trips as the Intra-African migrants from southern Africa are ¡n Uganda in August (and at least the month before and after).
These include several cuckoos like the Barred Long-tailed Cuckoo which spends the southern summer in countries such as Mozambique and Malawi.
They also include hirundines like the Vulnerable and declining Blue Swallow, which breeds in high-altitude grasslands of South Africa, Zimbabwe, and Malawi and then migrates to a completely different habitat.
In Uganda, it is great to see these elegant swallows flitting around and foraging near Shoebills in Mabamba Swamp.
Uganda Birding Safari Packing list
A birding safari in Uganda is much the same as regular Uganda safaris. It is important to pack sensibly keeping in mind weather conditions and baggage allowance.
Natural-colored, comfortable clothing is essential.
Avoid black, white, and loud colors.
Black gets hot and attracts mosquitos at night.
White gets dirty quickly and loud colors startle animals and attract insects during the day.
Comfortable walking shoes are a must especially if you are not doing any hiking.
For moderate walking and exploring sneakers or running shoes should be just fine.
Insect repellent and sunscreen are important additions especially if you plan to spend time in the bush for long periods spotting hard-to-spot the birds of Uganda.
Birding-specific equipment includes binoculars, a spotting telescope, a good bird book, and a sense of humor.