Birding Uganda Safaris | 2023 Best Uganda Birding Tour Packages
Birding Uganda safaris takes you to a country that offers the best birding in Africa.
Situated on the Equator, this an equatorial east African country boasts a rich variety habitats. And this richness is reflected in its astonishing bird list of more than 1,090 species, which accounts for around 50% of all bird species in Africa and 11% of all bird species in the world.
Our Uganda birding tour packages appeals to all those who dream of seeing the prehistoric-looking Shoebill stork, over 20 exciting endemic birds of the "Albertine Rift", African iconic savannah animals, chimpanzees, monkeys, and, of course, the magnificent mountain gorillas of Bwindi Impenetrable Forest.
We customize and tailor short and long bird-watching tours in Uganda at affordable rates. We tailor birding trips for all types of travelers; group tours, solo, and family birders. Our tailor-made birding tours in Uganda are perfect for seniors, private groups, and families, guided by a team of trained Uganda bird guides.. Join us on our birding Uganda safaris that have been carefully crafted or request a customized birding tour of your own.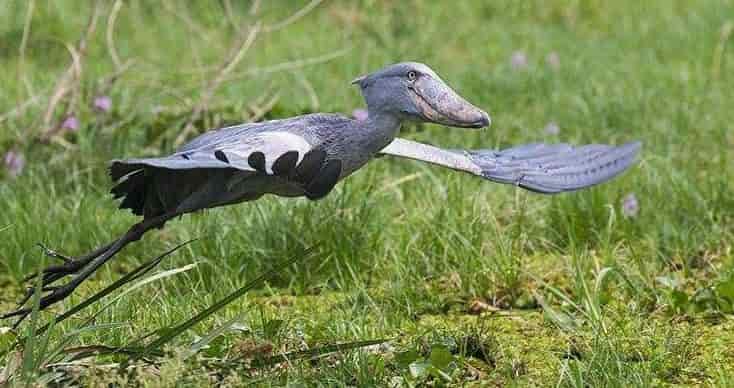 Birdwatching destinations in Uganda | Important Birding Areas in Uganda
Mabamba Swamp – 300 bird species
Budongo Forest Reserve – 366 bird species
Murchison Falls National Park – over 450 bird species
Queen Elizabeth National Park – 600 species
Kibale Forest National Park – 375 bird species
Bigodi Wetland Sanctuary – over 200 bird species
Semuliki National Park – 442 bird species
Bwindi Impenetrable National Park -350 species
Lake Mburo National Park – over 350 species
Toro-Semliki Wildlife Reserve – 440 bird species
Mabira Forest Reserve – 315 species of Birds
Read More: Best Birding Spots In Uganda
Bird species in Uganda | Top Birds To See On Birding Tours Uganda
Uganda is arguably the most attractive country in Africa to birdwatchers, not only because of the unusually high number of species recorded within its borders, but also because it offers easy access to several bird rich habitats that are difficult to reach elsewhere.
Uganda's remarkable avian diversity – over 1090 species recorded in an area similar to that of Great Britain – can be attributed to its location at a transition point between the east African savannah, the west African rainforest and the semi-desert of the north.
Indicative of Uganda's transition location is the fact that only bird is endemic to the country, the somewhat nondescript Fox's weaver. However, if you take only east Africa into consideration, then roughly 150 bird species (more than 10% of the region checklist) are found only in Uganda.
Most of these "Uganda specials" are west African and Congolese forest birds that would be very difficult to see elsewhere, for the simple reason that the other countries in which they occur are poorly developed for tourism.
The rainforest of western Uganda must be seen as the country's most important bird habitat. That said, just about any forest in Uganda will be rewarding; even the relatively tame botanical garden in Entebbe will throw up several interesting species.
Endemic And Near-endemic Birds Of Uganda
Uganda has only endemic bird (the bird which lives only in Uganda) and that's is the Fox's Weaver. However the country boasts so many near endemic birds (birds that also live in the neighbouring countries and several birding specials/treats for avid birders.
| Near-endemic birds of Uganda | Other Uganda Birding Specials |
| --- | --- |
| Also lives in neighboring countries | Treats for Avid Birders |
| Archer's robin-chat | Shoebill |
| Black-lored babbler | Ansorge's greenbul |
| Blue-headed sunbird | Black bee-eater |
| Chapin's flycatcher | Bar-tailed trogon |
| Dusky crimsoning | Blue-throated roller |
| Dwarf honeyguide | Equatorial akalat |
| Golden-winged sunbird | Great blue turaco |
| Grant's bluebill | Ituri batis |
| Grauer's broadbill | Jameson's antpecker |
| Grauer's cuckoo-shrike | Lühder's bush-shrike |
| Grauer's swamp warbler | Magpie mannikin |
| Handsome francolin | Masked apalis |
| Hartlaub's turaco | Olive long-tailed cuckoo |
| Jackson's francolin | Papyrus gonolek |
| Karamoja apalis | Pennant-winged nightjar |
| Nahan's francolin | Red-chested owlet |
| Neumann's warbler | Red-tailed ant thrush |
| Oberlaender's ground thrush | Rufous flycatcher-thrush |
| Purple-breasted sunbird | White-bellied crested flycatcher |
| Red-faced barbet | White-bellied robin-chat |
| Red-faced woodland warbler | White-naped pigeon |
| Red-throated alethe | Yellowbill |
| Regal sunbird | |
| Ruwenzori apalis | |
| Ruwenzori batis | |
| Ruwenzori double-collared sunbird | |
| Ruwenzori nightjar | |
| Ruwenzori turaco | |
| Shelley's crimsonwing | |
| Strange weaver | |
| Stripe-breasted tit | |
| Turner's eremomela | |
| Uganda woodland warbler | |
| Yellow-eyed black flycatcher | |
Top Bird Watching Tours Uganda, Trips & Packages
Uganda is a great safari destination. Uganda is also a great birding safari destination. Talk to one of our experts at Tulambule Uganda Safaris about arranging a bespoke African bird-watching safari adventure. Uganda is waiting.
Best Time for Bird Watching In Uganda
Uganda is a good year-round birding destination since the main birding interest lies in the resident birds. The climate is the main factor to take into consideration when planning your Uganda birding tour.
During the Wet season months of March to May and September to November, roads and forest trails might be in poor condition and rains could interfere with birding time.
In general, the best time for bird watching is from late May to late September, when there is less rain and food is abundant. The main bird nesting season in Bwindi Impenetrable Forest National Park and Mgahinga Gorilla National Parks (key sites for the Albertine Rift endemics; the birds which are restricted to the Albertine Rift Valley region) is May and June.
February and early March is the only time Toro-Semliki Wildlife Reserve is relatively dry, but it is uncomfortably hot in the north, including in Murchison Falls National Park.
December and January are also good months since the north is not yet too hot and there is less rain in the south. The best time for gorilla trekking, chimpanzee tracking, and wildlife viewing in the savannah game parts is also in the Dry season months of June to August and December to February.