Kibale Chimpanzee Trekking: A Breathtaking Wildlife Adventure
---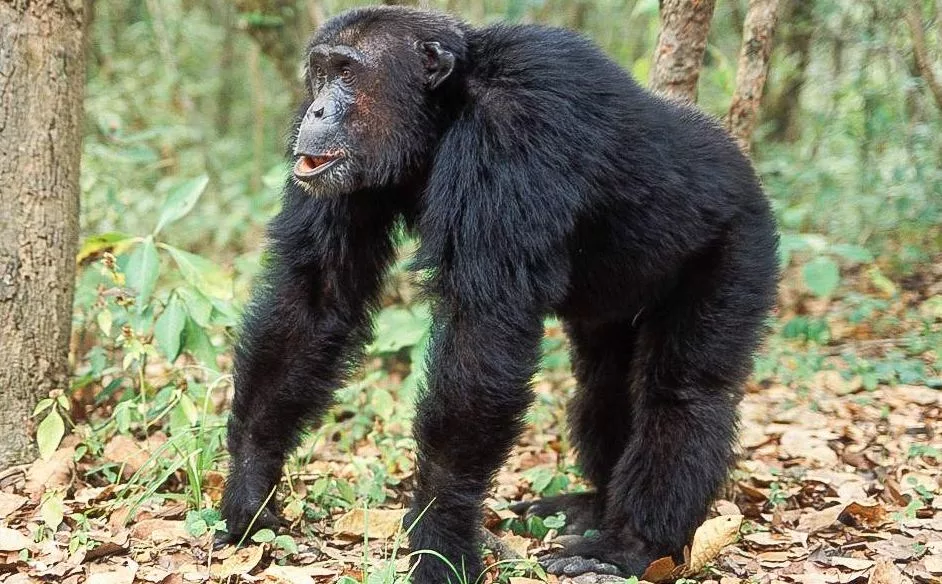 ---
Kibale Chimpanzee Trekking: A Breathtaking Wildlife Adventure
Kibale Chimpanzee Trekking or chimpanzee trekking in Kibale National Park is one of the most thrilling wildlife adventures Africa has to offer.
Although, possibly, less iconic, than gorilla trekking in Uganda, chimps are captivating creatures. These forest-dwelling apes are highly intelligent and share nearly 99% of our DNA.
And in spite of their hairier coat and stooping posture, chimps are noticeably human-like, both in appearance and behavior. Yes, it may be difficult to locate chimpanzees in the dense rainforest jungles of Uganda, but that is part of the adventure.
And it is hard to think of any sound more spine-tingling than the powerful pant-hoot call with which chimpanzees announce their presence. It is a bucket-list wildlife adventure, one that should be included on any Uganda safaris itinerary.
Facts About Chimpanzees
There are around 300,000 chimpanzees remaining in the equatorial rainforests of Africa, with over 5700 dwelling in Uganda's forests.
Chimpanzees live in communities of up to 250 members. The chimp communities are organized into smaller subgroups, each of which is commanded by a dominant/an alpha male.
They spend most of their time up in the treetops, sleeping, grooming, and eating fruit, leaves and bark. However, when they descend from the canopy is when you have the greatest opportunity to get close to them.
Today, we know that chimpanzees are our closest genetic relatives, sharing around 98.8% of our DNA. However, it was the renowned primatologist Dr. Jane Goodall who first witnessed their amazing human-like behaviour.
Goodall moved in with a community of chimpanzees in Gombe Stream National Park of Tanzania in the 1960s, where she was able to establish that chimpanzees can create and use tools, as well as hunt, kill and eat small mammals, ideas that were previously completely unheard of.
By spending time with the chimpanzees, she gradually trained them to trust her, a process known as habituation that is not only fantastic for scientists, but also enables ordinary visitors to get nearly within touching distance of these extraordinary creatures.
The Chimpanzees Of Kibale National Park
Kibale Forest National Park is home to more than 1500 wild chimpanzees. The chimps of Kibale Forest live in 13 communities. Of these, various groups have been successfully habituated for scientific study and for trekking.
Kibale Chimpanzee Trekking experience
Kibale Chimpanzee Trekking starts with a briefing at around 8.00 am for the morning session and 2.00 pm for the afternoon trekking session.
In the briefing, you will be given a little information about the primates you are going to see, as well as some rules and regulations.
One of them is to avoid getting too close. This is for your own safety and also for the safety of chimps as our viruses and diseases can easily spread to them due to shared DNA.
It is also not wise to mimic chimpanzee calls. Although it might seem fun to imitate them, if you are not careful you may unintentionally end up recreating a battle cry and bring over 200 annoyed chimpanzees down upon you.
After a briefing, you will be divided into groups of up to six guests, each accompanied by a knowledgeable local ranger guide, who is armed in case of emergencies. Then, it is time to enter the jungle.
You will trek in the direction of the chimpanzees' last known location, pushing through the dense forest jungle and dodging low branches.
It is possible to hear them before you see them. Hearing their chorus of vocalizations called pant-hoot up close is a spine-tingling experience that will ingrained in your memory forever.
Following the direction of the pant-hoots, you will soon find one of the community's sub-groups. They may be high up in the trees, feasting on fig fruits, grooming, dozing, sleeping, or playing. But, if you are lucky, some will descend to the forest floor, and that is when the true adventure begins.
Face To Face With Chimpanzees Of Kibale Forest
No matter how prepared you are nothing beats that first, up-close encounter with wild chimpanzees.
Mountain Gorillas are awesome, that is probably a perfect word for them, but coming face-to-face with chimpanzees in their natural habitat is every breathtaking exhilarating.
You will able to spend a captivating hour observing these fascinating apes as they go about their daily lives. And you may find yourself wondering how remarkably similar their behaviour is to our own.
Our Recommended Chimpanzee Trekking Tours To Kibale Forest National Park
2 Days Kibale Chimpanzee Trekking trip
3 Days Chimpanzee Trekking Safari
7 Questions About Kibale Chimpanzee Trekking Tours
1. How Does Kibale Chimpanzee Trekking Compare With Mountain Gorilla Trekking?
The two Uganda wildlife safaris experiences are more different than you may expect. Gorillas rarely climb high in trees or travel long distances, making them generally easier to find, and good sightings are almost assured.
In contrast, chimpanzees spend majority of their time racing restlessly through the forest floor or feeding in the upper tree canopy, making them more difficult to located and/or to see clearly through the vegetation.
Positively, chimpanzee trekking is far less expensive than trekking gorillas in Uganda or Uganda gorilla safaris. And the landscape is less challenging than the steep, high-altitude habitats preferred by the mountain gorillas of Uganda.
2. How Does Kibale Forest National Park Compare With Other Uganda Chimp Trekking Destinations?
In most respects, Kibale Forest National Park is the best location in Uganda for viewing wild chimpanzees. It gives the highest chances of seeing chimpanzees.
In addition, since the community visited by tourists has been habituated since the 1990s, the chimpanzees in Kibale Forest are now very relaxed in the presence of human guests.
This implies that when they do settle down, you will often enjoy extended close-up encounters of grooming and other interaction.
Two ways in which Kibale compares unfavorably to other chimp trekking destinations in Uganda is that it is relatively expensive and can be a little bit crowded when several tour groups are in the destination.
For a more affordable chimpanzee trekking encounter, you can try Kalinzu Forest Reserve, which borders scenic Queen Elizabeth National Park – the home of tree-climbing lions, as well as elephants, buffalos, hippos, crocodiles, and antelopes.
Another great off-the-beaten-track option is for chimpanzee trekking in Uganda Budongo Forest Reserve, which is easily visited on the way to Murchison Falls National Park, which is home to the world's strongest waterfalls and over 76 mammal species including, 4 of the Big Five animals.
Both Kalinzu Forest Reserve and Budongo Forest Reserve have a high success rate of seeing chimps in Uganda, although they are not quite as reliable as Kibale Forest National Park.
3. What Fitness Is Required For Kibale Chimp Trekking?
Usually, you will spend between two and five hours on the move, first looking for the chimpanzees, then hike with them, so you need to be reasonably fit to manage that sort of time on your feet easily. If you are physically unfit, then it would be a good idea to do a bit of light training before your safari to Uganda to see chimpanzees.
However, Kibale Forest National Park is relatively flat. And you will spend most of your time on clear trails. Some chimpanzee trekking tours turn out to be a great deal less demanding than others, depending on how quickly the chimps are located.
The more physically fit and agile you are, the easier it will be for you to cope if you find yourself chasing the chimps into the tangled jungle undergrowth.
4. Is Kibale Chimpanzee Trekking Safe?
Kibale Chimpanzee trekking is widely regarded to be safe. We have never heard of a guest being injured by a chimpanzee on a trekking tour. However, a large chimpanzee is comparable in size to adult human.
And chimps are far stronger than humans. Therefore, it is very important to follow the instructions of trekking guide to ensure your safety.
Children below the age of 12, being smaller and more vulnerable than adults, are not permitted to go for Kibale Chimpanzee trekking tours in Uganda. Also, for both your safety and comfort, we recommend that you wear good walking or hiking shoes/boots, long trousers/pant, and long-sleeved shirt.
By tucking your trouser legs into your long socks, you reduce the likelihood of getting bitten by safari ants (which are harmless but and have a nasty bite) and other creepy-insects.
Neutral colors that blend into the forest environment such as khaki, green, and gray are recommended on the Kibale Chimpanzee trekking tour. And a walking stick may be useful for maneuvering across difficult terrain.
5. How Much Is Chimpanzee Trekking In Kibale National Park?
The Uganda Wildlife Authority (UWA) which is responsible for protecting wildlife within Uganda national parks levies a chimpanzee trekking permit fee of US$200 for a foreign nonresident visitor, US$150 for a foreign resident visitor and Uganda Shilling 150,000 for the East African citizen.
The chimpanzee trekking permit fee covers the entrance fee to Kibale Forest National Park and the services of an expert local guide. If you make your way to the trekking trailhead at Kanyanchu independently, it is all you will need to spend.
Stand-alone 3- or 4-day Kibale National Park chimpanzee trekking packages, leaving from the city of Entebbe or Kampala city, usually range in price from around US$750 to US$2,000 per person sharing, depending largely on the quality of accommodation you want to stay in.
In actuality, most visitors on Uganda safari tours to Kibale Forest National Park include it on longer safaris that also incorporate other national parks in western Uganda, such as Bwindi Impenetrable National Park, Queen Elizabeth National Park, Lake Mburo National Park, and Murchison Falls National Park.
Depending on the Uganda safari itinerary, the length and the type of accommodation you prefer, these Uganda tours general cost upwards of US$250 per person per day sharing.
6. Are Chimpanzee Sightings Guaranteed In Kibale Forest?
No, sightings of chimpanzees are not guaranteed in Kibale Forest National Park.
However, the odds of seeing chimps on any given trekking excursion stand at around 95%, which is far higher than any other place that offers chimpanzee trekking in Uganda, Rwanda, and Tanzania
The main reason why sightings are less certain than is the case with gorilla trekking tours in Uganda is that chimpanzees moves a lot and typically more difficult to find.
To increase your likelihood of seeing chimpanzees, you could consider booking onto two chimpanzee trekking adventures, one in the morning and one in the afternoon, or visiting two different chimpanzee trekking locations in Uganda.
Read More: Chimpanzee Trekking In Uganda
7. Apart From Chimpanzees, What Other Wildlife Might I See In Kibale Forest National Park?
Chimp trekking tours tend to focus on their primary goal, at the exclusion of other Uganda wildlife, but you can expect to see plenty of monkeys, birds, butterflies, and plant species on general forest walks.
Kibale National Park protects one of the most biodiverse rainforests in East Africa, with more than 60 species of mammal and 370 bird species recorded to date. The forest park has the highest density and diversity of primates in Africa.
Besides chimps, there is 12 other species of primates. The most commonly seen primates are red colobus, black-and-white colobus, red-tailed monkey, L'Hoest's monkey and the endemic Uganda mangabey.
Key bird species include Great blue turaco, Green-breasted Pitta, African pitta, African grey parrot, Kivu ground thrush, Black bee-eater, double-toothed barbet, blue-breasted kingfisher and red-bellied paradise flycatcher.
An excellent way to see a good range of these forest dwellers is to take a guided nature walk in Bigodi Wetland Sanctuary, which is the swampy centerpiece of a community-based ecotourism project bordering Kibale Forest National Park.
Final Thought On Kibale Chimp Trekking
You can visit Uganda and see chimps on tour, lasting from 2 to 21 days. You'll need to book well in advance. That is because most chimpanzee tracking sits within a wider itinerary that typically includes gorilla tracking, too.
Few gorilla tracking permits are available and they sell out far in advance. If chimps are your primate favourite, though, opt for a tailor made trip so you can request more than one chimp tracking experience, and even skip the gorillas altogether if you prefer. This keeps costs down, too.
Tags:
Chimpanzee trekking