10 National Parks In Uganda | Game Parks In Uganda
Currently, there are 10 National Parks In Uganda distributed in various areas of the country. Each one of these game parks in Uganda has its own special attraction and beauty.
The diversity national parks in Uganda cannot be found in may other places in Africa. Lakes, Forests, Rivers, Mountains and open savannah grasslands all make up the Uganda national parks.
The national parks of Uganda also harbor a wide variety mammals and bird species. In terms of size, Murchison Falls National Park is the biggest of all national parks in Uganda while Mgahinga is the smallest.
To access any of these Uganda safaris parks you have to pay the entrance fees to Uganda Wildlife Authority. What are ten national parks in Uganda? Lets take a look at the national parks of Uganda one by one.
| | | | |
| --- | --- | --- | --- |
| National Parks | | | |
| | Area | Habitat | Special Attraction |
| Bwindi Impenetrable | 321 km2 | Forest | Gorillas, Forest birds |
| Kibale Forest | 766 km2 | Forest | Chimpanzees, monkeys, birds |
| Murchison Falls | 3,840 km2 | Savanna | Murchison Falls, big game, birds |
| Queen Elizabeth | 1978 km2 | Savanna | Tree-climbing lions, big game, birds |
| Lake Mburo | 260 km2 | Savanna | Antelopes, zebras, birds |
| Kidepo Valley | 1,442 km2 | Savanna | Scenery, buffalo herds, dry country antelopes |
| Mgahinga Gorilla | 33.7 km2 | Montane | gorillas, golden monkeys, volcano hiking |
| Mount Elgon | 1,121 km2 | Montane | Hiking, nature walks, forest birds |
| Rwenzori Mountains | 996 km2 | Montane | Equatorial snow, hiking, unique plants |
| Semuliki | 220 km2 | Forest | Hot springs, unique forest birds |
National Parks In Uganda And There Locations
1. Bwindi Impenetrable National Park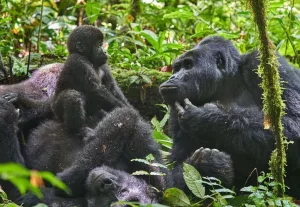 Bwindi Impenetrable National Park is located in southwestern Uganda about 500 km (8 to 10 hours drive) from Kampala.
Despite its rather intimidating name, Bwindi is a tropical rainforest wonderland.
The 321 square kilometer park has been declared a Natural World Heritage Site because of its incredibly bio-diverse ecosystem.
The fern-rich, vine-covered canopies of this majestic rainforest shelters half of the world's population of endangered mountain gorillas.
You'll be led into the forest by expert local guides. You will spend one magical hour with a family of gorillas, observing these gentle giants in their natural habitat.
A Bwindi gorilla trek is relatively difficult but it is absolutely extraordinary wildlife experience. Besides gorillas, Bwindi is full of other life. There is over 120 mammal species, 350 bird species, 200 tree species, 220 species of butterflies, 400 plant species, plus many reptiles and amphibians.
The humans of Bwindi are also notable. The Batwa were the original inhabitants of the forest. They were evicted from their habitat when the park was gazetted in 1991. They now reside in the nearby local communities, from which they lead cultural tours that teach visitors about their traditional hunter gatherer lifestyle.
2. Mgahinga Gorilla National Park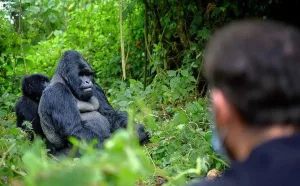 At just 33.7 square kilometers, Mgahinga Gorilla National Park is the smallest of the national parks in Uganda, situated in southwestern Uganda on the border of Rwanda and the Democratic Republic of Congo.
While it may be small in size, Mgahinga National Park is part of the much larger (and extremely important) Virunga Conservation Area, which spreads for about 8093.7 square kilometers across Rwanda (Volcanoes National Park), Uganda, and Congo (Virunga National Park).
This park's was set up mainly to protect the endangered Mountain Gorillas and Golden Monkeys. Mgahinga also part of the original territory of the indigenous Batwa people. Its stunning scenery includes the three of the 8 Virunga Volcanoes.
Safari activities here include Gorilla trekking, Golden Monkey tracking, Volcano hiking, Batwa cultural trail experience and bird watching.
3. Kibale Forest National Park
The 776 km2 Kibale National Park is a verdant tropical rainforest in western Uganda.
The forest is renowned for having the greatest density and diversity of primates in Africa.
Kibale is most recommended for visitors seeking to see chimpanzees on their Uganda safaris.
It's home to more than 1500 wild chimpanzees and the forest is the best place to visit in Africa if you want to get close to humankind's closest living relatives in the wild.
The park offers a successful tracking rate of about 95%, far greater than any other location which offers chimpanzee trekking in Uganda, Rwanda or Tanzania. Kibale Forest is also contains 12 other species of primates.
Larger but rarely seen residents include about 500 elephants, as well as bushbucks, duikers, forest hogs, bush pigs, and buffaloes.
On the smaller side, Kibale has 250 species of butterflies and a great bird list of over 375 species, including 6 endemics, among them the gorgeous Green Breasted Pitta.
4. Queen Elizabeth National Park
A UNESCO Biosphere Reserve, Queen Elizabeth National Park is a most popular of the 10 national parks in Uganda.
This fabulous park is found in southwestern Uganda covers 1978 km2 of rolling savannah grassland, saline crater lakes, freshwater lakes, lush rainforests, and dense papyrus swamps to explore, right in the south of the snow-capped Rwenzori Mountains, Ptolemy's fabled "Mountains of the Moon".
Along with all the awesome landscapes to adventure, there are tons of opportunities for wildlife watching too.
The park has over 600 bird species and 95 mammal species, including 4 of the Big 5.
There are also an estimated 5000 hippos, 3900 elephants, 10,000 buffaloes, 300 Chimpanzees, a variety of antelopes, monkeys, reptiles, giant forest hogs, and the rare tree-climbing lions.
Queen Elizabeth National Park is also home to humans, too. It is one of the few safari parks in Africa to have communities living inside its boundaries. All of which means there is a variety of ways to experience it on your safari tours in Uganda.
5. Murchison Falls National Park
Located in northwestern Uganda, Murchison Falls National Park offers the best wildlife safaris in Uganda.
This beautiful park boasts a huge diversity of wildlife that is easier to see compared to other savannah national parks in Uganda.
The park gets its name from the magnificent Murchison Falls – the world's strongest waterfalls on River Nile. The falls were named by Sir Samuel Baker during his exploration of Uganda in the 19th Century.
Baker named the falls Murchison after the famous British geologist Sir Roderick Murchison, who incidentally believed Africa to be a geologically boring continent. As the largest of the 10 Uganda National Parks, it is home to over 76 mammal and 450 bird species!
Almost all Africa's major animals like Giraffes, Elephants, Buffalo, Leopard, Hippo, Crocodile, and Chimps can be sighted here while on game drive, boat cruise, and Nature walks. Notable visitors include President Theodore Roosevelt, Ernest Hemingway,and several British royals. Winston Churchill also visited the park which may have been what led him to declare Uganda the 'Pearl of Africa'.
6. Lake Mburo National Park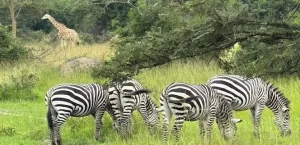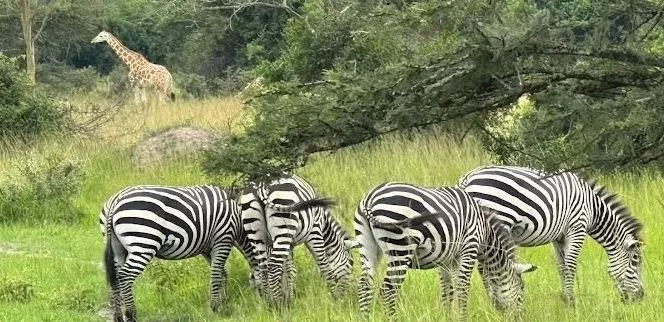 Situated in the highly scenic western Uganda, Lake Mburo National Park is the most accessible national park in Uganda.
The park is located about 3 hour drive from Kampala and a few hour-drives from the Uganda gorilla trekking forests of the south west.
Lake Mburo National Park is the smallest of the four savannah national parks in Uganda, covering around 260 km2.
Despite its small size, Mburo's great mix habitats make for a wide range of mammals and birds. And its tranquil atmosphere and soothing views provide welcome relief after long Uganda safaris. Unique to Mburo is the availability of walking safaris, horseback rides, and cycling adventures with in the park.
These special activities allows for closer viewing and exceptional photographs of abundant plains game like zebra, giraffe, buffalo, and antelopes. You can even take a boat trip on Lake Mburo to see plenty of Hippos, Fish Eagles, and Crocodiles.
7. Rwenzori Mountains National Park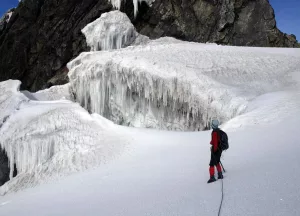 Did you know that Uganda is also a place of snow and ice? The Rwenzori Mountains National Park in the Rwenzori Mountains form Uganda's jagged western border with the Democratic Republic of Congo.
The highest peak shared is Mount Stanley, at 5,109 m, and it is Africa's 3rd tallest peak. The Rwenzori Mountains are haven for trekking and mountain climbing.
Hardly anybody is there, which makes visitors feel like they have the world to themselves – a geographer once called them the 'Mountains of the Moon', an apt description of its isolated feel.
Charming day hikes in the foothills are available in the foothills and multi-day treks to the peaks offers experienced mountaineers incredible sights of Africa's equatorial snow.
These treks are operated by expert local operators who spend years hacking routes through the forest, feeling their way up cliff faces to make the adventure possible.
8. Semuliki National Park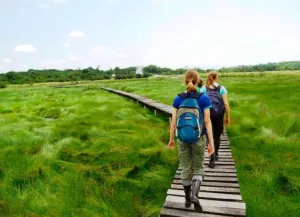 For a taste of West African Jungle without leaving Uganda, there is Semuliki National Park.
The 219 km2 rainforest is also located in western Uganda. It is an extension of West African jungle that stretches all the way from Equatorial Guinea through Congo, forming a habitat for some special Guinea-Congo biome species that do not exist in other areas of east Africa
It also contains east Africa's only lowland tropical rainforest, and is contiguous with DR Congo's Great Ituri forest.
Semuliki is one of Africa's richest areas of floral and fauna diversity, especially for bird and butterfly species. It has over 440 bird species including 50 that are found nowhere else in east Africa!
In terms of mammals, Semuliki has some special species as well. Visitors can explore the park on nature walks. They will also want to check out the famous Sempaya Hot Springs (which run so hot, they can hard boil an egg in 10 minutes).
9. Kidepo Valley National Park
Kidepo National Park is a beautiful harsh land of semi-arid savanna and sharp-cut mountains, tucked up against the border with South Sudan in the far northeastern corner of Uganda.
This rugged and isolated wilderness has been ranked by CNN travel in the recent past as one of the 8 best Africa safari destinations.
Unfortunately, regardless of its high rating, Kidepo is still one of the least visited national parks in Uganda.
This is partly because Kidepo is one hard to reach park. But the 10 to 12 hour road trip from Uganda's Capital, Kampala or a fairly expensive domestic flight is a small price to pay to discover one of last remaining true wilderness in Africa.
You can enjoy game drives and nature walks to see big cats (cheetah, lion and leopard) and massive buffalo herds. For the birders, bird life is nothing short of abundant within this park, a kaleidoscope of winged beauties.
It is also possible visit the famous Karamajong people or take a hike into the mountains to meet one of the most marginal communities on Earth (the Ik people).
10. Mount Elgon National Park
Mt Elgon National Park is located in eastern Uganda about 235km (4 to 5 hour drive) from Kampala. Its dominant feature is, of course, Mount Elgon its self – a massively eroded remains of an extinct volcano that was once Africa's highest mountain.
At 4,321 m, it is now the 8th tallest in Africa, still with the largest base in the world.
This is also East Africa's largest and oldest solitary volcano, measuring 80km in diameter, with a caldera of over 40 square kilometers.
Situated in eastern Uganda on the border with Kenya, Elgon National Park's 1,279 square kilometers fall across both countries, though most (1,121 square kilometers) are in Uganda.
It is home to a wide variety of vegetation (influenced by elevation), mammals both big and small and 300-plus bird species. The park features stunning waterfalls, gorges, hot springs within the caldera, caves, and the mountain peaks. Activities here volcano hiking, nature walks, bird watching, coffee tours, and community tours.
Uganda National Parks Map
Animals In Uganda National Park
Mountain Gorillas
Chimpanzees
Monkeys
Lions
Leopards
Elephants
Buffalos
Crocodiles
Hippos
Warthogs
Antelopes
Shoebills
Giraffes
Zebras
Hyaenas
Cheetahs, etc..
FAQs About National Parks In Uganda
How many national parks are in Uganda?
Uganda has 10 national parks including 4 savannah parks and 2 gorilla safari park.
Which national park is the most visited in Uganda?
The most popular and most visited park in the whole of Uganda is Queen Elizabeth National Park'. It has a spectacular scenery and abundant wildlife which make it a firm favorite with visitors to the country.
Which is the biggest park in Uganda?
Murchison Falls National Park is Uganda's biggest national park. It measures approximately 3,840 square kilometres.
Which is the second-largest national park in Uganda?
Located in the southwest about 437 kilometers from Kampala city, Queen Elizabeth National Park is Uganda's second-largest park and most popular conservation area.
Which is the smallest national park in Uganda?
Mgahinga Gorilla National Park is the smallest of all the Uganda national parks covering only 33.7 square kilometers. The smallest savannah park in Uganda is Lake Mburo National Park at 260 square kilometers.
A Final Thought On National Parks In Uganda
After decades of hardship under politically oppressive regimes, Uganda is finally coming back into its own and trying to right many wrongs. As one of the core sectors driving the country's socio-economic transformation, tourism plays a big part in that.
With this in mind, remember that the Uganda Wildlife Authority (UWA), which oversees the 10 national parks in Uganda, gives 20% of all national park in Uganda collections to communities that border the parks to develop facilities such as schools, hospitals, water infrastructure, and roads.
Any money spent on appreciating wildlife in Uganda is also helping to improve the quality of life and establish a more stable equilibrium between humans and animals.
Lastly, don't forget Ziwa Rhino Sanctuary. Located near Murchison Falls National Park, it is the only place where you can see wild rhinos in Uganda. The sanctuary offers a great opportunity to see all the African Big Five animals in Uganda.