Things To Do In Bwindi – Before Or After Gorilla Trekking
There is a variety of exciting things to do in Bwindi – before or after gorilla trekking.
Bwindi Impenetrable Forest National Park has been declared a World Heritage Site because of its incredibly diverse eco-system.
Bwindi's vine-covered, fern-rich canopies shelters over 120 species of mammals, 220 butterfly species, plus many reptiles and amphibians. There are also around 400 plant species and 350 bird species, including 23 Albertine Rift endemics.
More famously this "Impenetrable Forest" is home to half of the world's population of endangered mountain gorillas. It's the number one spot for trekking gorillas in Uganda.
Bwindi gorilla trekking tours typically last for a minimum of three days. On day one you transfer to Bwindi, day two, you trek gorillas, and on day three, you transfer back to Entebbe, Kampala or Kigali. So,what other Uganda safari activities can you add to Uganda gorilla safaris at Bwindi.
What follows is our pick of the best things to do in Bwindi– Before or After Gorilla Trekking:
1. Scenic Forest Walks – Hikes
Besides the famous gorilla trekking adventure, Bwindi Impenetrable National Park offers wonderful forest nature walks. You can spend your time here on slow, scenic guided forest walks, enjoying amazing sights and sounds of the rainforest as you take in its natural beauty.
You will have ample opportunities see hundreds of bird species, a variety of unique tree species, chameleons, geckos, crowds of colourful butterflies depending on the season, and rare flowery plants such as exotic orchids.
There are also potential glimpses of the monkey species living in the park as they move through the forest canopy. A popular option is the 3-4 hour round hike in Buhoma Sector that leads a beautiful waterfall. Hiking enthusiasts can explore several other guided hiking trails such as
Munyanga River Trail – Excellent for birders.
Muzabajiro Loop Trail – Climb up to Rukubira hill which has spectacular views of the Virunga ranges.
Rushura Hill Trail – Rushura hill, the highest in Bwindi at 1,915m
Ivy River Trail – From Buhoma sector to Nkuringo sector.
Kashasha River Trail – From Buhoma to Nkuringo.
Mbwindi Swamp Trail – Great for birders
2. Batwa Cultural Experience
Another of the best things to do in Bwindi – before/after gorilla trekking is the Batwa cultural tour. The Batwa People have lived in the Bwindi Forest for over 1000 years.
They are one of Africa's oldest indigenous tribes still in existence.
These people have a truly unique relationship with Uganda rainforest – and believe in a legend passed down generations that their god Nagasan entrusted them with the responsibility of being the "Caretakers of the Forests".
However, they were evacuated from Bwindi Forest when it was gazetted to protect the critically endangered mountain gorillas.
Traditional hunter gathers who utterly depended on the forest for survive; the Batwa had no skills/means to adapt to modern life. They suffered terribly and fell victim to early exploitative tourism.
This is, thankfully, is changing, and tourism now holds the key to the survival of these interesting people and their ancient culture. Batwa Development Program and other organizations have devised responsible tourism experiences that enable the Batwa to introduce visitors to the forest as their guests.
You are immersed in how they survived in the forest as hunter-gatherers and witnessing first-hand their symbiotic relationship with nature. You discover what they ate, how they hunted, the plants and herbs they used, as well as how they danced, sang and socialized.
You also listen to their fascinating stories and legends; test their bow and arrow skills; take part in a mock hunting party, and enjoy the singing and dancing of the tribe upon returning as successful hunters.
The Batwa Tribe Excursions not only produce direct money for the Batwa Guides, but also raise awareness and generate further income for the education and general assistance of the wider community.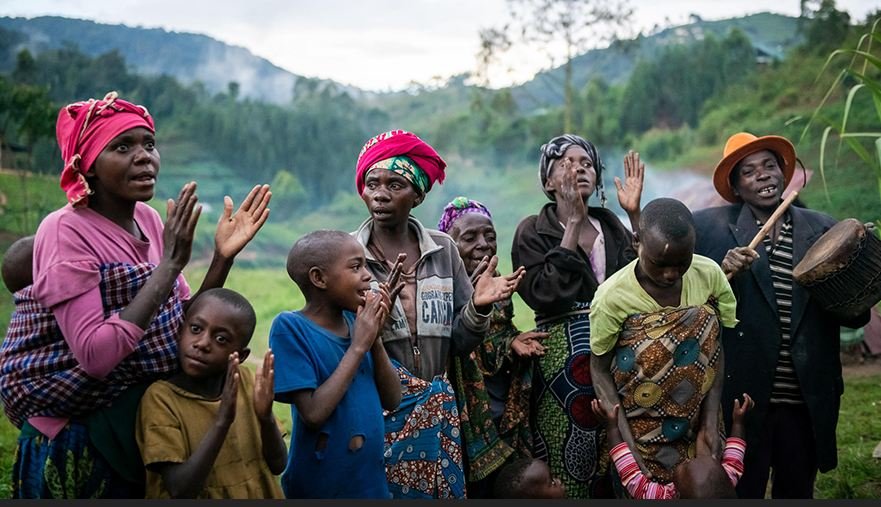 3. Community Village Walks (Bwindi Lives & Livelihoods Guided Trails)
These special guided trails offer more a unique understanding of this culturally rich area of Uganda. Specialist guide will lead you on a tour of traditional ways of living and local culture, as well as the beautiful landscapes and wildlife in the surrounding area.
The trails were created to support poor people living close to Bwindi Forest under the 'Local economic development through 'pro-poor' gorilla tourism in Uganda' project, which is funded by the UK Government's Darwin Initiative.
All of the money you pay for the experience is all retained locally. This covers payments for guide and the locals you'll meet on the walk.
Traditional Rural Life & Batwa Culture Trail
With a knowledgeable guide, you will explore the natural, cultural, and everyday treasures outside of Bwindi Impenetrable Forest on this trail.
Your journey will begin at the Bwindi Impenetrable National Park entrance in Buhoma. You will visit a traditional healer who have learned his trade many years ago when his family was residing in Bwindi Impenetrable Forest.
You will also tour a tea garden, fish and vegetable farm, as well as banana and coffee plantations. So, there will be so many different things to touch, smell, and, if you like, taste.
You have the Batwa Cultural experience. At a small glade near a stream, the Batwa chief will greet you, in traditional forest costume, tell you about his ancestor's heritage and demonstrate their ways of life.
There will be several opportunities throughout the trail to view the stunning panoramic views and the beautiful birdlife along the Munyaga River. Here, you could even pause for a while and take a dip in the cool, clear water.
The walk will end at the Ride 4 A Woman Craft Cooperative, where you can have a cup of tea with the talented women weavers, as you marvel at their sewing and weaving skills.
This centre was established provide abused women with a way to earn income through renting and servicing bicycles. But it has evolved into a successful cooperative where women learn weaving and sewing techniques. This adventure takes 3-4 hours and covers 5.5 km. This is a guided tour only.
Rubugiri Origins & Honey Trail
Also outside Bwindi Impenetrable National Park, you can discover the scenic Rubuguri hills on a guided trail with a local guide.
As you take in the natural beauty of Uganda and the way of life of the locals, you will learn about the myths and legends of Rubuguri.
Your adventures will begin at a local market in Rubuguri Town. Every Friday, locals and visitors from the nearby nations of Rwanda and Congo congregate here to buy and sell clothes, livestock, and locally grown fruit and vegetables.
You will visit a forest apiary, a tea nursery and a honey processing centre to learn about how tea is produced, and how honey is made. If you are lucky, you may even meet the gold miners and the Batwa Pygmy People, and hear their stories.
Your tour guide will also share local legends, including the tale of Nyandwi, who took refuge in the Rubuguri cave that you will visit, and the story of the footprints in the Rubuguri origins rocks. The 2.5 kilometer long walk in Rushaga Sector, south of Bwindi National Park, takes two hours to complete.
Reformed Poachers Trail
On this trail, you will also explore the breathtaking Rubuguri hills, with an experienced local guide. You will learn all about the daily lives of local people as you meet weavers, farmers, and beekeepers.
Your tour will begin at the Bwindi Honey Shop in Rubuguri. Your guide will take you out of town. You will see how local people earn a living by visiting a banana plantation, coffee farm, and market gardening enterprise that was started as an alternative to poaching.
You can look out for the pied kingfishers and grey crowned cranes at the Kashasha Wetlands, and spot the exquisite hidden pond at Bereta and Banyara Waterfalls.
You will meet the highly talented ladies who weave baskets that reflect the beautiful landscape in which they live. You will opportunities to see how people process coffee beans and make local gin. You can also buy local honey, baskets and other handicrafts.
The trail takes 3.5 – 4 hours, and covers 5.5 km in the Rubuguri hills to the south of Bwindi Impenetrable National Park.
4. Bird Watching In Buhoma
Bwindi Impenetrable Forest is undoubtedly the best forest birding spot in all of East Africa, if not the entire continent. Bwindi is home to over 350 species of rare birds, including 23 Albertine Rift endemics.
The forest trails in Buhoma section offers the best chance to catch a glimpse of olive long-tailed cuckoo, Ross's Turaco, bar-tailed trogon, handsome francolin, red-throated alethe, dusky tit, Abyssinian ground thrush;
the enigmatic Chapin's flycatcher, white-bellied robin-chat, equatorial akalat, Jameson's antpecker, magpie manikin, Neumann's warbler, northern double-collared sunbird, black-faced Prinia, black bee-eater, black-billed weaver, and newly described Willard's sooty boubou.
If you scan the snags and canopy contours, you can see sooty flycatcher as well as Waller's, Stuhlmann's and narrow-tailed starlings.
5. Birding The Neck
"The Neck,' a transitional area between Buhoma and Ruhija are well known for black sparrowhawk, western bronze-naped pigeon, cinnamon-chested bee-eater, Cassin's honeybird;
Petit's Cuckooshrike, white-chinned Prinia, mountain wagtail, pink-footed puffback, the rare tiny sunbird and the dapper brown-capped weaver.
Away from the forests, amongst the vegetation fringing the tea estates you can strike it lucky with the highly sought-after dusky twinspot.
Here, you can also the yellow-bellied, Kandt's waxbills, streaky seedeaters, yellow-crowned canary, noisy Chubb's cisticola, alert Mackinnon's shrikes, and with luck marvel at a sight of the beautiful Doherty's bushshrike.
6. Birding In Ruhija Sector
Ruhija is your next hotspot in Bwindi Impenetrable National Park.
This sector is home to the Mubwindi Swamp, the most accessible site on Earth for the rare and localised Grauer's Broadbill, one of Africa's most sought-after birds.
This globally threatened bird species is only known from 2 spots in the world, the other being a remote forest in eastern DR Congo.
Other species to watch out for in Ruhija include Carruthers's cisticola, the localised Grauer's swamp warbler, black-billed turaco, barred long-tailed cuckoo, white-headed wood-hoopoe, western tinkerbird, olive woodpecker, the elusive dwarf honeyguide;
Abyssinian thrush, white-starred robin, Archer's ground-robin, stripe-breasted tit, Rwenzori apalis, Grauer's warblers, yellow-eyed black flycatcher, Rwenzori batis, mountain sooty boubou, the rare Lagden's bushshrike, mountain oriole, and strange weaver.
On the flowering symphonias, you can see the incredible blue-headed, regal and scarce purple-breasted sunbirds, all highly desired Albertine Rift endemics.
Dusky, red-faced and the phantom-like Shelley's crimsonwing occur here too. As the sun sets, Ruhija Sector offers your best-bet Rwenzori Nightjar, African wood owl. And if you're exceptionally lucky you can see rare Fraser's eagle-owl.
7. Bwindi Community Hospital Tour
In Buhoma Sector, you can also be humbled by the work done by the Bwindi Community Hospital, which services at least 60000 people.
The hospital is of good quality by local standards. And this is partly because it receives generous donations from tourists and other visitors to the park.
The hospital has a special section for children, provides eye and dental care beside the other common clinical services. The hospital has helped reduce the mortality rate among the local communities and helped take services closer to people in need.
Visitors are allowed access to most parts of the hospital to learn something about the healthcare system in a developing country.
8. Visit Bwindi Bar & Restaurant
If you love food and drinks, another of the best things to do in Bwindi before or after gorillas is a visit to Visiting Bwindi Bar & Restaurant in Buhoma sector.
The facility trains young disadvantaged local people on the fundamentals of hospitality management. These include preparing some of the tastiest local and international dishes around.
This is the place to go if you want to try out local food like Uganda's famous Rolex, cassava chips, Bwindi Salsa, Matooke and groundnut sauce.
This is the spot to go if you want to sample local cuisine, such as the renowned Rolex, cassava chips, Bwindi Salsa, Matooke, and groundnut sauce. Additionally, you may order American coffee and brownies, as well as other internationally recognized dishes.
10. Relaxation
After gorilla trekking through Bwindi's rainforest, you can spend the rest of the day at leisure at one of the many Bwindi lodges. The lodges at Bwindi range from luxury, mid-range to Budget.
Depending on your class of accommodation, you can enjoy a rejuvenating massage, get a drink at the bar and take in the amazing forest views from the elevated lounge, while the warm flames of the fireplace glow in the background
You can as well take a deep in a bathtub for soothing any aching muscles after a day of gorilla trekking in Bwindi.
11. Lake Bunyonyi Tour
Lake Bunyonyi is the most beautiful lake in Uganda. The lake is about 25km long, 7kg wide and 900m deep. It is the 2nd deepest lake in Africa and the 4th deepest lake in the world.
The lake is also surrounded by rolling terraced highlands of Kigezi and dotted with 29 islands, some of which have fascinating dark stories.
You can take a ride in a small dugout canoe to learn about some of them, from Punishment Island, where unmarried girls who got pregnant were abandoned to die of hunger, to Leprosy Island, which used to be a leper colony run by a Scottish missionary.
Lake Bunyonyi lies about 2 hour drive from Bwindi. It's a perfect relaxing spot after gorilla trekking in Uganda. After your Uganda gorilla safaris, you can also take a boat cruise, Zipline across lake, or go for a swim in the lake.
12. Explore Lake Mutanda
The Rushaga sector of Bwindi Impenetrable Forest National Park includes Lake Mutanda. With the misty Virunga volcanoes as a backdrop and ringed by papyrus swamp, there are plenty of hikes, birdwatching, and water activities to be enjoyed around this lake after or before gorilla trekking in Bwindi.
Our Suggested Uganda Safaris Itineraries Featuring Bwindi Impenetrable National Park