Dubai Holiday Packages take you to a dazzling city of wonders in the United Arab Emirates (UAE). Known for its enormous shopping malls and soaring skyscrapers that almost kiss the heavens, Dubai is of the most sought after destination for holidays from Uganda and all over the world. This is because of the incredible amount of choices and things to do in Dubai.
A shopping hub, leisure place, entertainment hub, nightlife to remember; what else you want to call this city when you have multiple names to tag it. Whether you are looking for a quick week-long getaway with friends, romantic holiday, or a family vacation, Dubai has so many beautiful things to offer. Among some of the unmissable attractions and things to do in Dubai are a Dubai City Tour, Shopping, a Desert Safari, a Dhow Dinner Cruise as well as visiting the iconic Burj Khalifa – the tallest building on Earth.
Dubai Holiday Packages allow you to explore cities fascinating heritage and tradition as well as the modern metropolis that it has now become. It is this unique mix that keeps travellers going back to Dubai. Book one of our Dubai holiday Packages and have an experience like never before!
One of the bestselling 6 days Dubai holiday package for families, couples and friends has been crafted to offer an...
If you are planning to have a lavish sort of a honeymoon but have restraint budget, then do not worry,...
Dubai City Tours and Attractions
Dubai is well-known for its dramatic skyscrapers, and above them all looms the 828 meter high Burj Khalifa the world's tallest building.
Shaped like a deep-space rocket, Burj Khalifa is the symbol of Dubai. It's a stunning feat of architecture that must be incorporated in Dubai holiday Packages. A trip to the observation deck on the 124th floor (1483 feet) is the most popular way to take in the breathtaking views it offers.
You can also buy tickets for "At the Top Sky" on the 148th floor, which is the world's highest outdoor observation deck at 1820 feet. Covered in 28,000 glass panels, the Burj Khalifa also holds many other records in its credit, including;
The building with most number of floors
The building with highest occupied floor
The world's longest travel distance elevators
The world's highest nightclub and many more
Burj Khalifa is a true man made miracle and a must to visit place for every tourist in Dubai. On our Dubai holiday packages, you have a chance to explore this mesmerizing landmark.
One of the marvels of Dubai is the Burj Al Arab. This hotel is considered the only 7-star hotel in the word and has become the iconic symbol of Dubai's boom years.
This landmark luxe hotel, with its dramatic design that resembles the billowing sail of a ship, is situated on its own artificial island. It is the fourth tallest hotel in the world. Its interior is all about impact, drama and unapologetic bling, with dancing fountains, gold fittings, shiny marble and whirlpool baths your butler can fill with champagne if you so wish.
The hotel features 202 bedroom suites. The smallest suite occupies an area of 169 square meters and the largest covers 780 square meters. The Royal Suite, billed at $25,000 per night, is listed at number 12 on World's 15 most expensive hotel suites.
If a stay exceeds your budget, you can still partake in the opulence by making reservations for cocktails, afternoon tea or dinner in the underwater restaurant.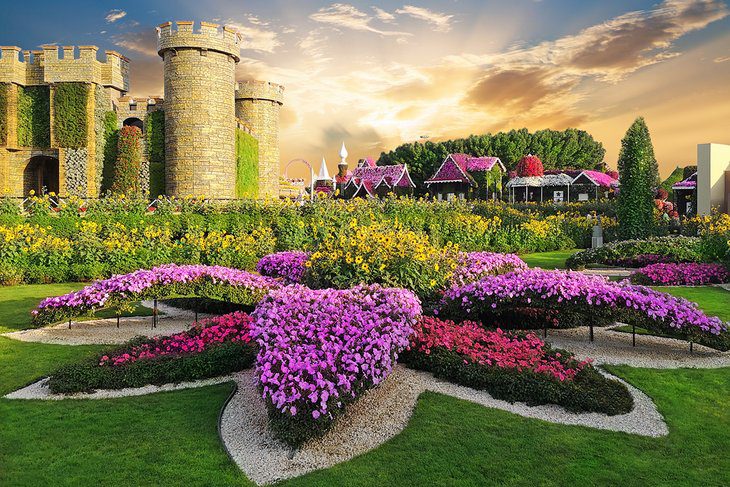 While customizing your Dubai Holiday Packages, ensure that a visit to the Dubai Miracle Garden is added to your lists of things to do in Dubai. As its name is self-explanatory, this 2000 square meter wide is an absolute miracle. It is the world's largest flower garden.
Home to over 100 million flowers, it is one of the most alluring tourist attractions in Dubai, attracting around 55,000 visitors a week. Here you can wander past peculiar bloom-covered peacocks, clocks and castles. Alternatively, you can choose to just chill out in a cabana with billowing drapes and floor cushions. You will feel like Alice in Wonderland.
4. The Dubai Mall - Shopping
Shopping malls are an integral part of the culture and lifestyle in Dubai.
Not merely places for maxing out your credit cards on fashion, electronics or gourmet foods; malls of Dubai are also where locals go to socialize in restaurants and cafés, to catch a movie in a state-of-the-art multiplex or to get adrenaline kicks in an indoor theme park or game arcade.
The best and biggest of the bunch is Dubai Mall. Located next to to Burj Khalifa, it is part of the 20-billion-dollar Downtown complex, and features 1300 stores. Dubai Mall remains the most visited building on the planet, attracting more than 54 million visitors each year.
It features not only 1300 stores but also a giant aquarium, an indoor ice rink and a genuine dinosaur skeleton. Serious shoppers on Dubai holidays can visit during Dubai Shopping Festival, which attract bargain-hunters from around the world. It occurs in January every year, and there are huge discounts in the malls. The city is abuzz with activities during the festival, ranging from live concerts to fashion shows and nightly fireworks.
Get ready for an awe-inspiring look into the world 50 years from now at Museum of the Future.
Designed as an asymmetric torus clad in steel and glass, this museum has been recognised by National Geographic as one of 14 most beautiful museums in the world. It was opened in 2022 and it is situated along the Dubai city's superhighway, Sheikh Zayed Road.
A visit here tickles your senses, and gets you excited for what's to come. Each of the museum's floor is designed like an expansive, interactive movie set, brought to life by expert storytellers, technologists and visionary artists. Topics in focus include the future of space travel and living, climate change and ecology, health, wellness and spirituality.
Children aged 3 to 10 can enjoy an open-world experience at the Future Heroes environment, a dedicated area designed to encourage little ones to tap into their potential.
Deira is a melting pot of many nationalities, known for its charmingly chaotic warren of markets. The famed headliner is the dazzling Gold Souq. Even if you don't have a thing for bling, you can take a walk through here. It is fun to just watch the action, especially in the evening.
If you are buying, sharpen your bargaining skills, no matter whether shopping for teensy earrings, an engagement ring or a dowry-worthy necklace. You can also explore Dubai's famous Spice Souk that is filled with intoxicating sights and smells.
Its vendors work hard to unpack cardamom, saffron and other aromatic herbs photogenically stored in burlap sacks alongside nuts, incense burners, henna kits, shishas and dried limes..
This intricately detailed snowy white mosque is Dubai's most beautiful mosque and one of only a handful in the UAE open to non-Muslims visitors. It is especially beautiful at dusk and visitors are allowed in 6 days a week. Please note that modest dress is preferred when visiting the mosque and traditional clothing can be borrowed for free.
The Dubai Frame was opened in January 2018. This 150 meter rectangular 'picture frame' sits in Zabeel Park. It is situated right between historic and modern Dubai, and offers impressive views of both parts of Dubai city.
There are galleries on the ground floor of the frame that tell the story of Dubai (the past) before visitors are whisked up to a viewing platform at roof level (the present). The final stop is another gallery depicting a vision of Dubai 50 years from now (the future).
Dubai Museum is the city's oldest surviving structure. Housed in Bur Dubai's Al Fahidi Fort, it offers a well-laid-out introduction to the history of the emirate. You will marvel at its turbo-evolution from simple desert settlement to futuristic metropolis in just a third of a century.
There are dioramas that recreate traditional scenes in a market, at home and in the mosque, while other museum galleries focus on life at sea and in the desert. There is an archaeological exhibition that illustrates the ancient history of the area with a display of items unearthed during excavations at local digs.
Dubai Desert Safari Adventures
Dubai Desert Safari is one of the most-demanded things to do in Dubai with friends and family, particularly with kids. Dubai is well-known for its beautiful deserts, and a desert safari allows you to immerse yourselves in the unique desert landscape. It offers a chance to discover the Arabian Desert, with its weathered mountains, undulating sand dunes and wide open spaces.
1. Evening Desert Safari in Dubai
Looking for an adventure in the desert?
Look no further than the Evening Desert Safari in Dubai. It is a thrilling tour that will take you on a journey through the sand dunes of the Arabian Desert.
It will give you a chance to experience the desert nightlife and see the stars shining bright overhead. It is the perfect combo of Thrilling adventure and stylish Arabian culture. It includes a variety of safari options sought by many travel enthusiasts.
The 6 hour evening tour commences in the afternoon with pickup by luxurious 4X4. It will take you Arabian Desert that will make your experience unforgettable. You will enjoy the sensational dune bashing, sand boarding and ATV Quad biking on the sand of Arabia.
This tour is also a golden chance to explore and capture eye-catching views during sunset. Admire the Arabian culture while riding a camel and take pictures holding a Falcon. You can adore the environment of the traditional Arabian Bedouin camp with the Belly dancing, Tanoura and thrilling fire shows. Satisfy your hunger with the delicious BBQ buffet dinner which comes with a wide variety of veg and non-veg options.
2. Overnight Desert Safari in Dubai
Over desert safari is an excellent experience one must-have to try while on a holiday in Dubai. Your tour begins with a pickup from the hotel by luxurious 4X4.
Your 4×4 will take you through the scenic dunes. After ending the adrenalin filled dune bashing, you will continue to the sand campsite. The camp is designed traditionally to enhance your Arabian experience. Also, the camp is adorned and outfitted with Arabic majlis.
You will be carried away in the magnificent sunset over the horizon while enjoying activities like sandboarding on the hill sand and gigantic camel ride. During the overnight camping, you'll be facilitated with free unlimited refreshments. You'll get to enjoy a feast of mouth-watering BBQ buffet dinner, while the stage will be blazing with amazing live performances, such as the incredible twist and bend belly dancing, jaw-dropping fire show.
3. Morning Desert Adventure
Early Morning Desert Safari Dubai is recommended for those who like to spend the day in peace, silence, and serenity of the breathtaking Arabian Desert. Your professional and experienced guide will pick you up from your hotel in a 4×4 drive vehicle.
You will be whisked off to the heart of the desert on a thrilling dune drive. Once you have conquered the endless sand dunes, you will enjoy a truly authentic Arabian experience as you try out camel riding, horse riding, ATV riding, and balance out the thrills with a bit of sand boarding. Learn more about the desert wildlife and conservation from expert safari guide.
Your adventure can continue to a beautiful campsite in the heart of the Dubai Desert Conservation Reserve where you get to indulge in a delicious breakfast served in a box.
Your fun-filled morning concludes with a relaxing drive back to your hotel. For people who love photography or getting photography, they can enjoy a sunrise photography session. The Arabian Desert is the perfect place to do so, with its huge dunes and stunning sunrise.
4. Surprise Birthday Party in Desert
Planning to celebrate your birthday parties of your partners or loved one's birthday in a different yet special way? Do you want new birthday ideas to surprise your family member or loved ones in a more special celebration?
Impress your family, partner, loved one's and friend on a special birthday celebration as Tulambule provide you with unforgettable Arabian Desert safari birthday celebration.
Cruise and Boat Tours In Dubai
1. Dhow Cruise Marina with Amazing Buffet Dinner
In modern Dubai, Dhows are used for cruising, entertainment, and sightseeing. Dhow Cruise Marina is a large boat with an upper and lower deck and proper seating arrangements that are well furnished inside and decorated with colorful lightning. The boat has separate washrooms for ladies and gents, and an amazing buffet dinner arrangement is made for dining.
This 2 hours cruise takes you through Marina that will leave you wide-eyed and spellbound as you witness the tremendous 7-star hotel Burj Al Arab and the beautiful man-made island of Palm Jumeirah as you enjoy your scrumptious buffet meal. Reserve a seat in Dubai Marina cruise and get stunned by the lovely modernity of the place.
2. Dhow Creek Cruise - Dhow Cruise Dinner
Tulambule is ready to give you one of the unique tour activities you can ever do in Dubai.
You'll sail in a beautiful wooden lit Dhow cruise across the river bank of the Dubai Deira Creek. The panoramic views of Dubai city are exciting. Relish the most beautiful drinks and catch a glimpse of the best side of Dubai's beauty.
During this cruise you will be enjoying the night-view of the old Dubai along with an exquisitely served international cuisine buffet satisfying your taste-buds. During the dinner you will be entertained with a traditional Tanoura Light Dance show as a final icing to the cake. Moreover, the atmosphere during this trip is enjoyable. You will surely have a great experience.
For the simple reason this trip is offered in a time-honored manner with the utmost comfort. The clear sky and magical Dhow sailing on Creek waters in the moonlight are priceless. This trip is ideal for newlyweds who desire to have a romantic escape.
Dubai Water and Amusement Parks
1. IMG Worlds Of Adventure
Dubai added 4 theme parks to its attractions in 2016, including IMG Worlds of Adventure, the largest indoor theme park in the world. Housed in an air-conditioned hangar the size of 28 football fields, this amusement park is truly impressive.
It has over 20 rides and attractions that are split across 4 themed zones –Cartoon Network, Lost Valley Dinosaur Adventure, Marvel and IMG Boulevard. You will not go hungry as there are more than 20 dining outlets to choose from.
2. Dubai Aquarium & Underwater Zoo
This is one of the most amazing places to visit on your trip to Dubai. Whether you are travelling with your family or friends, there is no doubt that it will be an enthralling experience. There is an underwater zoo, moreover, one can also explore through glass bottom boats. Some of the experiences that one can indulge in are shark encounters, cage snorkelling, shark diving, shark walker, etc.
Dubai's dancing Fountain is fabulously set in the middle of a massive lake against the backdrop of the magnificent Burj Khalifa.
Water rolls as gracefully as a belly dancer, arcs like a dolphin and gushes as high as 140 meters all synced to inspiring classical, Arabic and world music soundtracks played on speakers. There are many amazing vantage points, including a 272 meter-long floating boardwalk, which takes you just 9 meters away from the fabulous fountain.
Other great viewing spots include some of the restaurants at Souk Al Bahar, the bridge linking Souk Al Bahar with Dubai Mall, the Dubai Mall waterfront terrace, or aboard a 25-minute Dubai Fountain Lake Ride on a traditional wooden abra boat.
5. Atlantis Lost Chambers Aquarium
Come face-to-face with over 65,000 underwater creatures, dive with sharks, and walk underwater at The Lost Chambers Aquarium in Dubai's Atlantis, The Palm hotel.
This state-of-the-art aquarium is themed around the mythical Lost City of Atlantis. It contains illuminated underground chambers brimming fish of all shapes and sizes from across the world.
There are over 20 impressive marine life exhibits, including a touch tank and the interactive Aquatheatre, where daily shows let you in on some of the diving team's secrets to interacting with marine life. What makes this aquarium special is the legend that surrounds its establishment. A series of submerged passageways and ruins were seemingly discovered as the resort was being built—ruins that are believed to be those of the lost city.
Discover for yourself as you learn about not only aquatic life but also the history and culture of Atlantis. Choose between enjoying the behind-the-scenes tour, visiting the aquarium, and the state-of-the-art Fish Hospital, or a thrilling dive into the world-famous ambassador lagoon.
Throw yourself into the action of the largest waterpark in the world. Get your pulses racing with 105 slides and incredible attractions and experiences, make your way through the Raging Rapids, and relax on 1km of private beach.
Young families will enjoy the safety of Splashers' Kids Play Area, a dream attraction for families for non-stop splashin' FUN, while animal lovers can get up close with dolphins, sea lions, sharks, and stingrays. Enjoy over 22 fun-filled hectares of record-breaking fun for all ages.
7. Dubai Parks and Resorts
Get ready for excitement, jaw-dropping shows, adrenaline-pumping rides, and endless movie-themed fun for the entire family at Dubai Parks and Resorts.
Spanning over 25 million square feet, Dubai Parks and Resorts is home to three theme parks including LEGOLAND® Dubai, MOTIONGATE™ Dubai, and LEGOLAND® Water Park, the region's first splash-tastic destination for families with kids aged 2 to 12.
Each of these theme parks offers unbelievable entertainment for little and big ones. You can meet the Smurfs, dance with the animals from Madagascar, go on wild rides through magical worlds inspired by every kid's favorite movies and pure imagination, the list goes on and on!
Another adventurous place you can visit in Dubai especially with kids is Wild Wadi Waterpark. This amusement park boasts over 30 water attractions and draws almost a million visitors annually. It offers many different and adventurous rides that are suitable for both kids and adults. You can enjoy everything from white-knuckle chutes to lazy rivers, play pools, surf waves, and more. Wild Wadi is located in overlooking the Burj Al Arab hotel on Jumeirah Beach.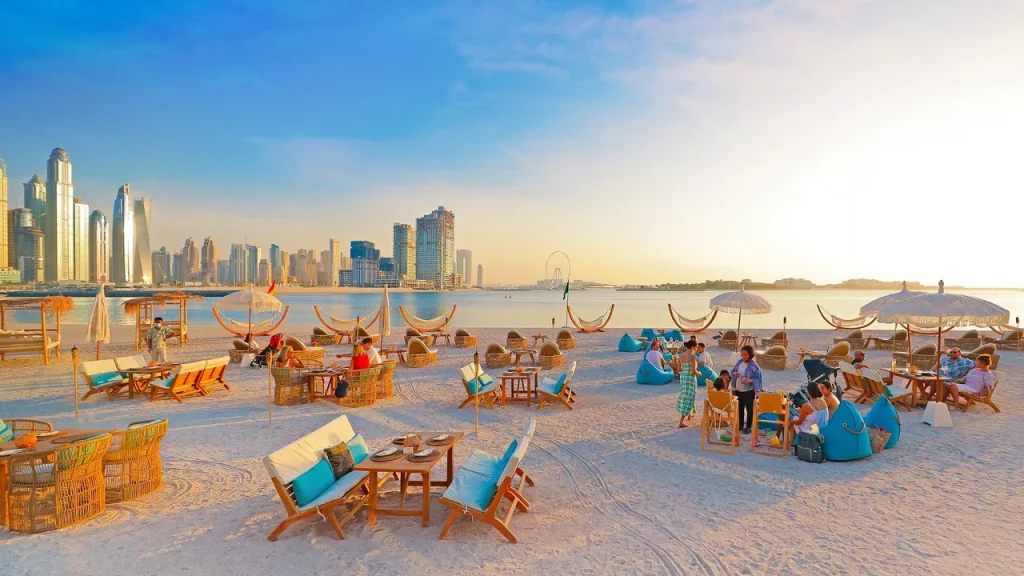 This long, pristine stretch of white sand, off Jumeirah Road and next to a mosque is superclean. It is the perfect place to visit is an ideal place to visit if you wish to enjoy lots of activities, including, kitesurfing, beach tennis, beach volleyball, kayaking, wakeboarding, stand-up paddleboarding, cruising and parasailing.
Kite beach has showers, Wi-Fi, toilets and changing facilities, plus lots of food trucks and cafés. This beach also offers stunning views of the Burj Al Arab, and gets very busy on Friday and Saturday when a seaside market with crafts and gifts sets up.
Sunset beach is a wide sandy public beach that is situated north of the Jumeirah Beach Hotel. It is an ideal place for snapping that envy-inducing selfie with the Burj Al Arab – Dubai's photogenic seven-star ultra-luxury hotel as a backdrop. It is also the only decent surfing beach in Dubai, featuring small to medium waves that are perfect for beginners.
The best months for surfing are from December to February, although October, March and April may also bring decent swells. Sunset beach has great infrastructure, including showers, changing cubicles, toilets, and wi-fi via Smart Palms. There is also a short-floodlit section for night-time swimming.
JBR Beach is a wonderful, clean beach with several facilities, including toilet, showers and changing rooms housed in distinctive paneled pods. If you are on a family holiday in Dubai with kids, the little ones can keep cool in a splash zone, and there is even an outdoor gym for pumping iron. Since the beache is situated next to the urban plazas, there is no shortage of cafes and restaurants. There are also glorious views of the new Ain Dubai observatory wheel.
Al Mamzar Beach Park's landsacpe features a long string of 5 lovely sandy sweeps. This beach has many family-friendly infrastructure such playgrounds, a swimming pool, picnic areas with barbecues, water sports, bicycle rentals, snack bars, lawns, Smart Palms for wi-fi access and air-conditioned cabanas. There are few food outlets, thus you may need to come with a picnic.