Things To Do In Kidepo Valley National Park
Explore All the best things to do in Kidepo Valley National Park on your Uganda safaris…
Kidepo Valley National Park has the exact features of a true African wilderness. This 1,442 km2 park has been ranked by CNN travel in the recent past as one of the 8 most beautiful safari destinations in Africa.
It's charming savannah landscape make it the only national park in Uganda with conditions that rival Kenya's Masai Mara or the Serengeti in Tanzania.
But, regardless of its stunning beauty, it's still one of the least visited Uganda safari parks. This is partly due to its isolated location in the far northeast of Uganda.
Wondering what to do in Kidepo National Park? There are several points of interest in this beautiful game park. To get you started, here are some of the best things to do in Kidepo Valley National Park:
Top Things To Do In Kidepo Valley National Park
1. Game Drives
One of the most rewarding things to do in Kidepo Valley National Park is going on a safari game drive.
Kidepo offers some of the best game drives that you'll cherish in your memories long after you return from your African safari vacation in Uganda.
The best thing is that you feel that you are all alone; it is Africa without the Crowds.
Much of Kidepo is flat landscape with scenic undulating hills scattered in a few spots.
The vegetation is high catching savannah grassland that spread into horizons beyond the eye can see, making animal spotting less difficult on your Uganda safari tours here.
There is night and the normal daytime game drives in Kidepo. Day game drives generally are best done in the early morning and late afternoon when it is cooler.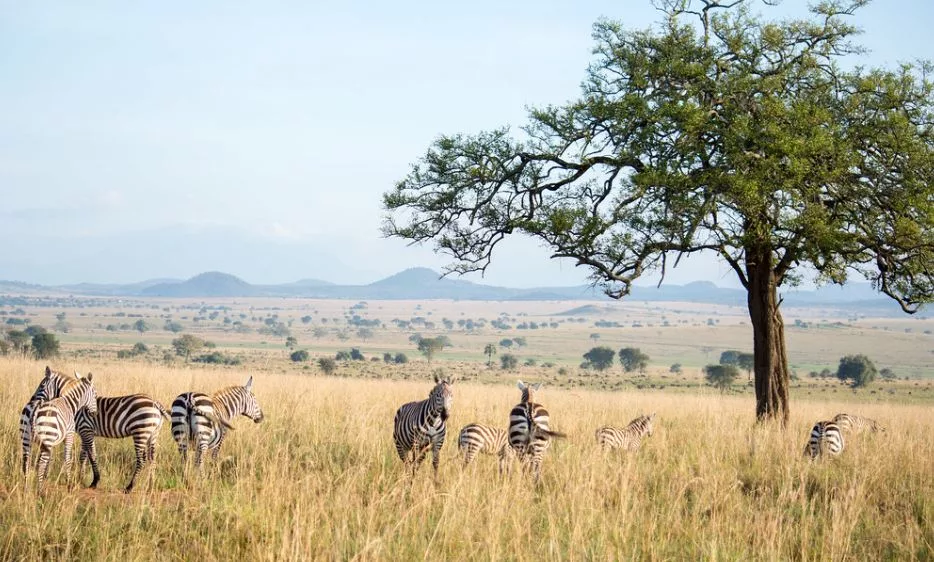 Animals To See On Kidepo Game Drives
Kidepo supports about 77 mammal species, including four of the Big Five animals (Lion, Leopard, elephant and buffalo).
Also all the three Africa's Big Cats (Lion, Leopard, and Cheetah) are present here.
The park also has 28 animal species that cannot be found in any other park in Uganda.
These include Caracal, Aardwolf, Cheetah, Bat-eared Fox, Black-backed Jackals, Greater kudu, Lesser Kudu, and Chandlers Mountain Reedbuck.
Other Uganda animals in Kidepo include Zebra, Rothschild Giraffes, Warthogs, Common Eland, Jackson's Hartebeest, Oribi, Klipspringer, Dikdik, Spotted Hyena, Bush Pigs, Crocodiles, Bush babies, patas monkeys, and Side-backed Jackal.
Kidepo is the best park in Africa for great buffalo herds!
Night Game Drive
A night game drive in Kidepo National Park is also among the great things to do in Kidepo Valley National Park on your Uganda wildlife safaris.
It is the only game viewing time that clearly exposes you to the nocturnal animals of Africa such as leopards, lions, jackals, hyenas, and others.
There are chances of encountering lions or leopards feeding on their hunted prey.
Night drives in Kidepo are done in the company of a ranger guide and are best done in a 4×4 safari vehicle.
2. Nature Walks
They say that going on a game drive is like going to see the movie, but that taking a guided walk is like reading the book. Actually, I don't know if anyone ever said that, but I think you get the idea. Walking is more about the smaller things (and the big things look even bigger on foot!).
Kidepo is one of the few Uganda game parks where you can do a nature walk. It's a completely different place when you're removed from the constraints of a safari vehicle.
Your senses are aware of every sound and movement in the bush and you see things at ground level that you would otherwise miss. It is one of the best things to do in Kidepo Valley National Park while on your wildlife safaris in Uganda.
With an expert ranger guide you'll also learn a lot about the inhabitants of the park and how to recognize their tracks. This is an exciting and very rewarding activity.
You'll have the chance to view species such as zebras, hartebeests, reedbucks, giraffes, buffalos, elephants, and birds. There long trails and circuits which visitors can walk in the early morning to observe species at close range and enjoy the beautiful wilderness.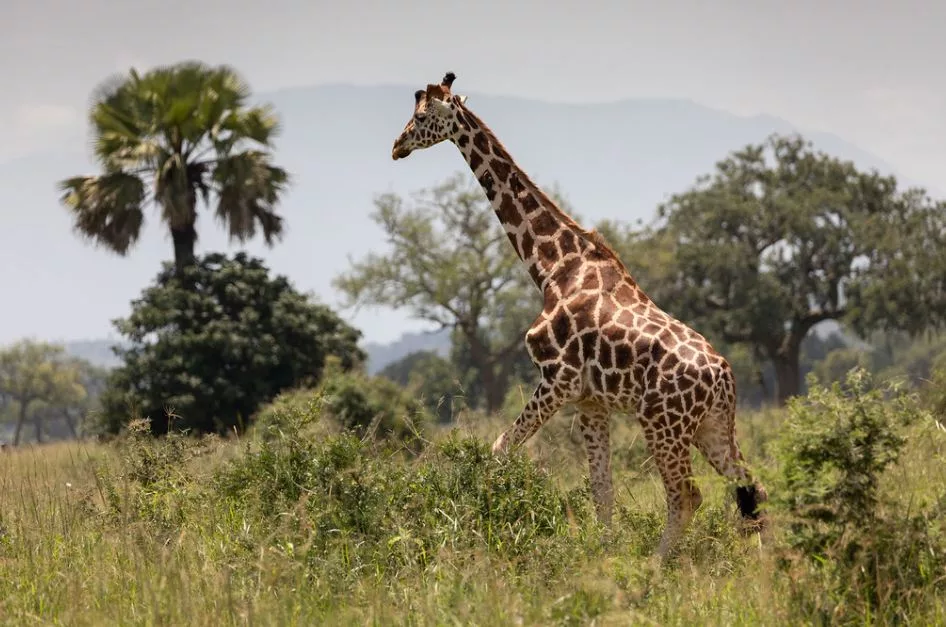 3. Bird Watching
Another of the exciting things to do in Kidepo Valley National Park is bird watching.
Uganda birding tours in Kidepo offers a very impressive bird list of almost 500 species. This is the second-highest population of any Uganda park following only Queen Elizabeth National Park which has over 600 species of Uganda birds.
About 60 bird species in Kidepo have not been recorded in any other Ugandan park.
And no comprehensive survey has been done, so you could easily see some species not previously recorded for the park. Kidepo National Park is especially good for spotting raptors, with 56 species on record.
Migratory birds are present from November to April and visitors can look out for Dark chanting goshawks, Kori bustards (the world's largest flying bird), Common ostrich (the world's largest non-flying bird), Black-breasted Barbet, the Karamoja Apalis, Verreaux's Eagle, Egyptian Vulture, and Pygmy Falcon.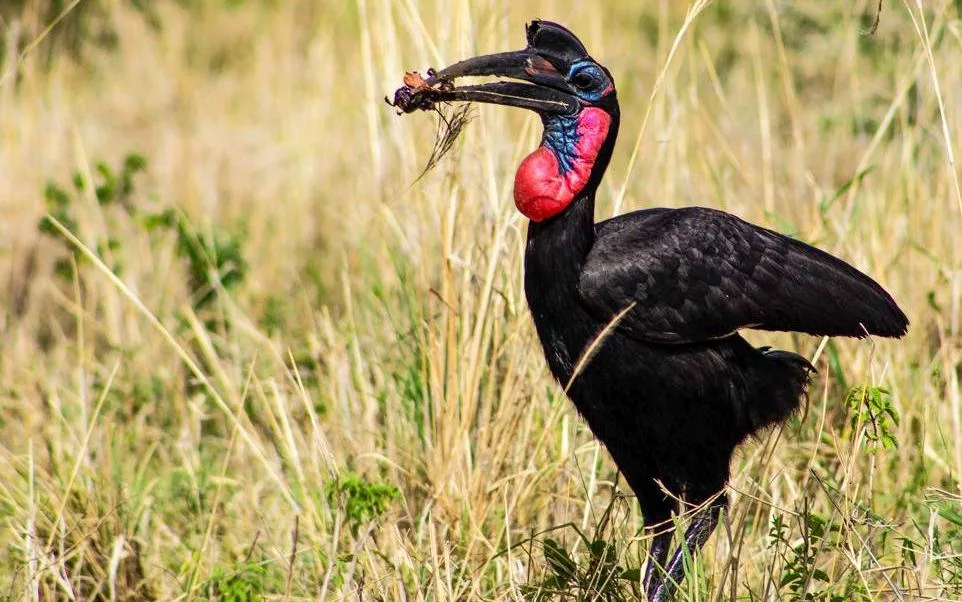 4. Hike Mount Morungole to Ik tribe
The 2,750 m Mt Morungole stands on the eastern border of Kidepo National Park is best known as a sacred home to one the smallest ethnic groups in Africa, a people called the Ik. According to legend, the Ik have wandered through much of East Africa, and came from Ethiopia hundreds of years ago.
Praying to ancient gods, the Ik believe they will one day have to move on from Morungole. But they are fighting to preserve their unique culture and language, which no rival tribes understand.
You can take a day's hiking tour up Mt Morungole through varying vegetation and rocky terrain with spectacular views of Kidepo National Park.
You'll be exposed to their unique way of life and their unique settlements.
5. Visit A Karamojong village – Community Experience
If you are on a Uganda safari tour to Kidepo Valley National Park, a visit to Karamajong village can be included in your itinerary. It is one of the best cultural experiences in Uganda, and a great add on to your things to do in Kidepo Valley National Park.
The Karamojong people live in the north-east part of Uganda and are sharing the same roots as the Masaai of Kenya. They are the main local community inhabiting the Karamoja region and neighboring Kidepo Valley National Park.
These nomadic pastrolists also some of the most remote people in Uganda who have not been embraced modernization. Their culture/way of life is as undisturbed as Kidepo's wilderness.
You can take a visit to their manyatta. A manyatta is a village made up of several huts, which in turn are surrounded by a fence made of branches and sharp thorns.
These are put up to keep the cattle in and to protect them from thieving rival tribes and wild animals.There is such a rich culture in these homesteads that have been preserved over the centuries.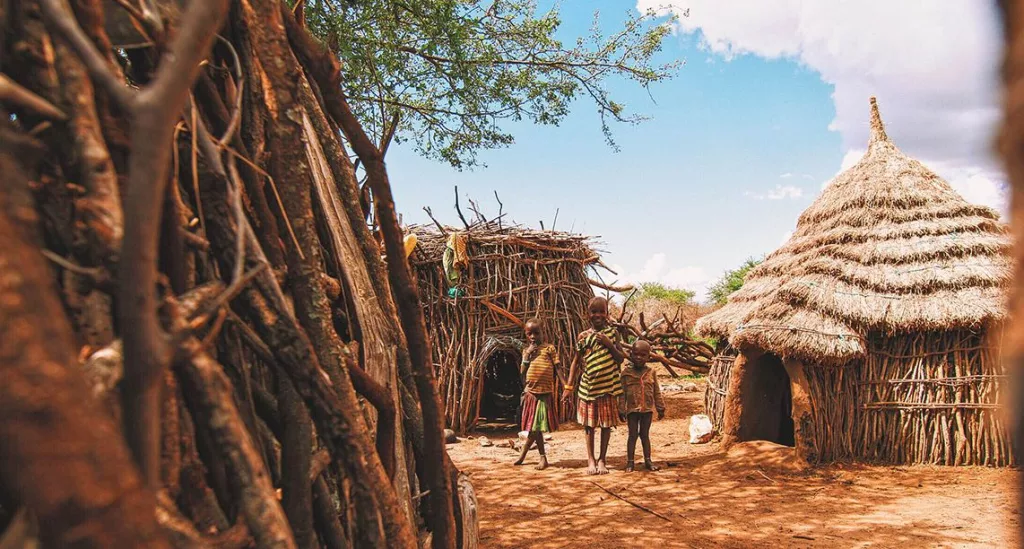 How to get to Kidepo Valley National Park?
By Plane
Entebbe International Airport (EBB), some 40 kilometers from Kampala,the capital city of Uganda is how most visitors enter Uganda. And travellers should be aware of the latest Uganda visa requirements.
If you wish to explore all the amazing things to do in Kidepo Valley National Park in the shortest time possible, Aerolink run scheduled domestic flights, which take about 2 hours from Entebbe Airport or Kajjansi Airstrip in Kampala to Kidepo.
By Road
It is also possible to drive to Kidepo Valley National Park. There are a number of routes.
The most direct route, through Gulu to Lokumoit Gate, takes approximately 10 hours.
Your road trip can be broken up with an overnight stop at Ziwa Rhino Sanctuary where you can track wild wite rhinos on foot, Gulu or Kitgum towns.
Two longer routes pass through the remote Karamoja subregion, arriving at Nataba Gate.
Karamoja was subject to banditry in the past, but it has been considered safe for several years and is a growing center of community-based tourism focused on the small town of Moroto.
Kidepo Valley National Park Entrance Fee (2023-2024)
All Kidepo Valley National Park fees are payable at the gate at time of entrance.
Park fees are valid for 24 hours.
| | |
| --- | --- |
| Visitor Category | Fees (USD) |
| Foreign non-resident | 40 |
| Foreign resident | 30 |
| East African Citizen | 20,000 |
Accommodation At Kidepo Valley National Park
Kidepo Valley National Park offers a number of different accommodation options to travelers on Uganda tours. Accommodation in the form of safari lodges ranging from luxury to low budget can be found.
Lodges
Apoka Safari lodge is the only high-end accommodation facility in Kidepo Park, strategically located overlooking the Narus River valley within the distant Kidepo wilderness.
The lodge has about 10 spacious bedrooms having canvas walls incorporated with a rocky kapje with everlasting views of the savannah landscape on your private veranda.
Alternative lodge options include Kidepo Savannah lodge, a mid-range facility with incredible views of the endless Narus valley and the distant views of Morungole mountains.
The lodge offers self-contained and non-self-contained lazy camping tents; whichever you choose from, you will have a great value for money.
The self-contained tents have comfortable beds clad in Masai blankets and hot showers in attached open air bathrooms. Some tents also have a terrace or balcony where you can relax incorporated with the views of the park and the mountains.
Camping
There are two scenically located campsites in the park at Kakine and Nagusokopire.
A shelter, flushing toilets, water and firewood are provided as well as a ranger guide to entertain guests with cultural stories and other local information.
Hostel
Kidepo Valley National Park runs a hostel with 21 twin-bed bandas, 14 of which are self-contained.
A 4-bedroom guesthouse for self-catering visitors is also available.
Weather In Kidepo
The weather and climate in Kidepo Valley National Park is semi-arid.
Droughts are common and temperatures can reach as high as 40°C/104°F.
However, average around 29°C/84°F in the afternoon and 17°C/63°F at night.
There is one Wet season (differing from two Wet seasons in most of the country) from April to August.
Best time to go Kidepo
Understanding the When Is The Best Time To Visit Uganda?">best time to visit Uganda is important as this will impact accommodation, flight prices, availability and the weather that visitors can expect on their safari tour.
The prime time to see wildlife in Kidepo Valley National Park is during the Dry season (September to March). Kidepo is, however, located in a semi-arid region and can be visited throughout the year.
The Wet season months (April to August) are pleasantly less hot and bring beautiful scenery. Bird watching is at its best at this time as well.
Trips to Kidepo Valley National Park
5 Days road trip to Kidepo Valley National Park
4 days Fly in trip to Kidepo Valley National Park
8 Days Adventure Tour to Eastern & Northern Uganda
18 Days Uganda Safari & Gorilla Trekking