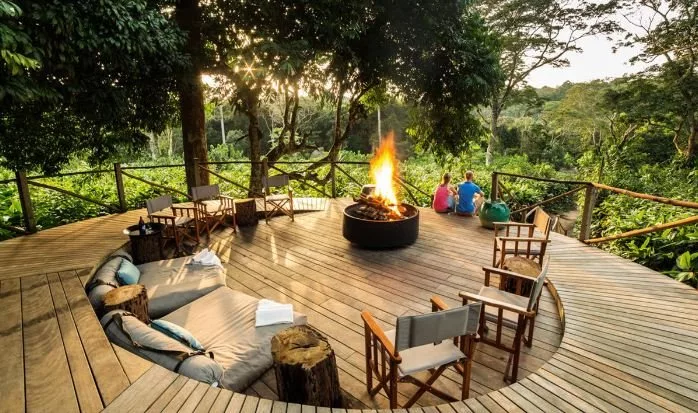 Uganda Honeymoon Safaris Planning Guide, Packages And Cost 2023
Uganda honeymoon safaris are among the most romantic ways to begin your marriage.
If you have been dreaming of an African honeymoon safari holiday with a difference, Uganda may be the right choice for you. A great all-round destination, Uganda abounds with opportunities to share special moments with the person you love.
And the wildlife viewing is outstanding. But most importantly, Uganda safaris offer exclusivity. There are no queues or crowds here.
Some of travel highlights for your safari honeymoon in Uganda include gorilla trekking to see the mountain gorilla, chimpanzee trekking through dense rainforest, boat cruise on the Nile River, and searching for the iconic Big Five animals (Lions, Leopards, Rhinos, Buffalos, Elephants).
Whether you just want to trek mountain gorillas or to indulge in all Uganda has to offer to newlyweds, there are a variety of Uganda honeymoon packages to match your dreams/desires.
Our Suggested Uganda Honeymoon Packages, Safaris, Tours, Holidays, & Vacations
These Uganda honeymoon packages ideas give you a starting point for what your safari honeymoon in Uganda could entail.
Consider them just as inspiration, since each our safari tours in Uganda is designed uniquely for you.
And there are many more safari options available.
Frequently Asked Questions About Safari Honeymoon In Uganda
1. Why Is Uganda A Great Choice For A Honeymoon Safari Holiday In Africa?
Uganda is a great choice for an African honeymoon safari because of the natural beauty wherever you go.
You'll enjoy unique safari experiences in such a wonderful country that is ideal for adventurous honeymooners.
Imagine setting out to trek the rare and endangered mountain gorillas, one of Africa's biggest bucket-list adventures, with your loved one.
You can also share a sundowner drink together on the iconic boat cruise on the Nile River in Murchison Falls National Park.
You can look for the famed tree-climbing lions in Queen Elizabeth National Park's Ishasha Sector, or head north for an off-the-beaten-track adventure in Kidepo Valley National Park and explore the traditional lands of the legendary tribal Karamojong people.
Uganda is one of Africa's top safari destinations, and spending time here with someone close to your heart is a true privilege.
2. Are There Recommended Activities For Uganda Honeymoon Safaris?
In Uganda, there are a variety of safari activities honeymooning couples can enjoy.
The country is not as popular as Tanzania and Kenya, but Uganda is, in fact, a more rounded destination.
The greatest highlight for newlyweds is gorilla trekking.
It will be a memory which you will together treasure for the rest of your lives.
Chimp trekking is also rewarding. When spending some precious time with chimps, you will be in no doubt of whom our closest relatives are.
These great apes and several other primates live in dense rainforests jungles of Uganda, and being in their pristine natural habitat is a special experience in itself.
But there are plenty of savannah game parks in Uganda too. On wildlife game drives, you will see lions, leopards, buffalos, zebras, giraffes, large herds of elephants, antelopes, hippos, crocodiles, birds, and much more.
Equally recommended for honeymooners on Uganda tours are wildlife safari boat cruises where you see plenty of hippos and crocodile in water as well other African wildlife on the banks.
Boat cruises are best done in afternoon but for a special moment, a sunset boat trip is perhaps the most magical option.
Do not miss the opportunity for a night drive in Lake Mburo National Park.
You may see nocturnal creatures, such as bush baby, genet or even the highly elusive African leopard.
Whatever you spot, holding hands and looking up into the night sky away from any light pollution with the sounds of the bush all around is a genuinely wonderful African safari experience.
3. What Are The Most Romantic Places For Uganda Honeymoon Safaris?
There are several romantic locations in Uganda that may be included into a safari honeymoon holiday.
You can visit the scenic Queen Elizabeth National Park for a wide range of safari activities, such as game drive in the savannah, boat cruises on Kazinga Channel, community cultural encounters, and Lion tracking, as well chimpanzee trekking in the 100-meter deep Kyambura Gorge, or Kalinzu Forest Reserve.
The wildlife in Queen Elizabeth National Park is diverse and you might be able to witness the very unusual sight of a large pride of tree-climbing lions lazing in a big fig tree in the park's Ishasha section.
The Murchison Falls National Park is equally recommended for a safari honeymoon in Uganda. This Uganda safari park offers excellent big gem viewing, as well as incredible scenic beauty. The park is home to the spectacular Murchison Falls – are the world's strongest waterfalls on the historic Nile River.
The waterfall is best seen on an afternoon boat cruise along the Nile to the base of the fall. A visit the top of the falls gives you a different perspective. You can also take a special boat cruise to the Nile Lake Albert Delta with a breakfast.
While these safari destinations are hardly crowded, you can get even more remote on your honeymoon safari in Uganda when heading to Kidepo Valley National Park in the far northeastern corner of the country.
Kidepo National Park offers a true Africa wilderness feel. It is also home to many wildlife species that do not occur elsewhere in the country, including the graceful cheetah and Ostriches. You will have to go to Bwindi Impenetrable Forest or Mgahinga Gorilla National Parks for gorilla trekking adventures.
For relaxation after a relatively tiresome gorilla trekking tour, you can choose the nearby lovely Lake Bunyonyi one of the most beautiful places to visit in Uganda.
The most reliable place to see chimpanzees of Uganda is Kibale Forest National Park.
Kibale National Park can get a bit busy. So, as a honeymoon treat, you could consider booking the more exclusive special chimpanzee habituation Experience program where you get to spend a full day with chimpanzees instead of the standard hour-long experience.
4. Can We Extend Our Safari Honeymoon In Uganda With A Beach Holiday?
It is easy to extend your safari honeymoon in Uganda with a beach holiday or gateway.
Uganda is completely landlocked, but if you are looking for some chillout time on the water's edge, you can end your safari with a stay on one of the Ssese Islands in the middle of Lake Victoria – Africa's largest lake in Uganda.
You will not find any typical beach resorts at Ssese, but small-scale ecofriendly lodges/hotel/resorts blend into the rural village scene.
Little touched by tourism, the Ssese Islands are a captivating choice for a safari honeymoon in Uganda.
You will need to travel a bit further to find a more conventional beach holiday destination.
You can head to Tanzania's Zanzibar; a mystical spice island which has everything you could wish for on a honeymoon holiday in Africa.
5. What Kind Of Accommodation Can I Expect On Honeymoon Packages In Uganda?
Uganda offers a good range of accommodation options for a honeymoon holiday.
There are hotels providing all services and amenities in the rooms, such as Wi-Fi, air-conditioning, blow-dryer and Television.
The hotel may have carpeted rooms and they generally feel like a safe haven from the bush.
Other Uganda safari lodges deliberately offer more of a bush experience.
The small, exclusive rustic accommodation in this category is a very romantic choice for a safari honeymoon in Uganda.
They may only have 6 to 10 units available.
There are a lot of various styles, but there is a trend towards using canvas and thatch, either in the form of a traditional standing safari tent under a thatched roof, or something between a room and a tent that has canvas walls on a wooden frame.
These safari lodges are designed to fit into the environment with minimal carbon footprint.
They may use solar energy and only have access to electricity during specific times of the day.
Wi-Fi may only be accessible in the communal area, and hot "bush" showers may be offered only upon request.
Despite their rustic appearance, these luxurious establishments usually offer exceptional food and service.
You may even be assigned a private housekeeper who will attend to your every need, such as early morning wake-up calls with coffee and cleaning your shoes after gorilla or chimpanzee trekking.
6. Are There Special Honeymoon Packages In Uganda?
There are many special Uganda honeymoon packages.
Tulambule Uganda Safaris Experts will put these tours together using their knowledge of the lodges and parks to specifically cater to honeymoon couples.
Each lodge is carefully selected. It may feature an amazing view, a special honeymoon suite, an infinity pool, or a private plunge pool.
The setting should be romantic and the service personable.
You will get a lot of private time; maybe a breakfast on your deck, a private bush breakfast in some romantic location, or a candlelit dinner in a secluded area away from other guests.
7. How Many Days Are Ideal For Uganda Honeymoon Safaris?
At least 8 to 21 days are perfect for Uganda honeymoon safaris.
A honeymoon should allow you to unwind and spend time together.
The Uganda safari destinations are perfect for this. Nature has a relaxing influence on people.
However, a safari itinerary can be jam-packed. Never try to cram too much into any given day.
Make sure you have some time to relax and enjoy the beautiful lodges and surroundings, as well as the game drives. For this reason, it makes sense to ensure you have a few extra days.
You will be able to have some free time on an 8- to 10-day Uganda safari tours, and longer is even better.
8. When Is The Best Time For Uganda Honeymoon Safaris?
The dry seasons – between June to September and December to February is the best time to visit Uganda for a honeymoon holiday.
December, January, and February are mostly dry months in Uganda's spectacular national parks, with little rainfall.
Drier ground makes gorilla and chimpanzee trekking easier, as the forest floor is more solid, and visibility is better.
A perfect honeymoon for primates lovers.
June, July, August, and September are the perfect time to explore all Uganda has to offer.
From gorilla treks in Bwindi Forest to lion tracking in Queen Elizabeth NP.
9. What We Should Carry For Uganda Honeymoon Safaris?
What to bring for Uganda honeymoon safaris is basically whatever you think it is require for your romantic safari holiday.
But, you need to travel light to avoid dispensing energy meant for happiness on luggage.
Each one of you should take a bag for clothing.
And both of you should share another one for accessories and toiletries.
You'll not need fancy dinner clothing but each other on your safari honeymoon holiday in Uganda.
Essential things to take include a jacket or sweater for the cold evenings.
You'll need a light pair of hiking shoes/boots for trekking, long-sleeved shirt and a pair of trousers.
Lightweight sandals or canvas shoes for lazy evening walks are also required.
Carry bug spray to keep the naughty ones away, as well as a backpack to carry your gear or snacks.
A refillable water flask will be great to keep you hydrated during your Uganda safari adventures.
Do not forget to carry your important documents like your passport, visa, COVID-19 test certificate, and yellow fever vaccine card.
Visit your pharmacist and refill your first-aid box and ensure that your health is taken care of during your honeymoon safari in Uganda.
Final Thoughts On Uganda Honeymoon Safaris
Honeymoon safari holidays should be unforgettable and full of special moments that stay with you for a lifetime.
They should also be customized to exactly what you want.
A safari honeymoon ticks all those boxes and more.
For wildlife and nature lovers, it is the ultimate holiday.
Imagine the sound of lion roaring in the night, or a herd of elephant wandering past you in the wilderness, or how about a mountain gorilla just paces away from you in the rainforest.
All incredibly special moments, which for best effect should be shared with the person you love?
It's not just what you do, but where you stay too that makes for the perfect honeymoon.
At Tulambule, we offer a whole range of safari packages and tailor-made trips to suit everyone, whatever the budget or interests.