Uganda Travel Guide - All You Need To Know (2023)
If you're thinking about a safari to Uganda for the first time, you have come to the right place. Based on our first-hand knowledge of travelling in Uganda and tailor-making trips for many years, we've compiled this handy Uganda travel guide for you.
Uganda is one country, made up of 5 ancient kingdoms, 56 tribes and a population of over 40 million people. A lot of people refer to Uganda safari as the 'real' Africa safari and it is easy to see why.
Stunning scenery, friendly people, primates (gorillas, chimps, and monkeys) and fantastic wildlife plus amazing activities combine to make Uganda safaris an exciting prospect for visitors. There's so much to see and do in this enchanting destination, which is why we have put together the detailed travel Guide.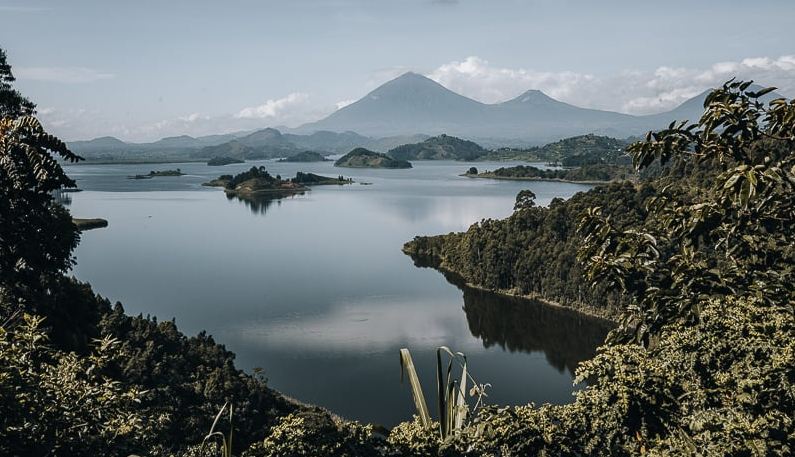 Uganda is a popular tourism destination and largely a safe country for travelers.
Visitors rarely experience crime, especially because most travelers spend little time in the cities where there may be some risks (as is the case with most places in the world).
Expert rangers, and often security, accompany guests into the forests to visit the mountain gorillas; most gorilla treks are trouble-free.
Uganda is a landlocked country in East Africa. The country is bordered by Rwanda in southwest, South Sudan in the north, Tanzania in south, the Democratic Republic of Congo in west and Kenya in east. It is one of only 13 countries worldwide run through by the equator.
Most of Uganda is over 1000 meters in altitude and relatively flat apart from the forested mountain ranges that often define its borders.
One of Africa's most well-watered countries (25% of Uganda is covered by lakes, rivers and wetlands) the landscape is lush and green for most of the year, though northern Uganda grades into semi-desert.
What Time Zone Is Uganda In?
The time in the republic of Uganda is given by a single time zone.
The time zone in Uganda is officially denoted as East Africa Time Zone (EAT), which is 3 hours ahead of Greenwich Mean Time (GMT+3).
What Is The Background History Of Uganda?
Early History: Occupied by hunter-gatherer tribes for centuries, it is believed that the Bantu and Hamitic people from neighbouring countries arrived sometime before 1000 AD. These people came with knowledge of animal husbandry and agriculture.
Migration from neighbouring countries continued, with tribes of people from Kenya and Tanzania flowing into Uganda well into the 16th century, and Arab traders moved inland from the coast. European explorers and Christian missionaries arrived during the 1800s.
Recent History: In late 1800s, Uganda came under colonial rule and was referred to as the Kingdom of Uganda under British rule.
British rule in Uganda continued for many years until the country was granted independence in 1962. From 1971 to 1979, Uganda came under the rule of Idi Amin, hallmarked by a time of economic collapse and violation of human rights.
By the time Amin had fled to Libya, many Ugandans were facing severe economic hardship and social difficulties. Conflicts country in the 80s created more turmoil and upheaval.
However, since 1986, Ugandans have enjoyed a time of relative peace with an improved economy largely due to an increase in tourist numbers and agricultural export.
Is Uganda Good For Safari?
Yes, Uganda is good for safari. And a safari in Uganda is certainly one of the most unique adventures you will experience in Africa.
Uganda outshines all other Africa safari destinations in terms of primate viewing (gorillas, chimpanzees and monkeys) and safari boat cruises.
Uganda is also the clear winner when it comes to Africa's best birding-safari country. It also remains a superb destination for traditional safari by vehicle. If you are looking for something fresh and vibrant, Uganda is a great choice for you.

1. Trek Gorillas, Chimpanzees and Other Primates
Uganda is home to more than half of the world's population of mountain gorillas. Gorilla trekking in Uganda has become of the most powerful wildlife experiences in Africa. And because of its success, the population of the endangered Mountain gorillas is on the incline.
Trekking for these great apes in Bwindi Impenetrable Forest National Park boasts a 99% success rate at finding habituated families. Meaning, you are almost guaranteed to spend an hour face-to-face with the gorillas as they interact with each other in their natural habitat.
Gorillas are not the only primate you will have the privilege of seeing up close in Uganda.
The country's extensive rainforest jungles also host over 20 other primate species, including chimpanzees, baboons, and golden monkeys. Kibale Forest National Park is home to Africa's highest density and diversity of primates, with 13 primate species currently inhabiting the area.
Naturally, this makes Kibale Forest is the best destination in the world to see wild chimpanzee – our closes genetic relatives.
You can round off your primate trekking adventure by hiking the slopes of the Virunga Volcanoes in Mgahinga Gorilla National Park in search of the gorgeous golden monkey.
Highlights:
Spend time observing mountain gorillas in Uganda when gorilla trekking in Bwindi Impenetrable Forest and Mgahinga Gorilla National Park.
Tracking wild chimpanzees on foot in Kibale Forest and golden monkeys on the slopes of the Virunga Volcanoes.
The life-changing opportunity to watch many primates interact with each other in their natural environment.
2. Extraordinary Wildlife Encounters in Savannah Parks
While Uganda is renowned for its primate trekking experiences, the country is a fantastic wildlife game viewing destination as well.
The wildlife in Uganda is immense and diverse, affording visitors unique experiences that can be found in few other places in the world.
Murchison Falls National Park is the country's premier wildlife destination, offering classic big game viewing, bird watching, chimpanzee trekking and Nile river cruises.
The popular Queen Elizabeth National Park is also classic game viewing destination. Being one of the world's most biologically diverse parks, the national park offers potential sightings of elephants, hippo, crocodile, buffalo and a variety of antelope species, to name a few. However, the stars of the show are undoubtedly the famous tree-climbing lions that call the park home.
Highlights:
Chance to see the Big Five animals
Opportunity to spot the famous tree-climbing lions of Uganda.
Enjoy classic savannah game drives, as well as guided nature walks and boat cruises.
Boat cruises Kazinga Channel and Nile River offers rewarding game viewing and bird watching.
Chimpanzee trekking tours and sensational bird watching are also on offer.
3. Breathtaking Views of Lakes & Mountain Ranges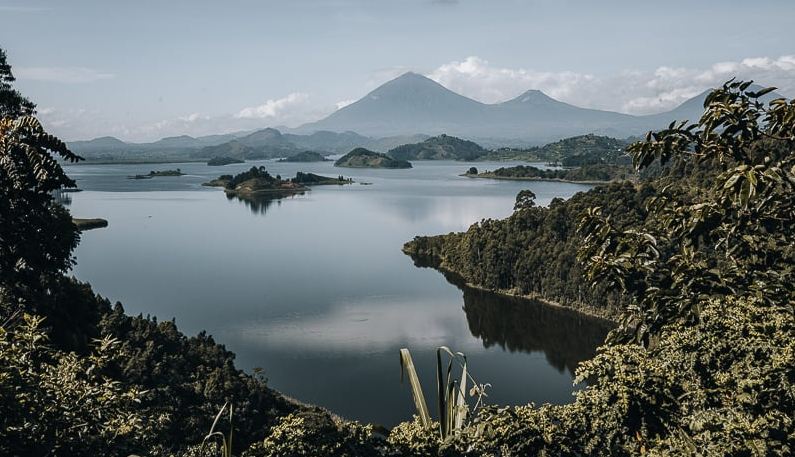 The landscape of Uganda boasts outstanding physical features like the world's second-largest freshwater lake, the source of the world's longest river, the world's strongest waterfall, Africa's second deepest lake, and Africa's tallest mountain range.
From the verdant, lush basin of the Great Rift Valley and magical rainforest of Bwindi Impenetrable Park to the hippo-filled water of the Kazinga Channel and striking vistas of the Virunga Volcanoes, it is paradise for nature lovers.
We cannot forget to mention Uganda's most extraordinary natural beauty, the snow-capped mountains of the Moon or Rwenzori Mountains.
The UNESCO Natural World Heritage Site is a breathtaking sight to behold, offering stunning scenery of rivers, waterfalls, lakes, glaciers and rare alpine vegetation. Experience the captivating landscape up close through hikes, boat cruises or even mountain biking adventures.
Highlights:
Explore the rainforests, lakes, savannas and mountain ranges through hikes, game drives, boat cruises, kayaking, rafting, canoeing, and mountain biking tour excursions.
Soak up the breathtaking scenery that inspired the nickname, 'Pearl of Africa'.
Luxury safari lodges in Uganda all offer magnificent views of the surrounding scenery.
4. Enjoy a Crowd-Free Safari that Easily Combines with Other Top Destinations
When compared to its neighbours in East Africa such as Kenya and Tanzania, Uganda sees fewer visitors. The country is a true hidden gem that is relatively unknown to many people outside of Africa. But, this is great news for safari-goers seeking a crowd-free trip.
A Uganda safaris offers a more private, personalized and exclusive experience, where there few other guests around during your stay.
Besides the smaller crowds, Uganda is easily combined with other top East African destinations of Kenya, Tanzania, and Rwanda. This means that you can visit enjoy big game viewing and the Great Wildebeest Migration in the Serengeti or Masai Mara before trekking through the rainforests of Bwindi National Park and Volcanoes National Park.
And once you have ticked off all the places to visit in Uganda, you can end your trip off with a beachside escape in Zanzibar for a bit of rest and relaxation before heading home.
Highlights:
Undiscovered, raw and authentic safari experience in one of Africa's best-kept secrets.
Enjoy exclusivity, privacy and personalized service throughout your trip.
Gorilla treks and game drives away from mass crowds.
Combine your Africa gorilla tours with other popular destinations, like the Masai Mara, Serengeti and Zanzibar.
5. Enriching Cultural Encounters
Besides the rich, diverse wildlife and natural landscape, Uganda is also well-known for its people.
Happy, friendly, generous and welcoming are the words closely associated with the people of Uganda. Ugandans are known as sociable, passionate people who are more than willing to welcome and help every visitor to their country.
Beyond the friendliness and warmth of the population, the Ugandan people are also some of the most fascinating individuals you will ever meet.
About 56 tribes with different cultures call Uganda home, making it a cultural melting pot of various indigenous people.
One of the highlights of visiting Uganda is immersing yourself in the culture and learning from the Ugandans as they share their colourful dress, music, dance, food and languages with you.
Highlights:
Meet the local Batwa community
Learn traditional crafts, like weaving a basket and carving a mark.
Cultural visits to the local Karamajong and Bigodi villages, meeting people from Ugandan tribes.
1. Bwindi Impenetrable National Park
Do not be put off by its intimidating name – Bwindi is, in fact, penetrable. This World Heritage Site is the best place to visit in Africa if you want to see mountain gorillas – the world's largest primate, weighing in at up to 200 kg – in their natural habitat.
It is home to almost half of the world's remaining mountain gorilla, about 459 individuals at last count. The forest is also a bird-watcher's paradise with over 350 species recorded, including 23 Albertine Rift endemics.
2. Murchison Falls National Park
Murchison Falls National Park – Uganda's largest park – is where to go in Uganda for classic big game viewing.
It is home to 76 mammal species, including four of the Big 5, hippos, and giraffes. In an attempt to complete the big five experience in Uganda, the park is strategically located to connect to Ziwa Rhino sanctuary. In addition to there is nearly 500 bird species, include the rare shoebill.
It is the best highlight, however, is the boat cruise to the Murchison Falls (the world's strongest waterfalls) where the thundering Nile is squeezed through an 8-meter cleft in the Great Rift Valley Escarpment.
3. Queen Elizabeth National Park
Combining easily with Bwindi National Park, Queen Elizabeth National Park is the most popular destination for wildlife safaris in Uganda.
The park is home to about 95 mammal species including over 5000 hippos, 3900 elephants, 10,000 buffaloes, many antelopes, crocodiles, and the famous tree-climbing lions.
You take a boat cruise on the Kazinga Channel, which has some of Africa's densest concentration of hippos and don't forget your binoculars: with a staggering 600 recorded bird species, Queen Elizabeth is a premier bird watching destination in Africa.
4. Kibale Forest National Park
An evergreen rain-forest, Kibale has the highest concentration of primates in Africa, comprising of 13 species, including over 1500 Chimpanzees – man's closest relatives. It is the prime destination for Chimpanzee trekking. Birds and butterflies are also abundant.
5. Lake Mburo National Park
Mburo located halfway between Kampala and the gorilla trekking forests of the south-west.
This scenic little park is a perfect overnight stop-over for travellers making their way between the 2 destinations. Although the heavyweights such as elephant are missing, the great mix of wetland and woodland habitats makes for a wide range of mammals and birds.
7. Kidepo Valley National Park
Kidepo National Park has been ranked by CNN travel in the recent past as one of the 8 best Africa safari destinations. The park has spectacular landscape – made of rugged mountains and flat valleys!
It is remotely situated in the far northeastern corner of Uganda in the rugged plains of the Karamoja province. Kidepo is where you will enjoy game drives and guided walks, taking you to incredible big cat sightings (cheetah, lion and leopard) and massive buffalo herds.
For birders, bird life is abundant within this park, a kaleidoscope of winged beauties.

What Is The Weather Like In Uganda?
Uganda earned the name, "Pearl of Africa", partially because of her amazing weather and climate. The country has a tropical climate and the weather is warm during day and cool at night.
There are slight variations across regions and seasons. Uganda has two rainy seasons (average annual rainfall is 1,000 to 2,000 mm) in the south. Uganda is semi-arid in the northeast.

When Is The Best Time To Visit Uganda?
Uganda has a lovely warm tropical climate. Straddling the equator, the country has little year-round fluctuation in temperature.
Temperatures in Uganda range from around 24°C to 30°C all year round. The best time to visit Uganda is between its 2 dry seasons: December to February and between June and September.
These times are the best for trekking gorillas in Uganda and chimpanzees.
There is a variety of a budget, mid-range and luxury lodges and hotels where you can stay during your Uganda tours. Depending on your budget and wishes, Uganda has the sort of accommodation that best suits you.
How Much Does A Safari In Uganda Cost?
Uganda safaris costs anywhere between US$125 and US$1,200 per person per night. A budget Uganda safari averages US$150 per night, mid-range US$300 and luxury US$500. The extreme top-Uganda safaris can easily go up to US$1,200 per night, or more!
These safari costs are just guidelines. They exclude international flights, visas and optional activities. Read more about the cost of Uganda safaris.

Do I Need A Visa To Visit Uganda?
You need a visa to visit Uganda unless you are a national of a visa-exempt country.
And your passport must be valid for at least 6 months from your departure date. Application for a Ugandan visa is made through the Ugandan E-visa System via the following link: www.visas.immigration.go.ug/
An East African Tourism Visa (Uganda, Kenya and Rwanda) can also be applied for online. But the application must be made to the country where you are first due to visit.
You'll pay the visa fee of USD 50 for a single Uganda Entry visa (or USD 100 for an East Africa Visa) online by credit card.

do you need a yellow fever vaccine to go to Uganda?
You need a Yellow Fever Certificate to enter Uganda. But, if you have had the injection before then and still have the certificate then that will be OK.
You don't need to have the booster injection. From 11 July 2016 the certificate of vaccination against yellow fever is valid for the life of the person vaccinated.
What Currency Is Used In Uganda?
Uganda's unit of currency is the Uganda Shilling and you would be advised to get some on arrival as it is far easier to buy drinks, curios and meals in the local currency when travelling between destinations.
US Dollars are widely accepted throughout the country though note that cash is best: traveller's cheques and credit cards can be used at most lodges and in Kampala but attract hefty transaction fees.
Please ensure that you don't have US dollars notes prior to 2006 and the notes are not damaged or cut in any way as they are not accepted.
What Kind Of Food Is Enjoyed In Uganda?
Local food in Uganda is based around a meat or chicken stew eaten with one of four staples: rice, chapati, ugali or matoke. Ugali is a stiff maize porridge eaten throughout sub-Saharan Africa.
Matoke is a cooked plantain dish, served boiled or in a mushy heap, and the staple diet in many parts of Uganda. Another Ugandan special is groundnut sauce. Lodges and hotels that cater to overseas visitors will serve a very international fare.
What To Pack For A Safari To Uganda?
During the day, temperatures in Uganda are generally warm so pack some lightweight clothing.
If you're going gorilla trekking in Uganda, come with long trousers and long-sleeved shirts/tops, long socks to wear over your trousers as protection against ants, a pair of light gloves to protect against nettles, a hat and a raincoat.
A pair of strong, comfortable hiking boots/shoes is most important; try to break these in before your trip to Uganda rather than wearing them brand new as you're likely to get blisters.
The mountains tend to be cold and damp so pack according to the altitude – a change of clothes and a warm fleece in your day pack, along with sunscreen and insect repellent are advised.
Uganda's official language is English, which is spoken as a second language by most educated Ugandans. There are more than 33 local languages spoken across the country. Almost everybody involved in the tourism industry, either directly or indirectly, will be able to speak some English.
Provided the service is good, you tip around 10 – 15% on your Uganda safari. Tips are usually given in Uganda Shillings or US Dollars.
If you are doing a gorilla trek, tipping is at your discretion – your porter (if you choose to take one) should usually receive the highest tip, with a second tip distributed between your guides, trackers and security personnel.
For in-depth tipping guidelines, enquire with one of our Safari Experts – they'd be happy to share their knowledge with you.
Uganda's land telephone system is reasonably efficient, but mobile phones rule. If you bring your mobile from home, you'll enjoy international roaming – although at a significant cost – through a local network.
Far cheaper, however, especially if you also want to make use of data services, is to bring a compatible phone with you and insert a local SIM card, which costs around 3 US dollars. There are several mobile providers in Uganda.
MTN has the best network. Make sure that your phone is SIM-Lock-Free. You have to bring your passport and a passport photo to sign up. The country code for Uganda is +256.
Inexpensive internet cafés are dotted around all large towns in Uganda, while many hotels and restaurants offer free Wi-Fi to their guests.
Better still, buy a local MTN SIM card for your smart phone, load it up with a data bundle, and you'll have more-or-less permanent access to the internet, email and various apps for next to no cost.
Please note that access may be slow or erratic in Uganda national parks and other remote areas of the country, so best to warn anxious loved ones at home or business associates that contact may be intermittent.
Are You Ready To Start Planning Your First-Time Visit To Uganda?
Get in touch with our team of Uganda Safari Experts to help tailor-make an itinerary based on your personal travel wishes.