Uganda Wildlife Safaris: A Guide For Nature Lovers-2023
---
---
Uganda Wildlife Safaris Guide For 2023
Uganda wildlife safaris or wildlife safaris in Uganda play out against a spectacular backdrop of volcanoes, crater lakes, freshwater lakes, rainforest jungles, wetlands, and rolling savannah grasslands.
This little country is big on landscapes – and this means its wildlife offering is surprisingly huge.
Great apes (gorillas and chimpanzees) are its most popular residents, of course, and they're what attract many animal lovers here. But the fun does not stop when your Uganda gorilla safari does. This country is brimming with animals of every kind.
Olive baboons, monkeys, lions, leopards, hippos, crocodiles, giraffes, zebras, elephants, warthogs, eagles, jackals, shoebills, buffalos, rhinos…keep flicking through your field guides, and there are few creatures you won't find snuffling around in Uganda's grasslands, rainforests, and swamps.
Uganda wildlife safaris take place on foot, in 4x4s safari vehicles, and on safari boat cruises, depending on the wildlife species you are seeking, and superb lodges and camps ensure you stay well rested in between hilly treks, bumpy road trips and early morning game drives.
From the Big 5 to bee-eaters, monkeys to mongoose, here is our guide to Uganda wildlife safaris:
What Animals Are There To See On Uganda Wildlife Safaris?
1. Gorillas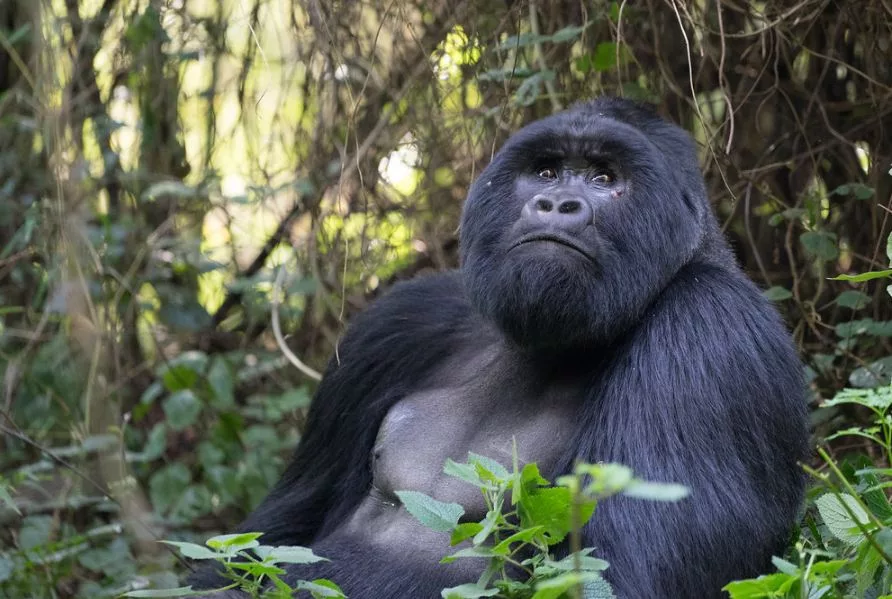 Virtually, Mountain Gorillas need no introduction; this species has put Uganda on Africa's tourism map.
Just 1,000 mountain gorillas remain in the wild and over half of these are to be found along Uganda's western edge, in the mist-shrouded forests of Bwindi Impenetrable Forest National Park and the volcanic slopes of Mgahinga Gorilla National Park.
Many gorilla families have been habituated, and exceptionally well managed gorilla trekking safaris have raised the funds to ensure their conservation; as a result, mountain gorilla numbers have increased by about 50% in just 10 years.
In a group of no more than 8 tourists, you can trek for around 2 to 7 hours, through the forest to spend up to an hour with a habituated gorilla family. This is a once-in-a-lifetime adventure.
2. Chimpanzees
Gorillas are not our only close relative you can see in Uganda.
Chimpanzees reside in several rainforests around the country, including the 'underground forest' of Kyambura Gorge in Queen Elizabeth National Park and the mahogany forest of Budongo near Murchison Falls National Park.
But the place where you are most guaranteed to see them is Kibale National Park, a rainforest jungle which is home to a seriously impressive 1500 wild chimpanzee and 12 species of other primates, meaning that when you track chimpanzees here on an organized tour, you can look out for red colobus, black-and-white colobus, L'Hoest's and red tailed monkeys, amongst others.
Chimpanzees are far livelier than gorillas, and tracking on foot them through the trees is an energetic Uganda safari adventure, as you follow their pant-hoot calls and rustles in the canopy.
3. Birds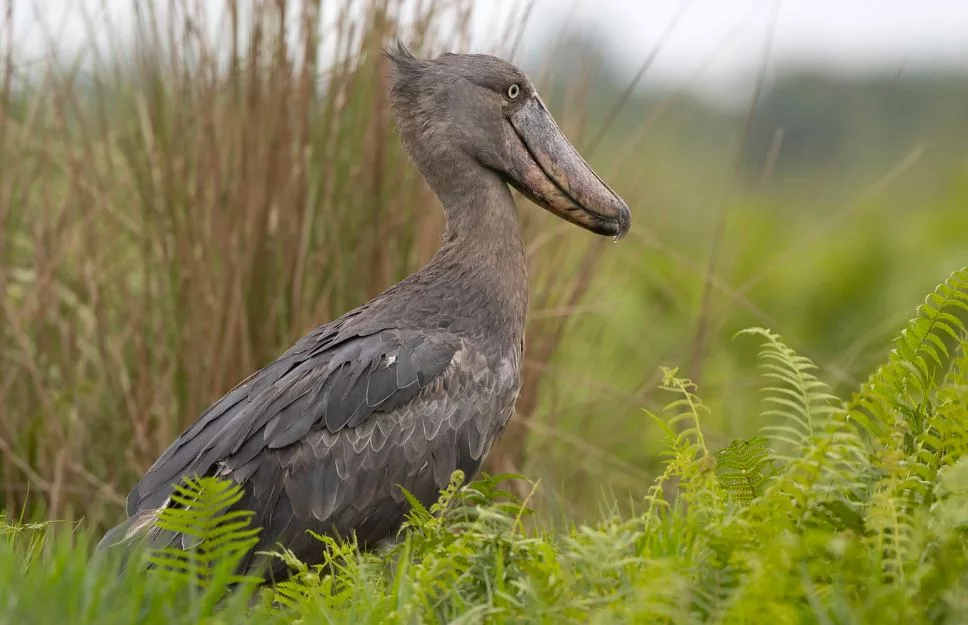 As a general rule, the more ecosystems, the more bird species – so Uganda is naturally bursting at the seams with avian attractions.
Unbelievably for a country almost the size of the UK, it has over 1,090 bird species – that's almost 11% of the entire world's bird species and 50% Africa's total bird species. Luckily, it has excellent bird guides to match.
Twitchers flock here for the shoebill, a prehistoric-like bird standing over a meter tall with an enormous bill that looks like a shoe. The shoebills are rarely seen, but the wetlands of Uganda are one of the best places in the world to spot it.
Other iconic species include the 'dancing' grey-crowned crane (Uganda's national bird), the Great Blue Turaco, Handsome Francolin, Giant kingfishers, African fish eagles, Black-bee-eaters, Goliath herons, Bar-tailed trogons, Green-breasted Pitta, African green broadbill, and much more.
4. Big Five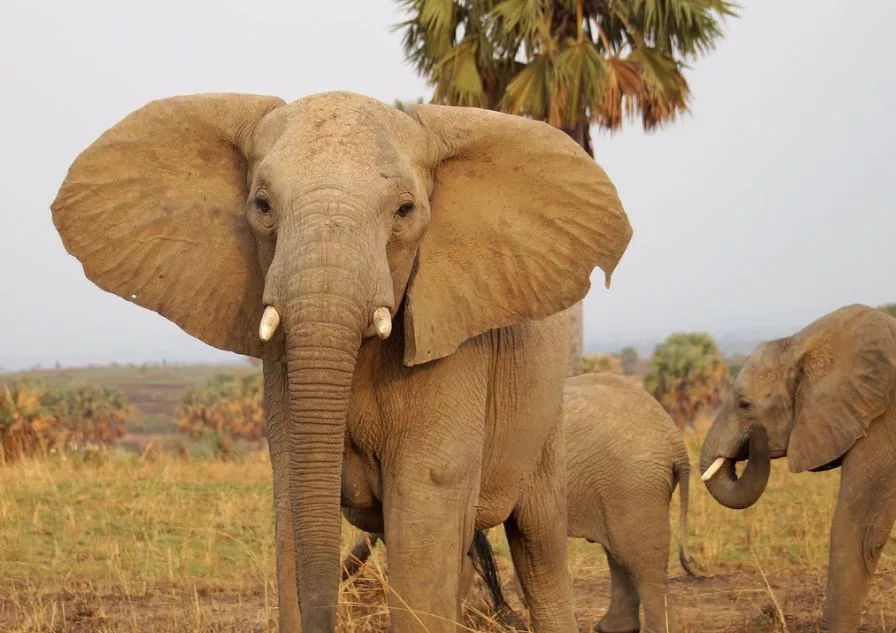 Many Africa safari holidays whisk you off to the Kenyan or Tanzania plains after seeing mountain gorillas, to continue your safari there, but there actually is no need to leave Uganda to see game.
Murchison Falls, Queen Elizabeth, and the remote Kidepo National Parks are all home to 4 of Africa's Big 5 animals: lions, leopards, buffalos and elephants.
The latter two are widely seen on river cruises and game drives. In Murchison Falls specifically, it's not unusual for a herd of elephants to block the road – you might encounter far more elephants than you would like on safari here!
Lions are rare, naturally, but with an experienced local guide there is a great chance of spotting them relaxing in the sandy grass, post-meal, or perhaps lounging in the branches of a fig tree in Ishasha see of Queen Elizabeth National Park – one of only two places in Africa where these are Africa's largest predators known to climb trees.
Also, leopard sightings are rarer; these solitary members of the Big Cats are elusive, nocturnal and extremely well camouflaged to allow them to stalk their prey. You'll be very lucky to glimpse one – hold on to your binoculars!
The fifth member of the Big 5 – the rhino –was wiped out here by poachers, but in 2005, six of them were reintroduced into Ziwa Rhino Sanctuary near Murchison Falls National Park. Today, there are about 32 rhinos here thanks to a successful breeding programme, and you can track them on foot with a resident ranger guide.
5. Other Species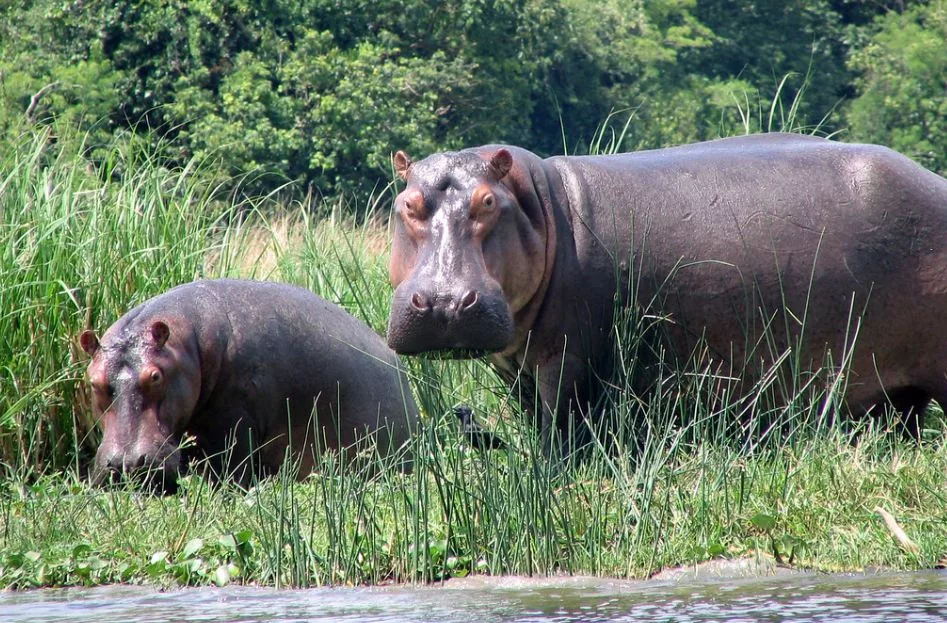 As well as the iconic game animals, there are numerous other creatures to look out for on Ugandan wildlife safaris – some of which can be seen by the roadsides and wandering in front of your safari lodge or camp.
Most abundant of all are hippos and crocodiles, which jam the banks of the Kazinga Channel in Queen Elizabeth National Park – a top spot for a wildlife-packed safari boat cruise.
In Murchison Falls National Park, hippos wallow in the waters of the River Nile; you'll hear their deep, creaking barks at night from your camp.
Murchison Falls also has some of African densest concentration of Nile Crocodiles. It is the Uganda's largest national park and also the best place to see Rothschild's giraffes, which stride across the savannah here.
In little Lake Mburo National Park, close to Uganda's capital, Kampala, you can see them alongside zebra.
Zebras in Uganda are only found in Lake Mburo with a small population also in Kidepo Valley National Park, though Uganda wildlife safaris rarely reach this remote park tucked on the South Sudanese border.
Throughout the country you'll a variety of antelope species, including unusual looking, flat-faced Jackson's hartebeest in Murchison Falls; elegant Uganda kob – which appear on Uganda's coat of arms; waterbuck, bushbuck, elands, Topis, and more than.
Rare are the swamp dwelling sitatunga antelopes, which have adapted to their semi-aquatic lifestyles with waterproof coats and wide hooves.
6. Monkeys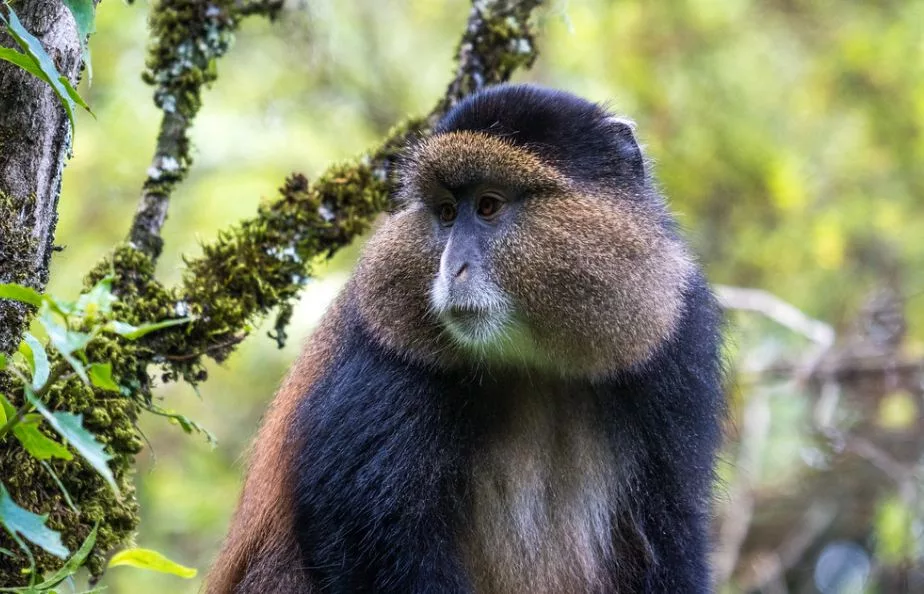 Any wildlife safari-goer in Uganda will quickly learn to watch out for nimble-fingered olive baboons. These highly intelligent monkeys can jump through an open car window, grab your packed lunch, and be munching it by the side of the road in 10 seconds flat.
You will soon learn to wind up your windows – and sunroof – when these critters are around. But these are not the only primates you are likely to have a close encounter with.
Vervet monkeys are mainly playful; you may well see them playing around your lodge in safari parks – and hear them jumping on the roof of your tent. Black and white colobus are regularly seen lining the trees by the roadside, with their shaggy, monochrome fur, they are easy to spot and fun to watch.
Golden monkeys are considerably rare; you can see them on a special trekking tour through the bamboo forests that line the slopes of the volcanic Virunga Mountains in Mgahinga Gorilla National Park.
Best Time For Wildlife Viewing – Uganda Wildlife Safaris
The best time for Uganda wildlife safaris/wildlife viewing is in the Dry season (June to September and December to February).
Some of the roads are impassable during the rainy seasons (March to May and September to November).
Mountain gorillas can be trekked year-round, but the experience can be spoiled – to some extent – by heavy rain in the Wet season.
Featured Long Wildlife Safaris In Uganda
If you want to see gorillas, chimpanzees, big 5, and water creatures, check out some of our favorite Uganda wildlife safaris parks below!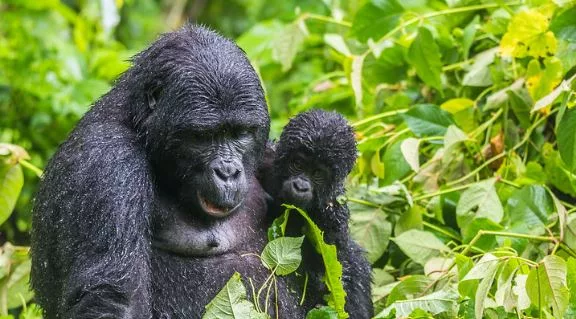 This tour combines the magic of mountain gorilla trekking with classic game viewing and local community cultural encounters! You will visit Queen Elizabeth NP and Bwindi Impenetrable National Park.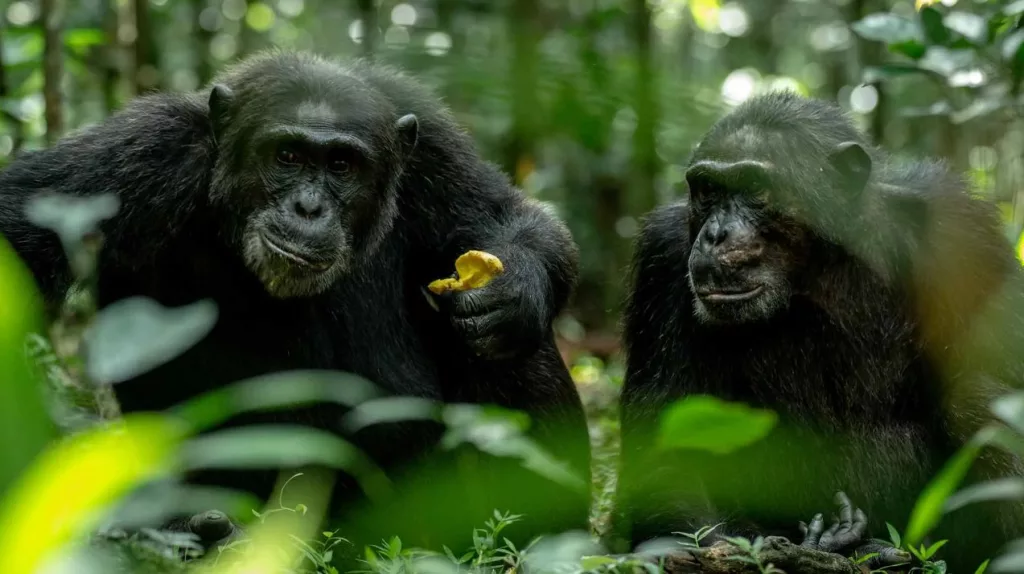 This safari offers gorilla trekking, chimpanzee tracking, wildlife viewing, community cultural experiences, and beautiful scenery viewing. You have a great chance to encounter the two iconic apes as well as the Big 5.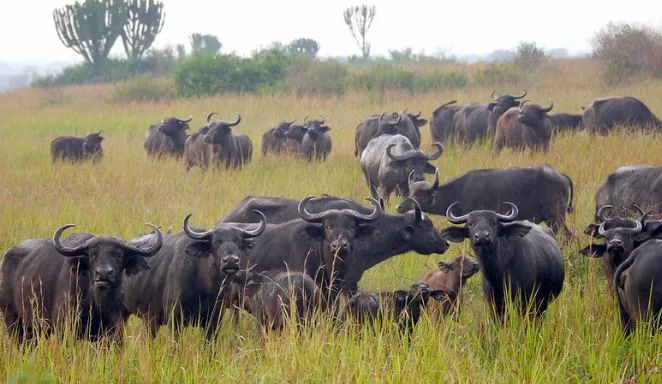 This 10-day tour offers Gorilla trekking in Bwindi and Chimpanzee tracking in Kibale Forest, combined with amazing game viewing in Murchison Falls & Queen Elizabeth National Parks, community tours.
Featured Short Uganda Wildlife Safaris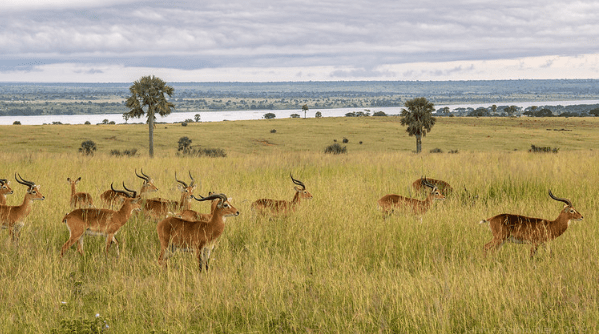 This 3 Days Lake Mburo Safari gives you the chance to experience one of the country's most beautiful savannas. Mburo is located about a three to four hour drive from Kampala, making it Uganda's closest park to the capital.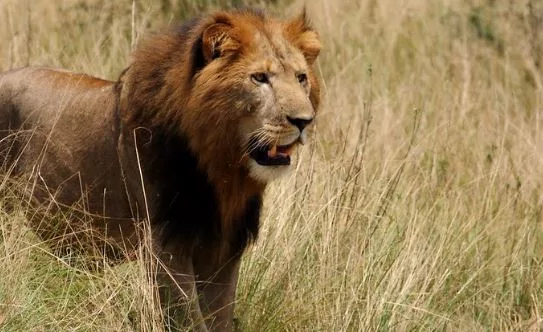 You can book this 3-day tour and experience one of Uganda's best scenery a rewarding safari. You'll spot numerous wild animals. A UN Biosphere Reserve, this Equator straddling park is the most popular destination for Uganda wildlife safaris.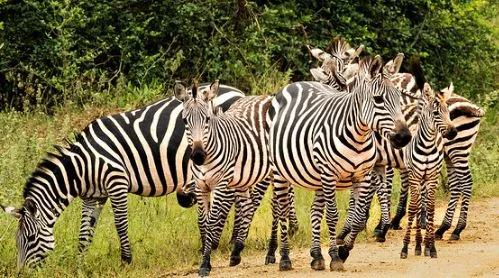 Murchison Falls is Uganda's largest national park at 3895km2. The park is home to over 70 mammal species including 4 of the Big 5 animals and the world's strongest waterfalls! It is in fact the best game park for Uganda wildlife safaris.
Uganda Wildlife Safari Packages
2 Days Lake Mburo Wildlife, Boat Cruise, & Walking Safari
2 Days Murchison Falls Boat Cruise, Game Drives, & Rhino Tracking Tour
3 Day Uganda Gorilla Trekking, Bwindi Road Trip
3 Days Uganda Gorilla Tour via Kigali Rwanda
4 Days Lake Mburo & Queen Elizabeth Wildlife Safari
4 Days Lake Mburo Wildlife & Bwindi Gorilla Tour
5 Days Uganda Gorillas, Chimps, Wildlife, & Cultural Tour
5 Days Gorilla Trekking & White Water Rafting Safari, Source of the Nile
5 Days Kidepo National Park Big 5 Safari
6 Days Kalinzu Forest Chimps, Gorilla Trekking, & Wildlife
7 Days Uganda Safari, Gorillas, Chimp, Wildlife, Community, & Lake Bunyonyi
8 Days Uganda Safari Gorillas, Chimps, Wildlife, & Community Tour
8 Days Adventure Tour to Eastern & Northern Uganda
10 Days Uganda Safari, Gorillas, Chimpanzees, Game Viewing & Community Tours
12 Days Uganda Safari, Gorillas, Chimpanzees, Wildlife, Culture, & Relaxation
14 Days Uganda Safari, Gorillas, Chimps, Wildlife, Scenery, & Local Culture Experiences
16 Days Uganda Safari – Gorilla, Chimps, Wildlife, Scenery, Culture, & Source of the Nile Tour
18 Days Uganda Safari & Gorilla Trekking
21 Days Uganda Safari & Adventure Vacation
Frequently Asked Questions About Uganda Wildlife Safaris
Where Can I See Wildlife In Uganda?
Queen Elizabeth National Park: home to over 600 bird species and 95 species of mammal
Murchison Falls National Park: With around over 450 species of birds and 76 species of mammals.
Kibale National Park: Boasts an incredible 13 primate species, including our closest relative, the Chimpanzee, and fantastic forest birding of over 300 species.
Bwindi Impenetrable Forest National Park: UNESCO World Heritage Site and home to about 500 Mountain Gorillas, along with 350 bird species.
Lake Mburo National Park: Small but awesome park, with 350 bird species, 68 species of mammals, and amazing wetland scenery.
Semuliki National Park: Unique "jungle" park that is more Congo than Uganda, with over 440 bird species including at least 50 bird species found nowhere else in east Africa.
Kidepo Valley National Park: A remote park that is home to almost 500 bird species and an incredible 77 mammal species, of which 28 can be spotted only in this wildlife reserve of the country.
Ziwa Rhino Sanctuary: Home to Uganda's only wild rhinos.
Mabamba Swamp: the most accessible place to see the shoebill.
How Many Safari Parks Are There In Uganda?
Uganda is home to 10 the national parks where you can see its abundant wildlife. These include Queen Elizabeth National Park, Murchison Falls National Park, Lake Mburo National Park, Kidepo Valley National Park, Kibale Forest National Park, Bwindi Impenetrable National Park, Mgahinga Gorilla National Park, Rwenzori Mountains National Park, and Mount Elgon National Park.
What Is The Biggest Wild Animal In Uganda?
African Elephant (Loxodonta africana) is the biggest animal in Uganda and it the largest land mammal on Earth.
Is there Tigers in Uganda?
Unlike lions which can be found in the savannah parks in Uganda and Africa at large, the tigers are not native to the African continent and can be found only in zoos. In Uganda they are found at Uganda Wildlife Education Center.
Where can I see cheetahs in Uganda?
In Uganda, Cheetah occurs naturally almost exclusively in the Karamoja region, in Kidepo Valley National Park, but rarely seen. But you can also find them at Uganda Wildlife Education Centre.
Where can I see lions in Uganda?
In Uganda lions are mainly found in the 3 largest savannah game parks: Murchison Falls National Park (MFNP), Kidepo Valley National Park (KVNP) and Queen Elizabeth National Park (QENP).
Tags:
Uganda Travel Guides
,
Visit Uganda
,
Wildlife In Uganda