What To Wear For Gorilla Trekking?
Wondering what to wear for gorilla trekking in Uganda?
When tracking the gorillas we advise you to wear sturdy clothing like long sleeve shirt, trousers, hiking boots, and gardening gloves to protect you against scratches
In this post we will give you an idea on all the appropriated clothes to wear when trekking gorillas in Uganda/Uganda gorilla safaris. Please note: while this is primarily a gorilla trekking packing list guide, it is also suitable to be used when planning chimpanzee trekking tours in Uganda.
Let us get into everything you will need to wear while trekking gorillas as well as what to pack for gorilla trekking in Uganda.
1. Hiking Boots/Shoes
Hiking boots or shoes are an absolute essential on your packing-list what to wear gorilla trekking in Uganda packing list.
Uganda has 22 families of habituated gorillas with 21 in Bwindi Impenetrable National Park and 1 in Mgahinga Gorilla National Park.
These gorilla families constantly move and will be in different spots on different days. Trekking to finds them typically takes two to six hours. There is no gorilla family group that you will not need hiking boots to get too.
The trek usually goes through dense mountainous rainforest and narrow footpaths, on steep and sometimes muddy slippery slopes.
You will hike behind a ranger guide who slashes a path through the foliage with a machete. Be sure to pack hiking boots. You will regret it if you don't.
When packing hiking boots for gorilla trekking, be sure to pack a good pair with a good sturdy and slip proof sole with good waterproofing.
The boots provide proper support for your ankles, offer balance and stability, and protect you against thorns and insects.
And if you choose to buy new boots for the Uganda gorilla trek, make sure to break them in first. You don't want aching feet when you're still 2 hours out from the start of the hike. Make sure they are waterproof as it could rain at any time!
Note: Many that have attempted to trek the gorillas while putting on crocs, heels, slippers, office shoes have had a miserable experience.
Read More: Uganda Gorilla Trekking Cost: 2023 Guidelines
2. Hiking Trousers/Pants
A good pair of hiking or walking trousers/pants is a must when gorilla trekking in Uganda.
The trouser will protect your legs from scratches, stinging nettles, and insects such as fire ants crawling up your legs and biting you.
The long pants/trousers also protect from mud and dust depending on the weather conditions.
When buying a pair of hiking trousers for gorilla trekking we recommend getting ones that are the following;
Lightweight – it can get hot when trekking so you don't want anything too thick
Quick Dry – Uganda is a pretty wet place having a pair of trousers that are quick dry will make you more comfortable.
And depending on where you are staying will depend what laundry facilities you will have so having something quick dry will be a great help.
Zippable – while I don't recommend unzipping your trousers in the thick undergrowth while gorilla trekking, it is nice when you get back to your vehicle to take off the bottoms and cool off.
3. A Long-Sleeved Shirt/Top
During the Uganda gorilla trek you can go through a fair amount of undergrowth to reach your assigned gorilla family.
By the time you got toward the top of the mountain the day can be heating up and you may be sweating from the hard work.
It can be too hot to be wearing an outer layer but you needed a long sleeve shirt or tops.
These help protect you from the cold during the early colder hours of your trek. They also offer protection from insects, branches and vines that would scratch you.
Stinging nettles are the true menace in the jungle, a slight rub off a leaf instantly puts your skin on fire.
Guides will try to point out a stinging nettle for you when it's seen. You should also consider lightweight breathable material to keep your body cool and fresh in the heat of the trek.
4. Hiking Socks/Gaiters
There is nothing worse than getting a blister while out on a hike.
Be sure to pack a good pair of thick or hiking socks and make sure you have worn in your boots before you arrive for your gorilla trekking experience.
They also provide warmth during the cold early morning start of the trek. You should also tuck your trouser ends into your socks. This helps prevent insects from crawling up your legs while trekking and is additional protection against the stinging nettles and anything thorny on the forest floor.
As you trek, your feet will get hot, and/or it may rain, so getting socks that absorb moisture is of course ideal! Merino wool hiking socks are always a good idea. They keep your feet dry and comfortable during your hike.
You can also bring a pair of gaiters to keep water, stones, dust, mud, and sand out of your hiking boots or shoes.
Knee-high ones will keep the bottoms of your trousers dry.
They should also be waterproof as you can definitely get wet gorilla trekking and we recommend getting a pair that are very easy to adjust as there is nothing worse than ill-fitting gaiters.
5. Garden Gloves
Gorilla trekking is no walk in the park. It is really quite hard (but very rewarding) work as mountain gorillas do not stay near clear trails.
As you are trekking near the gorillas you may have to go off trails and use machetes on the undergrowth. And maybe you may require grabbing hold of branches, thorny plants, and nettles that are in your way.
Although all gloves will be an asset when gorilla trekking we recommend taking gardening gloves. These are designed with hand protection in mind.
The sturdier your pair the better. Try to get a thorn proof pair. The gardening gloves also keep you warm in the chilly mountain forest.
6. Poncho Or Waterproof Jacket
This is very essential if you will be trekking during the rainy season (March to May and October to November).
But it is also not unusual to experience sporadic rains even during the dry season.
You are trekking in a rainforest on a highland so expect rain any time and have a rain jacket on you.
Although I would normally say buy proper waterproof jacket for hiking in wet weather conditions, a poncho might be more suitable for gorilla trekking in Uganda and Rwanda.
The rain is not usually constant in Uganda and you will get sweaty hiking so you want something that is easy to get on and off.
7. Hat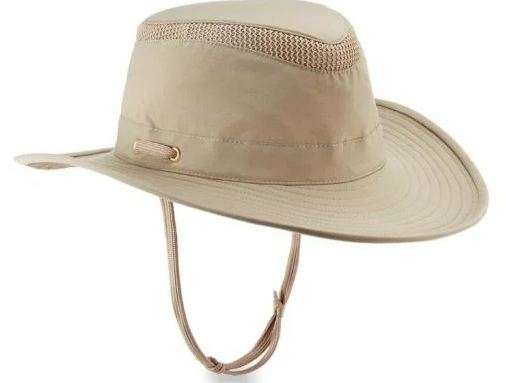 A wide brimmed hat will offer you protection from sun and rain – both of which you are likely to experience while gorilla trekking.
You are not always hiking under trees on a gorilla trek. And when the morning mist clears, you need a hat. Remember that you are at a high altitude and the sun is more intense here.
Moreover, a hat also offers some degree of protection from small particles and flicking branches. It also provides shade over your face. And you arrive back at base with fewer leaves and twigs in your hair.
8. A Warm Sweater/Fleece
It really gets so cold at night. In Mgahinga Gorilla National Park the temperature is at 10°C/50°F and in Bwindi Impenetrable National Park it is at 11°C/52°F and sometimes it's lower than this.
So, this is why the luxury lodges here have fireplaces in cottages or rooms and other lodges give visitors hot water bottles for comfort throughout the cold night.
And you will definitely want to start the day with a fleece or warm sweater on in the cold morning hours even if by the time you are up the mountain you need to take it off.
We recommend one that packs down easily as this will be put in your backpack at some point during your trek. And if you have something that is quick dry that would also be an advantage.
Uganda and Rwanda can get rainy and even on a nest day the morning dew can get you a bit shaky so having something that dries quickly is an added bonus.
What To Carry For Gorilla Trekking In Rwanda Or Uganda – Non Clothing
1. Walking Stick
When you are gorilla trekking, a walking stick can be very helpful in providing extra balance and support. Do a few practice hikes at home first as they take some getting used to. Your lodge will likely provide this for you, so no need to bring one unless you usually like to hike with hiking poles.
2. Camera
Gorilla trekking is one of those once in a life time experiences. Be sure to pack your camera with you. Don't forget to bring an extra battery and a memory card!
You also need a bag to cover your camera with just in case it is raining while you are with the gorillas. They protect the camera from getting wet while shooting.
3. Binoculars
Binoculars are never a bad idea in Africa.
4. Insect Repellent
While gorilla trekking in Uganda and Rwanda is amazing it is important to realise that there are some pretty nasty insects in both these countries.
Be sure to pack some good insect repellent for these. This varies depending on where you're trekking, as some places have a higher elevation so mosquitoes are not as much of a risk. However, it is a good idea to at least put on some bug repellent before your hike.
5. First Aid Kit
A mini first aid kit with things like bandages, alcohol pads, etc. is great to bring with you just in case.
6. Hiking Backpack With Rain Cover
Bring a good carry-on sized backpack or great travel daypack to keep all your belongings in.
5. Water
It is advisable to bring one to two liters of bottled water on your trek as well.
A Camelbak water pouch will allow you to sip water while keeping your hands free. Be sure to keep hydrated, especially at altitude.
6. Lunch
Make sure to have your nearby lodge provide you with a packed lunch in case those gorillas take four to five hours to find.
Note: If you are offered the option of a porter to carry your pack, please consider employing (and tipping) him. Many porters are reformed poachers and rely on the income from trekking to support their families (and not slip back into lucrative poaching).
FAQs About What To Wear Gorilla Trekking In Rwanda And Uganda
1. What Is The Best Color To Wear For Gorilla Trekking?
As always, dress in the colours of nature so that you blend in with your surroundings. Go with greens, greys and browns in lightweight material that wicks moisture.
2. What Is Not To Wear When Gorilla Trekking?
Avoid camouflage – it is illegal for civilians to wear in many areas.
By this we mean any form of brown/green "combat" style coloring. Even if it is the latest fashion statement – and even if it is your 14 year old wearing it – and even if it is just a cap.
Also do not wear animal print as the gorillas may become alarmed at seeing a 'leopard', for example.
Bright colors such as red are easily noticed by wildlife especially birds that will flee.
Meanwhile insects are attracted to dark colors so you will end up having to constantly be wading off insects hovering all around you causing great inconvenience.
More Tips For First-Time Gorilla Trekkers:
Gorilla trekking expeditions are led by professional guides and trackers, and finding a family group can take anything from about two to six hours.
You will not be left behind or expected to move at a very fast pace – your guide will stop regularly to allow you to rest and refresh.
Once you find a family, you will spend an hour observing from a safe and government-mandated distance away. Be sure to take pictures (without a flash or loud mechanical sounds), and then allow yourself time to enjoy watching their very human gestures, interactions and emotions.
Gorillas that are habituated will tolerate human presence but it is important not to disrupt or aggravate the group with obtrusive movements, noise or eating.
Be prepared for plenty of insects – standard in any rainforest environment but well worth the trouble to see gorillas and be in such a pristine place.
Pack as lightly as you can. You may have to take a light aircraft to get your lodge or camp, which will have strict baggage size and weight limits.
Time To Plan Your Gorilla Safari!
Hopefully, these tips will help you to figure out what to wear gorilla trekking.
If you need more information or want to go ahead and embark on a Uganda gorilla safari or Rwanda gorilla trekking adventure, Contact Us.
We'll be happy to help you decide on the best tour option.
Related Gorilla Tours & Packages
2 Days Uganda Gorilla Trekking from Kigali,
3 Day Gorilla Trekking Uganda, Bwindi Road Trip
3 Days Gorilla Trek Uganda Tour via Kigali Rwanda
4 Days Uganda Safari – Lake Mburo Wildlife & Bwindi Gorilla Tours
5 Days Gorilla & Wildlife Safari in Uganda
6 Days Kalinzu Forest Chimps, Gorilla Trekking, & Wildlife
7 Days Uganda Safari, Gorillas, Chimp, Wildlife, Community, & Lake Bunyonyi
8 Days Uganda Safari Gorillas, Chimps, Wildlife, & Community Tour
10 Days Uganda Safari, Gorillas, Chimpanzees, Game Viewing & Community Tours