Kenya Safaris
Kenya safaris – Kenya is where African safaris were born back in the early 20th century.
And Kenya safaris take you to this land of sweeping savannahs populated by charismatic mega-fauna, including the Big Five and Big Cats.
Kenya's landscape is stunning with Rift Valley lakes in the center, semi-deserts in the north, dense forests in the west, and tropical beaches in the east. Most of Kenya safari bucket-list begins with the Great Wildebeest Migration in the Masai Mara.
Kenya safaris, though, offers so much more, from experiencing the authentic culture of the Maasai, seeing Amboseli's huge elephants against the backdrop of Africa's tallest mountain to cycling with wildlife in Hell's Gate National Park.
Plus, you can easily combine your Kenya safari vacation with gorilla-trekking adventures in Uganda or Rwanda, or even a tropical beach holiday overlooking the turquoise blue waters and fluttering palm trees of the warm Indian Ocean.
Best Kenya Safaris Destinations
1. Masai Mara
The world-famous Maasai Mara is located in the southwestern Kenya. The reserve is situated about 270 km (170 miles) from Nairobi, the Kenyan capital.
From Nairobi, it is a 4 to 5 hour drive or short 45-minute flight to get there. Masai Mara is contiguous with Tanzania's Serengeti National Park in the Mara region.
It's the northern-most section of the Greater Mara-Serengeti ecosystem, which spans around 25,000 km2 (9,700 square miles) between Kenya and Tanzania.
Masai Mara National Reserve is named in honor of the legendary Maasai people (the area's ancestral occupants) and their description of the land when viewed from a distance: "Mara," which is Maa (Maasai language) meaning "spotted,".
It is an appropriate description for the circles of trees, scrub, savanna, and cloud shadows that characterize the area. For many, the "Mara", as the locals call it, is an African classic safari destination.
The image of flat-topped acacia trees dotting endless savannah grasslands epitomizes Africa; then adds a Maasai Warrior and some cattle to the picture and the conversation is complete.
Here we are in Africa! The Masai Mara Reserve spans some 1,510 square kilometers (583 square miles) and rises from 1,550 to 2,100 metres (5,100 to 6,900 feet) above sea level.
It is a place of breathtaking views, endless plains and abundant wildlife. Masai Mara landscape consists of mostly open grassland with seasonal streams. There are cluster of distinctive acacia tree towards the southeast.
The western boundary is the Esoit Escarpment of the African Great Rift Valley, which is a 5,600 kilometers (3,500 miles) system of rifts extending from the Red Sea of Ethiopia through Kenya, Tanzania, Malawi,and into Mozambique.
Wildlife In Masai Mara
The Mara is Kenya's flagship wildlife viewing area and one of the greatest wildlife reserves in the world.
Similar to the Serengeti, the white-bearded Wildebeest are the dominant resident animals in the Maasai Mara and their population is in the millions.
Each year around July, these animals migrate from the Serengeti plains to the north and return to the south in around October.
The Great Wildebeest Migration is one of the Seven Natural Wonders of the World. It involves around 1.5 million white-bearded wildebeest, 500,000 Thomson's gazelles, 97,000 Topi, 18,000 common elands moving continuously in search of fresh grass to graze and water to drink.
It is one of the most stunning wildlife adventures on Earth.
Nowhere in Africa is wildlife more plentiful than in the Mara, which is why visitors hardly fail to see the "big 5" (Buffalo, Elephant, Leopard, Lion and Rhino).
Another 90 mammal species including Cheetah, Spotted Hyena, Hippopotamus, Giraffe, Eland, Gazelles, Jackals, Bat-eared Fox, and Serval, have also been recorded in the reserve.
Over 500 bird species have been recorded in the Mara, with almost 60 species of raptors. Top highlights include several species of vultures, Ostrich, Marabou Stork, the long-legged Secretary birds;
many hornbill species, D'Arnaud's Barbet, 7 species of kingfisher, Turacos, Kori Bustard, Grey-crested Helmetshrike, Jackson's Widowbird, aptly named Long-crested Eagle, Grey Crowned Crane, Superb Starling, Sooty Chat, the cute Pygmy Falcon, and the beautiful Lilac-breasted Roller.
Something else to look out for in the Mara is the incredibly monstrous Nile Crocodiles that live in the Mara River. Seeing these pre-historic-looking reptiles (some of which are more than feet long!) lie in wait for the migrating animals and seeing one of them catch a zebra and consume it is truly unforgettable.
What To Do In Masai Mara?
Most people visit Masai Mara National Reserve to witness the Great Migration and to enjoy classic African game drives.
The Maasai people own several private conservancies around the Mara, which are leased to various safari companies. They're one way to support community-powered tourism.
And bush walk with a Maasai warrior is a wonderful way to appreciate the community's connection with the land, as they point out medicinal plants and wildlife.
Masai Mara is also a photographer's and naturalist's dream destination, with abundant wildlife, birds, stunning African landscapes, and excellent African weather.
The BBC Television show titled "Big Cat Diary" and Disney African Cats Series were filmed in both the Reserve and Conservation areas of the Maasai Mara.
To get a sense of the Mara's distance, you can book a hot-air balloon safari.
You'll see why the Maasai people named it the Mara ("spotted land") as you float over specks of shrubs, cloud shadows, and animal herds.
Walking and horseback safaris, in the company of armed rangers, are an incredible way to experience the beauty and nature of the Mara up close.
2. Samburu National Reserve
Named after the Samburu people, nomadic pastoralists, and a warrior people for whom this region is home, Samburu National Reserve is the most popular safari destination in northern Kenya.
The reserve is located about a five hour-drive from Nairobi city.
It is situated in Samburu County near the snow-capped Mount Kenya – Africa's second tallest mountain and north of the Laikipia Plateau.
This area is a semi-arid land that is steeped in culture and traditions, where humans, livestock, and wildlife walk side by side, sharing precious resources.
A Visit to Samburu is a about these colourful, resilient people, the wonderful wildlife and dramatic scenery.
The 165-square-kilometer reserve was set up in 1985.
It is situated on the banks of the Ewaso Nyiro River, along whose banks both big game and vegetation flourish.
The river flows through the park and is its lifeblood; without its valuable water, the animals would perish in the park's generally semi-arid environment that is dotted with termite skyscrapers.
The whole reserve is bordered by a network of operational conservancies that extend the wild habitat (and the experiences available to visitors).
These conservancies are not exclusive wilderness areas; the local communities live here and raise their livestock alongside wildlife while concurrently offering tourism experiences.
This model has proved vital for the conservation of vast tracts of land.
Considering that 65 percent of wildlife in Kenya is found outside of established Kenya national parks and reserves, conservancies are essential to the conservation of the wildlife in the country.
Wildlife In Samburu
Catchy phrases like "the Big 5", "the Ugly 5", "the Big 7" and "the Secret 7" in reference to certain wonderful wildlife species are greatly effective marketing tools that sell everything from curios to safaris.
In the case of Samburu, the "Samburu Special Five" is a fitting name for a more exclusive wildlife checklist in this Africa's arid region.
Included in the Special 5 are the ultra-striped Grevy's Zebra, the Reticulated Giraffe, regal Beisa Oryx, long-necked Gerenuk (Giraffe Gazelle) and blue-legged Somali Ostrich.
Apart from these special species, there are other rare dry-country antelopes in Samburu, including the Lesser kudu, Grant 's gazelle, and the adorable Kirk's and Günther's dik-diks.
Samburu is also a predator haven for the 3 big cats, African painted wolves, and even the elusive striped hyena.
This reserve is also one of the best places to see leopards in Kenya, and it's a prime spot for huge tusked elephants. Buffalo, HippopoS, Rhinos, Impala and Waterbuck also reside here.
Wildlife viewing in Samburu offers an added advantage as the reserve is far less crowded than the more popular southern Kenyan safari areas.
As it occupies such a unique position between desert and savanna, Samburu also offer sublime bird watching.
There are several coveted endemic and arid specials including the charismatic Vulturine Guineafowl, Golden Pipit, Taita Falcon, Yellow-necked Spurfowl, and Secretarybird, and Northern red-billed Hornbill.
The Ewaso Ng'iro River also has some huge Nile Crocodiles, and the Critically Endangered African Pancake Tortoise.
As an aside, Samburu National Reserve was one of the two areas in which conservationists Joy Adamson raised Elsa the Lioness, made famous in the best-selling book and award-winning movie Born Free.
The reserve is also the home of a lioness known as Kamunyak that was famous for adopting at least 6 oryx calves in the early 2000s, and whose story was told in the film "Heart of a Lioness".
What To Do In Samburu?
You can enjoy morning, afternoon, evening, or full day game drives. You can also experience Samburu culture, visit the nearby "Singing Wells" or go on camel-trekking safaris with members of the Samburu tribe.
3. Amboseli National Park
Situated in southern Kenya near Tanzania, Amboseli National Park is Kenya's most famous national park after Masai Mara.
The park covers just 392km2 in Kajiado County.
It is a core part of the much larger Greater Amboseli-Tsavo-Kilimanjaro ecosystem.
This enormous area of some 8000km2 encompasses Amboseli, Chyulu Hills, Tsavo, and Mt Kilimanjaro National Parks.
Amboseli is one of the most beautiful places in Africa. It is famous for being the best place in Africa to get close to free-ranging elephants and the best views of the majestic Mt Kilimanjaro (5895m) – Africa's tallest mountain.
If you're looking for that iconic safari photograph of long-tusked elephants on dry savannah plains with Africa's highest mountain as a backdrop, Amboseli is the place to snap it.
Wildlife In Amboseli
Amboseli offers spectacular wildlife watching despite its relatively small size.
The park is, however, most known for its elephants, present in high numbers and featuring some of the largest body and tusk sizes in Africa.
Amboseli's elephants are some of the last genetic repositories of Africa's great tuskers.
In Amboseli, elephants are everywhere, revelling in the waters of the marshes, treading dusty tracks led by a trusted matriarch or, sometimes, posing against the backdrop of Mt Kilimanjaro for awe-struck, camera-wielding visitors.
This alone can be enough to send a tourist home thrilled, having gained a new appreciation for world's largest land animal, but the elephants of Amboseli have another claim to fame.
Most of these herds and bulls have been the focus of the longest-running study of elephant behaviour in the wild.
In addition, Amboseli is where scientists first identified elephant herds as close-knit families, and where elephants were observed forming friendships, celebrating births, and grieving the death of a family member.
Amboseli also has a lot of birdlife.
It is also home to the Big Cats, buffalo, Masai giraffe, monkeys and antelopes.
The word "Amboseli" comes from the Maasai for "salty dust," and you will often see elephants caked in this dry, white mud after a good wallow.
What To Do In Amboseli
You can enjoy game drives. Amboseli region is also home to the Maasai people.
Some conservancies near the park such as Selenkay are Maasai-owned, and you can support them by staying and visiting their villages.
To photograph the best views of Kilimanjaro, you need aim for an early wake-up call when it is clear and before the clouds come in.
For stunning views of Amboseli National Park, head to Observation Hill where you can see the swamp being enjoyed by elephants, hippos, and more.
4. Tsavo National Parks
Made up of two national parks, Tsavo East National Park and Tsavo West National Park, Tsavo in southwest Kenya has something captivating – a feeling of vast space and ancient magic of the truly wild.
Red soils stain the leathery skins of its giant tusked elephants, and the sight of a herd of red elephants is one not easily forgotten.
The beauty of Tsavo landscape captured the heart of Denys Finch Hatton ('Out of Africa' – Karen Blixen's lover) in a way no other wild space (or woman) ever had. It was here that he was killed when the plane he was piloting crashed.
From untimely deaths to legendary man-eating lions and poaching wars, Tsavo has not had the easiest road.
But now, combined, Tsavo East and West account for the largest of Kenya's protected spaces (over 2 million hectares) and one of the world's largest protected wilderness areas.
Named after Tsavo River, this massive Big 5 ecosystem lies between Nairobi and Mombasa, the country's main port city.
This location is the reason behind the division of Tsavo East and West – they're split by both railways and the Nairobi-Mombasa Road, which sees the movement of around 50% of goods traded in East Africa.
Tsavo is also a great safari stop-off on a city-to-coast vacation.
What To Do In Tsavo?
The two parks offer game drives and have slightly different terrains.
Tsavo East is mostly flat plains, with the Galana River flowing through.
Camping along the river is one of the highlights of Tsavo, as is taking a walking safari across the vast Yatta Plateau, the world's longest lava flow at 300 kilometers. Tsavo West is wetter and more mountainous.
Bird spotting is better in Tsavo West, which has around 500 species.
Most impressive of all is the force of Mzima Springs, where 50 million gallons of water rush out from the lava rock.
Here, people can enter a glass viewing chamber to watch the life underneath the surface of a crystal-clear pool – including schools of fish, crocodiles, and the resident hippos.
The lushness makes for prolific game-viewing with elephants, hippos, crocodiles, zebras, giraffes, and monkeys hydrating and hanging out in this verdant terrain.
For epic views, it is hard to beat the scene over the plains from Poacher's Lookout.
5. Ol Pejeta Wildlife Conservancy
Ol Pejeta Conservancy is situated in the Laikipia Plateau on the foothills of Mount Kenya.
It is a great 362 km2 not-for-profit wildlife sanctuary that is home to our planet's last two northern white rhinos and around 140 critically endangered Black rhinos; the biggest population of Black Rhino in East Africa.
Ol Pejeta generates income through wildlife tourism and complementary enterprises, which it re-invest in conservation and community development.
Besides being a sanctuary for the 2 northern white rhinos and 140 black rhinos, 39 southern white rhinos, Ol Pejeta contain all other Big 5 animals of Africa.
It has one of the highest densities of predators in Kenya; over 100 spotted Hyenas, 70 Lions, 20 Leopards, 30 cheetahs, 33 African painted wolves (wild dogs), Black-backed jackals, Serval cats, Caracal, and Bat-eared foxes.
Ol Pejeta also has a sanctuary that houses abandoned, orphaned, and rescued chimpanzees.
It is Kenya's only place where you can see these highly intelligent apes that share about 98.6% of our DNA and are considered our closest genetic cousins.
Ol Pejeta also boasts over 500 bird species.
6. Lake Nakuru National Park
The UNESCO listed site Lake Nakuru National Park is one of the most beautiful parks in Kenya.
The the park is situated on the floor of the Great Rift Valley. It is characterized by acacia forests, waterfalls, and high ridges and the views promise to wow. Lake Nakuru is located about 3-hour drive from Nairobi city.
What is special about Lake Nakuru National Park is the good population of wildlife in a contained area where sightings are as reliable as you could hope for.
Nakuru is a birder's paradise and was once famed for its mega-flock of flamingos (sometimes more than 1.8 million of them at one time), which covered the lake in a blanket of pink plumes.
But, since the major flooding of 2014, few flamingos choose to feed or breed here anymore.
Aside from flamingos, Lake Nakuru has a glorious roster of 450 bird species to enjoy, from pelicans, waterfowl, and fish eagles to Verreaux's eagle.
As well as prolific birdlife, the park has over 50 mammal species. It is a great destination to see white and black rhinos, as well as Cape buffalo, African wild dog, Plains Zebra, Common Eland, Defassa waterbuck, and Lion.
The high frequency of leopard sightings and the rare Rothschild's giraffe has made Nakuru famous in recent years.
Baboons, Impalas, colobus monkeys, hyenas, zebras, gazelles, and pythons are also among the abundance of wildlife here. Lake Nakuru National Park. It offers amazing game drives, bird watching, hiking, and a picnic in one day.
7. Lake Naivasha National Park
Lake Naivasha is one of the prettiest and most accessible national parks in Kenya near Nairobi city (about 2-hour drive).
The park features a deep blue freshwater lake. The lake is encircled by forests of acacia and distinctive yellow-green fever tree. They are teeming with bird life, and the lake is a world-class bird watching destination.
There is other Kenya wildlife, too: Buffalo, Giraffe, Monkey, Antelopes, and a large hippo population.
The naturalist Joy Adamson resided on Lake Naivasha shores with her husband George. Together, they raised the lion cub known as Elsa the Lioness.
The story became an award-winning book and film, Born Free. Their former home/residence, Elsamere, is now a museum and conservation and field study center.
8. Hell's Gate National Park
Also a unique part of Africa's Great Rift Valley is the dramatic landscape of Hell's Gate National Park, one of the most atmospheric national parks in Uganda.
Unlike its Kenya safari counterparts, the park has no predators.
And its appeal comes from the beautiful scenery that was formed millions of years ago by geothermal activity.
In fact, this is how the park came to be known as Hell's Gate.
Geothermal steam rises up from the ground in an epic landscape of soaring cliffs, bursting gorges, dusty valleys, and pristinely sculpted volcanic columns.
While wildlife is not the primary attraction of Hell's Gate National Park, the park is home to zebras, buffalos, antelopes, and baboons.
Included among its 100 bird species are vultures and Verreaux's eagles.
You will also sometimes spot raptors that have built their nests in the cliffs.
Despite its intimidating name, you can enjoy some popular activities. The park is particularly popular with hikers, rock climbers, and cyclists.
If you're a fan of the move "Lion King", the rock formation at Hell's Gate Gorge is what inspired Pride Rock.
Other Kenya safari locations may be larger and wilder, but Hell's Gate National Park is a natural playground where you can enjoy all the activities and save a little bit on cheaper entry fees.
9. Aberdare National Park
Aberdare National Park is a place to appreciate nature over wildlife in the cooler climes of the central highlands.
It is perhaps the most distinctive of national parks in Kenya.
Though you will see wildlife, Aberdare is primarily known for its outstanding natural beauty, which consists of misty forests and river valleys.
The higher moorlands, sometimes called the High Park are perfect for hiking.
The national park was established in 1950 to protect the Aberdare Mountains, which descends into the Rift Valley.
It is a landscape of dense forest, steep ravines, open moorland, and thundering waterfalls.
Wildlife inhabitants of the park include black rhinos, elephants, baboons, colobus monkeys, buffalo, and the elusive leopard.
Birdwatchers are also in for a treat, as over 250 species have been sighted and recorded.
The park is also rich in history.
It was the location of the now closed Treetops Lodge, where Princess Elizabeth found out she would become Queen of the United Kingdom in 1952 after the early death of her father.
In the 1950s, the dense Aberdare Forest hid Kenya's Kikuyu Mau Mau guerrillas during their struggle against European colonization.
You need a good 4WD vehicle if you're heading to Aberdare National Park.
10. Mount Kenya National Park
If you are a climber or a hiker, Africa second highest mountain (5199m), the snow-capped Mount Kenya, deserves a spot near the top of your travel list.
Mount Kenya National Park has great wild camping along some of the lesser-used trails, and rock climbing adventures on the lower peaks.
The national park also has a 10 kilometer hike up to the Met Station if you only have time for a day hike.
This UNESCO World Heritage site is pure joy to explore, with its ecosystem of lakes, glaciers, mineral springs, and Afro-Alpine Vegetation.
You are in for sweeping views of high ridges, deep valleys, and dense forest slowly becoming glacial terrain as you go higher into the park.
Mount Kenya is home to mongoose, elephant, bushbuck, eland and colobus monkeys. But it is the walking trails and scenery that are its biggest attraction.
Mt Kenya located in the Laikipia Plateau, which is a network of conservancies mostly managed by local communities, so it is an excellent region for community-based tourism accommodations.
11. Lake Turkana National Parks
South Island, Central Island and Sibiloi National Parks – make up the UNESCO World Heritage listed Lake Turkana National Parks.
These parks surround the vivid greenish-blue Lake Turkana, the largest permanent desert lake in the world.
This are is ideal for the adventurous traveler on Kenya safaris.
It is vast, volcanic, hot, dry, and windy. Its surreal scenery looks out of this world. It resembles the surface of Mars.
The Central Island National Park features of 3 active volcanoes and 3 crater lakes.
Here you will encounter the largest concentration of Nile crocodiles in the world, plus enormous Nile perch and tilapia fish.
You will see zebras, hyenas, kudu – and if you're lucky, lions, cheetahs, and leopards.
The South Island National Park is covered in volcanic ash.
The park has become a breeding ground for more than 20 bird species and a large crocodile population.
Lake Turkana hosts one of biggest cultural festivals in Kenya.
The 3-day Lake Turkana Festival in Loyangalani on the southeastern coast of the lake celebrates the heritage of the communities that live here, who fish in the Lake Turkana basin, and whose languages and cultures require the same preservation as the environment.
12. Meru & Kora National Parks
Meru and Kora National Parks in the Great Rift Valley are the perfect places to visit if you are looking for rugged, remote, and pristine landscapes.
These Kenya national parks have vast grasslands, thorny bush, gushing rivers, and thick jungle.
And you will find Elephants, Grevy's zebras, Cape buffalo, Hippopotamus, and Masai giraffes – plus over 420 species of birds.
The parks' landscape, with huge swathes of savanna, dries out in the dry season. So, staying cool and hydrated is important.
A good 8-hour drive from Nairobi city, Meru and Kora are some of the more off-the-beaten-track national parks in Kenya.
13. Nairobi National Park
Established in 1946, Nairobi National Park was first national park in Kenya.
It is also only national park in the world within a city. Some travelers even manage to get in a few wildlife sightings on their way to or from the airport.
It is where you can be on open savannah plains and still see the skyscrapers of Nairobi city in the distance.
Among the park's acacia bush is a variety of game, including buffalo, lions, leopards, and the endangered black rhino.
Nairobi National Park has a successful rhino conservation program that has restocked other national parks in Kenya through their breeding program.
As in many national parks in Kenya, the birdlife is prolific, with over 400 species recorded. The park has designated spots for picnics, walking trails around the hippo pools, and campsites.
So, it is a viable choice for a day trip in Kenya or overnight if you do not have time to travel farther.
Also inside Nairobi National Park is the Sheldrick Wildlife Trust, a rhino and elephant sanctuary.
The sanctuary retains links with Tsavo National Park where David Sheldrick worked as an anti-poaching warden.
Visitors to the sanctuary can see the Trust's rescue and rehabilitation program in practice and watch the elephants and rhinos at feeding time, from a distance.
Which Type of Kenya Safaris Best Suits Your Needs?
Kenya has African safari experience for everyone. There are family-friendly safaris with child-friendly activities and private romantic getaways for newlyweds or young lovers. Here are the different Kenya safaris category:
1. Kenya Family Safari
If you can visit Kenya travel with your kids, you should do so. That is the best way to bring a family together during precious holiday time.
For family vacations, Kenyan safaris are hard to beat. Kenya is a country of big wildlife densities and varied landscapes.You can track big cats on game drives in Masai Mara, go on guided bush walks led by red-robed Maasai warriors and hand feed giraffe at the famous Giraffe Manor.
When your kids are not with you, they can join in junior ranger programmes packed with memorable experiences like learning to shoot a bow and arrow or making fire with sticks. And why not conclude your holiday by spending some time on one of Kenya's picture-perfect beaches? Your children will love you for it.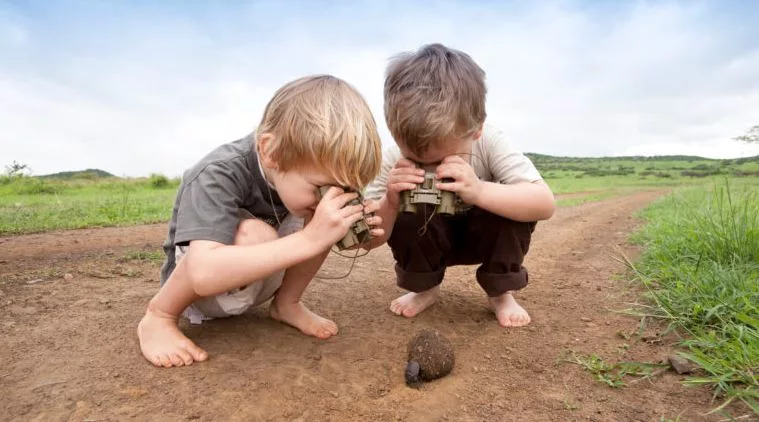 2. Kenya Honeymoon Safari
A honeymoon safari in Kenya is one of the most romantic ways to begin your marriage. The diversity of wildlife-rich savannah reserves, white sandy beaches, fairy forests, gorgeous lakes, and jagged mountains gives honeymooners many options.
And several Kenya safari lodges have superb settings that are ideal for a romantic holiday. Service is almost always personable, and you will be made to feel at home everywhere you go.
You can enjoy active days getting close to nature and seeing wildlife. But, there are also romantic touches. Sundowner drinks while viewing the deep-red African sunset, candlelit dinners in the bush, or listening to the birds serenading a new day at dawn.
I can't imagine a better way to start your married life together than sharing the very special moments a Kenya safari always offers.
3. Luxury Kenya Safaris
Travelers have been enjoying luxury safari tours longer in Kenya than anywhere else. Some of the safari accommodation here has to be seen to be believed.
Many are beautifully decorated, often harking back to an old-world colonial style from the days when the African safari was born. But the comfort can be high, with fabulous views.
Though Kenya is one of busier safari destinations in Africa, the growth in private conservancies, particular around the Masai Mara National Reserve, has added an air of exclusiveness. You now have unrivaled choice when it comes to organizing your long-desired luxury safari vacation into Africa's safari heartland.
4. Camping Kenya Safaris
Whether you love camping or you are just looking at keeping the price of your Kenya safari down, we highly recommend camping safaris in Kenya. We provide you a comfortable camping setup and sumptuous food.
You'll be able to enjoy the fun part of camping without the hassle. You will hear lots of animals at night; hyenas laughing, the distant roar of a lion or the repetitive whistle of a nightjar.
5. Kenya Fly-in Safari
With local carriers flying between most popular Kenya National Parks and other safari hot spots, a fly-in safari gives you the opportunity to mix and match some of Kenya's spread-out attractions in a limited amount of time.
Leaving the hustle and bustle of Nairobi, Kenya's capital city, and arriving an hour later on a dirt airstrip in the middle of the bush has a dreamlike quality to it. And getting a panoramic bird's eye view of Kenya's landscapes is an added bonus.
6. Masai Mara Safari
Masai Mara is one of the top safari destinations in Africa.
Its wide-open plains hosts abundant wild animals like elephant, buffalo, rhino, zebra, giraffe, hyena and its famous Big Cats: lion, leopard and cheetah. There is a reason the BBC filmed 'Big Cat Diary' here
And every year, between about August and November, the Masai Mara is a much-welcomed pit stop for over 1.8 million wildebeest that follow the rains on their death-defying, 2 900-kilometer circular journey.
Thousands of people visit Mara every year to enjoy some of the most authentic safari experiences in Africa.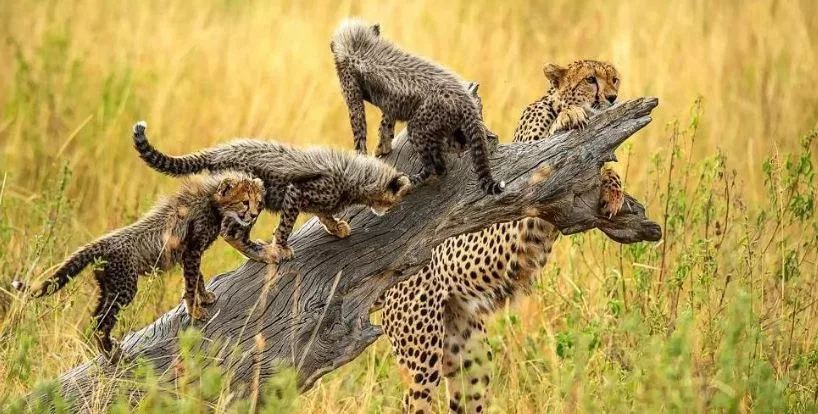 Kenya Safari Packages
3 Days Masai Mara Safari Kenya
Day 1: Drive from Nairobi to Masai Mara National Reserve, Afternoon Game Drive.
Day 2: Extensive Game Drive in Masai Mara Game Reserve & Evening Cultural Tour to a Traditional Masai Village.
Day 3: Morning Game Drive in Masai Mara, Drive Back to Nairobi.
3 Days Amboseli National Park Safari
Day 1: Drive from Nairobi to Amboseli National Park, Game Drive
Day 2: Extensive Morning & Afternoon Game Drives in Amboseli
Day 3: Morning Game Drive & Transfer Back To Nairobi
4 Days Masai Mara Kenya Safari
Day 1: Drive from Nairobi to Maasai Mara, afternoon game drive.
Day 3: Full-day game drive in Masai Mara – Optional hot air balloon safari
Day 4: Game drive & Masai Village Cultural Experience
Day 5: Sunrise game drive & Return to Nairobi
4 Days Kenya Safari To Masai Mara & Lake Nakuru
Day 1: Visit Lake Nakuru National Park for a game drive.
Day 2: Travel to Maasai Mara Game Reserve, afternoon game drive.
Day 3: Full-day game drive in Maasai Mara. Optional Maasai Village Cultural Tour
Day 4: Sunrise game drive and travel back to Nairobi.
5 Days Kenya Safari: Masai Mara & Nakuru
Day 1: Travel To Lake Nakuru National Park for Game Drive and Birding
Day 2: Visit Maasai Mara Game Reserve, after game drive
Day 3: Full-day game drives in Maasai Mara. Optional hot air balloon ride.
Day 4: Half-day game drive in Masai Mara & Evening Maasai Cultural Encounter
Day 5: Morning Game Drive, Drive Back Nairobi & Depart Kenya.
6 Days Kenya Safari Tour
Day 1: Visit Lake Nakuru National Park for Game Drive.
Day 2: Tour Lake Naivasha for a Boat Tour, Natural Walk, & Relaxation.
Day 3: Transfer to Maasai Mara, Afternoon Game Drive.
Day 4: Full-Day Game Drive in Maasai Mara
Day 5: Game Drive Masai Mara & Masai Village Cultural Tour
Day 6: Morning Game Drive, Return To Nairobi.
6 Days Kenya Wildlife Safari
Day 1: Drive from Nairobi to Masai Mara; afternoon game drive.
Day 2: Full-day game drive in Masai Mara
Day 3: Transfer to Lake Nakuru National Park, evening game drive.
Day 4: Travel to Amboseli & enjoy an evening game drive.
Day 5: Full day game drive in Amboseli National Park
Day 6: Enjoy a sunrise game drive & Return to Nairobi
7 Days Kenya Safari
Day 1: Drive from Nairobi to Samburu Reserve for game drive.
Day 2: Full-day game drive in Samburu
Day 3: Visit Lake Nakuru National Park, afternoon game drive
Day 4: Travel to Maasai Mara & enjoy an afternoon game drive.
Day 5: Full-day game drive in Maasai Mara
Day 6: Morning game drive & afternoon Masai Cultural Experience
Day 7: Enjoy a sunrise game drive & Return to Nairobi
8 Days Kenya Safari
Day 1: Transfer to Samburu, Afternoon Game Drive.
Day 2: Full-day game drive in Samburu National Reserve
Day 3: Transfer to Lake Nakuru for Bird Watching & Game Drive
Day 4: Transfer to Lake Naivasha & Whole Day Relaxation
Day 5: Transfer To Maasai Mara, afternoon game drive.
Day 6: Full day game drive in Maasai Mara National Reserve.
Day 7: Morning game drive & afternoon Maasai Cultural experience
Day 8: Morning game drive in Masai Mara & Transfer Back to Nairobi
9 Days Kenya Safari
Day 1: Visit Samburu; Afternoon Game Drive.
Day 2: Full-Day Game Drive in Samburu National Reserve
Day 3: Explore Ol Pejeta Conservancy & Sweetwaters Chimpanzee Sanctuary
Day 4: Full-Day Safari in Ol Pejeta Conservancy
Day 5: Travel to Lake Nakuru NP, an Afternoon Game Drive
Day 6: Tour Masai Mara, Afternoon Game Drive
Day 7: Full-Day Game Drive in Masai Mara Reserve
Day 8: Game Drive Masai Mara & Maasai Village Visit.
Day 9: Morning Game Drive. Travel Back To Nairobi
10 Days Safari In Kenya
Day 1: Visit Samburu National Reserve,Game Drive.
Day 2: Full Day Game Drives in Samburu
Day 3: Explore Ol Pejeta & Sweetwaters Chimpanzee Sanctuary.
Day 4: Full Day Wildlife Safari in Ol Pejeta Conservancy
Day 5: Visit Lake Nakuru Park, Afternoon Game Drive.
Day 6: Transfer to Lake Naivasha, Boat Tour & Nature walk
Day 7: Travel To Maasai Mara & Do An Afternoon Game Drive.
Day 8: Full day Masai Mara Safari
Day 9: Masai Mara safari & Maasai Cultural Experience.
Day 10: Sunrise game drive. Travel back Drive Back To Nairobi.
10 Days Kenya Safari Holiday
Day 1: Nairobi – Masai Mara National Reserve
Day 2: Masai Mara
Day 3: Masai Mara – Lake Nakuru National Park
Day 4: Nakuru – Amboseli National Park
Day 5: Amboseli National Park – Diani Beach
Day 6-9: Diani Beach Holiday
Day 10: End Of Vacation
7 Questions About Kenya Safaris
When is the best time to visit Kenya?
Why visit Kenya, and what are the major attractions?
What does a Kenyan safari cost?
How is the wildlife viewing in Kenya?
How safe is Kenya for tourists?
What type of accommodation can I expect on Kenya safaris?
What can I expect from an African safari in Kenya?