Bwindi Impenetrable National Park was declared a Natural World Heritage site thanks to its incredibly diverse ecosystem and large number of endangered species that call it home. It is an amazing piece of land. It survived the last Ice Age (about 15,000 years ago) when most other African forests disappeared.
This popular Uganda national park covers over 320 square kilometers and protects a magnificent range of forested hills on the edge of Albertine Rift Valley in Southwestern Uganda.
Its fern-rich, vine-covered canopies shelters more than 120 species of mammals, 350 bird species, 220 species of butterflies, plus many amphibians and reptiles.
Bwindi is famous for being home to nearly 50% of the world's population of endangered mountain gorillas. That equates to around 500 individuals, according to the last official census in 2019, with 21 gorilla families currently habituated for tourism — more than in any other area of Africa.
Mountain gorillas are the world's strongest and largest living primates. They can weigh over 200 kg. Gorillas are also so closely related to us humans. The difference in our nuclear DNA is about 1.6%. Mountain gorillas are also very rare and cannot survive in zoos. Their range is naturally restricted to a small niche area of forested highlands in Uganda, Rwanda and Congo (DRC.
Location of Bwindi Impenetrable National Park
Bwindi Impenetrable National Park is located in southwestern Uganda, near the towns of Kisoro and Kabale, approximately 500km from Kampala.
The park is situated on the edge of East African Albertine Rift Valley on an altitude of about 1,160 to 2607 meters. To the north of Bwindi lies Queen Elizabeth National Park (known for its famous tree-climbing Lions). To the south, there is the Virunga Volcanoes of Rwanda.
And the DR Congo lies on the western edge of the park. This ancient rainforest is surrounded by intensely cultivated agricultural lands, previously covered by forest vegetation. Bwindi National Park is also located about 55 km northwest of Lake Bunyonyi – Africa's second deepest lake.
Why is Bwindi called impenetrable?
The name "Bwindi Impenetrable" comes from the extensive stands of bamboo interspersed amongst the larger forest hardwoods. The bamboo and thick ground cover of ferns, vines, and other plant growth severely hinder direct access on foot.
Just as fascinating as the magnificent mountain gorillas of Bwindi Forest is its ancient lore and history. You'll hear more about its many secrets when you spend time here on your Uganda safari vacation.
Legend has it that the park takes its name, "Bwindi," from the term used for Mubwindi Swamp, "mubwindi bwa nyinamuraki," which is found in the southeast sector of the park.
About 100 years ago, so the story goes, a family traveling from the Kisoro area was trying to cross a swamp that seemed impossible to traverse. After praying to the spirits of the swamp for guidance, they were asked to sacrifice their loveliest daughter in exchange for safe passage.
Faced with the prospect of returning to the south, the family opted to drown their beautiful daughter, Nyina Muraki, so that they could cross safely. As people learned about their sacrifice, they began to call it "mubwindi bwa nyinamuraki," which translates as "dark place of nyina muraki."
Fast forward to more recent times: Bwindi came into being in 1932 as a forest reserve. The reserve received a national park status in 1991 and declared a world heritage site by UNESCO in 1994. The park was specially designated as a protected mountain gorilla viewing destination for tourists in April 1993.
What Other Animals Are In Bwindi National Park?
Uganda is a primate-lover's dream. Besides Mountains Gorillas that have made the area famous, Bwindi Impenetrable National Park is also home to another 9 primate species. There are chimpanzees in Bwindi Forest. Still, at this stage, none are habituated to human presence, so sightings are rare.
Other species of primates in Bwindi Impenetrable National Park include black-and-white colobus, Ugandan red colobus, red-tailed and blue monkeys, mangabeys, Olive baboons, Vervet, and vulnerable L'Hoest's monkeys. In addition to the smaller primates that swing in the treetops, other Uganda animals roam the forest paths of Bwindi, including forest elephants, giant forest hogs, duikers, bush pigs, golden cats, jackals, civets, three-horned cameleons and numerous other small mammals.
Birds In Bwindi Impenetrable National Park
The ecosystem of Bwindi offers an opportunity to see over 350 species, including 23 of the 24 Albertine Rift endemics. It is arguably the best forest birding spot on the continent.
Short-tailed warblers, Chapin's Flycatcher, Doherty's Bushshrike, handsome francolin, Jameson's antpecker, green tinkerbird and, of course, the spectacular Turacos are all rewards for a day's birding in Bwindi Impenetrable National Park. There may even have a chance to become the first person to take a photo of Shelley's crimsonwing in the wild.
As mentioned, Ruhija highlands offer particularly diverse birding, and here keen birders can search the Mubwindi Swamp trail for the mysterious African green broadbill (Grauer's broadbill).
Bwindi's Batwa Pygmy people
For 60,000 years or more, Bwindi Impenetrable Forest has been home to the indigenous Batwa people. Also known as "the Keepers of the Forest", the Batwa are the original dwellers of this ancient jungle. They have a long and rich history with the forest.
They previously survived as hunter-gatherers in the forest, hunting small mammals and birds using arrows or nets and gathering a wealth of plants, berries and fruit.
The Batwa lived in huts constructed of branches, and leaves, moving frequently in search of fresh supplies of food. The Batwa lived in harmony with the forest and its creatures, throughout Africa's equatorial forests for centuries. In 1991, the lives of the Batwa People changed forever.
When Bwindi Impenetrable Forest became a national park to protect the critically endangered mountain gorillas, the Batwa were evicted from the park. They had no title to land, or compensation. The Batwa thus became conservation refugees in an unfamiliar, unforested world. Many of them died during the early years of exile, and the tribe's very existence was severely threatened.
In 2001, medical missionaries purchased land and established programs to improve conditions for the tribe. With the community, they set about building homes, schools, a hospital and clinics, and developing various projects around water and sanitation and income generation, in turn promoting indigenous rights.

What To Do In Bwindi Impenetrable National park?
There are so many fun activities to do in and around Bwindi Impenetrable National Park! Whether you are interested in wildlife, nature, culture or adventure, Bwindi has something for everyone.
Mountain Gorilla Trekking
Bird watching (Birding Tours) in search of Albertine rift endemics and other unique birds
Scenic hikes and nature walks
Local community village visits
Visit Lake Bunyonyi for canoe ride, boat cruise, cultural tours, hiking, beautiful scenery viewing, ziplining and relaxation.

How To Get To Bwindi Impenetrable National Park?
If you are planning a road trip to Bwindi Impenetrable National Park, the journey takes approximately 8 to 9 hours from Kampala or Entebbe. The drive to and from Kampala may be long but very interesting for those who are adventurous and love nature.
You would be traveling past several small towns, rural villages, and regions of the country with stops to important landmarks like the Uganda equator line or even stop to buy fruits and local artifacts.
You might also stop for a day at Lake Mburo National Park, rest and relax before departing. Lake Mburo National park is popular for spotting Leopards, Zebras, Giraffes, Buffalos, hippos, and antelopes like Impala, topis, waterbucks, bushbucks, during night and day game drives.
If you are already in Queen Elizabeth National Park, Bwindi National Park is very easy to reach by a 4 to 5-hour drive south. You can drive through Ishasha on this route to see the famous tree-climbing lions before arriving in Buhoma region of Bwindi National Park. If you are travelling from Kibale Forest National Park, the home of chimpanzee trekking, the drive takes about 6 to 7 hours.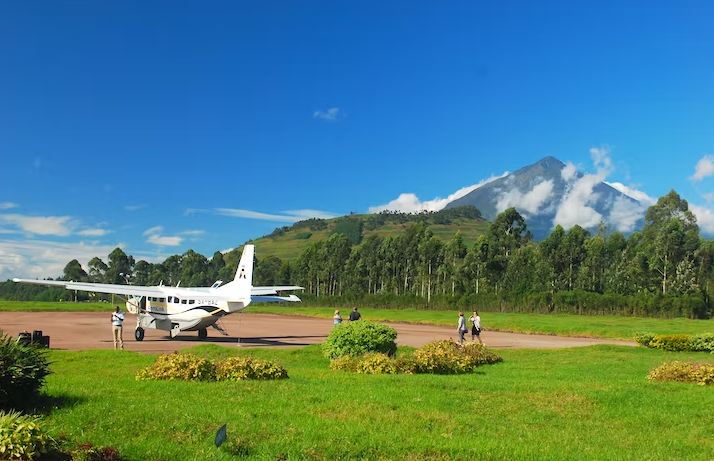 Travelling by air is the fastest way to reach Bwindi, and there are a number of flights each day.
Most visitors arrive in Uganda at Entebbe International Airport, which is roughly 46 kilometers from the capital city of Kampala.
From here, and from Kampala's Kajjansi Airfield, is also possible to book chartered or scheduled flight to Kihihi Airstrip or Kisoro Airstrip near Bwindi. The flight time is just over 1 hour, which is then followed by a short drive of approximately 1.5-2 hours.
READ MORE: Uganda Fly-in Safaris.
Visiting Bwindi From Kigali, Rwanda
In order to avoid the long driving distance from Kampala/Entebbe to Bwindi or an expensive flight transfer, there is a shorter route from Kigali Rwanda to Bwindi.
This route takes approximately 3 to 4 hours. You get to the experience the emerald green hills of Rwanda – "the Land of a Thousand Hills" and Uganda – "the Pearl of Africa" on a spectacular drive from Kigali city to Bwindi Impenetrable National Park.
You can visit Bwindi Impenetrable National Park at any time of the year.
People commonly come to Uganda for Bwindi gorilla trekking safaris, and sightings are pretty much guaranteed throughout the year. However, June to August and December to February which are the dry season months offer the best condition gorilla trekking conditions.
In the wet season months, the trails tend to be more slippery and harder to hike. As gorilla trekking in Bwindi is a once-in-a-lifetime experience, it could be disappointing if it rained on the day.
But, the park guides will go out of their way to make the encounter special, whatever the weather. If it rains so hard, they may decide to wait somewhere for the weather to improve before approaching the mountain gorillas.
Gorilla Trekking In Bwindi Impenetrable Forest
While there are many aspects to your Bwindi safari, the vast number of tourist that visit every year come to spend time with endangered mountain gorillas – one of the most famous animals of Africa. For many, this is a once-in-a-lifetime experience with these gentle great apes. Once on verge of extinction, mountain gorilla population have been steadily increasing in the last 10 years, with the most recent estimate putting the number of wild mountain gorillas at over 1060.
Today, Bwindi is home of about 50 gorilla families and 21 of them have been habituated – trained gently over 2-3 years to become used to the presence of humans – while the remaining 38 families are completely wild and cannot be approached. Every habituated gorilla family of Bwindi comes with its dynamics, characters, and stories, and the rangers have kept track of it all.
What Are The Gorilla Trekking Sectors In Bwindi?
Gorilla families of Bwindi reside in the 4 different sectors of the park, named after the surrounding villages. These include Buhoma, Ruhija, Nkuringo and Rushaga. Each of these sectors act as is a self-standing gorilla trekking destination, has its own set of accommodation options, a variety of tourist attractions, and it is reached by a different approach from other locations.
1. Buhoma Sector (Northern Bwindi)
Buhoma is the most visited region of Bwindi Impenetrable National Park. It is also the largest of the four gorilla trekking sectors of the park and has the highest density of luxury Bwindi safari lodges and camps.
As the first area of the park to open to guests, this is where Bwindi gorilla trekking tours first started, when the Mubare gorilla family was habituated in 1992. Here, you can also explore the neighbouring communities, bird watch, or take a hike on some of the most spectacular forest trails on the continent. And aside from Mubare, 5 other habituated gorilla families including:
Habinyanja Gorilla Family
Rushegura Gorilla Family
Katwe Gorilla Family
Muyambi Gorilla Family
Binyiindo Gorilla Family
2. Ruhija Sector (Eastern Bwindi)
Ruhija Sector is less-visited than Buhoma region. This sector is popular with bird watchers and avid hikers who for the summit of Rwamunyonyi Peak ("the hill of many birds") – the park's highest point which offers extraordinary views. As the name suggests, the forests around Rwamunyonyi offer amazing birding in Bwindi Impenetrable National Park.
Many lodges and tour guides also offer trips into the surrounding areas to meet some Batwa people – the park's original inhabitants. On offer are demonstrations of the use of medicinal plants found in the forest and other ancient survival skills practiced by their people for thousands of years.
Though forest elephant sightings in Bwindi Impenetrable Forest are infrequent, Ruhija provide the best chance of spotting one of these elusive grey ghosts. Ruhija Sector is home to four habituated gorilla families including:
Mukiza Gorilla Family
Oruzogo (Kasumali) Gorilla Family
Kyaguliro Gorilla Family
Bitukura Gorilla Family
3. Rushaga Sector (Southern Bwindi)
The Rushaga region of Bwindi is famed for its gorilla trekking and the gorilla habituation experience – where tourists spend up to 4 hours with the group rather than the standard 1 hour. The Rushaga sector includes Lake Mutanda, so visitors can set out on a boat cruise for an entirely different perspective of the spectacular scenery.
The Rushaga region of Bwindi is famed for its gorilla trekking and the gorilla habituation experience – where tourists spend up to 4 hours with the group rather than the standard 1 hour. The Rushaga sector also includes Lake Mutanda, so visitors can set out on a boat cruise for an entirely different perspective of the spectacular scenery. It is home to multiple habituated gorilla families in the region, including:
Mishaya Gorilla Family
Kutu Gorilla Family
Bweza Gorilla Family
Posho Gorilla Family
Mucunguzi Gorilla Family
Shongi Gorilla Family
Bikyingi Gorilla Family
Busingye Gorilla Family
Kahungye Gorilla Family – the largest of all the Bwindi gorilla families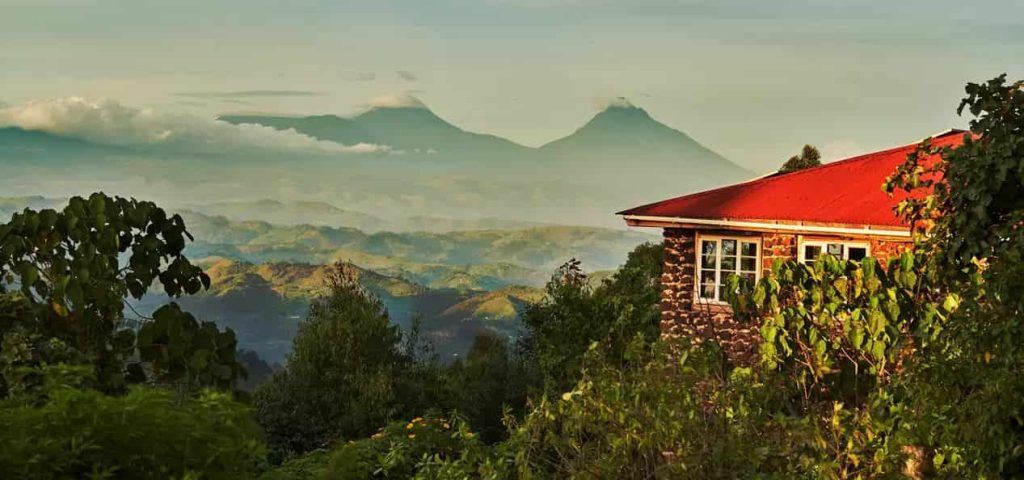 4. Nkuringo Sector (Western Bwindi)
The Nkuringo sector is the most scenic area to visit in Bwindi Impenetrable National Park. The dramatic topography and break-taking views of the volcanic Virunga Mountains do come at a physical cost; this particular region is better suited to more physically active visitors. Nkuringo is home to three habituated gorilla families, including:
Nkuringo Gorilla Family
Bushaho Gorilla Family
Christmas Gorilla Family

How Much Does A Bwindi Gorilla Trekking Tour Cost?
The Bwindi gorilla trekking permit price is currently US$700 for a foreign nonresident, US$600 for a foreign resident, and UGX 250,000 for East African Citizens.
Although this might seem expensive, it is a bargain compared to what the same activity costs in Rwanda (US$1500), which is the other popular country where these gentle giants can be observed in their natural habitat. The price for a three-day road trip from Entebbe/Kampala, including a Bwindi gorilla trek, accommodation and transport, starts at around US$1250.
A similar three-day fly-in gorilla safari starts at about US$2600. Three days is the minimum time required to travel from Entebbe or Kampala to Bwindi to trek for gorillas. However, I would, recommend spending more time in Uganda as there a variety of other things to see and do.
The price for 5 Day Uganda Safari including gorilla and chimpanzee trekking start at around US$1600 and 7 days Uganda tours (including gorilla trekking) start at around US$2000." A unique activity offered in Bwindi Impenetrable National park only is the Gorilla Habituation Experience.
One semi-habituated gorilla family can be trekked by a limited group of 4 visitors daily, who can stay for 4 hours with gorillas. Viewing is less easy because these gorillas prefer to keep their distance since they are not yet fully habituated. This special adventure cost US$1500.
How Much Time Do I Get With The Gorillas?
You get to spend one hour with the gorillas. Gorilla trekking in Bwindi is a morning activity and it can take any time from 2 to 7 hours to find the mountain gorillas.
Once your group gets close to the gorillas, you'll regroup and leave some of your belongings with the trackers who will stay behind.
You then get in close for the actual seeing of the gorillas. The guide will facilitate viewing during that time by getting you in good positions to take photos and by moving you around the family of gorillas to try to see different members of the family, including the Silverback.
Are Mountain Gorillas Aggressive?
Mountain gorillas are often referred to as gentle giants. They are not at all aggressive. The only reason you can approached closely on foot is because they lack aggression. If they were aggressive, their massive size would make them too dangerous to be close to.
However, males especially Silverbacks may sometimes show aggression to other male gorillas and they can at times fight. These fights for dominance typically result in a male departing the family or a family splitting up, but rarely a fight can result in death.
A gorilla may occasionally mock charge guests, but this has never led to actual injury. Before heading off for the gorilla trekking adventure, you'll get a full briefing, including what to do in case a mountain gorilla approaches you or shows any sign of aggression. You'll be totally safe if you follow the instructions of your guide.
Are Bwindi Forest Hiking Trails In Good Condition?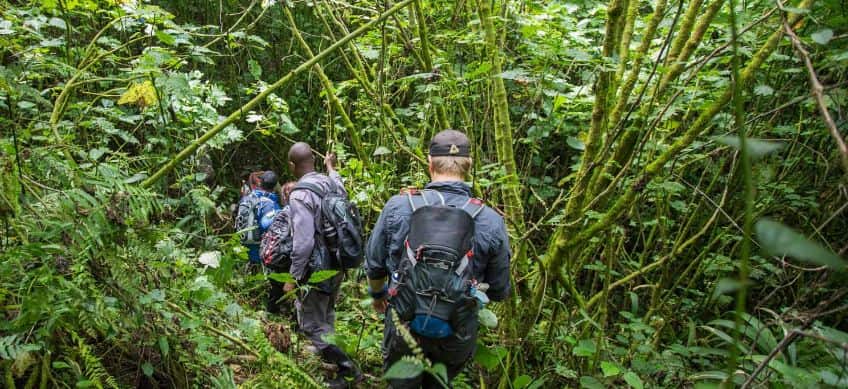 The mountains gorillas of Bwindi move around freely and they do not stick to any trails. So, your trekking guide will take you on the area in Bwindi forest to get you in the general vicinity of a gorilla family first. When you get closer, you will possibly have to leave the trail and follow the guide and trackers while they make their way through forest undergrowth. They will try to find the easiest way through for you and they'll use machetes to clear branches along the way.
Bwindi Impenetrable Forest is aptly named and vegetation tends to be very thick. Even the actual trails can be quite overgrown. In addition, the trails might be slippery when it rains. It is advised that you hire a porter who will not only carry your bag but also assist you along the trek.
Are Gorilla Sightings Guaranteed In Bwindi?
Mountain Gorillas roam freely through their territory and it can be tricky to find them sometimes. During the briefing you will be given by the head ranger before you begin any Bwindi gorilla trekking tour, you are rightly warned that sightings are not guaranteed. But, in recent years, the success rate has been 100%, so you can assume you'll get to see the mountain gorillas. The only reason some people don't succeed is if they are not physically up to it and decide to turn back.
Fitness Required For Gorilla Trekking in Bwindi
You will need to be reasonably fit for gorilla trekking in Bwindi Impenetrable Forest National Park.
If you are in good health and you are used to hiking, trekking, or walking, you should not have any problems though. As a last resort, you can book a 'gorilla chair,' where a team of strong local men literally carry you on your chair through Bwindi to the mountain gorillas.
However fit you are, it is always important to come suitably prepared. Bwindi National Park sees high levels of rainfall throughout the year. So, you need waterproof clothing and good hiking shoes.
Strong gardening gloves are not essential, but you are advised to come with them to protect your hands from stinging nettles and when supporting yourself on branches.
A good walking stick always helps on the slippery slopes. You might be offered a wooden stick at the park. Also porters are available at the trail head.
READ MORE: Gorilla Trekking For The Very Old.
What Are The Best Lodges In Bwindi Impenetrable National Park?
There are many Uganda safari lodges and camps in or near Bwindi Impenetrable National Park. When you are choosing where to stay in Bwindi, it is important to understand there are four different sectors in the park: Buhoma, Ruhija, Rushaga and Nkuringo as discussed above.
These four sectors act as destinations from which the trekking to different gorilla families commences. When booking a gorilla trekking permit for Bwindi, you book for a specific sector.
It makes sense to select accommodation at the sector you will be departing from. This is because the drive from one sector to another is long and the gorilla trek starts early in the morning. Keeping location in mind, there are many good lodges to choose from, including:
Buhoma Lodge
Sanctuary Gorilla Forest Camp
Volcanoes Bwindi Lodge
Mahogany Springs
Clouds Mountain Gorilla Lodge
Chameleon Hill Lodge
Mutanda Lake Resort
Gorilla Mist Camp
Agandi-Uganda Eco-Lodge
Ichumbi Gorilla Lodge
Trekker's Tarven Cottages
READ MORE: 8 of the best luxury Bwindi Lodges
Can I Add Bwindi Gorilla Trekking To A Safari?
It is very easy to add your Bwindi gorilla trekking tour in Uganda to a general Kenya safari or Tanzania safari. A short flight from Kenya or Tanzania gets you to Entebbe, a leafy town on the shore of Lake Victoria – Africa's largest lake in Uganda.
From here drive or fly to Bwindi Impenetrable National Park. While gorilla trekking fits into the East African safaris, you can also slot it into a Uganda safari holiday.
The highlights of best safari tours in Uganda packages include Bwindi for gorilla trekking, Kibale National Park for chimpanzee trekking and Queen Elizabeth National Park for a classic wildlife safari in the savannah and the possibility to see tree-climbing lions.
Also Ziwa Rhino Sanctuary to track wild white rhinos on foot and Murchison Falls National Park for a boat trip on the Nile and more general wildlife game viewing.
READ MORE: Combined East African Safaris