Kenya has some fantastic parks and Amboseli National Park is the favorite one of all for many travelers. It is a compact park that is easy to get to and get around. It is a place for unforgettable wildlife encounters, from cheetahs and lions to denning hyenas and up-close elephants.
Looming over the park along its southern side is Mount Kilimanjaro, Africa's tallest mountain. It may lie across the border in Tanzania, but the best views of all are from Amboseli National Park.
Amboseli is also deep in the Maasai heartland. And the wider ecosystem includes many Maasai-run conservancies where you can encounter these true custodians of the land. Here are our expert thoughts on this small but rewarding safari destination in southern Kenya on the border of Tanzania:
Why is Amboseli National Park famous?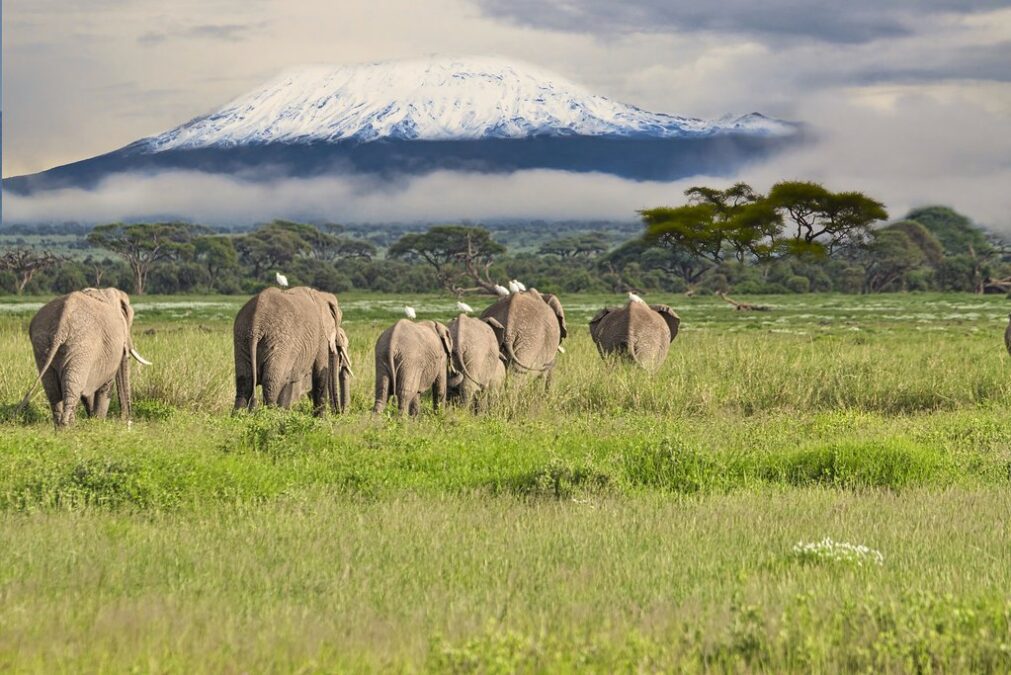 Amboseli National Park is famous for being the best place in the world to get close to free-ranging elephants.
The park is also known for being the location of the classic African image of a huge herd of elephants walking in front of the snow-capped peaks of Mount Kilimanjaro.
While Mount Kilimanjaro actually lies in neighbouring Tanzania, the best views of the world's tallest free-standing mountain and Africa's highest peak are in Kenya (Africa is often like this: the best views of Victoria Falls, which plunge down the Zambian border, are from Zimbabwe).
But please note that Mount Kilimanjaro is 5 895 metres (19 341 feet) high, meaning its summit is almost always covered in cloud. Your best chance of seeing the peak is at dawn – when conditions may have cleared overnight – so don't skip the early-morning game drives! Also note that professional photographers spend ages in the field capturing the perfect shot so don't put pressure on yourself or feel disappointed if you cannot replicate in a day or two what they spend weeks and months finding.
Is it worth going to Amboseli?
Yes, Amboseli National Park is worth visiting. It is Kenya's most popular safari destination after the Maasai Mara. The park has everything you could wish for in an African wildlife safari destination. It is a fairly small park and has a classic savannah landscape, filled with good accommodation in and around the park, as well as swamps and light woodlands, lots of acacia trees and amazing views of Mount Kilimanjaro.
Amboseli also has a remarkable density and diversity of wildlife for such a compact are and is one of the best places in Africa to see elephants. Close to the park are a number of Maasai-owned conservancies that provide an alternative to the traditional safari experience.
And Amboseli National Park is one of the closest major national parks to Nairobi, making it among the easiest places to visit from Kenya's capital city.
The name Amboseli is an English corruption of the Maa word 'Empusel', which translates roughly as "salty, dusty place". But the underground streams flowing from the melting ice-cap on Kilimanjaro keep some areas of the park well supplied with water.
The result is that while Amboseli National Park itself is relatively arid with low rainfall averages, some areas of the park is dominated by species-rich marshes, with Enkongo Narok, Ol Tukai, Olokenya and Longinye the four largest. The western part of the park includes part of a dry, Pleistocene Lake basin.
Within this basin, Lake Amboseli is normally dry except during heavy rainy seasons, when it fills with shallow, alkaline water accompanied by a pink flush of opportunistic flamingos. Away from the lakes and marshes, the park is characterized by sparse vegetation and dusty volcanic soils.
Where is Amboseli national park?
Amboseli National Park is located in Kajiado County in southern Kenya. The park located about 200 kilometers (4 to 5 hour drive) from Kenya's capital city Nairobi. It is very accessible from Nairobi city.
And it's closeness to Nairobi does mean that lots of Kenyans drive through for weekends and school holidays. And you may experience traffic congestion during Easter and Christmas so our safari will help you plan your trip with that in mind.
How Big Is Amboseli National Park?
Amboseli National Park covers an area of 392km2. The park is a core part of the much larger Amboseli Tsavo-Kilimanjaro ecosystem. This massive area of some 8000km2 comprises Amboseli, Chyulu Hills, Tsavo East and West, Mount Kilimanjaro National Parks, and everything in between.
On the outskirts of Amboseli National Park, there are many private conservancies dedicated to conservation and tourism. These increase the available protected land considerably while offering the discerning traveller a more exclusive safari experience.
The conservancies are supported by the Amboseli Ecosystem Trust, which was established to maintain the larger ecosystem and reduce human-wildlife conflict as wild animals move along ancient migratory paths between the various formally protected parks.
What animals are in Amboseli National Park?
Elephants are easily the main attraction of any Amboseli National Park safari – they are big, they are beautiful and they are always found in the Enkongo Narok, Ol Tukai, Olokenya and Longinye swamps that lie in the park's heart. Short-tempered hippos also lurk in the waters, sometimes emerging to do battle for territory. You will see plenty of other animals too.
You might spot African buffalos wallowing during the heat of the day, or the Maasai giraffes in the shade of an acacia tree, chewing on their favorite food.
Wildebeest, gazelles and zebras dot the open plains, but predators are a little harder to spot. Keep your eyes open for that special sighting: lions feeding on a kill, a leopard lazing on a tree branch or a cheetah running at incredible speed across the savannah.
Laughing hyenas are a treat to watch too. Spending time at a den makes you appreciate their complex social interactions. The birding in Amboseli National Park is also exceptional, with around 420 recorded bird species, which is more than you will find in many countries.
Can you see All Big 5 in Amboseli?
Yes, you can see four of the Big 5 animals on a safari to Amboseli National Park: lion, elephant, buffalo and leopard. But leopards are the most difficult of the big cats to see in the park. The missing member of the Big 5 is the rhino. If you have time to visit Nairobi National Park before or after your safari in Amboseli National Park, there is a good chance that you might see black rhino there.
You can as well easily find them elsewhere in Kenya (Ol Pejeta Conservancy is fantastic for rhino and the Masai Mara National Reserve for leopard). You will also won't see the weirdly proportioned giraffe gazelle (gerenuk) either as they prefer the aridness of Samburu National Reserve in the north.
Thanks to the blend of sparse, arid vegetation and the readily available water in the marshes, Amboseli National Park offers remarkable wildlife viewing despite its relatively small size.
However, Amboseli's most celebrated residents are the elephants, present in high densities and featuring some of the largest body and tusk sizes on African continent.
You can spot elephants everywhere in Amboseli, revelling in the waters of the swamps, treading dusty trails led by a trusted matriarch or, occasionally, posing against the backdrop of Mount Kilimanjaro for amazed, and camera-wielding tourists. This alone is enough to send visitors home thrilled, having gained a new appreciation for the biggest land animal on the planet.
But Amboseli National Park's elephants have another claim to fame. Many of these herds and bulls have been the subjects of the longest- running study of elephant behaviour in the wild.
Initiated by Cynthia Moss and Harvey Croze and operated by the Amboseli Trust for Elephants, the Amboseli Elephant Research Project, has centered on researching and monitoring the elephants of Amboseli National Park for over 50 years. The life histories of individual elephant herds have been painstakingly documented across generations, contributing greatly to our understanding of elephant behaviour and the bonds within and between herds.
The story of Echo, the matriarch who led her family for over 40 years before her death in 2008, captivated people worldwide and changed perceptions around elephants' complex emotional lives. Her family is still the subjects of ongoing research.
Tim, a bull elephant who died 2020 of natural causes, gained considerable fame as a 'super tusker' — as has Craig, another gentle giant. Amboseli and Tsavo's elephant populations are some of the last genetic repositories of Africa's great tuskers.
Can I Go On A Walking Safari in Amboseli National Park?
As a national park, Amboseli is subject to certain restrictions necessary to safeguard its ecological integrity. Normatior (also known as Observation Hill) is one of the few places where tourists can exit their vehicles and soak in the park's atmosphere.
Rough-hewn stairs lead to the top of Amboseli's highest point, which offers astonishing views of the surrounding marshes and lakes, and, on clear days, Kilimanjaro.
However, for more intrepid travellers, neighbouring conservancies are not subject to the same constraints (due largely to their more exclusive nature). Here visitors can explore through on foot or on night game drive. Naturally, this comes at a cost. A stay in one of the private conservancies is typically more expensive (and luxurious) than the national park's more budget options.
How to Get To Amboseli National Park?
You can get to Amboseli National Park by road or air. Either way, Amboseli is very accessible from Nairobi city. It's closeness to Nairobi does mean that lots of Kenyans drive through for weekends and school holidays. And you may experience traffic congestion during Easter and Christmas so your Africa Safari Expert will help you plan your trip with that in mind.
How long is the drive to Amboseli?
From Nairobi, it's a four- to five-hour (200 km) drive, although traffic levels along the Nairobi–Mombasa highway vary greatly. The most commonly used park gates are Eremito and Kimana. It's also possible to drive from the Kenya–Tanzania border at Namanga, although you'll need a 4WD vehicle for this route along the rough tracks of the park's western reaches.
A road trip gives you a chance to get a glimpse of ordinary Kenyan village life as you drive past settlements along the way. However, if you prefer to maximize your time in the park and you don't mind the additional cost, a fly-in safari is an attractive option too. When driving from Nairobi, you get to the park before lunch time.
Flights to Amboseli National Park
There are a number of airstrips in the Amboseli Basin, and a fly-in safari it is a good alternative to the road journey. You can arrive for Amboseli tours in an hour from Nairobi's Wilson Airport, through which there are connections to other Kenyan safari destinations, such as the Masai Mara or Samburu. There are also regular flights to Amboseli safari from the Mombasa coastal resorts a more attractive option.
Can you visit Mount Kilimanjaro from Amboseli?
No. The grand old mountain may look so close that you can reach out and touch it, and the Kenya–Tanzania border is not far away (somewhere close to the lower foothills of the mountain), but there's no crossing here.
The nearest crossing if you wish to actually climb the mountain is east of here, at Oloitokitok, a busy Maasai border town with an immigration post. All told, you can expect to drive for half a day, including time spent at the border, from Amboseli to Marangu, one of the gateway towns to a Kilimanjaro climb, or on to Moshi where many of the climbing tour operators have their base.
Where to Stay: Lodges in Amboseli national park
Amboseli National Park has several accommodation options in and near the park. Adventurous travelers might enjoy a camping safari. The campsites inside the park are at fantastic locations, but the private campsites outside the park generally have better facilities.
There is also a variety of lodges to choose from. Most accommodation options are located outside the Kimani Gate. There are some great mid-range options, as well as several budget and luxury establishments. In the mid-range category, you have a choice between a tented camp and a simple lodge. Both offer all you need for a comfortable stay.
Some of the best places to stay inside the park include Amboseli serena safari lodge and Ol Tukai Lodge which has a fabulous location and lovely grounds. Tortilis Camp is an elegant and nicely secluded luxury tented camp away from the busier areas of the park but still with fantastic Kilimanjaro views. Other places to stay at your Amboseli National Park include;
Porini Amboseli Camp
Satao Elerai Camp
Amboseli Sopa Lodge
Tulia Amboseli Camp
Kibo Safari Lodge
Elerai Camp
Tawi Lodge
Kilima Safari Camp
AA Lodge
Sentrim Amboseli Camp
Amboseli national park weather
Weather-wise, Amboseli National Park is typically hot and dry place, and its proximity to the Equator ensures relatively consistent temperatures. Naturally, sun protection is a must, as are malaria preventative measures. Rain typically falls as short, heavy showers.
Expect average temperatures of around 28°C/82°F during the day and 15°C/59°F at night. Early morning activities, such as game drives, require warm clothing. The long rains usually fall from mid-March to mid-May while the short rains are from late October to mid-December.
When Is Best Time to Visit Amboseli National Park?
Though you can visit Amboseli National Park at any time of year, it is best to go in the dry months (June to October and January to February). The dry season (June to October) offers the best wildlife viewing as the animals congregate around available water.
However, this does mean contending with higher costs and visitor densities. The rainy seasons can make traversing the park and spotting wildlife tricky. That said, the scenery is arguably at its most spectacular with the dampening of the dust.
June to October –Dry Season
Wildlife viewing is better when it is dry and animals gather at water sources
Mainly sunny, with almost no rainfall
Malaria is much less of a problem in the Dry season
It can get very dry and dusty
The sky is hazy and the scenery isn't as pretty
Views of Mount Kilimanjaro are less spectacular
November to May –Wet Season
Scenically the park is at its best
April to June is low season and lower rates may apply
Plenty of animals to be seen despite being the Wet season
Best time for bird watching and migratory birds are present
Views of Kilimanjaro are best after rainfall, when the sky is clear of dust
Road conditions can be bad in April and May
Planned activities such as game drives may be interrupted in the peak rainfall months, especially April
How many days do you need in Amboseli?
The best of Amboseli National Park can easily be experienced in 2 or 3 days, but longer tours are always a good idea. For a start, the snow-capped summit of Mount Kilimanjaro is often concealed by clouds. The longer you stay, the greater your chances of seeing the mountain in all its glory, and no matter how many days you stay; you'll never tire of the view.
Staying a little longer, even up to a week, also enables you to make the most of your time in the lodge or tented camp, relaxing in the luxurious surrounds.
You can also build in time for visits to local Maasai communities or conservation projects. As for the park itself, its compact nature means that staying longer has considerable rewards, among them the chance to see everything more than once.
Other parks and reserves to combine with Amboseli National Park Safari
If you do have time to venture beyond Amboseli National Park, the conservancies around the park are worth exploring. But, as note above they don't have much in the way of budget accommodation.
When you are in Amboseli, you are a half-day drive from both Nairobi National Park (to the northwest) and Tsavo West National Park (to the southeast). Both are great wildlife destinations. Closer at hand is Chyulu Hills National Park, the setting for Ernest Hemingway's 'Green Hills of Africa', though the scenery is generally better than the wildlife viewing.
Read to Go For Amboseli National Park Safari?
Amboseli is a good kick-off before you head to the Masai Mara National Reserve and ideal for first-time visitors to Africa. Get in touch with one of our safari to help you plan an itinerary that's right for you…