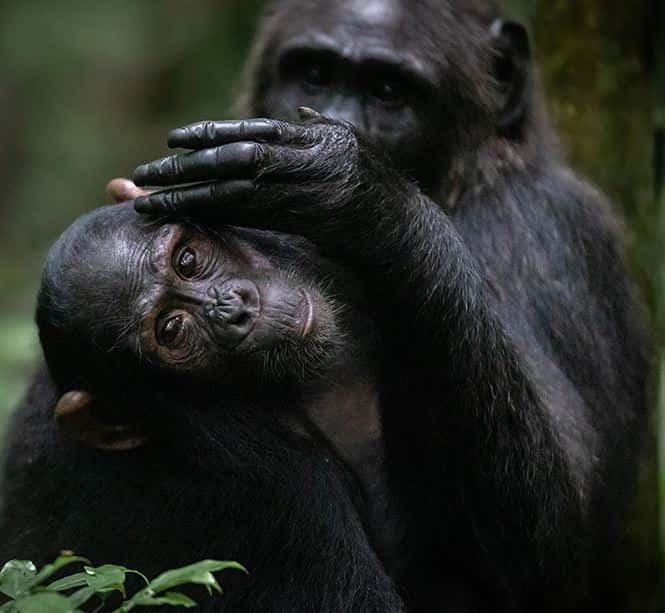 Kibale Forest National Park is a lush rainforest jungle of about 776km2, reputable for having the highest density and diversity of primates in all of Africa.
This Uganda safaris park is most recommended for travelers seeking to see chimpanzees in their natural habitat. Kibale Forest National Park is Africa's premier destination for chimpanzee trekking tours, supporting a population around 1,500 of these complex, intelligent apes.
The chimpanzees of Kibale Forest have been tracked since 1993. And the chances of seeing them are around 95%, far greater than any other location which offers chimpanzee trekking in Uganda, Rwanda, Congo or Tanzania.
Kibale National Park is also contiguous with the northern edge of Queen Elizabeth Park.
And safaris here are often combined with game viewing tours in this Uganda's most popular park and/or gorilla trekking in Bwindi Impenetrable Forest.
Location Of Kibale Forest National Park
Kibale National Park is located in the western Uganda, approximately 326km (5-hour drive) from Kampala, the capital city of Uganda. The park located close to the town of Fort Portal and the tranquil Bunyaruguru crater area.
It is also situated near Semuliki National Park and the legendary Mountains of the Moon (Rwenzori Mountains). To the southwest, Kibale forms a continuous forest with Queen Elizabeth NP (famous for its tree-climbing lions).
This adjoining of the two nation parks creates a 180 kilometer wildlife corridor, in which African bush elephants move freely. Kibale's varied altitude of 1,100 to 1,600m results in different diversities of habitat. On the fringes of Kibale Forest, is the Bigodi Village and the famous community-run Bigodi Wetland Sanctuary, which is also home to a variety of birds and primates.
How To Get To Kibale Forest National Park
By Car
Kibale Forest National Park's chimp trekking trailhead at Kanyanchu is about 26km (1-hour drive) southeast of the town of Fort Portal. It is positioned about 26 km (1-hour drive) south-east of the beautiful Fort Portal City.
Fort Portal is about 320 (5-6 hours) drive from Kampala. The park can also be reached from the south via Lyantonde and Ibanda (392km), Mbarara and Ibanda (405km), and Mbarara, Kasese, and Fort Portal (525km) taking around 6-7 hours. All of these routes allow a break in Lake Mburo National Park while the long Kasese route also encourages a night in Queen Elizabeth National Park.
By Plane
You can also access Kibale Forest National Park from the Kasese airstrip, a 68km (2 hours) drive on surfaced and dirt roads. This airstrip can be reached using chartered aircraft from Entebbe International Airport or Kajjansi airfield near Kampala.
Kibale Forest National Park Safari Packages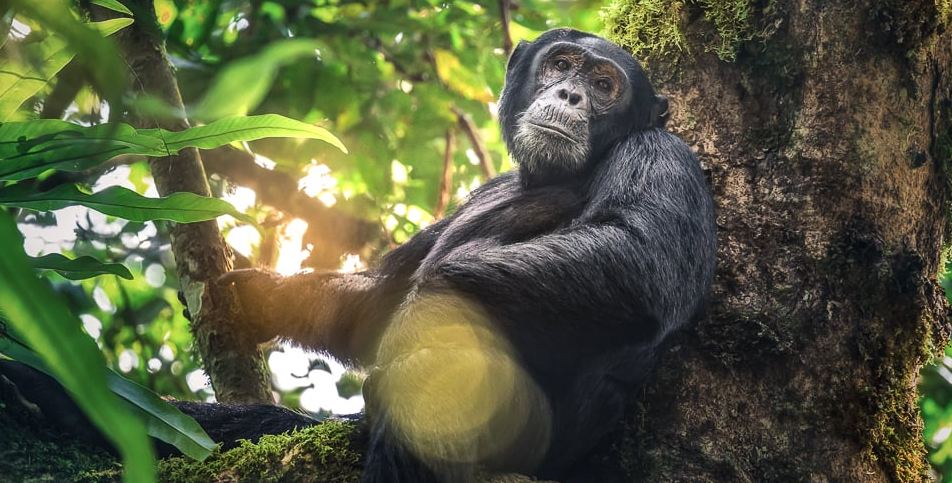 Available through out the year:
Jan
Feb
Mar
Apr
May
Jun
Jul
Aug
Sep
Oct
Nov
Dec
Available through out the year:
Jan
Feb
Mar
Apr
May
Jun
Jul
Aug
Sep
Oct
Nov
Dec
Available through out the year:
Jan
Feb
Mar
Apr
May
Jun
Jul
Aug
Sep
Oct
Nov
Dec
Attractions In Kibale National Park
1. Kibale Forest National Park Vegetation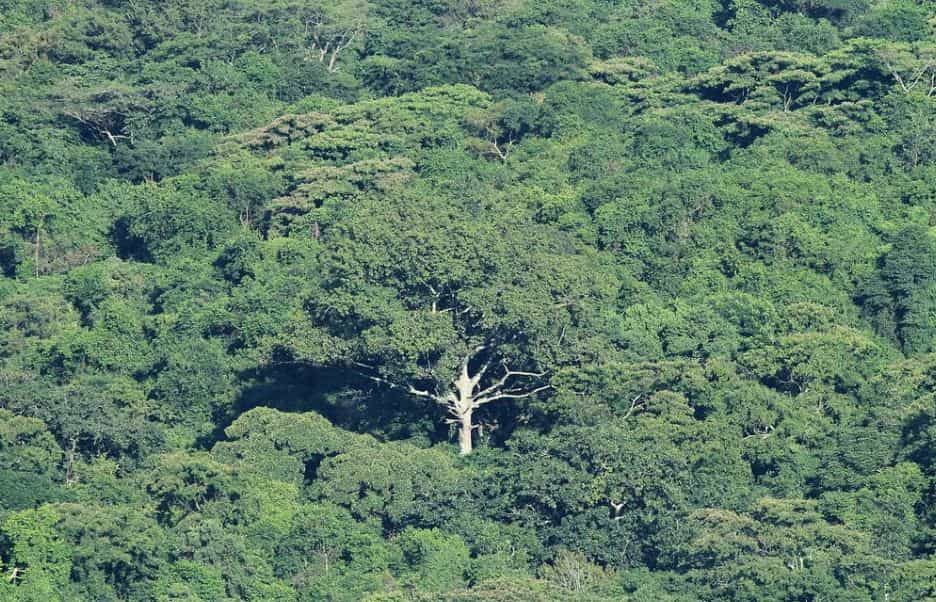 Most of the Kibale National Park is covered in evergreen rainforest.
The floral composition transitions from typical high-altitude Afro-montane to lowland forest. Among 300 tree species, rare hardwoods like the brown mahoganies and tiama tower above the forest floor from huge buttress roots.
Interspersed between them, fruit-laden fig trees keep the forest's impressive primate densities well satisfied.
Underneath the thick canopy, the zigzagging forest tracks are widely recognized as some of the most picturesque in Africa, lined with a thick layer of shrubby undergrowth.
When the sun shines through the leaves, the effect is an ethereal combination of shades of green and gold.
And the air is redolent with the fragrant aroma of petrichor and mulch. The vast tract of forest is also dotted with patches of grassland and swamp.
2. Chimpanzees In Kibale Forest
Kibale Forest exuberant chimpanzees are the park's most popular attraction. Chimps in may get less hype in the travel media than majestic gorillas of Uganda.
But these Great Apes have the honour (perhaps a dubious one, depending upon your perspective) of being our closest living relatives and time spent in their company is a unique wildlife experience.
Chimpanzees live in communities of about 20 to 200 individuals. Like humans, they have strong personalities, complex social intelligence, communication skills, and ability to fashion and use tools.
In Kibale Forest Park, they live in 13 communities.
Of these 4 communities have been successfully habituated. Some have been habituated for scientific study and others for chimpanzee trekking tours.
3. More Primates In Kibale National Park
Aside from chimps, Kibale is home to other 12 primate species. The Red-tailed monkeys are ubiquitous, and their white-patched cheeks and noses are adorable.
The park's monkey checklist also includes mangabeys, baboons, colobus, Vervet, blue, and L'Hoest's Monkeys. There are also the shy and elusive nocturnal primates including the East African potto and several galago (bushbaby) species.
Chimpanzees in Kibale Forest are also drawn to the colobus monkeys, though for entirely different reasons: food.
They hunt these smaller monkeys and a chance to witness chimpanzee hunting on your Uganda wildlife safaris in Kibale is a once-in-a-lifetime adventure, as the forest explodes into shrieks of terror and the excited howls of the hunting chimps.
4. Birdlife In Kibale Forest National Park
Uganda ranks high on the list of best destinations for birding in Africa.
No birding tours in Uganda would be complete without dedicating some time to scanning the thickets and canopies of verdant Kibale Forest.
With habitats ranging from wet to dry forest, woodland, savanna and swamp, the Kibale has a total of 375 bird species, including 6 species that are endemic to the Albertine Rift.
Some of the avian specials include African grey parrot, African pitta, Abyssinian Ground Thrush, black-eared ground-thrush, olive long-tailed cuckoo, western tinkerbird, black-bellied seedcracker, black bee-eater, red-chested owlet, and the innately comic great blue turaco.
However, the most sought after bird species in Kibale is the Green-breasted Pitta. This enigmatic little bird is only found deep in the tropical forests of Central Africa. And despite their spectacular medley of colours, are surprisingly elusive. Few birders have had the good chance of seeing the green-breasted pitta.
5. Other Wildlife In Kibale Forest
Though chimpanzees, monkeys, and birds are certainly the more conspicuous (and noisy) inhabitants, the diversity of Kibale Forest hosts over 70 species of mammal, 250 species of butterflies, plus a variety of reptiles, and amphibian families.
On the larger side of the animal spectrum, buffalos and elephants often wander into the forest from nearby Queen Elizabeth National Park.
These are rarely seen and dutifully avoided by the guides leading walks through the forest. Blue and Red duikers, giant forest hogs and bush pigs also occupy the undergrowth in the company of rare African golden cats and civets.
There are also two species of otters in Kibale Forest National Park waterways and swamps: the Congo clawless otter and the spotted-necked otter.
Activities In Kibale Forest National Park
1. Chimpanzee Trekking In Kibale Forest
Chimps are forest-dwelling apes that share almost 99% of their DNA with us. And despite their hairier coat and more stooped posture, they are identifiably human-like, both in appearance and behaviors.
For this reason, chimpanzee trekking in Kibale Forest National Park, though less iconic, perhaps, than mountain gorilla trekking adventure, is one of the most thrilling wildlife experiences in Africa.
True, it can be challenging to locate chimps in a forest jungle, but that is part of the adventure. And it's difficult to think of any sound more spine-tingling than the explosive pant-hoot call with which chimps announce their presence. It's a bucket-list experience, one that should be included on any safari holiday to Uganda.
On the Chimpanzee trekking adventure in Kibale Forest, expert rangers guide will lead through the forest to find the habituated chimpanzees. There are two chimpanzee trekking sessions; one starting at 8.00 am and another at 2.00 pm. The trek can take between 2 to 5 hours, but once the chimps are located, time spent with them is strictly limited to one hour. These animals are entirely comfortable with the presence of their bipedal cousins and will feed, gambol and romance without concern.
Kibale Forest chimp trekking permit fees:
| | |
| --- | --- |
| Visitor Category | Fees |
| Foreign Non-Resident | US$ 200 |
| Foreign Resident | US$ 150 |
| East African Citizen | UGX 150,000 |
Chimpanzee Tracking Permit Fees
2. Chimpanzee Habituation Experience
Alternatively, a second option is the Chimpanzee Habituation Experience (CHEX). This is a half- or full-day adventure that begins at 6.00 am and led by the researchers of the Kibale Forest National Park's habituation team.
The goal is to gradually introduce unhabituated chimps to the presence of humans, a painstaking process that can take many years to accomplish. It is slightly more expensive and needs much more patience than conventional chimpanzee trekking. It often involves venturing further into the depths of the rainforest jungle. However, the reward is an unrivaled insight into the world of chimps with no time limits.
Chimpanzee Habituation Experience Fees
| | |
| --- | --- |
| Visitor Category | Fees |
| Foreign Non-Resident | US$ 250 |
| Foreign Resident | US$ 200 |
| East African Citizen | UGX 20,000 |
Chimpanzee Habituation Experience Fees, Kibale
3. Birding In Kibale Forest National Park
On account of it's over 375 bird species Kibale National Park is among the top best places for Uganda bird watching tours.
Bird watching in Kibale Forest is predominately in different types of forest (evergreen & deciduous) as well as swamps and grassland.
The rare Green-breasted Pitta is Kibale's the most sought-after bird. A pre-dawn start and a good deal of luck and perseverance will be needed to locate this mythical low-density understory bird.
4. Nature Walks In Kibale Forest National Park
Kibale Forest National Park has well established hiking trails that you can walk and see a variety of forest inhabitants and plant life. You can easily spot several species of monkeys and birds through the forest. And by chance you may encounter the Chimpanzees.
Nature Walk Fees
| | |
| --- | --- |
| Visitor Category | Fees |
| Foreign Non-Resident | USD 30 |
| Foreign Resident | USD 15 |
| East African Citizen | UGX 10,000 |
Forest Nature Walk Fees, Kibale National Park
Things You Can Do Near Kibale Forest National Park
1. Bigodi Swamp Walk
On your Uganda safari tours to Kibale Forest National Park you are encouraged to visit Bigodi wetland Sanctuary which is located about 6km from the park. The sanctuary is an award-winning local community initiative operated by the Kibale Association for Rural and Environmental Development (KAFRED).
It is aimed at protecting the local environment while advancing health, education, and economic growth in the wider local community. Here you can take a 3 hour guided nature walk with a knowledgeable local guide.
On your swamp nature walk, you will likely see several kinds of monkeys, including Black and White Colobus, Red Colobus, Red Tailed, Grey Cheeked Mangabey, Olive Baboon, L'Hoest's, Vervet, and Blue Monkeys. The area also boasts over 200 bird species, including the colorful Great Blue Turacos.
2. Bigodi Cultural Village Walk
Aside from guided Bigodi swamp walk, KAFRED offers as well an exciting walking cultural tours of 3 to 4 hours through Bigodi Village ("home of two tribes").
You discover the Uganda rural village accompanied by a professional English-speaking local guide. You can visit traditional healer who happily shares his knowledge about herbs, plants and local medicines.
You can also visit the homes of elderly men and women who tell interesting stories about birth, marriage, ceremonies, clans and traditional rural life.
En route, you are given the chance to experience the Ugandan school system and tour Bigodi's trading centre, a hub of rural life and activity.
Do you interested in trying traditional Kitooro food? Watch local dancers? Buy local handicrafts? Stay overnight in a community home?
*With advance booking, KAFRED walks can be punctuated with a number of add-ons, including:
Traditional meals experience. You can indulge in a traditional Kitooro lunch of fresh, organic food under a thatched roof, with warm company to the background melodies of song birds.
Dance and drama. You can also sit back and watch local dancers and dramatists give traditional and educational performances.
Handicrafts demonstration. A local women's group will demonstrate their meticulous crafts skills, using environmentally sustainable materials like agricultural residue and recycled paper to make baskets, and other crafts items. Baskets come in many shapes, sizes, and patterns and are available for onsite sale as well as export.
Homestead Tourism. Spend a night living the Kitooro way, in a community members' home. Rooms and traditional meals provided. Food is organic and stories and dancers as complements.
3. Crater Lakes Exploration
Because Kibale National Park is within the Albertine Rift, there are many crater lakes around the park that mesmerize visitors on Uganda safari tours with their natural beauty.
Some of these lakes have Uganda safari lodges built on their crater rim boundaries. The lakeside areas are magnets for a wide variety of birds and other Uganda wildlife that you may have the chance to spot on your nature walks, hikes, or cycling excursions.
The most popular lake in the west of Kibale Forest National Park is Lake Nyinambuga, which has been featured on the Uganda 20,000 currency note. Lake Nkuruba has possibly the most scenic views and is known by visitors as a great place to spot red colobus and black and white colobus monkeys.
4. Explore Amabere Ga Nyinamwiru Caves
Amabere Ga Nyinamwiru means "Breasts of Nyinamwiru". The breast-like features in the cave are in fact live stalactite formations made of calcium carbonate. The white-coloured water that drips off thus called breast milk by local Toro people. These people believe that breasts in the cave belonged to Nyinamwiru, the daughter of Bukuku who was a self-enthroned King of the Bachwezi.
Nyinamwiru's father cut off her breasts to deny her the opportunity to breast feed her baby Ndahura as the father had been alerted that the child will take over his throne. The cave is a good place to learn about the culture in this region of Uganda. From this site, you can also take a scenic hike to the top of the Nyakasura hill which offers spectacular views of three beautiful crater lakes.
You can as well visit the marking of a large foot in the area believed to belong to one of the last Batembuzi dynasty people who were giants.
6. Cycling Tour In Mpanga Tea Estate
This green tea plantation is spread over a beautiful undulating landscape with endless scenic views which makes it ideal to encounter on a mountain bikes. On a cycling tour, you encounter the estate staff plucking tea and you are free to participate in the exercise to gain the exact touch.
7. Game Drives & Boat Cruise In Queen Elizabeth Park
Naturally, a wildlife safari game drive or two in the nearby Queen Elizabeth National Park is a must. The park is home to over 600 species of birds and 95 mammal species, including the famous tree-climbing lions.
Here, you can enjoy relaxing boat cruise on Kazinga Channel is home to some of Africa's densest concentration of hippos and waterbirds.
You can also explore the park's beautiful savannah plains on morning, afternoon, evening and night game drives to see lions, leopards, elephants, buffalos, warthogs, crocodiles, a variety of antelopes, and more.
Accommodation In Kibale National Park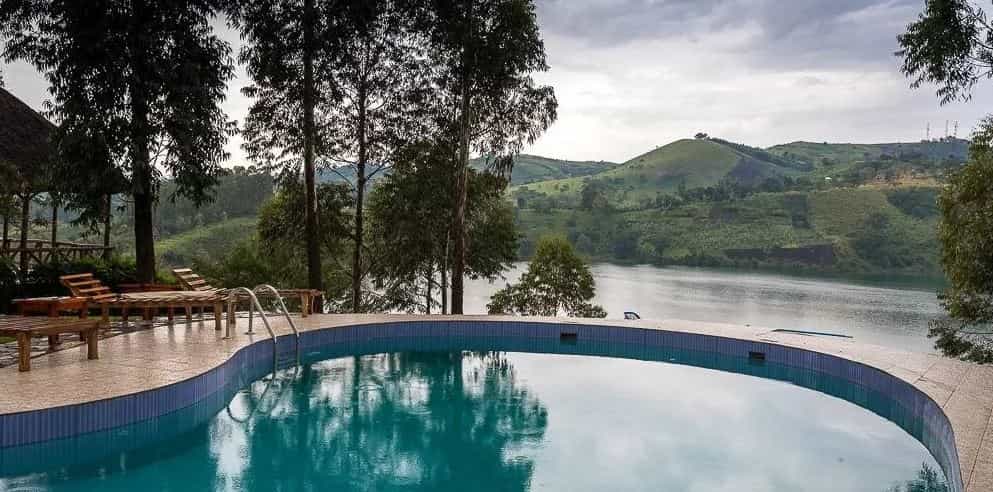 There is only one lodge inside the Kibale Forest National Park itself, but there are countless lodges, guest houses and tented camps on the periphery.
They include budget, mid-range, and luxury Uganda safari lodges and tented camps.
Here are the best places to stay at Kibale:
| | |
| --- | --- |
| Primate Lodge Kibale | Luxury |
| Crater Safari Lodge | Luxury |
| Kyaninga Lodge Kibale | Luxury |
| Ndali Lodge | Luxury |
| Papaya Lake Lodge | Luxury |
| Turaco Treetops | Midrange |
| Mountains Of The Moon Hotel | Midrange |
| Chimpanzee Forest Guest House | Midrange/Budget |
| Kibale Forest Camp | Midrange/Budget |
Lodges In Kibale Forest National Park
Kibale National Park Weather
The weather in Kibale National Park is moist and temperate. Temperatures stay almost the same year-round. Daytime temperatures are about 27°C/81°F, cooling off nightly to about 15°C/59°F.
Kibale lacks a real Dry season; rain is possible anytime. However, December through February are typically drier and so are June and July. Two Wet seasons exist: March to May and August through November. It is recommended to bring waterproof clothing.
Frequently Asked Questions About Kibale Forest National Park
What is Kibale National Park known for?
Kibale National Park is most popular for its population of chimpanzees and is considered the best place to track wild chimpanzees on earth. Chimpanzee tracking is the ultimate highlight for visitors to this park. Over several years of conservation and habituation, the chance of seeing them has risen to over 95%.
What animals are found in Kibale National Park?
Notable wildlife in Kibale National Park includes the remarkable common chimpanzee, baboon, red colobus, black and white colobus, L'Hoest's, red-tailed, vervet, and blue monkeys, and the Uganda mangabey.
Where Is Kibale National Park Found?
Kibale Forest National Park is located in the western Uganda, about 326km (5 hour drive) from Uganda's capital city, Kampala.
How To Get To Kibale Forest National Park?
When To Visit Kibale Forest National Park?
The best time to visit this forest park is during the dry season when the trails are dry and passable. This runs from December to February and then from June to September.
Kibale is, however, a tropical rainforest, so every step should be taken in a comfortable pair of solid boots and long trousers, lest the mud, biting ants or stinging nettles detract from the adventure.
All electronics and other precious belongings should also be thoroughly waterproofed. Rain is possible at any time of year, though April, May and November tend to experience higher rainfall levels.
The trails are well-maintained and suitable for most fitness levels, though those trekking chimpanzees should be prepared to walk for several hours if necessary.