Lake Mburo National Park is one of the most surprising national parks in Uganda.
Often dropped into the safari itinerary to break the journey from the mountain gorilla trekking forests of the southwest, it has a tendency to over-deliver.
Time and time again the natural beauty and abundant plain games of Mburo proves to be a wonderful trip highlight. And its tranquil atmosphere, soothing views, and fantastic location between Entebbe and Bwindi, provides a welcome relief in a long road trip either to or from the mountain gorillas.
If returning from the gorillas, try to stay a night longer than you initially think necessary; Lake Mburo is the perfect place in which to relax as well as explore.
If you live in Kampala or Entebbe, then Lake Mburo National Park is also a great place for a short weekend getaway. Here, you can enjoy a variety of activities such as game drives, boat cruises, bird watching, cycling tours, horseback safaris, spot fishing, game walks, and community visits.

Where Is Lake Mburo National Park Located?
Lake Mburo National Park is located in highly scenic south western Uganda about a 240 km from Kampala. The park is found in a district called Kirihura which is next to Mbarara, the largest city in western Uganda.
It is located about 250 to 300 kilometers from Bwindi Impenetrable Forest National Park, depending on which gorilla trekking sector you are heading to. The park lies on ancient Precambrian metamorphic rocks that date back more than 500 million years. It the most accessible national park for wildlife safaris in Uganda and a perfect spot for short weekend trips.
landscape & Size: How Big Is Lake Mburo National Park
Lake Mburo is the smallest savannah park in Uganda, on an altitude of about 1219 and 1828 meters. It covers approximately 260 square kilometers (100 square miles). In spite of the small size, Mburo has the most extensive acacia woodland of any Uganda national parks.
Also Lake Mburo, the largest of the 5 lakes with in the park is part of a 50 km-long wetland system that is linked by swamps. High hills and rocky, eroded ridges characterize the western part of the park.Here, deep valleys support the forest found nowhere else.
In the eastern sector of Mburo, the rolling, wooded hills are intersected by wide, flat bottomed valleys, which are seasonally flooded and drain into the swamps and lakes. The Ruizi River flows in a south-easterly direction and forms part of the park's western boundary.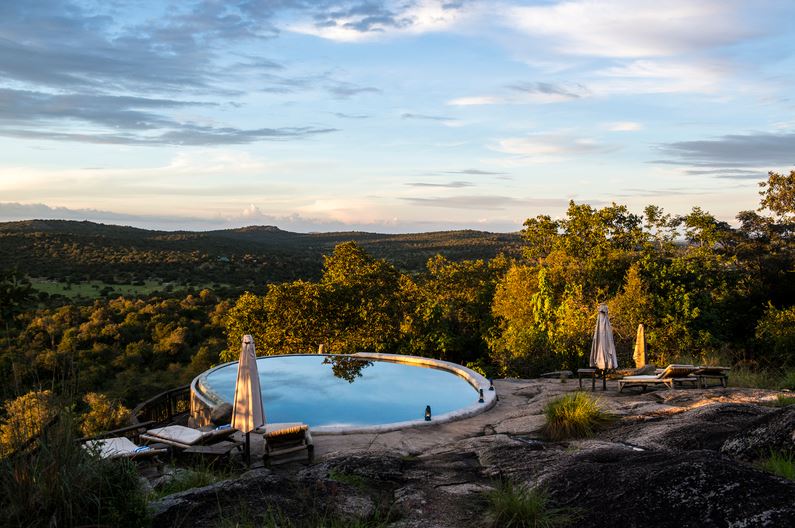 History Of Lake Mburo National Park
What is currently Lake Mburo National Park was occupied by the Banyankole pastoralists (commonly known as Bahima). They continued to herd their cattle and other livestock in the area until it was granted a gazetted a national park in 1983 by the Obote regime. The decision to declare the area a National park was in one part targeted to punish the Banyankole who were believed to be supporting the anti-Obote rebels.
Thus, the evicted Banyankole pastoralists were not given any compensation for the lost grazing land and neither were they helped with the resettlement. Therefore, many of them protested the establishment of the park. This was at the time of Operation Bonanza massacre of 300,000 and as a result, the rangeland outside the national park was divided into small pieces and subsistence plots.
When the Obote 2 regime collapsed in 1985, the former occupants re-claimed their land and chaos ensued; they expelled the park's staff, destroyed the infrastructure and annihilated wildlife.
Eventually, only less than half of the original park's land area was re-gazetted by the NRM government in 1986 thus, becoming Uganda's smallest national park.
People & Culture Around Lake Mburo
As noted above, Lake Mburo is located at the heart of the ancestral home of the Banyankole People. The park has a lot to offer in terms of cultural tours in Uganda. The Bahima people are famed cattle herders who rear the beautiful and iconic Ankole long-horned cattle that can be seen grazing on the drive to the park.
Also a few kilometers from the park, you can find the Igongo Cultural Centre. The cultural centre is located on the grounds of a former palace of the Ankole king. It features some the best museum displays in Uganda.
This quality museum explores the peoples of southwestern Uganda, particularly the Ankole, through artefacts, a cultural village replica and a heap of info. There's a restaurant serving traditional Ankole dishes, such as smoked Ankole cow's milk and boiled meats. There's also a new on-site hotel. Igongo also has a great bookshop with an interesting selection of Ugandan reading material.
Directly across from the centre is the 1520AD Biharwe Eclipse Monument atop Biharwe Hill, a beautiful 3-pillar memorial that reminds local people of the time when the Omukama (King) of Bunyoro had confiscated the entire cows of the Ankole Kingdom leaving people in complete starvation.

How To Get To Lake Mburo National Park?
You can can get to Lake Mburo National Park by road. The drive from Kampala or Entebbe takes about 3 to 4 hours. The park is reached via Kampala – Masaka –Mbarara Road.
Along the way you can make some stopovers to visit the Drum makers at Mpambire trading centre. You can also make another stop at the Equator Monument in Kayabwe. Uganda is one of the few countries on Earth where you can cross this imaginary geographical line on land. Here you can also observe how water swirls in opposite directions on either side of the equator and take some photos.
What animals are in Lake Mburo National Park?
Lake Mburo National Park is known for plenty herbivores (animals which feed on plants).
This is partially due to the presence of few predators to feed on them. Only one lion is known to live in the park. Other predators are in small numbers such as Leopard and Hyena. Back to herbivores, Lake Mburo is the only park where you can see the Impala antelopes on Uganda wildlife safaris.
The elusive gigantic Eland antelopes can best be spotted here too, often found grazing in the woodland areas. Other antelopes include Defassa Waterbuck, Bushbuck, Topi, Oribi, Bohor reedbuck, Statunga, and Klipspringer. The beautiful Plains Zebras which are found in only one other Uganda park (remote Kidepo National Park) live here in large number.
The mighty African Buffaloes are also easy to see in the open savanna and near water sources. Lake Mburo is home to many hippos and crocodiles. A group of Rothschild's Giraffes was brought into the park in 2015 thus improving on the diversity of wildlife in the park. The park is also home to Vervet monkey, Olive baboon, Galago/Bush baby, Genet and many types of mongoose.
Read More: Animals of Uganda.

How many bird species are in Lake Mburo National Park?
Lake Mburo National Park is a top spot for Uganda bird watching tours. The park's diverse habitats of wetlands, acacia woodland, lakes, and grasslands host over 350 species of birds. Lake Mburo is probably the best place to find the iconic Grey-crowned Crane (Uganda's national bird).
Other avian gems of Lake Mburo National Park include:
African finfoot
Papyrus Gonolek
African Fish Eagle,
African Marsh Harrier
Red-faced Barbet
Rufous-bellied Heron
Ross's Turaco
Lappet-faced Vulture
Narina trogon
Lilac-breasted Roller
Brown Snake Eagle
Green Wood Hoopoe
Common Scimitarbill
Bateleur
Coqui Francolin
White-backed heron
Read More: Best Places to See Birds of Uganda.

What activities are done at Lake Mburo National Park?
Day game drives in search of buffaloes, giraffes, zebras, impalas, hippos, and more.
Night game drive in search of leopards and other nocturnal creatures.
A relaxing Boat Cruise on Lake Mburo to see hippos, crocodiles and plenty of waterbirds.
Game walk among the wild animals of Lake Mburo National Park
Bird watching tours
Cycling tour across the lush hills and through the park's game tracks.
Horseback riding with in and outside the park
Sport fishing adventure
Cultural Tours (Community Visits)
Sundowner
Bush breakfast
Kids bush courses
Where To Stay In Lake Mburo National Park?
Lake Mburo National Park has got one of the best and affordable Uganda Safari Lodges (accommodation facilities). Lodges in Lake Mburo National Park range from of luxury, mid-range, and budget options:
Mihingo Lodge – Luxury
Rwakobo Rock – Midrange
Mburo Eagle's Nest – Budget
Leopard Rest Camp – Budge

Lake Mburo National Park Weather
Lake Mburo National Park is located near the Uganda equator line. The rainfall pattern is bimodal. Long rains occur from March to June and the short rains from September to December.
The rainfall is rather erratic. But most rain tends to fall in April and November. Lake Mburo National Park average recorded temperature is 26°C. Daily variations range from 14°C to 32°C. The hottest months are July and August.
In the evening or on a rainy day it can get quite chilly no matter which time of the year it is. On a sunny day it will always be hot and feel even hotter in the rainy season because of the increased humidity. Generally Lake Mburo has nearly the perfect climate with warm, but not over hot days and slightly colder nights.
When Is The Best Time To Visit Lake Mburo National Park?
Lake Mburo National Park is open for wildlife safaris year-round, but the Dry seasons from June to August and December to February are the best times for general wildlife viewing. This is when animals gather around the lake and other water sources.
Read More: The Best Time To Visit Uganda.
A Sample Of Our Lake Mburo National Park Tour Packages

Are You Ready For Lake Mburo?
If none of the above packages to Lake Mburo National Park suit you or if you would like other safari itinerary options, we will craft that epic safari just for you.