Mabamba Swamp is a Ramsar Important Bird Area and bird watchers' dream destination.
The swamp derives its name from emamba – the local name for a species of lungfish. It is located in central Uganda on the edge of Lake Victoria (Africa's largest lake), within easy reach of Kampala and Entebbe cities.
Mabamba Swamp consists of 16,500 hectares of papyrus beds, small channels and lagoons. It is one of the best places to see birds of Uganda. The swamp is home to over 300 bird species, including the massive shoebill – the most sought-after bird by Uganda birding tourists and nature lovers.
There was a time when the local people used to view shoebill storks and other fishing birds of Mabamba as competition for the fish resource. But today many locals have been trained as tour guides who now strive to preserve both the birds and the swamp.
Mabamba Swamp is a great place to visit at the beginning or end of your Uganda safaris. It is also a perfect spot for short Uganda tours or short weekend trips from Kampala.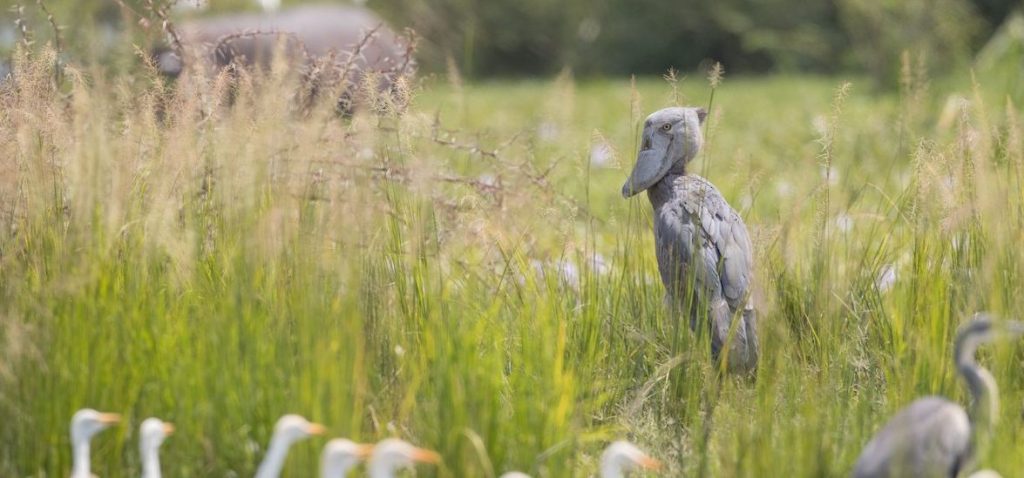 Shoebills In Mabamba Swamp
Uganda's Mabamba Swamp is the most accessible and reliable place in Africa to see the rare shoebill bird (Balaeniceps rex) in its natural habitat.
This massive pre-historic-looking bird is classified as vulnerable and is a bucket list sighting for any avid bird. With its huge, yellow, human-like eyes, the enormous shoe-shaped bill, and 5 feet height, this big bird looks like something from the dinosaur era. That large bill helps the shoebills to catch their favorites prey: Lungfish.
They will also eat other fish species (tilapia and catfish), birds, frogs, terrapins, water snakes, monitor lizards, rodents, baby crocodiles, and even small mammals.
Shoebill storks are masters of patience. They will stand in water and large patches of grass for hours motionless as statues.
They are aware that if they wait long enough for the right moment, they'll find their next meal. And at the right moment, the bird will strike forward, all 5 feet of it, with its huge bill wide open, engulfing its target along with water, mud, vegetation, and probably any other hapless fish.
Clamping down on its prey, the bird will start to swing its huge head back and forth, tipping out whatever stuff it doesn't want to eat. When there's nothing but lungfish left, the Shoebill will give it a quick decapitation with the sharp edges of the bill and swallow away. It's impossible not to be impressed by these giants.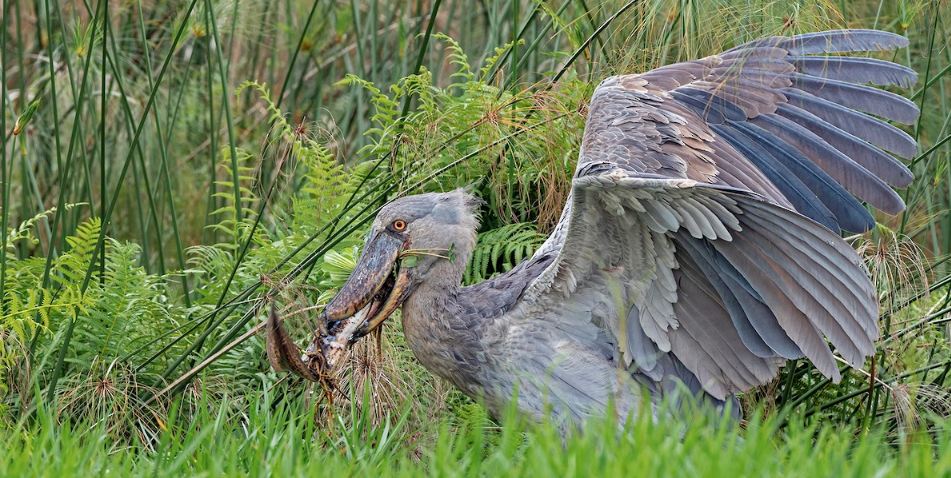 Shoebill Conservation Status
The Shoebill has been classified as Vulnerable on the IUCN Red List. There are possibly less than 5,000 birds left on the planet. The birds are threatened by, hunter, the destruction of their environments by humans, climate change, pollution of river systems, and cultural taboos that lead to them being captured by tribes.
Mabamba Swamp Fishermen & Shoebills
Mabamba Swamp is rich with lungfish (called "mamba" in native language). This shoebills' favorite food is also one of the most sought after by the local fishermen, creating competition.
The fishermen had long held a superstition that seeing a Shoebill (locally called 'Boolwe') resulted in a poor catch that day. But this is not farfetched because the Shoebill feeds on lungfish. And where the Shoebill is the fish will go into hiding. For the fishermen, it was a bad omen to see a Shoebill when one set out to fish in the wetland.
They hunted the Shoebills and killed them. This lead to a decline in the numbers and almost rendered birds extinct in Mabamba Swamp.
When Mabamba Wetland was designated a Ramsar Site in 2006, the shoebills got some protection. However, bird watching tours on the wetland brought about enlightenment to the fishermen and local community.
The fishermen rent out their boats to birdwatchers and they make a lot of money. Even some fishermen have been trained in birding and guiding.
The fishermen now protect the Shoebill, so that when they set out to fish and see a Shoebill they do not move too close not to disturb it. They will gladly inform the visitors of where to see it.
Mabamba Shoebill Birding Tours & Boat Trips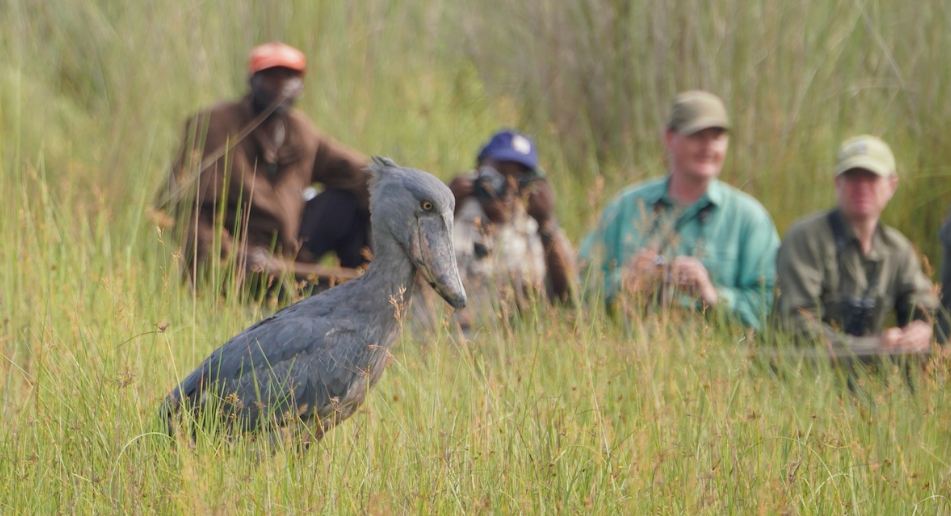 Shoebills bird watching in the Mabamba Bay Swamp is done from a motorized wooden canoe or boat. There are plenty of boats available with local riders eagerly waiting to take you to see the Shoebill.
The morning time is the best time to see the Shoebill in Mabamba Swamp. This is when it is stalking lungfish by standing still for long even hours without movement until an unlucky fish crosses its path.
Later in the day when it gets hot the Shoebill rests which it does by spreading out its wings and squatting among the grass. And thus may be hard to find. It may also be seen flying high in the sky to cool.
Other Beautiful Birds Of Mabamba Swamp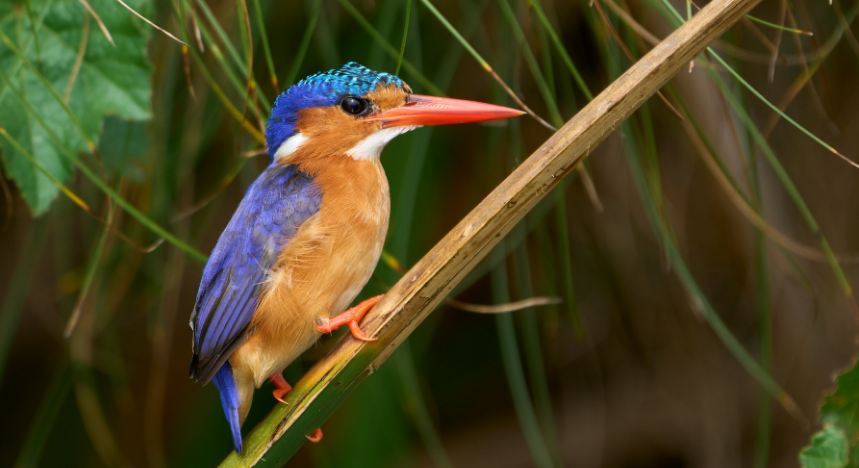 While on the boat and searching for iconic shoebills be sure to look out for other amazing bird species in Mabamba Swamp, such as:
Papyrus Gonolek
African Fish Eagle
Swamp flycatcher
Malachite kingfisher
Winding cisticola
Black-headed weavers
Long-toed lapwing
Yellow-billed duck
African jacana
Blue-headed couca
Grey-rumped swallow
Angola swallow
African pygmy goose
Blue-breasted bee-eater
Rufous-bellied heron
Purple heron
African marsh harrier
Black crake
Fan-tailed widowbird
Blue swallow
Caruthers's cisticola
Double Toothed Barbet
Goliath Heron
Grey-crowned Crane
Grosbeak weaver
Harmerkop
Long-tailed Cormorant
Pin-tailed Whydah
Vieillot's' Black Weaver, etc…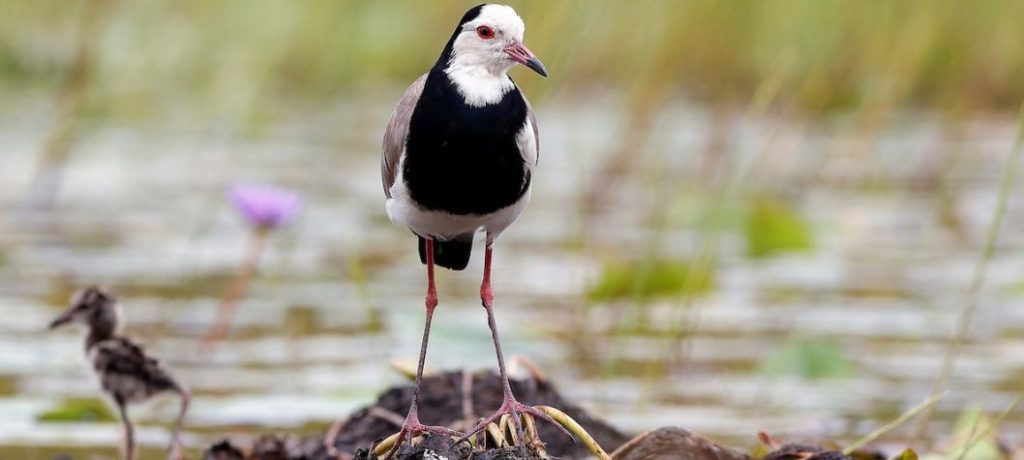 Birding Mabamba Swamp Environs/Vicinity
After or before a bird watching adventure inside Mabamba Swamp, you can enjoy birding in the surrounding areas such as Mabamba Landing Site, Parking, Cultivations and Bushland, and Nkima Forest.
1. Birding Mabamba Landing Site/Parking
The landing site and parking area at Mabamba will offer you some nice birding.
The shrubs, thickets, and tall trees host a number of Uganda birds and can surprise you with special sighting. So, you can spend some time scanning the habitats before taking exploring the water channels of the Mabamba wetland.
The Superb Sunbird has been a common sighting here. It is often seen in short trees and shrubs picking insects on tree branches. You can also see the aggressive Red-chested Sunbird (Lake Victoria biome endemic) which is all over the place. Other birds often sighted include:
Yellow-breasted Apalis
Weyn's Weaver
Village Weaver
Vieillot's Black Weaver
Grey-capped Warbler
Yellow-throated Greenbul
Splendid Starling
Brown-throated Wattle-eye
Lesser Striped Swallow
Swamp Flycatcher
2. Birding Cultivations & Bushland
The nice footpath going along the wetland can cap up your Uganda birding trip at Mabamba Swamp and improve your checklist with field species.
After coming back from the boat trip on wetland you can then take on this trail which starts on your left just before the exit. The path passes through cultivations and bush land.
You can take a couple of hours walking till when you feel you have had enough because the trail is quite long. Some of the common birds include:
Rufous-napped Lark
Sooty Chat
Grassland Pipit
Red-bellied Paradise-Flycatcher
Lizard Buzzard
Cuckoos
Weavers
Scrub-robins
Sunbirds
3. Birding In Nkima Forest
Nkima Forest is a small patch of forest located on a hill overlooking Mabamba Swamp. The forest is about 2 kilometers from Mabamba landing site and is just a 20 minutes' walk from the swamp.
The forest has Red-tailed monkeys and Vervet monkeys (after which it is named).
The site also has many species of butterflies and insects, as well as smaller mammals such as squirrels, mongoose, and bush babies. Nkima forest may not compare with the big forests like Mabira Forest, Budongo Forest, Kibale Forest, Bwindi Impenetrable Forest, or Semuliki.
But it will give you a worthwhile forest birding experience as an extra to your birding experience in Mabamba Wetland. There is a wide range of forest birds including the elusive but vocal White-tailed Flufftail. Other notable bird species in Nkima Forest include:
Great blue turaco
African grey parrot
Snowy-headed robin cha
Hornbills
Bee-eaters
Western Nicator
Red-capped Robinchat
Tambourine Dove
Scally Francolin
One Day Mabamba Birding Tour Uganda This 1 Day Mabamba Birding Tour takes you Mabamba Swamp, one of the best and most accessible Uganda birding spots from Kampala and Entebbe. The extensive 16,500-hectare papyrus swamp is situated on the northern shores of Lake Victoria – Africa's largest lake – west of Entebbe City. It is a Ramsar − listed wetland of international importance and Important Bird Area (1BA), with over 300 recorded bird species. Mabamba has proved to be the most reliable and convenient place in the world to catch a rare glimpse of rare Shoebill in its natural habitat….
This brief 5 Days Uganda Birding Tour targets the green-breasted pittas and shoebills. On this tour we will take you to Mabamba Swamp and Kibale Forest to find these two of Uganda's mega-tick birds. It is an affordable Uganda birding tour and can be modified to suit your interests and desires. While our focus will be on these two iconic birds of Uganda, you will also rack up many other wonderfully good-looking birds, such as blue swallow, great blue turaco, Grey-crowned crane, black bee-eater, papyrus Gonolek, white-naped pigeon, afep pigeon, red-chested owlet, white-headed wood hoopoe, blue-throated roller, purple-headed starling, green-headed…
Overview Of The 7 Days Uganda Birding Tour Our 7 Days Uganda birding tour explores four of Uganda's best birding spots and wildlife safari parks. These include Mabamba Swamp, Kibale Forest National Park, Queen Elizabeth National Park, Bwindi Impenetrable Forest National Park, and Lake Mburo National Park. You will see many endemics and special birds of Uganda. You will also havesome time to marvel at some of Africa's rarest wildlife, and all this amidst spectacular scenery including the Africa's largest lake/world's largest tropical lake, Lake Victoria. Some of the many regional specials and endemic birds that we will target on…
How To Get To Mabamba Wetland?
1. By Car
You have two routes you can use to get to the Mabamba Swamp by car. One starts from Entebbe and the other from Kampala city. From Entebbe, you will drive up to Kisubi area.
From there, you branch to the road leading to Nakawuka. You will then leave Nakawuka and go to Kasanje before proceeding to Mabamba Bay Swamp.
If you are arriving from Kampala city, you can use the old Entebbe road up to Kisubi. From Kisubi, you branch to the road leading to Nakawuka. Once you reach Kasanje, you would have reached very close to the swamp.
2. By Boat
You can also use the most convenient but more expensive water transport to Mabamba Swamp. The journey to Mabamba takes around 40 minutes by boat. You can hire a speed boat at waterfront beach or the Entebbe sailing club.
A boat trip is more exciting and scenic allowing you to check out the islands and beautiful beaches in Entebbe. Once you reach the wetland, you have to switch to local canoes owned by the local fishermen in order to navigate through the reeds and papyrus.
Accommodation Near Mabamba Swamp
Other Places To Near Mabamba Swamp
Uganda Wildlife Education Center – Entebbe Zoo
Lake Victoria Beaches
Uganda Reptile Village
Entebbe Botanical Gardens – For birding and leisurely walks
Entebbe Golf Club – East Africa's oldest gold course
Lake Victoria – Africa's largest lake
Local Markets
The Entebbe Craft Village
Zika Forest
Shops, Restaurants, Bars, And Cafés
Lutembe Bay Swamp