Mihingo Lodge is one of the finest safari lodges in Lake Mburo National Park. Whether you are stopping off or staying for a little longer, this 5-star luxury safari lodge provides a brilliant base from which to explore this Uganda safaris park. Built on stilted platforms, the property has stunning views of Lake Mburo and forest in the valley below.
Lake Mburo National Park offers amazing wildlife game viewing in Uganda, while Mihingo Lodge itself has plenty of activities to keep you occupied between game drives, including a children's programme for the little ones and cycling tours for the older members of the family.
Access & Location:
Mihingo Lodge is usually accessed from Entebbe or Kampala via road transfer, a journey of approximately 240 km (3 to 4 hours). Mihingo is located just 22 km from the main road and easy to spot due to its elevated position. The property makes for a very pleasant stop-off destination between Entebbe or Kampala and Uganda gorilla trekking safari parks of the southwest.
Facilities & Services at Mihingo Lodge:
Communal buildings: Mihingo lodges' communal buildings are made out of timber, stone, and thatch, in the classic safari style. They merge beautifully with the surrounding rocky ridges and trees.
Lounge Area: Spaces for relaxing at Mihingo Lodge include a lounge with comfy sofas, where the views are breathtakingly beautiful.
Within Mihingo's bar, there is also a well-cushioned cement couch, where you can sit back with a drink and get to know your fellow travellers. The bar offers good selection of reading material too.
Dinning: Meals at Mihingo Lodge are enjoyed in the lodge's thatched dining area. Here, you can tuck into delicious cuisine while admiring the scenery all around you. Mihingo Lodge offers three course meals that are served buffet-style. The Staff at the bar will also happily arrange a cooler box with drinks for you to enjoy at a lookout point while watching a magnificent African sunset.
Craft Shop: The lodge has craft shop that is well-stocked with handmade crafts from every part of Uganda.
There is a vegetable and herb garden where you can spend time looking around.
Mihingo lodge offers massage in a tranquil rondavel surrounded by forest.
The lodge also features an infinity swimming pool
Laundry services is also available, as well as Wi-Fi
The Swimming Pool at Mihingo Lodge:
If you need to cool off a little, the infinity pool is the place to be. Africa Geographic call it one of the best swimming pools in Africa. Perched high atop the granite boulders of a kopje, the pool provides a magnificent vantage point for spotting wildlife in the savannah valley below.
And staff place lanterns around the pool's edges in the evening, to use as a sundowner deck or for swimming under the Ugandan night skies.
Guest Accommodation at Mihingo Lodge
Mihingo Lodge has 12 tented rooms that are set in a variety of locations across the site. Some are high up on the kopje, others are deep within the forest, and others still are close to the waterhole.
All rooms are authentic in their design, not least because they either let in or are very much inspired by the natural world around them. For example, the kopje rooms contain rocks and stones, while the forest rooms use wood from local trees.
All rooms are individually furnished, and common features include comfy beds, mosquito nets, solar-powered lighting, campaign chairs, storage space, and a lovely private veranda.
En-suite facilities typically include flush toilet, washbasin, and shower with hot and cold running water. We would recommend the rooms closest to the waterhole, as they bring you closest to the wildlife, but the other rooms at Mihingo Lodge provide superb views too.
Activities You Can Do While Staying At Mihingo Lodge:
During your stay at Mihingo Lodge, there is an amazing assortment of activities you can enjoy, including;
Day Game drives: You could start with a classic game drive around Lake Mburo National Park, looking out for such species as giraffes, zebras, buffalos, elands, impalas, jackals, hyenas, warthogs, reedbucks, and hippos.
Night game drives: Night game drives in Lake Mburo National Park start at 7.00 pm and last up to 3 hours. It offers the best chance of spotting the elusive and solitary leopard, the most secretive of the big cats. You might also see genet, bush baby, white-tailed mangoes and spotted hyena.
Bird watching: The birdlife is impressive too. There is over 350 bird species in Lake Mburo National Park. Highlights include shoebill, saddle-billed stork, Grey-crowned cranes, Papyrus Gonolek, African fish eagles, and black-bellied bustard.
Walking Safaris: Walking safaris take place both inside and outside Lake Mburo National Park as well within the park. Guests are always accompanied by a local guide with expert knowledge of the area. This safari activity is all about getting up close to nature – and viewing from hides is also recommended for scrutiny of the wildlife in this part of the world.
Horseback safaris: Another way of exploring the area is on horseback. Mihingo Lodge has 14 horses in its stables, and the lodge caters for beginners and experienced riders alike. For a bit of a treat, you can take an overnight horseback safari, travelling to a fly camp and returning the following morning after a hearty breakfast.
Boat Cruise: Visitors who like to spend time on the water will relish a boat tour on Lake Mburo, checking out hippos, crocodiles, and plenty of waterbirds.
Cycling Tours: If you enjoy keeping fit on holiday, you can do some bush biking or even running over the community lands outside the park. You could stop off at a homestead of the local Bahima for a cultural visit, learning about local farming methods and milking a famous long-horned Ankole cows.
Visit Local Schools: You can also hire a bike or take a short drive to one of the schools the lodge support and see for yourself the work this school is doing for many of the children in the community. You can spend an hour interacting with the children, talking to the teachers or even running some of the games and activities you used to do at school.
Sport fishing: Fishing village trips are also available in Lake Mburo National Park
Special bush courses for the youngsters: If you are travelling with young children, Mihingo Lodge offer special bush courses for the youngsters, encouraging them to interact with nature and discover all sorts of exciting things about the wildlife of the national park and surrounds.
Yoga events and back-of-house tours: There are regular yoga events and back-of-house tours. The site is often visited by bush babies, which tend to turn up most nights on a platform below the bar. They have become accustomed to human company, and it is great fun to watch them eating and at play. This is just one of many highlights to a stay at Mihingo.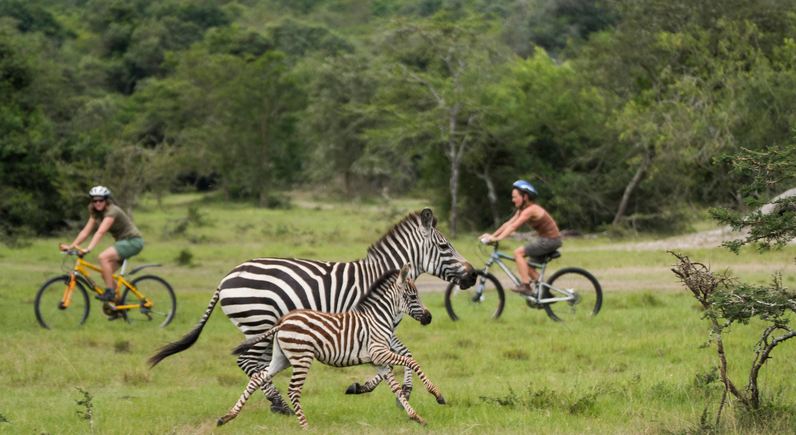 Responsible Tourism at Mihingo Lodge
Mihingo Lodge is an environmentally friendly accommodation. The buildings are constructed in such a way as to melt into the rocky outcrops and savannah landscape around them.
All electricity, hot water and water pumps are powered by solar panels. And there is a natural water catchment system to take advantage of the rains. 80% of all Mihingo Lodge's employees are from the local community and have received extensive training in hospitality services. Mihingo lodge's management is also dedicated to providing an exceptional safari experience for every visitor.
Booking Mihingo Lodge
To fully enjoy the a peaceful and secluded retreat of Mihingo lodge, you have to stay at least two to three nights. You can have this lodge on your Uganda Safari Itinerary and get great rates with Tulambule Uganda Safaris, taking advantage of our excellent partnership with Mihingo Lodge.
Here are some of our safari packages that featuring Mihingo Lodge: