A Serengeti Safari 2024 – Everything You Need to Know
Are you planning your Serengeti safari? A safari to Serengeti or a safari in Serengeti National Park in Tanzania always sits high when travelers are planning their bucket list trips to Africa, and it's easy to see why. The park has one of the greatest concentrations of wildlife on Earth.
It is undoubtedly one of the world's most celebrated national parks and a perfect snapshot of the true African wilderness. And where there are game by the dozen, predators will not be far behind. It's a paradise for cheetahs, lions, leopards, crocodiles, jackals, hyenas, and wild dogs.
This epic landscape is also where you can see the Big Five (lion, leopard, elephant, buffalo, and rhino) as part of your safari. You'll see a lot of other animals on a Serengeti safari. But before embarking on you're your Serengeti safari tour, here is all you need to know about this great African wildlife safari park.
Serengeti means "Endless Plains" or "The Land that Moves on Forever'".
Serengeti is home to some of the greatest concentrations of wildlife in the world.
The bulk of the Wildebeest and Zebra Migration takes place in the Serengeti – the largest land mammal migration on the planet and one of Africa's seven natural wonders.
One of the best places to see African lions in the wild.
The Serengeti ecosystem is one of the world's oldest, largest, and most protected ecosystems.
High/Dry Season: about July to October.
Low/Rainy seasons: about April to May and November to December

What is the Serengeti famous for?
Serengeti National Park has become world famous for its annual wildebeest migration an iconic and dramatic scene in wildlife documentaries for decades, and a true bucket list experience.
The great wildebeest migration is the largest overland mammal migration on the planet and one of the seven natural wonders of Africa. It takes place throughout the year in the Serengeti, sharing the months of August to October with the Maasai Mara (Kenya) as the herds repeatedly cross the Mara River to follow the rains and nutritious green grass.
For the remainder of the year, the herds are either calving in the southern Serengeti or moving between the north and south of the ecosystem.
The Serengeti National Park is also well known for hosting many large predators such as lions, leopards, cheetahs, and spotted hyenas. A safari in Serengeti will be a highlight of a visit to Tanzania.
Because it is such a bucket-list destination, many travelers choose a Serengeti safari to celebrate special occasions like honeymoons, engagements, and birthdays. In addition, the Serengeti offers easy travel logistics, short transfers between camps, and English is widely spoken.

How Big Is Serengeti National Park?
Serengeti National Park is so expansive that the original inhabitants, the Maasai people, named it endless plains or a place where the land runs forever. This massive pristine wilderness encompasses 14,763 square kilometers (almost 1.5 million hectares) of grass plains, rocky outcrops, and leafy woodlands. The Serengeti is almost 10 times larger than Kenya's Maasai Mara National Reserve.
Where is the Serengeti Located?
Serengeti is located in the northwestern corner of Tanzania and borders Kenya to the north. The conservation area continues across the Kenyan border into the Masai Mara National Reserve.
Serengeti National Park together with Masai Mara form the Serengeti-Mara Ecosystem – one of the biggest and most protected ecosystems on Earth. It spans approximately covers 31,667km² (almost 3.2 million hectares) – slightly larger than Massachusetts.
The Serengeti ecosystem is one of the oldest and most scientifically significant ecosystems on the planet. Its weather patterns, fauna, and flora are believed to have changed very little for as long as a million years or more, giving the area an incredible prehistoric presence.
Other safari areas near the Serengeti
Southeast: The Ngorongoro Crater & Conservation Area
Northwest and West: Grumeti Game Reserves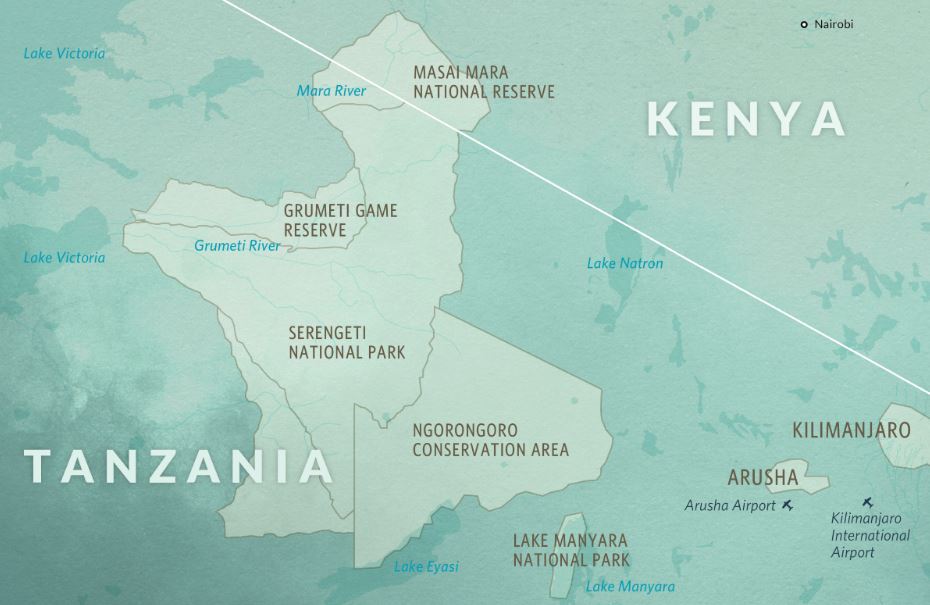 How to Get To Serengeti National Park?
Arusha Airport is the gateway to the Serengeti National Park, but you'll need to get there via Kilimanjaro International Airport, located about 50 km away. There are many airstrips dotted around the park which can be accessed from the Masai Mara National Reserve, Lake Manyara, Tarangire, Arusha, or Kilimanjaro.
TIP: International flights often arrive at Kilimanjaro International Airport late at night, so we recommend an overnight in Arusha before catching a charter flight into the Serengeti National Park for your Serengeti safari.
Coming directly from Arusha town, it takes approximately 300 kilometers to reach Serengeti National Park headquarters at Seronera. The first half of this drive follows the same surfaced road that runs past Lake Manyara National Park to the main eastern entrance of the Ngorongoro Conservation Area.
The second follows a rough and dusty corrugated track around the rim of the mighty Ngorongoro Crate and the western plains of the Ngorongoro Conservation Area. Allow at least 6 hours for the full drive, and ideally a full day.
Note: Most Serengeti safari holidays include overnight stops at Tarangire National Park, Lake Manyara National Park, and/or Ngorongoro Crater area, which helps to break up the trip.
Best Serengeti Safari Areas (Where to Go)
At nearly 15 000 km, the Serengeti National Park is an enormous with distinct regions that each offer a different game viewing experience. You'll need to choose carefully where and when to go on a Serengeti safari, especially if you want to see the annual Great Wildebeest Migration. The herds move in a clockwise direction around the Serengeti-Mara ecosystem and their concentrations are dictated by the seasons, available water and fresh grazing.
Northern Serengeti is a vast pristine area of wooded rolling hills. The area is interspersed with open grassy patches and large granite outcrops or kopjes. It extends north about 89 kilometers from Seronera in the central Serengeti to Kenya's Masai Mara Reserve.
Northern Serengeti is the most remote corner of the park. And most visitors on a Serengeti safari never see the northern region. It is only rarely visited; far less crowded, and remains an unexplored and untouched wilderness packed with stunning landscapes and abundant year-round wildlife.
This area also sets the stage for the Great Migration's dramatic Mara River crossings from around July/August. During this time, massive herds of wildebeest and zebra will be thundering across the crocodile-infested Mara River.
This is a perfect place to go on a hot-air balloon safari in Serengeti for a bird's eye view over hundreds of thousands of wildebeest, and a good area to see African elephants and giraffes.
TIP: While Serengeti National Park is home to all African Big 5 animals – buffalo, elephant, rhino, leopard, and lion – rhino sightings are rare. Your best bet to see these endangered animals on a Serengeti safari is in this northern region of the park.
Among our favorite areas in this northern region of Serengeti is the Lamai Triangle – a game-rich, uncrowded location. A special perk for those visiting this area of Serengeti is you're permitted to drive off the road in any direction, allowing you to get especially up close and personal with nature.
Walking safaris along the banks of the mighty Mara River is also permitted, granting you a unique perspective of the abundant wildlife and captivating scenery that surrounds this remarkable place.
Where to Stay in Northern Serengeti
Migration Tented Lodge
Lemala Mara River Camp
Lemala Kuria Hills Tented Lodge
Singita Mara River Tented Camp
Tasma Lodge
Sayari Camp
Serian's Serengeti North
This most accessible area of the park. And it can get a little busy during the high Serengeti safari season from around June to October.
During the rainy season (about January to March), hundreds of thousands of wildebeest, zebra, and gazelle graze here on fresh green grass. It is also the time that the main calving season takes place and predators – especially lions, leopards, and cheetahs – are taking every opportunity to hunt easy prey.
Southern Serengeti is also within driving distance of the Ngorongoro Conservation Area. This makes it easy to combine your Serengeti safari tour with a visit to the Ngorongoro Crater. The Ngorongoro Crater offers some of the easiest and most rewarding Big 5 viewing in East Africa.
The ancient Olduvai Gorge is also situated near the Southern Serengeti plains. Here, you can learn about archaeology, history, and our ancient hominid ancestors. Its chief claim to fame is the rich treasure trove of human and animal fossils that it has yielded.
Few places in the world can match Serengeti's long human history and this fact has earned this part of Africa the title 'Cradle of Mankind'. There is a museum and visitor's center overlooking the gorge as well as a daily lecture by a Department of Antiquities guide.
Where to Stay
Kusini Tented Lodge
Ndutu Lodge
Lemala Ndutu Camp
Lake Masek Tented Lodge
Woodlands Camp
Mwiba Lodge
Mila Tented Camp
This area is the busiest part of the park – especially during peak Serengeti safari season. It encompasses the world-famous Seronera Valley. This picture-perfect landscape of this pristine valley is characterized by endless savannas that stretch beyond the horizon.
During the northward and southward migrations, Seronera plays host to the greatest wildlife show on earth as over a million wildebeest and zebra pour through the valley in a thunder of echoing hooves and a haze of red dust. However, the true beauty of Seronera Valley is that no matter what time of year you might come here, a whole world of life, drama, action, and wonder awaits!
The secret is out – there is simply no better place in Africa to observe the large carnivores in action! It is not unusual to encounter all 4 African large predators (lion, hyena, leopard, and cheetah) during the course of a day along with a multitude of smaller predators (mongoose, jackal, Serval, and bat-eared fox).
Seronera is actually derived from the Maasai word 'siron' meaning the place of the bat-eared fox. This is the best place in Africa to see cheetahs on thrilling hunts.
Where to Stay
Mbuzi Mawe Tented Lodge
Serengeti Serena Lodge
Four Seasons Lodge
Lemala Seronera Camp
Private Mobile Camp
Kubu Kubu Tented Lodge
Serengeti Pioneer Camp
Dunia Camp
Serengeti Pioneer Camp
Lemala Ewanjan Tented Camp
Kati Kati Tented Camp
The eastern Serengeti offers diverse habitats, a wide range of wildlife, and good grazing for the migrating wildebeest between December and March. It's a popular pit stop during the Migration's calving season (between February and March), which attracts many large predators.
This area is much quieter than the rest of the Serengeti and is a great location to avoid tourist crowds. It's also an excellent area to see big cats – one of the best for cheetahs – and delivers those iconic lions-lazing-on-kopjes scenes. The eastern plains are also home to the largest concentrations of hyenas during the green season. Large clans of hyenas numbering up to 30 individuals are regularly spotted here. Hyenas are the most abundant predator in the entire ecosystem.
Where to Stay
Sametu Camp
Namiri Plains
Ehlane Plains Camp
Lemala Nanyukie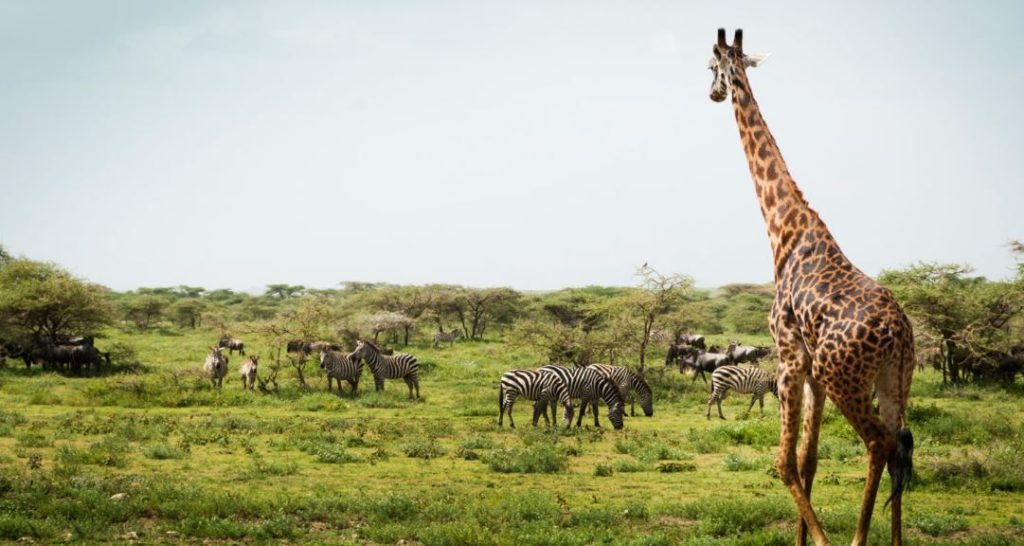 The Serengeti's Western Corridor is a special place that is seldom explored by those on a Serengeti safari. The corridor stretches west from Seronera in central Serengeti to almost Lake Victoria.
It is characterized by dense stands of acacia trees interspersed with broken woodlands and open plains. The dominant feature is the Grumeti River, which runs almost the entire length of the corridor. The river is a sanctuary for enormous Nile crocodiles and hippos.
Every year between around mid-May and July, enormous herds of wildebeest (around 40km or 25 mi long) arrive on the banks of the Grumeti to kick off the main event: the treacherous river crossings. This is one of nature's most thrilling spectacles to witness, yet a bittersweet experience as many of the gallant gnus are killed by hungry crocs.
Additionally, The Grumeti River also supports a unique riverine forest, which is home to the beautiful black and white colobus monkey. And if you're looking for a classic big game safari combined with away-from-the-crowds luxury accommodation, then we recommend the privately owned Singita Grumeti Reserve.
Where to Stay
Mbalageti Tented Lodge
Kirawira Tented Lodge
Serengeti Serena Safari Lodge
Singita Sabora Tented Camp
Grumeti Serengeti Tented Camp
What Are The Pros And Cons Of Different Accommodation Types In Serengeti?
A variety of accommodation types are available on the Serengeti safari holidays. If you are a budget traveler, the cheapest option is a basic camping safari with a budget operator.
Serengeti National Park is also serviced by several 'hotel in the bush' lodges operated by chains such as Sopa and Serena. These tend to be upper mid-range in price accommodation and offer high levels of comfort. They also tend to be designed to close out the bush at night, making them well suited to first-time African safari-goers nervous about wildlife encounters.
The national park is also serviced by innumerable small lodges and tented safari camps (some permanent, others seasonal in order to follow the migration).
These combine a medium to a high level of comfort with a genuine bush atmosphere. There is also a high probability of wildlife passing through, especially during the night. Generally, these camps have prices that reflect the level of exclusivity and luxury they offer.
Whichever option you choose, practically all Serengeti safari prices are all-inclusive and incorporate transport, park fees, game drives, accommodation, and meals.
What lodges or camps would you recommend for a Serengeti safari?
If your safari budget runs to it, there are some superb exclusive small lodges and tented safari camps scattered around Serengeti National Park. We tend to favor places with a more remote crowd-beating location.
Sanctuary Kusini Camp, set among massive boulders in the far south, offers superb wildlife viewing during February and March
The semi-permanent Dunia Camp near Moru Koppies offers excellent wildlife viewing all year, peaking from December to March
The super-stylish &Beyond Grumeti Serengeti Tented Camp is easily the pick of the lodges in the western corridor, where wildlife activity peaks from May to July
And there's not much to separate Lamai Serengeti and Sayari Camp, which are the two most exclusive properties in the far north, and ideally placed to catch wildebeest river crossings from August to October.
Of the more mid-range options, Ndutu Safari Lodge which is located near seasonal Lake Ndutu is a great value and offers superb predator viewing from December to April.
What About Mobile Camping In Serengeti?
Mobile Serengeti safari camps are lavish tented affairs with all the creature comforts of a lodge and the added advantage of moving with the seasonal Wildebeest Migration.
If your dream Great Wildebeest Migration Safari is a contemporary take on the expeditions of early explorers and to stay as close to the herds as possible, then consider a mobile safari – an authentic experience in exclusive wilderness areas.
You follow in the tracks of huge herds of wildebeest as they cross the vast Serengeti plains. Here are some of our favorite mobile safari camps in Serengeti:
Olakira Migration Camp
Serengeti Kati Kati Camp
Sanctuary Kichakani Serengeti Camp
When to Go: Best Time of the Year for a Serengeti Safari
The Serengeti's density of wildlife offers a spectacular safari experience no matter what time of the year you visit. Although some of the wildebeest migrate to fresh grazing, not all of them do – and none of the predators move with the herds either.
The park's wide-open plains and mild climate mean that vegetation is never too thick to see wildlife, and the region's two rainy seasons (November to December and April to May) are seldom too inclement. Short thunderstorms mostly occur in the late afternoons, but the animals won't relocate when it's raining.
| | |
| --- | --- |
| High or Peak Season | Low or Green Season |
| From July to October | About November to December & April to May |
| Highest rates | Lowest rates |
| Need to book up to a year in advance | No need to book so far in advance |
| Cool and dry weather | Hot and occasionally wet weather |
| Not many baby animals or migrant birds | Lots of baby animals and birds around |
| Most crowded | Least crowded |
| Great photography conditions | The best light of the year for photography |
Guidelines for Seeing the Great Wildebeest Migration on A Serengeti Safari
For many travelers, the question of exactly when to go on a safari in Serengeti really depends on whether or not you want to witness the Great Wildebeest Migration. However, this natural event, a free-flowing phenomenon, and its exact timing cannot be foreseen. It depends on the annual rainfall patterns and essentially, the wildebeest themselves.
| | | |
| --- | --- | --- |
| | Approximate Time | Region |
| Calving (Birthing) Season | February to March | Southern Serengeti |
| Intense Predator Action | February to March | Southern Serengeti |
| Rutting (Mating) Season | April to May | Western & Central Serengeti |
| Grumeti River Crossings | May to June | Central Serengeti |
| Mara River Crossings | July to August | Northern Serengeti |
| On the Move | October to January | Northern to Southern Serengeti |
Please Note: The above are estimated dates and places. The Great Wildebeest Migration is a year-round, circular journey. And the dramatic river crossings cannot be predicted. It generally occurs from around May to September. Your best chance to see a river crossing may require spending many days at a site where the wildebeest have congregated.
Cost of Serengeti safari: How much is a safari in Serengeti?
Before we look at the approximate costs of a safari in Serengeti National Park, it's important to consider these budget-influencing factors:
Your preferred level of comfort.
The time of year you want to go for a Serengeti safari.
Flying or driving between safari camps and lodges. Flying is more expensive for travelers but offers you more time on a Serengeti safari. Driving allows you to establish a good rapport with one driver-guide throughout your safari trip.
Extra Serengeti safari activities you want to add to your itinerary, such as guided walks, hot-air balloon rides, spa treatments, and cultural village tours.
Guidelines for Serengeti Safari Budgets
4-Star Comfort
Low Season: $500 – $675
High Season: $550 – $725
4-Star Luxury
Low Season: $800 – $1,200
High Season: $950 – $1,350
5-Star Luxury
Low Season: $1,250
High Season: $1,850
We take pride in tailor-making our Tanzania Serengeti safari itineraries that make sense for your budget and personal travel interests. We don't offer one-size-fits-all safari tour packages. We prefer to create a customized journey that satisfies your individual needs. Please contact us to help you plan a Serengeti safari itinerary:
A Serengeti Safari Combines Best With…
Best place in Tanzania to see the Big 5
Incredible cliff-top lodges
See huge numbers of elephants, buffalo, and giraffes (June to October)
Fantastic bird watching – over 550 species
Boat safaris
Excellent bird watching, especially flamingos
Spot tree-climbing lions
Climbing Africa's tallest mountain
Arusha National Park
The most accessible safari park on the Tanzania Northern Safari circuit
Perfect for a bush-to-beach finale
Luxury resorts on gorgeous beaches
See the Wildebeest Migration in the Masai Mara
Encounter massive elephant herds in Amboseli
Discover hidden gems like Lewa and Laikipia
Africa's most accessible gorilla trekking destination
Amazing Big 5 safari in Akagera National Park
Home to half of the world's mountain gorillas
The most affordable and safe gorilla trekking destination in Africa
The best place to see wild chimpanzees in Africa
One of Africa's most attractive birding destination
One of the only two places in Africa where you can see the Big Five animals, gorillas, and Chimpanzees in their natural habitat.
Our Favourite Serengeti Safari Itineraries
The Serengeti is a bucket-list destination for many visitors to East Africa and the Great Wildebeest Migration is a must-witness event for any wildlife enthusiast.
Whether you're a first-time visitor or a seasoned safari-goer, Serengeti's offering is so diverse that you'll always discover something new – no matter how many times you've been there.

Tips for Planning Your Serengeti Safari
Visit at the right time: if you want to encounter the dramatic Wildebeest and Zebra river crossings, make sure your Serengeti safari itinerary matches the movement of the herds.
Book well in advance: well-located tented safari camps at the Migration's hot spots get booked out early – often a year in advance.
Choose your Serengeti safari activities: morning and afternoon game drives are standard activities. But some lodges also offer hot-air balloon safari tours. Activities, like guided bush walks and night drives, are only permitted in some areas.
Expect crowds in high season: many parts of the Serengeti National Park are mostly quiet throughout the year. But the Migration's big events like the Grumeti River and Mara River crossings attract many visitors between around June and September.
If you prefer being away from the crowds, consider visiting during the low season for great game viewing and seeing the Migration's herds on the plains. Alternatively, you opt for a camp in a more private area of the Serengeti National Park.
Ready to Go for A Serengeti Safari?
You have set your travel goals, made your Serengeti safari wish list, and worked out your budget range and preferred dates. It's time to chat with our safari expert to start planning the Serengeti National Park safari holiday of a lifetime: