The Boma Hotel is great option if you are looking for mid-range and boutique accommodation within Entebbe, whether or not you plan to visit main attractions of the town.
With parts of the hotel building dating back to the 1940s, The Boma Hotel has retained a down-to-earth, unpretentious atmosphere while the availability of Wi-Fi, a child-friendly swimming pool and satellite television places it firmly in the 21st century.
The Boma is conveniently close to Entebbe International Airport. It is set in peaceful lush tropical gardens in one of the best neighborhoods of Entebbe – which include the botanical gardens, a golf course, and the Uganda Wildlife Education Centre – Entebbe Zoo. Triple, double, twin and family rooms are available, so it really is suitable for all travellers.
The Boma hotel regularly receives awards from TripAdvisor, including a Certificate of Excellence. It is ideal for exploring Entebbe town, if you have enough time.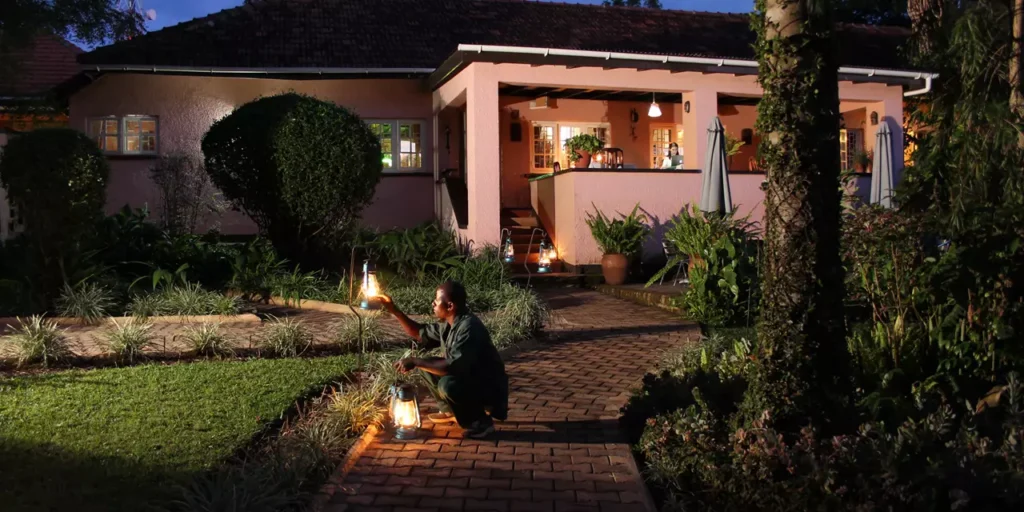 The Boma Entebbe Highlights
Comfortable accommodation only 5 kilometers from Entebbe international airport
Eco-friendly practices
Warm, 1940 colonial-style ambiance with wicker furniture and pieces of Ugandan art
Focus on eco-friendly practices
Lush garden, child-friendly pool, restaurant, bar, library, pool table, playground, bicycle rental, airport transfer and craft shop
Small selection of rooms, all individually furnished
Rooms have four-poster beds and private verandahs
Coffee station in your room
Wi-Fi connectivity and satellite television
Flexible meal times
Library for borrowing books and reading in a hammock while enjoying the gentle lake breezes
Close to many of Entebbe's main attractions
Facilities at Boma Hotel:
Inside, there is a lounge area with comfy sofas around a coffee table, as well as a few books and some fascinating artefacts and artwork.
The hotel's restaurant has chic little separate tables flanked by elegant upright chairs. The restaurant is open every day, from 6am to 10pm. Guests can also relax in the bar, which includes a large television for news and sports events.
Board games are available too. The Boma Hotel has a terrace for al fresco eating and drinking, with delightful garden views. Within the gardens, there is a playground with swings, a slide, and a sandpit, in addition to a spacious swimming pool with floatation toys for the little ones. Surrounded by sunloungers, this is the perfect place to cool off during your stay.
Accommodation at the Boma Hotel
Guest accommodation at The Boma Hotel in Entebbe consists of just a few rooms. The rooms are configured as a single, double, twin, triple, or family unit. All rooms at Boma Hotel are individually furnished, using a vibrant mix of European and African styles.
Each of the double rooms boats a 1 King Size bed. The Twin bedded rooms have 2 singe beds The Triple Rooms are furnished with a King size bed and a Single bed. Some twin rooms can be configured to have 3 single beds. And if you are travelling with a baby, a cot may be added to any room. All rooms include;
24 hour services / reception
Four poster beds with mosquito nets
Bedside tables and lighting,
Wi-Fi and solar heated hot water shower
Private veranda, where the property's Wi-Fi signal is at its strongest
Well-appointed en-suite shower room or bathroom
Satellite television
International power points
Daily housekeeping
Safes
Dining At the Boma Entebbe
The kitchen garden at the Boma Hotel in Entebbe supplies a substantial amount of the fruit and vegetables that make up the fusion menu at The Boma's restaurant. You can expect home-style European cooking with elements of Indian, Thai and Mediterranean cuisines. Vegetarian and vegan dishes are available.
Children 4 – 12 years sharing a parent's room pay $20.00
Children staying in their own room are offers a 70% discount of applicable rate
Children fewer than 4 years stay for free when sharing with parents.
The Boma Hotel operates an on-demand complementary airport shuttle service for overnight guests who have booked directly with The Boma.
As far as possible, The Boma hotel in Entebbe operates according to green principles that include:
Solar water heaters for all the showers. This reduces the electricity consumption of the hotel drastically.
Rainwater catchment systems to catch and store rainwater in separate tanks. They are then able to use this for gardening, or to pump treated water into the main tanks when needed during water shortages.
Reusable water fountains rather than plastic bottles recycling. The water fountains are dispensed into glass jugs (in the rooms and in the restaurant). This cuts out plastic water bottle waste 100%
Locally Sourced Produce; fruits, vegetables and meats in the restaurant.
Kitchen garden to supply fresh salads and greens
Bicycles, these are also available for rental if you want to explore Entebbe in an environmentally friendly manner.
Activities You Can Do During Your Stay At Boma Hotel In Entebbe:
The Boma Hotel in Entebbe offers an excellent variety of activities.
At The Boma hotel, guests enjoy swimming, croquet, boules, board games, and even a bit of birdwatching among the lush tropical trees.
Those who would like to tour Entebbe towns and surrounds can hire a bike from the hotel, self-drive, or rent a car from a tour company. There is plenty to see and do.
The massive Lake Victoria – Africa's largest lake – is well worth a visit, to see a fine variety of wildlife, to go sport fishing or relax on a sunset boat cruise.
Full or half-day excursions to Ngamba Island Chimpanzee Sanctuary in Lake Victoria are also possible. Here, you meet the orphaned chimpanzees, rescued from zoos and circuses, which are now free to roam the island and play in its tangled vines and towering trees.
For more animal encounters, you can the Uganda Wildlife Education Centre, formerly known as Entebbe Zoo. Here; you can meet a number of Uganda wildlife species like lion, leopard, elephants, giraffes, rhinos, and more. You will also learn about the center's efforts to rehabilitate them during a highly insightful tour.
The Entebbe Botanical Gardens are situated a 15-minute bicycle ride from The Boma. They date from the Colonial era and contain many beautiful trees including palms and medicinal plants. A rainforest-type environment here is locally said to have been used in an old Tarzan movie! Of particular interest are the Colobus monkeys and the wide variety of bird species in the Gardens.
A bird watching tour to Mabamba Swamp on the shores of Lake Victoria may also be arranged. Here you can take a ride in a tradition canon in search of the pre-historic looking shoebill stork and other fantastic waterbirds.
If you are golfers, you will be keen to try out the Entebbe Golf Course. You can hire golfing equipment from the hotel.