Tanzania Safaris And Tours 2023/2024
Tanzania is one of the classic safari destinations in Africa, and is often at the top of the pile when people plan a bucket list safari to Africa.
Tanzania safaris offer everything: fantastic wildlife, incredible natural beauty, archaeological sites, pristine beaches, geological wonders, and amazing Afro-Arabic-Indian cuisine.
The country has Africa's lowest and highest points: the floor of Lake Tanganyika, at 1,471 metres (4,826 feet) below sea level and the peak of Mount Kilimanjaro, at 5,895 metres (19,341 feet) above sea level, respectively.
Tanzania also boasts 3 of the Seven Natural Wonders of Africa (Mt Kilimanjaro, the spectacular Ngorongoro Crater, and the famous annual Great Wildebeest migration), as well as 7 UNESCO World Heritage Sites!
Almost 40% of the country is protected and set aside for conservation, which means that it is easy to go on a Tanzania safari for two weeks and drive from park to park while rarely leaving the bush.
The wildlife viewing in Tanzania is out of this world and big cats are especially easy to see. All Big 5 animals of Africa can be seen in several Tanzania safari parks, and all 5 are present in the magnificent Ngorongoro Crater and Serengeti National Park.
From the classic savannah destinations to the beaches and coral reefs of Zanzibar, Tanzania safaris deliver one massive experience after another.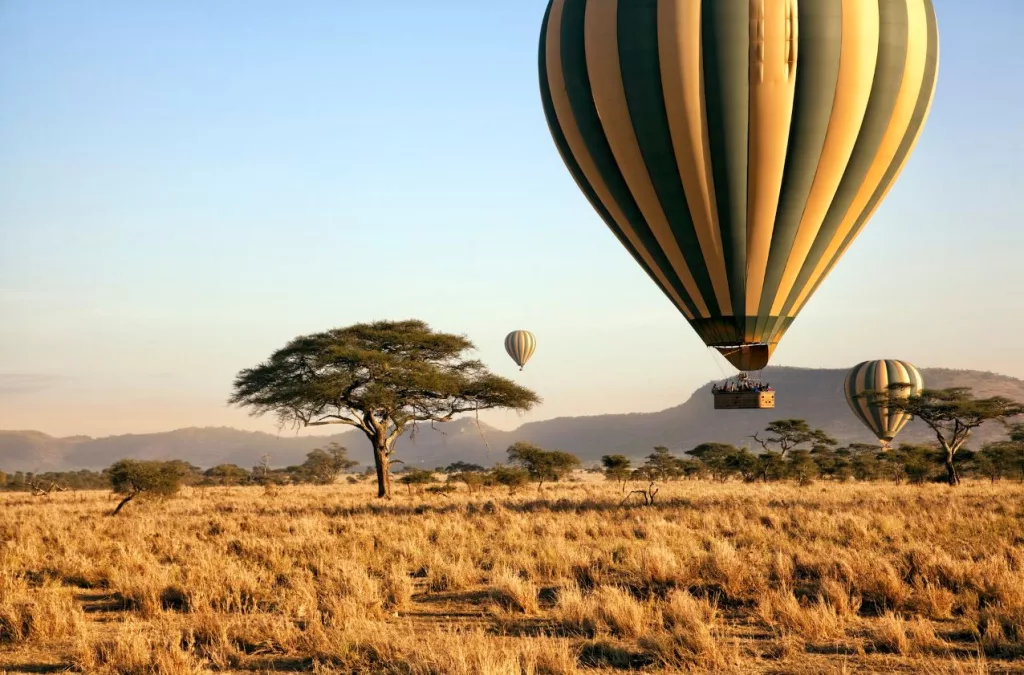 Reasons To Visit Tanzania For Safaris
From wonderful year-round wildlife game viewing to the Great Wildebeest Migration and tropical beach finales, here are some of our top reasons why you should go on an African safari in Tanzania:
1. Witness the Great Wildebeest Migration
Few other destinations on Earth can offer a wildlife viewing experience to match the annual Great Wildebeest Migration – the largest overland animal migration on Earth.
It has been an iconic and dramatic scene in wildlife documentaries for decades, and it is the best time to visit Tanzania when it is in full swing. The migration is the centerpiece of most inaugural Tanzania safaris itineraries – a breathtaking display of nature at her most extraordinary.
Approximately 1.5 million wildebeest, 500,000 Thomson's Gazelles, 97,000 Topi, 18,000 Common Eland and 200,000 Plains Zebras run the gauntlet of predators as they migrate around the Serengeti-Mara ecosystem in search of fresh grass to graze and water to drink.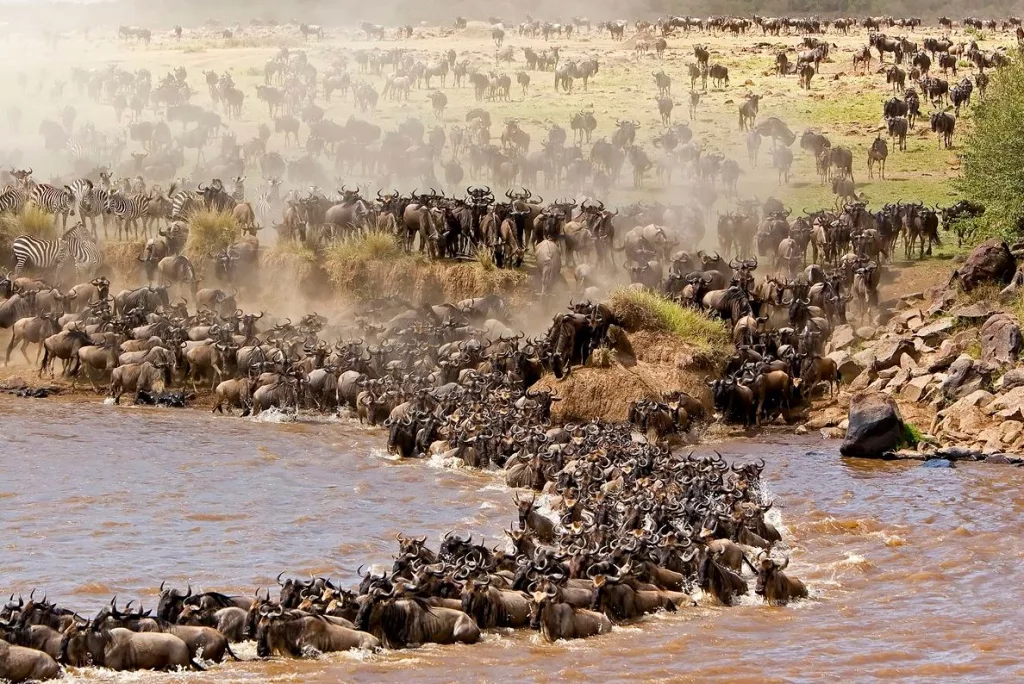 Astonishingly, about 800,000 wildebeest and other mammals die during the journey from Tanzania's Serengeti National Park to Kenya's Maasai Mara National Reserve. Death is typically from thirst, hunger, exhaustion, or predation.
Please note: availability of well-located tented safari camps during the river crossing season (between June and October) is limited. If you want to see the dramatic river crossings from the front row, you should plan your safari tour in Tanzania in advance.
Or opt to choose when the herds are giving birth and grazing their way across the plains, which is just as remarkable to see but easier to guarantee – plus there are fewer tourist crowds. Contact one of our Tulambule Safari experts to plan your Tanzania trip to coincide with the Great Migration.
2. See the Big 5 animals in an Ancient Volcanic Crater
Some 2 million years ago, a giant volcano roughly the size of Mount Kilimanjaro exploded dramatically and collapsed in on itself.
Millennia later, its caldera's ancient walls in what is now Ngorongoro Conservation Area are still intact, encircling and cradling one of Africa's most bio-diverse and precious wild spaces.
The Ngorongoro Crater, sometimes referred to as "the eighth wonder of the world", is one of the best places in Africa to see the Big 5 animals (Leopard, Lion, Rhino, Buffalo, and Elephant).
Measuring in at around 600 meters deep, the Crater's floor covers around 260 square kilometers. The grassland within the crater hosts approximately 25,000 large mammals.
Ngorongoro Crater offers one of Africa's most reliable Big 5 sightings. It is one of Africa's Seven Natural Wonders, and has some of the densest large mammal populations in Africa.
3. Go Off the Beaten Safari Path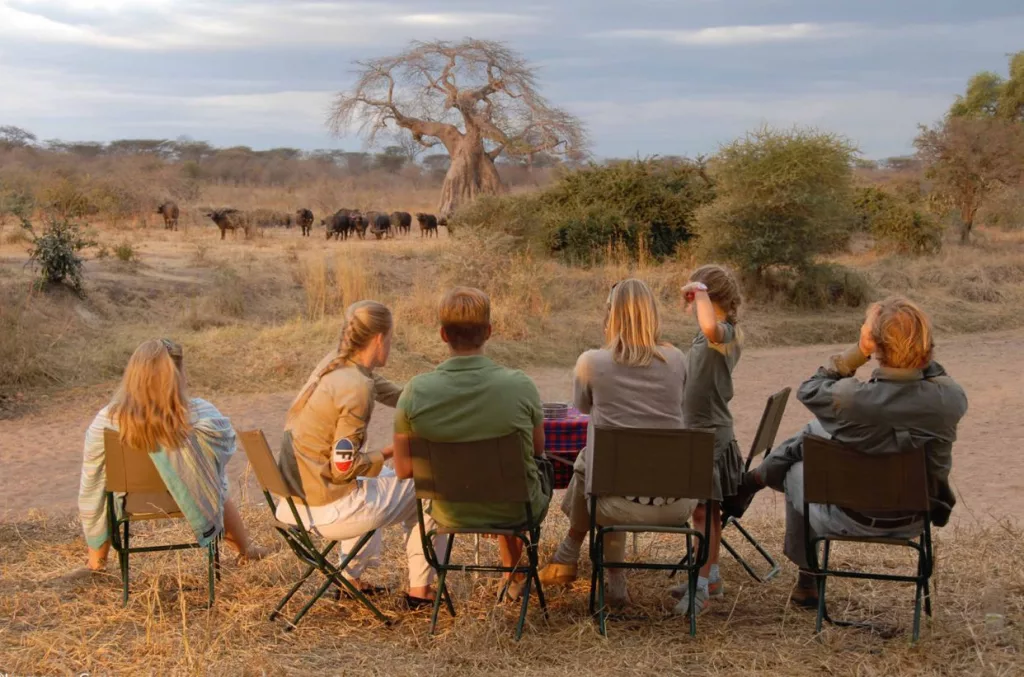 Tanzania's less-visited safari parks and reserves are perfect for intrepid safari-goers and those who have previously explored the more well-known Northern Tanzania safari destinations.
These Tanzania's undiscovered safari spots from savannahs and swamps to rainforests and lakes, offer fantastic wildlife encounters far away from the crowds.
Plus, you can enjoy activities like walking, boating safaris, fishing, and night drives – activities not permitted in national parks such as the Serengeti.
Explore Ruaha National Park, the best-kept safari secret of Tanzania and home to the country's largest population of African elephant. Discover Nyerere National Park (former Selous Game Reserve), one of the most important sanctuaries for endangered painted wolves (wild dogs) in Africa. Visit Mahale Mountains or Gombe Stream National Park for one of the most unique Tanzania safari experiences: chimpanzee trekking adventure.
4. Climb Africa's Tallest Mountain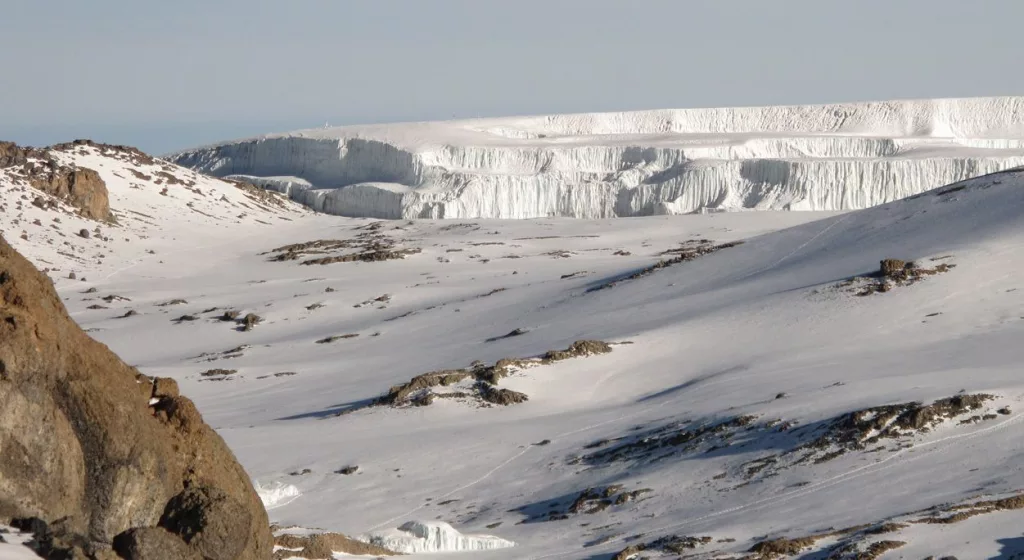 The snow-capped Mount Kilimanjaro is not only Africa's highest mountain; it is also the tallest free-standing mountain on Earth. Rising 5,895 metres (19,341 feet) above the plains of Tanzania, climbing to the 'Roof of Africa' can take five or more days to complete.
There are many routes to the Uhuru Peak with varying levels of climbing time, difficulty, crowdedness and natural beauty. Chat with us about planning a Kilimanjaro hike, based on your wishes and abilities. We can also easily combine your Kilimanjaro experience with a Tanzania safari in nearby parks.
5. End Your Safari With A Relaxing Holiday On A Tropical Island
Many Tanzania safaris and tours end with a relaxing holiday on palm-fringed white sand beaches lapped by the warm azure waters of the Indian Ocean.
Days on safari in Tanzania can be long and dusty, and a powder-soft beach is the ideal place to reflect on your incredible safari experience before heading back to everyday life. You can easily fly from a Tanzania safari lodge after breakfast and be on a tropical island in time for sunset cocktails.
You can visit Zanzibar – one of the world's most romantic honeymoon destinations, go to Mnemba Island – a private island holiday paradise, tour Pemba Island – which is among the world's best diving sites or explore Mafia Island and swim with migrating whale sharks (about October to April).