Combined East African Safaris offers you a great chance to explore Kenya, Tanzania, Uganda, and Rwanda. These East Africa countries deliver a classic Out of Africa safari with their incredible wildlife; spectacular landscapes, amazing cultures; and tropical beaches. On our Combined East African Safaris, you can see most of Africa's charismatic megafauna including Gorillas, the Big Five, Cheetahs, Chimpanzees, Wildebeests, Hyenas, Hippos, Crocodiles, Giraffes, Zebras, Crocodiles, Antelopes, etc.
A Sample of Our Combined East African Safaris
The word "safari" means "journey" in Swahili. It's, therefore, fitting that East Africa – the birthplace of African safari should also boast the best safari experiences on the continent.
Great Migration: The most spectacular of them is the yearly Great Migration of wildebeest and zebra, with millions thundering across the grassy plains of Tanzania's Serengeti National Park and Kenya's Masai Mara National Reserve.
Beach Holiday: Top-notch wildlife game viewing is not all these countries have going for them.

Just off Tanzania's coast– surrounded by the warm waters of Indian Ocean – you will find

the tropical island of Zanzibar

, one of the world's best beach retreats.

Gorilla trekking; If the idea of African jungles and primates excite you, Uganda and Rwanda will not disappoint. It is a lush rainforest jungle paradise, home to the world's last remaining endangered mountain gorilla. Here you can trek through the bamboo and woodlands of Rwanda's Volcanoes National Park

and

Bwindi Impenetrable Forest in Uganda

for a memorable close-up experience with the wild gorilla.

Chimpanzee trekking: You can also

catch a glimpse of cheeky chimpanzees – our closest living relatives -clambering through the trees of the

Kibale forest in Uganda

.

Family safari holidays:

An East African family safari holiday is never less than a magical experience. Seeing the wonders of East Africa through the eyes of your children might be the best family holiday you'll ever take.
Culture: A culture trip of East Africa lets you learn secrets of ancient times, meet welcoming locals and listen to folklore that has stood the test of time.

Balloon Safari: Rise above East Africa's vast savannah plains in Tanzania and Kenya for a truly classic experience, making the most of spectacular vistas & the early morning light.
East Africa is the eastern sub-region of African continent. The East African area technically comprises of 10 countries, yet only four of these countries are always referred to when speaking about East African Safaris, namely Kenya, Tanzania, Uganda and Rwanda.
By combining these four iconic African safari destinations and their various offerings, you can enjoy multiple activities such as gorilla trekking, chimpanzee tracking, Big 5 Game viewing, and witnessing the annual Great Migration of wildebeests and zebras.
Furthermore, this part of Africa is home to four of Africa's 7 Natural Wonders, the three highest peaks on the continent, white powdery beaches, and some of the world's best snorkeling and diving spots.
East Africa also includes the world's second largest freshwater lake, Lake Victoria, and the world's second deepest lake, Lake Tanganyika.
Best Time To Go For A Safari In East Africa
There is no single best time to go on a safari in East Africa but there are rainy and dry seasons. Each season has benefits, and each destination has its best moments, not least in the Serenget/Masai Mara which hosts the seasonally-driven wildebeest and zebra migration takes place.
If you have already decided when you will go on safari, it's time to pick where you will go; if your dates are flexible, you may better plan your safari better by understanding East Africa's seasonal trends. We have divided the year into three periods to coincide with the main phases of the wildebeest migration and the rainy seasons.
At a glance: Expect short rains and warm temperatures. Wildlife game viewing in the Serengeti, diving in Zanzibar and mountain gorilla trekking in Uganda and Rwanda are excellent choices now.
Weather: This is summer in East Africa. Temperatures are warm and pleasant, averaging around 15°C to 28°C. Early November through the end of March often sees scattered rainfall and localised with short-lived downpours. There is usually heavy rainfall in late March.
Serengeti National Park: As the mid-November rainfall begin, herds wildebeests and zebras move onto the southern and eastern Serengeti plains and the northern Ngorongoro Conservation Area. If you want to witness predators in action, the February calving season provides plenty of drama.
Birding: December is one of the best seasons for birding tours in Uganda, with a wide variety of migratory birds making their way into the area. Also, birdlife in Kenya's Rift Valley lakes are at their peak in January and February.
Mount Kilimanjaro: If you want the best conditions to climb to the top Africa's tallest mountain, go during warm and dry January and February.
Gorilla Trekking in Uganda & Rwanda: Late December to early March sees the driest weather in Rwanda and Uganda: mountain gorilla trekking tours are easier and the views better.
Zanzibar: Go for a Zanzibar holiday between late December and early March. Temperatures are a bit higher than during the cooler and drier late June to October period but it is less crowded and you will get better deals on accommodation and air fares.
At a glance: Don't be put off by the long rains: East African safaris are still good in the Serengeti National Park, Lake Manyara National Park and Masai Mara National Reserve. It is also less expensive and popular safari destinations are less crowded.
Weather: The long rains arrive and heavy showers can be expected for a few hours every day or so. The East African Coast is hot and humid at this time. In Uganda and Rwanda, rain is torrential.
Southern & Central Serengeti: With the wildebeest and zebra herds forming huge, noisy columns in preparation for their trek, April, May and June are the best months for game viewing in the southern and central Serengeti plains and the northern Ngorongoro Conservation Area.
Ngorongoro Crater: One of the best plains to see the Big Five animals in Africa, the Ngorongoro Crater in Ngorongoro Conservation Area is excellent year-round. The main factors for planning your wildlife safari here are weather and visitor numbers. From April to June the crater will be lush and green and you will have much of the place to yourself.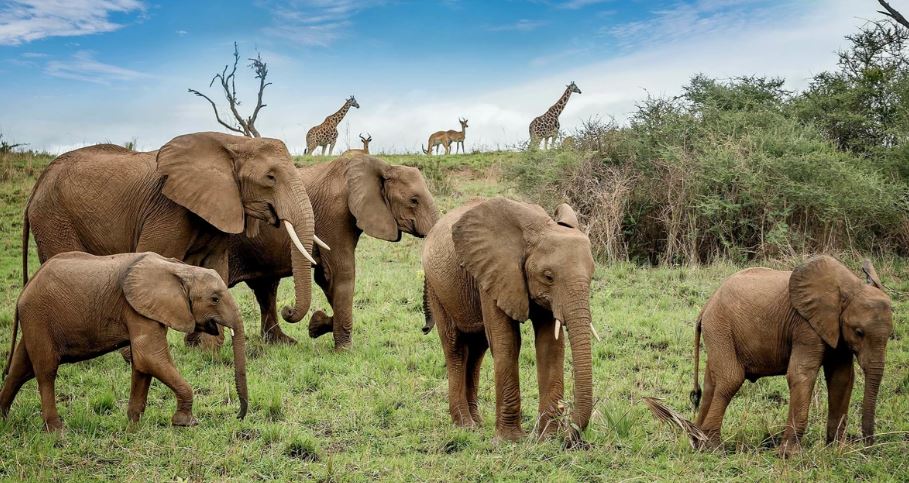 At a glance: Mild temperatures and classic dry-season wildlife game viewing make these months a popular time for East Africa safaris. We recommended that you book you accommodation and safari tours well in advance, especially if it is the wildebeest migration or mountain gorillas you want to see. Visitor numbers peak in August.
Weather: The October to December short rains in Central Kenya and Tanzania notwithstanding, these months are mostly dry and sunny compelling animals to gather at permanent water. July to September provide the most pleasant weather for East African safaris, especially along the coast.
Gorilla trekking in Rwanda and Uganda; If you cannot go mountain gorilla trekking in January and February, the next best opportunity is to go in the relatively dry months of June to August.
Masai Mara; By mid-August, the wildebeests and zebra herds have flooded Masai Mara National reserve in Kenya where they remain until early October. This is when wildlife game viewing in the Masai Mara is at its best.
Western Serengeti; By early July the wildebeest herds have reached the western Serengeti and the Grumeti Reserves. Not only are Big Cats (Lions, Leopards, and Cheetahs) highly visible at this time of the year but this is when the herds have to cross crocodile-infested rivers – prepare for Jurassic-style drama
Northern Serengeti; As the dry season wears on, the wildebeests and zebra herds move across the northern Serengeti Plains as they make their way back to the Masai Mara National Park though the Mara River has to be crossed first. Wildlife game viewing in this region is now superb.
Mount Kilimanjaro; September is a perfect month to climb Mount Kilimanjaro but so are July and August if you do not mind colder temperatures
Zanzibar holiday; The coolest and driest time to visit Zanzibar is between late June and October – great for family holidays – but this is also when the Zanzibar Island is at is busiest and accommodation rates and air fares are at their peak.
Tanzania's Tarangire National Park; Smaller and less visited than the Serengeti and Ngorongoro Crater, Tarangire National Park comes into its own from July to November when enormous numbers of animals are drawn to the life-giving Tarangire River. Elephant watching is outstanding and your chances of seeing the top predators of Africa in action are high.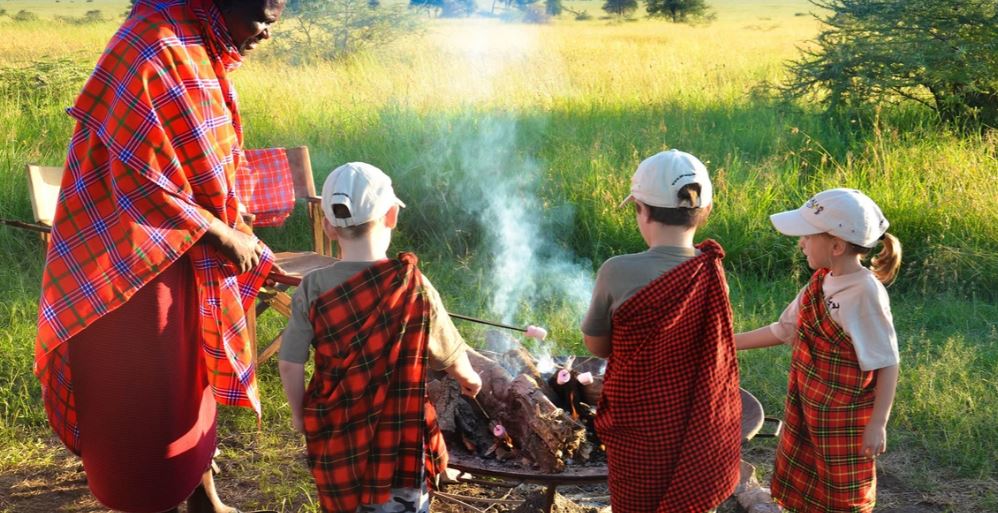 FAQs About Combined East African Safaris
We have taken the liberty to answer everything you may need to know about Combined East African Safaris.
What about Yellow Fever in East Africa?
Rwanda, Kenya, and Tanzania: Travellers arriving from specific countries must present a valid yellow fever vaccination certificate.
Uganda: All travellers over one year old must present a valid yellow fever vaccination certificate to enter Uganda.
How many national parks should I add to my East African itinerary?
We suggest that you stay in one wildlife area for at least 3 nights, giving you two full days to enjoy the area. East Africa boats the most varied ecosystems and wildlife species on African continent.
So, each place you visit will offer you a completely different wildlife experience, vegetation, landscape, and views. You need to plan for a minimum of 6 nights on safari so that you can visit at least two different ecosystems or combine safari and beach.
There are so many different itinerary options encompassing different territories and areas of interest. Contact us or look at our sample itineraries to get a better idea of what kind of holiday you are looking to experience in East Africa.
How can I get to East Africa?
The easiest and most accessible international airports in East Africa will be Jomo Kenyatta International Airport in Kenya or Kigali International Airport in Rwanda.
Several international flight connections fly into Kenya, including a direct flight from New York City, JFK into Kenya's capital, Nairobi.
Jomo Kenyatta International Airport, otherwise known as the "hub" of Kenya, is listed as one of Africa's five largest airports. This will likely be your first point of entry into Kenya and your first introduction to this wonderful East African country. From here, you can explore Kenya before crossing the border into Uganda, Rwanda, or Tanzania.
There are also a number of international flight connections that land in Kigali, the capital city of Rwanda. From here, visitors can spend some time on a safari in Rwanda before crossing the border into Uganda, Tanzania or Kenya.
What is East Africa known for?
East Africa is known for the vast grasslands of the Maasai Mara in Kenya, the Serengeti in Tanzania, the turquoise waters around Zanzibar and the majestic mountain gorillas in Uganda and Rwanda.
Top East Africa Safaris Parks