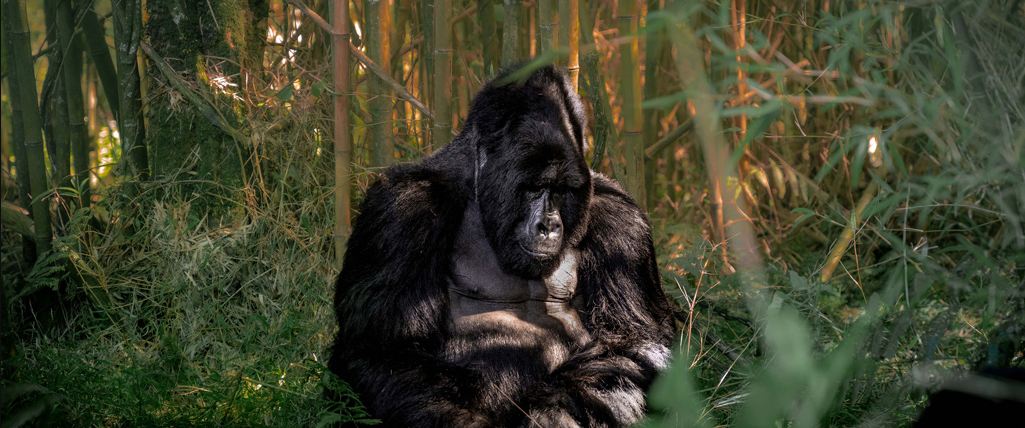 All the best Uganda safari Packages, Cost, Tips and Advice
The lush green East African country of Uganda is a safari paradise. Far less popular and therefore less crowded than neighbouring Tanzania and Kenya, Uganda safaris tours parks are home to a huge variety of wildlife, including the Big 5, plus some stunning scenery too. With the Equator line running right through this country and the historic Nile River starting life here, this is a jam-packed and diverse destination from rift valley lakes to dense tropical rainforests.
And of course, Uganda offers the world's best mountain gorilla and chimpanzee trekking encounters too! Our selection of Uganda safaris tours include both affordable budget, mid-range, and luxury options. But if you can't find what you are looking for, one of our Uganda safari Experts will happily tailor-make a Uganda tour to suit your budget and needs.
We offer Uganda safari packages for private individuals, families, couples, honeymooners, students, researchers, and small groups. Our Uganda tour packages take as many as possible right from 1 day to 21 days.
To book any of our Uganda safari tours, you can select among our already made safari packages (itineraries). You then fill the form and send us an inquiry. You can also send us an inquiry via "Whatsapp" or email that we usually reply in less than 6 hours.
Popular Uganda Gorilla Safaris
Our Uganda gorilla safaris offers a once-in-a-lifetime adventure not to be missed. Coming face-to-face with these big apes, especially a silverback, is truly unforgettable. You'll visit these great primates in Bwindi Impenetrable Forest National Park and Mgahinga Gorilla National Park to see the elusive mountain giants.
Popular Chimpanzee Trekking Uganda Tours
A chimpanzee trekking tour in Uganda is also a thrilling wildlife experience, one that should not miss on any Uganda safaris itinerary. Although, possibly, less iconic, than gorillas, these forest-dwelling apes are fascinating. They're highly intelligent and share almost 99% of our DNA.
Popular Uganda Wildlife Safaris
Top Uganda Bird Watching Tours
Uganda is possibly the leading destination for birding tours in Africa. The country has several great birding sites and an incredible bird list of over 1,097 species! The country has 51% of Africa's total bird species and 11% of the world's bird species!
Uganda Cultural Safaris
Apart from diverse wildlife, Uganda is also renowned for its people. Happy, friendly, and welcoming are the words closely associated with the people of Uganda. The country has over 50 tribes with different cultures, making it a cultural melting pot of various indigenous people.
Luxury Uganda Safaris
Uganda has developed into a great destination for luxury safari tours. Its tourism industry is now ready for visitors looking for upmarket safari accommodations, a high level of service, good food and refined operations. Luxury Uganda safaris has much more to offer than only gorillas, including classic savannah safaris.
25 Uganda safaris Tours tips and advice You Need To Know
1. Packing list For a Safari in Uganda
While Uganda has no strict dress code, women travellers are advised to dress conservatively.
Comfortable, casual clothes are best. Muted colours and neutral tones such as beige, khaki and green are recommended for game viewing and primate trekking. Bright colours like red, yellow, purple and white are not advisable on safari.
Game drives and primate tracking are usually conducted in the early morning and late afternoon, which can be very cold, especially during rainy season. Warm clothing is recommended for the cooler months, and light clothing for dry season months.
Read more: Complete guide to what to pack for a safari in Uganda
2. A typical safari day In Uganda
The exact makeup of your day will depend on what Uganda safari activities are on offer, but most safari days look (something) like this:
Early morning wake up with tea/coffee and biscuits, or a light continental breakfast
Morning game drive – usually for about 3–4 hours
Morning gorilla trekking – usually 2 to 7 hours sometimes with packed lunch
Morning chimpanzee trekking- typically 2 to 6 hours
Late morning breakfast (brunch) or early lunch in case of game drive
Siesta (some people choose this time for bush walks or excursions to nearby villages)
Mid-afternoon tea and cake
Late-afternoon game drive with sun-downers and snacks, often ending up as a night drive (with spotlights) – usually about 3–4 hours
Dinner and fireside drinks
This routine may change depending on what nature delivers during your stay.
3. Accommodation comfort levels In Uganda
Most accommodation options in Uganda have en-suite and private bathrooms/toilets, hot water, clean bedding, good food and well-stocked bars. Expect the following broad comfort levels:
Budget: This is basic accommodation, usually in very remote areas. Large tents or reed/pole huts are the norm, as are pit toilets and safari/bucket showers. Water is often heated over a fire. Furnishing is basic but caters for your needs.
Midrange: Comfortable furnishings, running hot and cold water, flush toilets.
Luxury: Comparable to 4- and 5-star lodge/hotel standards.
High end: A clear rung above luxury. Furnishings and attention to detail tend to be noticeably superior. Staff members often outnumber the guests.
4. Uganda Accommodation types
The selection of accommodation options in Uganda is vast, ranging from tented camps to luxurious hotels and lodges, and your choice will be influenced mainly by your needs and budget. Here's a guideline for accommodation types that you will encounter:
City hotel/guesthouse/B&B: situated in or near main cities or airport, often used for overnight stays at the beginning or end of your safari.
Safari lodges: situated in or near the national parks, game reserves, or remote wild areas.
Tented camps:
5. Food in Uganda
Quality (and quantity!) of food in Uganda will impress you. Every establishment will have its own style, ranging from sophisticated international dishes to indigenous Ugandan fare.
Expect attention to detail, even with fireside snacks and hors d'oeuvres. Even the most rustic safari camps that cook over coals often put extra effort into producing the most appetizing meals. Please let us know your dietary requirements so we can inform the catering services on your Uganda safari trip about your needs, whether for health or religious reasons.
6. Baggage Restrictions
Many Uganda safari destinations can be accessed by air. Weight restrictions on small aircraft are 15 kg in soft bags for all luggage, including camera equipment. Take these limits seriously.
Let us know if you have excess luggage weight or if you weigh above 100 kilogram because you may need to pay a premium. Pack minimum clothing as safari style is casual, and there is most often a daily laundry service. Use soft luggage so it can be stowed easily in the luggage hold of small aircraft.
7. Laundry Services on Uganda Safaris tours
The majority of hotels and lodges in Uganda offer a daily laundry service, some for a small fee other for free. However, you will be required to wash your own underwear with soap provided by your lodge, or request soap from the lodge manager. Most washing is done by hand, and cultural restrictions in Uganda mean that many safari lodge staff members will not wash other people's underwear.
Please don't hand in your delicate or the very expensive clothing. The laundry process at some lodges can be rudimentary and could cause damage to your clothes. You can plan on a 24-hour turn-around for your washing (though rain delays can occur).
8. Tipping on Safari in Uganda
Often, tipping is a sensitive issue – for the recipient and you. You can tip about US$15–20 per day to our guide/tracker to share between them and about the same for general staff (porters, cooks, cleaners, fire makers, waiters, guards etc) to share.
Some safari lodges in Uganda have an anonymous tipping box for all staff. People travelling in a group often end up pooling tips and presenting this at the end of the Uganda safari. Some prefer to tip directly. An important point to note is that this is entirely at your discretion.
One golden rule: Never tell your safari guide or tracker that you are going to give them a tip depending on them finding certain animals or birds. This is unfair and may pressure them to break the rules to please you. This could cause damage to our environment and wildlife.
Read more about the tips for tipping while on safari
9. Weather in Uganda
Uganda is located on the equator, so year-round fluctuations in temperature are largely insignificant. Expect generally warm weather, although temperatures can drop during and after rainy weather and at night. The hottest months are January and February when the average daytime range is 24°C to 33°C (75°F to 91°F) with peaks of up to 40°C/104°F in the far north.
The south has two Wet seasons: from mid-September to November and March to May, but it can really rain at any time. Pack rain gear during those times. The north has one continuous Wet season from March to November and a more obvious Dry season from December to February.
10. Uganda Wildlife viewing seasons
Wildlife in Uganda is best viewed during the dry season months when there is less vegetation to hinder your view, when animals are more likely to congregate near water sources, and when the trails are less muddy and slippery for gorilla and chimpanzee trekking.
The dry season months are generally more popular with Uganda safari goers, although this is partly because it coincides with the long northern-hemisphere summer break. The prime months for game-viewing and primate trekking tend to be from June to early September.
On the other hand, most animals have their babies during the wet seasons, when there is more to eat and drink. Babies are a delight to watch, and predators can hunt very successfully at this time because the young animals are easy prey.
Birding in Uganda is generally better during the wet summer months, when many Uganda birds are breeding, vocal and visible, and when migratory birds are present.
Photographic tours in Uganda are good all year round – from the vibrant colours and clear air of the rainy months to the smoky air and subtle colours of the dry months. But you should note that your camera equipment may get wet in the wet season and dusty in the dry season.
Further Reading: Best Time To Visit Uganda
11. Children and age limits On Uganda Safaris Tours
Please let us know the age of your children so that we can advise on the best child-friendly safari activities in Uganda and lodges. Some Uganda safari lodges have age restrictions, but well-behaved children over 8 are usually permitted, although some lodges only allow children older than 12. Please be considerate of your fellow guests, as noisy children can disrupt their safari holiday.
There is no upper age limit on Uganda safaris tours. Please let us know your age and fitness level for Uganda safaris involving any form of physical exercise (such as bush walking, mountain climbing, gorilla trekking or chimpanzee trekking). We will then suggest the best options that suit you. The minimum age for gorilla trekking in Uganda is 15 years, and for chimpanzee trekking safaris 12 years.
12. Bugs in Uganda
You advised to carry a good antihistamine cream for your Uganda safaris tours which you can use in case you are bitten by any bugs while on safari (such as tsetse flies, pepper ticks, or sand fleas). Check your body for ticks after every bush walk. If these bites cause discomfort or concern, approach your safari lodge manager or guide for advice.
13. Malaria in Uganda
Malaria is a potentially serious disease which is transmitted by the female Anopheles mosquito. There is a high risk throughout the country except for high-altitude Mountains over 2,000m/6,500ft, including Mt Elgon and the Rwenzoris. All Uganda safari parks are high-risk zones. The highest risk of transmission is during the rainy season months of March to May and October to December.
Please consult your personal doctor for advice on malaria precautions before you safari to Uganda. Your doctor may recommend malaria prophylaxis and other malaria precautionary measures.
When travelling in Uganda, take all precautions possible. Wear trousers long sleeves, socks and apply a good mosquito repellent to any exposed skin; particularly before it gets dark (the anopheles mosquito is active at dawn and dusk).
Always sleep under a mosquito net. Should you experience any combination of fever, headache, nausea, flu-like aches or disorientation while or after a safari in Uganda, get yourself tested immediately – malaria responds best to treatment when detected early.
14. Other Diseases in Uganda
Consult your doctor before travelling to Uganda for advice on necessary vaccinations and precautions for diseases such as yellow fever, typhoid, tetanus, hepatitis A and B, cholera and rabies. Please always carry your "International Certificate of Vaccination or Prophylaxis (ICVP)" (or "Yellow Card") with you as it is mandatory in Uganda.
Further Reading: What Vaccinations Do You Need To Travel To Uganda?
15. Sunburn on Uganda Safaris Tours
The Equatorial African sun in Uganda is powerful and can be harmful. Overexposure can cause sunburns and skin cancer. You are advised to always use sunblock and a wide-brimmed safari hat – especially if you are on foot, in a boat, or in an open safari vehicle.
16. Water in Uganda
It is very important that you drink plenty of water to limit the effects of dehydration on your Uganda safaris tours, especially during the warmer months.
Tulambule Uganda safaris and most Uganda safari lodges provide bottled water. Tap water in Uganda is not safe to drink and don't even use it to brush your teeth. Note that coffee, tea and alcoholic beverages act as diuretics and can contribute to dehydration.
17. Crime and safety In Uganda
Uganda is generally safe to visit and for tourism. It is a politically stable country with securely operated borders. However, Uganda is no different to the rest of the world. If you plan to spend time in a city, take precautions as you would in your home country. Petty theft is common in cities, but physical attacks on tourists are extremely rare.
Safety tips for cities:
Don't wander around the streets after dark.
Ask your hotel about unsafe areas and avoid them.
Leave expensive jewellery at home and wear a cheap plastic watch.
Don't carry cameras and video cameras in full view.
Keep your money and passport in a money belt and out of sight or in the hotel safe.
Dress like a local, or at least casually.
Use your cell phone discreetly, and not while driving.
You will spend most of your Uganda holiday in a relatively remote and wild area where crime of any sort is extremely rare.
Further Reading: Is It Safe To Travel To Uganda in 2023?
18. Money in Uganda
As far as cash is concerned, US Dollars and local currency (Uganda shillings) are accepted in Uganda. Banks and foreign exchange bureaus are available at Entebbe International Airport (the main entry point to Uganda), Kampala city and other main towns. However ATMs do not dispense US dollars notes, you will get only local currency.
Avoid buying Uganda shilling from street dealers. Officials and vendors may not always be able to issue large amounts of change, so please carry small denominations of cash where possible.
VISA and Mastercard are the most widely accepted credit cards, with American Express and Diners only accepted at very few lodges (due to their high fees). Some lodges accept tipping by credit card, but most prefer cash placed in an envelope or in the communal tip box.
Having some Uganda shillings and USD on hand is recommended, however, you will not require large sums of cash while on safari in Uganda as most lodges are all-inclusive unless of course, you wish to do curio shopping (markets will require cash). We advise against using traveller's cheques as they are accepted only by a small minority of restaurants and lodges.
19. Travel Insurance
Travel insurance is vital for travel anywhere in the world, and you should purchase it within 14 days of paying the deposit for your Uganda safari trip. Ensure your travel insurance package covers cancellation or curtailment of the safari, emergency evacuation expenses, medical expenses such as hospitalization, repatriation expenses, and damage/theft/loss of personal baggage, money and goods.
20. Passports and visas
A Uganda visa is required by most nationalities. Additionally, your passport must be valid for at least six months from your departure date. Passports should have a minimum of 2–4 clean pages for visa and entry/exit stamp.
You can also apply for the East African Tourism Visa (Uganda, Kenya and Rwanda) online by credit card. And application must be made to the country where you are first due to visit. You will pay the visa fee of US dollars 50 for a single Uganda Entry visa/Tourist Visa (or US dollars 100 for an East Africa Visa).
Please you have a vaccination certificate for yellow fever. Keep electronic and physical copies of your documents and vital information, as well as a few passport photos, in your luggage. Leave a few with friends at home (passport, insurance docs, bank and credit card details, 24-hour emergency contact number, and contact details of relatives or friends).
Further Reading: Visa Requirements For Uganda: Uganda Visas, Costs 2023
21. Photography
Uganda's spectacular wildlife, birdlife and stunning landscapes are a treat for any photographer. But the choice of camera equipment and also your mobile phone will determine the quality of your photographs.
The best region to visit for a photographic holiday is Western Uganda, where the biggest highlight will be photographing mountain gorillas from just a few metres away in Bwindi Impenetrable National Park. A camera that performs well in low light is ideal, as the forest environment can be quite dark and dense.
A zoom lens (80 – 200 mm is best) is great for getting close-up shots of the gorillas. Ideally, it's best to have two camera bodies with different lenses on each one, as there often isn't any time to change lenses when the gorillas are on the move. Remember to turn your flash off – flash photography is not permitted on a gorilla trekking expedition.
Bring sufficient memory cards and batteries, as these are not readily available. A tripod and beanbag are essential.
Always ask about camera-charging facilities at lodges. Unmanned Aerial Vehicles (drones) are not allowed in most protected areas in Uganda, and we advise that these be left at home.
Please remember to ask permission before taking a photograph of any local person. Speak to your Uganda safari consultant about luggage restrictions and excess luggage for your photography equipment, especially if you will be travelling in smaller planes.
22. Bird watching on Uganda Safaris Tours
Uganda has 50% of Africa's 2,100 total bird species, and you will need to come prepared if you want to make the most of your trip. Buy a good field guide (paper or app) before you arrive in Uganda.
Most Uganda safaris lodges and tented camps stock guidebooks in their libraries, but they are for general guest use. Take the time beforehand to peruse the guidebook and get to know the birds in Uganda. Bring a good pair of binoculars and a notebook.
Some lodges and camp supply a bird list. Most importantly, if you are a birder, remember that your fellow safari travellers may not share your enthusiasm. If you're not on an organised Uganda birding tour, please be considerate when on safari game drives or boat cruises and ask your lodge manager to group you with other birders