Uganda Family Safaris Tours
Adventurous families with a strong interest in the outdoors will enjoy Uganda family safaris. Imagine the thrill of taking your children to track wild gorillas or chimpanzees on foot and coming face-to-face with these extraordinary animals in their lushly forested home.
Or being with your family on a savannah game drive in search of African elephants, Buffalos, Giraffes, Zebras, Antelopes and Tree-climbing lions. Or on a boat cruise on a river filled with crocodiles and hippos.
Its true, a Uganda safari adventure is not for everyone. And if your children would prefer relaxing on a beach to heading out on a nature trail, then you might want to think twice about taking them on safari to Uganda. But if they are interested in the outdoors and love wildlife, a Uganda family safari will be the holiday of a lifetime.
Uganda Family Safaris Packages
These packages ideas give you a starting point for what a family safari in Uganda could entail. Consider them just as inspiration, since each our safari tours in Uganda is designed uniquely for you.
FAQs About Uganda Family Safaris
1. Are Uganda Family Safaris Recommended?
That depends on the family's interest. Uganda may not be a conventional family holiday destination, as it lacks swimming beaches, amusement parks, resort-style hotels and other such child-friendly amenities. However, the country has a lot to offer adventurous, sociable families with a strong interest in the outdoors and wildlife.
As safari destinations go, it is mainly attractive to families because it offers more opportunities than most to vary the usual regime of twice-daily game drives with boat cruise safaris and guided walks. Generally, Uganda is probably better suited to families with teenagers than to those with younger children.
2. How Old Should My Children Be To Go On A Uganda Safari?
Two fixed age restrictions relating to safari in Uganda with kids are that children below the age of 15 are not allowed to undertake gorilla trekking, whereas those under 12 are not permitted to track chimpanzees.
The Uganda Wildlife Authority (UWA) may make an exception for children a few months short of the relevant birthday, but the paperwork needs to be completed ahead of time.
It is also the case that whilst most Uganda safari lodges and camps are open to everyone, others (typically at the luxury end of the scale) impose a minimum age limit ranging from 4 to 12 years old. Aside from those restrictions, kids of any age are welcome to go on safari in Uganda, although the experience tends to be more rewarding for older children.
Generally, children of a preschool age lack the focus and interest to really enjoy safari game drives and similar safari activities. For those between 6 and 10 years of age, a lot depends on the individual child's interest levels and boredom thresholds.
Most over-10s absolutely love being on safari and are fascinated by the wildlife, but again this depends on the temperament of the individual child, so some parental judgment is necessary.
Children of any age who are prone to whining, tantrums or crying are unlikely to be much fun on a Uganda safari holiday, especially if you do group safari activities with non-family members.
3. Which Parks Are Recommended For Uganda Family Safaris?
Assuming that all members of the family are old enough to go mountain gorilla trekking, the two Uganda Gorilla parks where this can be done are Bwindi Impenetrable Forest and Mgahinga Gorilla National Parks, both of which are in the far southwest.
An absolute minimum of 3 days is required for a gorilla trekking tour in one of these parks using the capital city of Kampala or nearby Entebbe as a springboard for your safari.
Most travellers spend longer in the area, however, and combine gorilla trekking with a more traditional safari in the beautiful Queen Elizabeth National Park (home to lion, elephant, buffalo, hippo and the like) and possibly chimp trekking in Kalinzu Forest, Kyambura Gorge, or Kibale Forest National Park.
For those families whose children are too young for gorilla trekking adventure, a recommended option is a safari to Murchison Falls National Park, which is home to four of Africa's Big Five animals (rhino are absent) and offers a great combination of safari game drives and relaxing boat safaris on the historic Nile River.
Murchison Falls has the world's strongest waterfall and is easily combined with chimpanzee trekking in the nearby Budongo Forest and a visit to Ziwa Rhino Sanctuary, which is home to Uganda's only wild rhinos.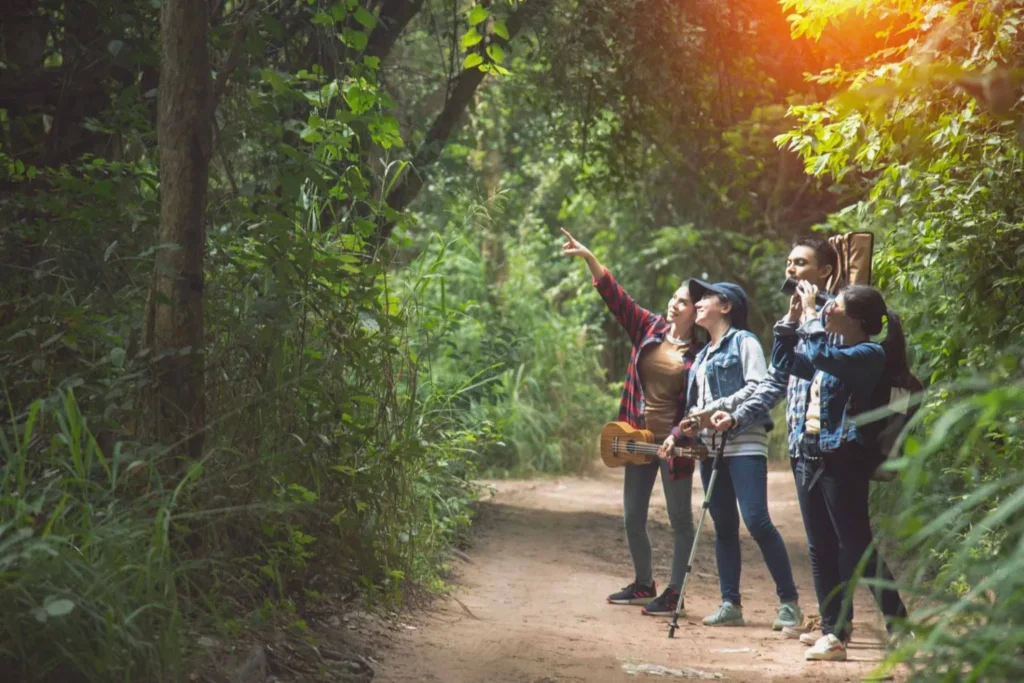 4. Is It Safe To Go On A Uganda Safari With My Children?
Generally, Uganda is a safe country to visit. In most parts of the country frequently visited by tourists, there is little to worry about in terms of crime and security.
The exception may be the capital Kampala, where there might be some crime like any large city. Healthwise, your main concern, traveling to Uganda with or without children, should be malaria.
This is particularly the case if any member of your family is unable to take antimalarial drugs (a category that includes breastfeeding mothers and children under the age of 4).
Wildlife in Uganda is not generally a major cause for concern, but parents should be extra cautious with young children when staying in safari camps and lodges in Uganda national parks.
You have little to worry about with children on safari game drives and boat trips, but if you track mountain gorillas, chimpanzees, or take part in other hikes, it is important that you and your children obey the instructions /guidelines of your guides at all times.
5. What Should We Pack For Our Children When Going On A Family Safari In Uganda?
At Tulambule Uganda Safaris, we secure the proper accommodations for a family traveling with kids, including interconnecting rooms or cottages with multiple rooms so families can stay together.
We will also attempt to find the safari lodges that have spacious rooms to allow for extra beds for the children. You can expect that if a camp, lodge or hotel offers child-friendly rooming options, they'll also provide special menus for kids at times that are most suitable for young guests.
Our goal is to make your family vacation both comfortable and cost-effective within your travel budget. Note that accommodations typically allow kids two years and under to stay for free, whereas those between the ages of 3 and 12 years stay at a discounted rate when sharing a room with 2 adults. The same applies to national park fees, flight and road logistical costs.
6. What Are The Best Times For Uganda Family Safaris?
The best time to visit Uganda for a family safari is during the two dry seasons. The first dry season lasts from June and Early September, overlapping with summer vacation in North America and Europe.
The December holidays are also an ideal time for Uganda family safaris, as the weather is again dry in the later parts of the month – and you'll get a break from the harsh winters in the northern hemisphere. If you're considering combining your Uganda family safari vacation with visits to neighboring countries like Tanzania and Kenya, we can make that happen for you.
The Great Migration of wildebeests, zebras, and gazelles in Masai Mara National Reserve and Serengeti National Park are an incredible sight and will ingrain the need for conservation in the future custodians of the Earth.