Our Maldives holiday packages or Maldives tour packages take you to the beach holiday destination of your dreams. Located in the Indian Ocean, Maldives is tropical South Asian island country.
Lying to the southwest of India and Sri Lanka, this stunning country is renowned for countless paradise islands ringed by silky white sand beaches, swaying palms, clear azure waters and high-end water villas that attract all kinds of travellers varying from families to friend groups and solo travellers to newlyweds.
Maldives is the smallest country in Asia. Malé is the capital and the most populated city, traditionally called the "King's Island", where the ancient royal dynasties ruled from its center. Read on to know more about our Maldives tour packages offering you an unmatched international holiday vacation.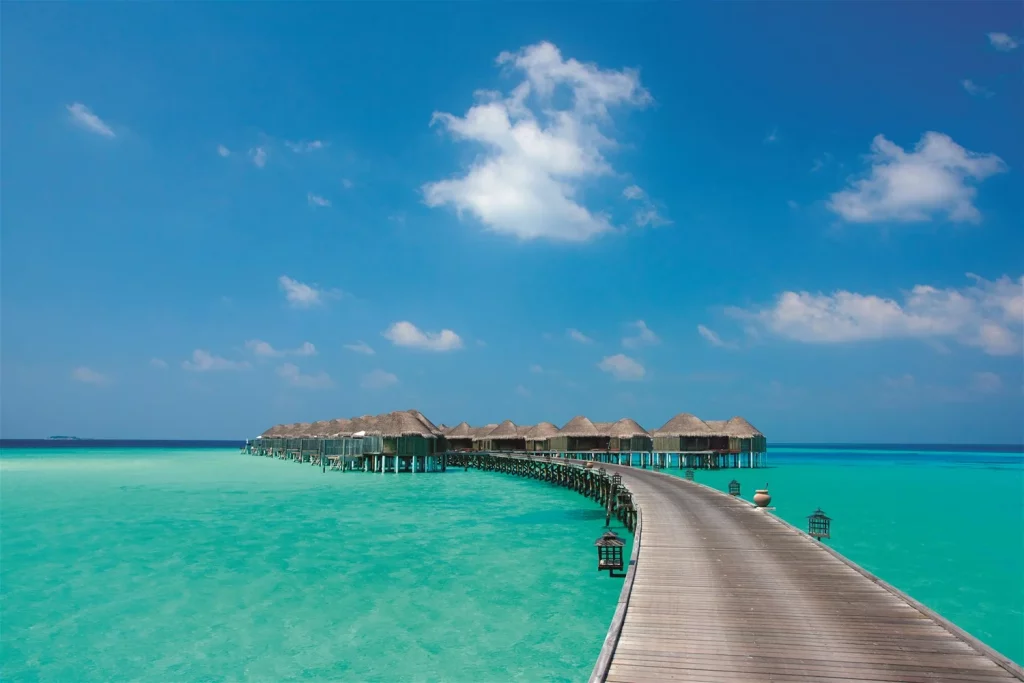 Romantic Getaways | Honeymoon in Maldives
The Maldives is a top choice for honeymooners and couples seeking a romantic escape. With more than 1,100 islands, almost all of which are covered in lovely beaches and swaying coconut palms, the nation is the definition of a remote, island paradise.
Couples stressed after having planned and executed their wedding ceremonies will love how relaxing and stress-free a Maldives honeymoon can be. Maldives is pure luxury: many hotels offer private butlers, catamaran cruise, over-the-water villas and even submarines available for their guest.
Your room will likely be perched over the clear waters of the Indian Ocean. Each resort is typically on its own tiny island. It won't take more than 5 minutes to walk from your room's infinity pool to the gourmet restaurant. It is also often all-inclusive: don't stress about carrying your wallet as many resorts are all-inclusive, making it easy to facilitate a romantic champagne toast whenever it strikes your fancy.
Finally: whatever ocean-related activity you like, you will find in the Maldives. Nearly all resorts in Maldives offer water sports, boat tours, snorkeling, scuba diving, fishing trips, kayaking, parasailing, submarine tours, and the list goes on. Non-motorized water sports are often included in inclusive hotel packages.
If you prefer an adventurous honeymoon, you may choose an extended layover to explore Dubai before visiting Maldives. There, you will find high-end dining and luxury shopping boutiques, world-class hotels, as well as bragging rights that you have witnessed the tallest building in the world, Burj Khalifa.
Maldives Holiday Packages | Maldives Tour Packages
The Maldivian Archipelago is often quoted as turquoise heaven for those who love oceanic getaways and our best Maldives holiday packages focus on catering to the same. From Male to Addu Atoll, explore beyond the gorgeous white sand beaches, dive in to see the vibrant marine life, and unwind with luxury stays.
Is It Possible To Travel The Maldives On A Budget?
The Maldives has established a reputation as a luxury holiday destination. However, in recent years, travelers on tighter budgets have been welcomed as well.
Since the first tourists arrived on its immaculate coral sand shores in the late 1970s, the country has built an image as an exclusive collection of private islands affordable only to certain people. It was not until 2008, when the Maldives' first democratically elected government eliminated the laws requiring all foreign visitors to stay in resorts, that budget travel became genuinely possible.
This change allowed licensed locals to open their own guesthouses on so-called "local islands" – atolls where Maldivians live, as opposed to the self-contained resorts, each effectively a private island that exists in almost total isolation from day-to-day life in the country. Here are some simple tips for keeping your costs down in a destination with a well-earned reputation for luxury;
Visit during the off-peak season (which begins May and mid October)
Look for deals on flights and accommodation well in advance to secure lower prices
Stay on local islands instead of expensive private islands
Eat at local restaurant and avoid high end resorts
Utilize public ferries and local transport options instead of speed boats which can be costly.
Try to pack everything you'll need during your stay to avoid inflated prices in Maldives
Stay in a guesthouse rather than a resort
Is It easy to get a visa for Maldives?
Yes, Travelers of all nationalities can get a Maldives tourist visa upon arrival in the country. And the Maldives immigration authorities don't put many hurdles in the way of tourists arriving in the country. Single-entry tourist visas valid for 30 days are granted to visitors from every country in the world upon arrival. There is no visa fee for Maldives immigration; you'll only need to meet a few not-too-onerous conditions below:
You'll need a machine-readable passport valid for at least one month beyond the date of arrival
You will need proof of booked accommodation, plus tickets for onward air travel
You will need evidence of sufficient funds for the duration of your trip (US$100 plus US$50 per day of your stay should suffice).
In practice, proof of funds is rarely checked for those with a resort booking. But be prepared for immigration officers to ask to see cash or a bank statement.
You'll also need to fill in a Traveler Health Declaration form no more than 24 hours before departing for Maldives. The form can be submitted, via the government's Imuga portal.
Note: Tourist visas are strictly for tourism. If you're found to be working in Maldives, or overstay the 30-day limit without prior permission, you can be fined and deported.
You can book your flight to Maldives through Skymate Tours and Travels.
Book your flight tickets in advance and save on the Maldives tour cost. International flights that are available to commute to this serene island country include Qatar Airways, Fly Dubai, and Emirates.
For more information you can Call or Whatsapp us at +256-782-915-447 or contact us via Email (info@tulambule.com). Flights to Maldives land at Ibrahim Nasir International Airport in Male.
Recommended Places To Visit in Maldives
Malé, the capital city of Maldives, is a bustling island in the Indian Ocean. Behold colourful building and stunning mosques, take a leisurely walk along the harbour and explore the popular markets nearby – where you can sample fresh fruits, fish, and other delicious local produce.
Location: North Malé Atoll
Highlight: Republic Square
Best for: Culture and nature
Maafushi is fun-loving Island that is popping with colour and cocktails. The island has a handful of lovely beaches, floating bars, a fierce diving scene and is at the heart of Maldives' bustling solo travel scene. It is also highly affordable – perfect for any island hoppers on a budget.
Location: Kaafu Atoll
Highlight: Beach
Best for: Water sports and bars
Hulhumale is a human-made island and a feat of urban planning and modern architecture. The island was created to deal with Malé's growing population, but thanks to a golden-domed mosque, clusters of shopping malls and restaurants and a unique cityscape – it's well worth a visit.
Location: North Malé Atoll
Highlight: Beach
Best for: Watersports
Imagine a white sandy beach fringed by lush palm trees on one side, and aqua-coloured water on the other. Dhangethi Island is small in size, but its remote location and small population make it one of the most attractive islands in Maldives. It is perfect for crowd-free diving and snorkelling.
Location: Alif Dhaal Atoll
Highlight: Beach and coral reefs
Best for: Water sports and nature
If you want the fantasy island experience – Rasdhoo is it. Mostly uninhabited and abundant with nature, picture-perfect beaches and radiant seas, it is basically heaven on earth. Explore Rasdhoo's stunning coral reef, taste the local cuisine and take a stroll through nature.
Location: Alif Alif Atoll
Highlight: Beach
Best for: Watersports and nature
best things to do in the Maldives
If you have chosen a Maldives Holiday package, chances are you want do some serious chilling. The bright-white super-soft sand beaches in Maldives are the perfect relaxation spots, not only for honeymooners and couples but also those who are just looking for a soothing holiday! The Maldives has most beautiful beaches in the world. The beaches are nestled amidst beautiful coral islands.
2. Experience Local Island Life
Luxury resorts may be utterly idyllic, but they exist entirely on their own private-islands. You will need to visit a "local island" like Hithadoo, Huraa, or Maafushi in order to immerse yourself in true Maldivian culture.
There, you can stay at family-owned guesthouses, purchase fresh mahi mahi directly from fisherman, and stroll down whitewashed streets as the call to prayer draws in thousands of people heading to mosques. Remember – Maldives is a is a Muslim country; bikinis and speedos are fine at many hotels, but modest clothing is the norm elsewhere.
3. Explore the capital, Male
Most people who go on a Maldives holiday totally bypass Male, possibly due to the fact that it's the opposite of the typical tropical island aesthetic. Male is one of the most densely populated cities in the world, cramming more than 200,000 people into just 3.2 square miles.
However, this capital of Maldives is a must inclusion in the Maldives holiday packages. It is famous as the King's Island as it used to serve as the abode of the Royal kings. Its bustling atmosphere, cultural spots, and high-end accommodation options make it a perfect place to be during your holiday in Maldives.
4. Spot dolphins on a sunset cruise
If you are on a holiday in the Maldives, this is the best way to witness the beauty of this gorgeous island nation. Embark on a boat cruise or a local dhoni. It is a traditional small boat made of wood. Watch the breathtaking sunset during your cruise journey.
It is a classic experience for honeymooners, but even if you are not celebrating recent marriage, you may find you get caught up in the romance of the moment when you spot a playful pod of spinner dolphins surrounding your boat. These adorable creatures are plentiful in Maldivian waters and will often pursue boats, corkscrewing out of the water seemingly just for the fun of it.
5. Sample Maldivian cuisine
The Maldives may have fairly gained a reputation for idyllic escapes, but its culinary landscape is also making waves with travellers. Seasonality is a given, and flavours and inspiration have been plucked from India, Sri Lanka and eastern Asia, the result of ancient trade routes between the Maldives and its neighbors.
Parasailing is a water activity wherein a person is attached to a specially designed parachute which in turn is attached to a vehicle (usually a boat or a truck). As the vehicle moves it tows the parachute causing the person to glide high in the air. Despite being touted as an adrenaline sport, parasailing above the Maldives' dreamy atolls is actually utterly peaceful – just remember to hold on tight to your camera.
Famous for having the best waters in the world, Maldives is, without a doubt, the best place on earth to go scuba diving. With more than 1000 islands making this archipelago a paradise, it is assumed that the individual scuba diving sites would probably be in the thousands too.
8. Swim with whale sharks
If swimming with whale sharks is on your travel bucket list, you're in luck. The Maldives is one of the best places in the world to spot them year-round – especially if you make Alifu Dhaalu Atoll (Southern Ari Atoll) your base. Most resorts and guest houses offer whale-spotting snorkel trips and dives; choose a reputable operator that puts the wellbeing of the whales first and remember to keep a good distance away from the gentle giants if you have the good fortune of spotting one.
FAQs About Maldives Holidays
1. How much does a holiday to Maldives cost?
On average, a Maldives holiday lasting a little over a week will cost you approximately $170 USD per day. Prices per day start at around $100 USD per person –and some tours cost around $230 USD per day, per person.
2. What month is cheapest for Maldives?
The peak season in the Maldives runs from November to April, and this is when flight ticket prices rise as well. For lower Maldives holiday prices and package deals, the cheapest months to visit are in the off-season from May to October.
3. What is the ideal itinerary for 7 days in Maldives?
If you have 7 days for the Maldives holiday, don't try to see everything, instead spend a couple of days in the following destinations – Malé, Maafushi and Fulidhoo – and soak up the blissed-out pace of island paradise.
4. What is the ideal itinerary for 14 days in Maldives?
Fourteen days is a significant amount of time for a holiday in Maldives. You can explore a lot more and relax between hopping from one island to the next. We recommend visiting each of the following places for two to three days: Malé, Furanafushi, Maafushi, Fulidhoo, and Hulhumale.
5. Do people speak in English in the Maldives?
In regions like Malé, you will find that locals speak the English language. In resorts and other places that attract people of different dialects, you will find English is also quite standard.
6. Is the Maldives a safe destination to travel to?
The Maldives is a safe destination for tourists to visit. The crime rate and incarceration rates are pretty low. However, petty thefts and robberies do happen, especially in the capital city Malé, so apply some basic precautionary measures, and your holiday should go smoothly.
7. How can I book a Maldives Holiday Package on Tulambule?
Browse through our selection of Maldives holiday packages based on your preferences, and if you have several that you like, compile a wish list with your preferred options. If you are struggling to make a decision, give our Travel Experts a call, and we can help you figure it out.