Best Weekend Trips from Kampala, Uganda
Enjoy the Best Weekend Trips from Kampala, Uganda
If you are planning on spending any length of time in Kampala City – perhaps because you are living, studying, or working there – there's definitely going to come a point when you'll feel the need to escape the city and see some more of Uganda. This can especially be done on the weekend; Saturday and Sunday.
Uganda is filled with all sorts of weekend travel destinations, whether you're looking to just relax and unwind, explore budget-friendly destinations while enjoying some fabulous scenery.
Read on for our picks for the best weekend trips from Kampala, along with tips for what to do while you're there. Grab your weekender bag and set out on one of these top cheap weekend getaways across Uganda.
List of the Weekend Getaways in Uganda
1. Entebbe
For anyone looking for a cheap and relaxing weekend trip, Entebbe is one of the most obvious holiday destinations in Uganda.
Situated on the shores of Africa's largest lake – Lake Victoria, it's just an hour drive away from Kampala (traffic permitting!). If you can leave early on a Friday afternoon to beat the traffic you can easily spend an idyllic weekend escaping the noise and bustle of the city on the shores of the lake.
If you're in a couple, this is also a great place for a romantic getaway in Uganda. There are plenty of places to stay, plus loads of bars, restaurants and things to do.
You can wander in the Entebbe Botanical Gardens, take a sunset boat trip on Lake Victoria, relax at a beach, visit the Uganda Reptile Village, or go shoebill watching in Mabamba Swamp.
Entebbe is also home to the Uganda Wildlife Education Centre, also known as Entebbe Zoo, a wildlife sanctuary where they care for animals that have been rescued from poachers or pet smugglers.
You can wander round by yourself, or do the incomparable Behind the Scenes tour where you'll get to meet some of their best-loved animal residents in person. You can also tour Ngamba Island Chimpanzee Sanctuary. Read More: Things to Do In Entebbe
2. Jinja
Jinja is one of the top tourist destinations in Uganda and a hugely popular place for a weekend trip from Kampala, principally because of its reputation as the adventure capital of Uganda.
The town is located about 2 to 3 hour drive east of Kampala on the banks of the world's longest river, River Nile.
Before arriving in Jinja you can enjoy stops at Sezibwa Falls for a short walk and Mabira forest which is great for nature walks to see monkeys and also offers a thrilling zip line adventure.
Jinja is a mecca for thrill-seekers of all kinds, tempted by the draw of the river's fierce white water. You can enjoy white water rafting, kayaking, tubing the Nile, sport fishing, bungee jumping, quad biking, mountain biking, and horseback safaris.
Read More: Top Things to Do In Jinja in 2023
You can also take a relaxing boat cruise to the famed 'Source of the Nile', or just chilling out and enjoying the buzz of the town.
3. Sipi Falls
If you are looking for a weekend getaway from Kampala that's a bit more active, Sipi Falls could be a great option.
It's a little further away than Entebbe or Jinja – taking about 5 hours by car – but if you're able to make a long weekend of it it's a great way to get away from the sweaty heat of the city and enjoy some fresh air and beautiful scenery.
Situated at 1,775 m above sea level in the foothills of Mount Elgon, Sipi Falls is one of the most amazing tourist attractions in Uganda, especially amongst hikers and nature lovers.
There are loads of different walks you can do, but the well-trodden is the main route to see the three stunning waterfalls after which the place is named.
Sipi is also a coffee-growing region, so there's a chance to take a tour of a coffee plantation, or you can also do bird-watching, abseiling, or if you're feeling particularly energetic, go for a guided run.
Here is our Sipi Falls safari trip package you can take a look;
The 3 Day Sipi Falls Tour let you explore Kapchorwa region and amazing Sipi waterfalls. The Sipi Falls is a…
If you are a lover of the outdoors and would like a short trip out of Kampala then this 2 Days Jinja Tour & Sipi Falls Hike package is the perfect trip to book.
4. Lake Mburo National Park
Roughly 3 to 4 hours from Kampala in the opposite direction, towards the west, is Lake Mburo National Park, one of the closest National Parks to the city.
Just as with Sipi Falls, it's a great place to go if you can get Friday or Monday off and take a long weekend trip from Kampala. You can also leave early on the Saturday morning, stay one night, and come back the following evening.
Lake Mburo is the smallest of Uganda's savannah national parks and is home to 350 bird species as well as 68 species of mammals including zebras, hippos, buffalo, and various antelopes. There are leopards and hyenas in the park too, but sadly no elephants or lions.
Here, you can enjoy a boat cruise, game drives, a game walk, bird watching, horseback safaris and cycling tours inside this savannah park. You can also visit the nearby Igongo Cultural Centre and Museum in Mbarara.
On the way back you can also stop off at the equator, watch a fascinating demonstration of water going down a plughole and take that all-important photo.
Here is our Lake Mburo safari trip package you can take a look;
5. Kibale Forest National Park
One of the most amazing things you can possibly do during a trip to Uganda is spend time with some of the country's most celebrated residents: its primates.
While trekking to see the mountain gorillas is the number one attraction, visiting Kibale to see the chimpanzees is just as thrilling. Not to mention that it's half the price, and doable in a long weekend getaway from Kampala.
There are around 5700 wild chimpanzees living in Uganda, and about 1500 of them are found in Kibale forest. The wild chimps have habituated to human presence.
Chimp tracking involves walking with a guide into the forest, listening for calls until the chimpanzees are located, and then spending as much time as possible with them before the guide tears you away again.
If you're lucky, they'll have come down to the ground, where you may well be able to get within 10 metres of these beautiful animals. It's a truly magical experience.
Chimp sightings are not guaranteed, of course, but the odds are above 95%, though they may be up in the trees rather than at ground level.
A chimp tracking permit costs $200 for a non-Ugandan resident for a half day, or $250 for the full day chimp habituation experience, during which you can get much closer to the chimps, in a much smaller group.
Read More: Chimpanzee Tracking in Kibale
It takes about 6 to 5 hours by road to get to Kibale, so although it's a bit of a trek you could easily get there by early afternoon on the Friday, do a cultural visit or birdwatching walk in the afternoon, see the chimps on the Saturday, and head back to Kampala after lunch on Sunday. Here is our Kibale Forest safari trip package you can take a look;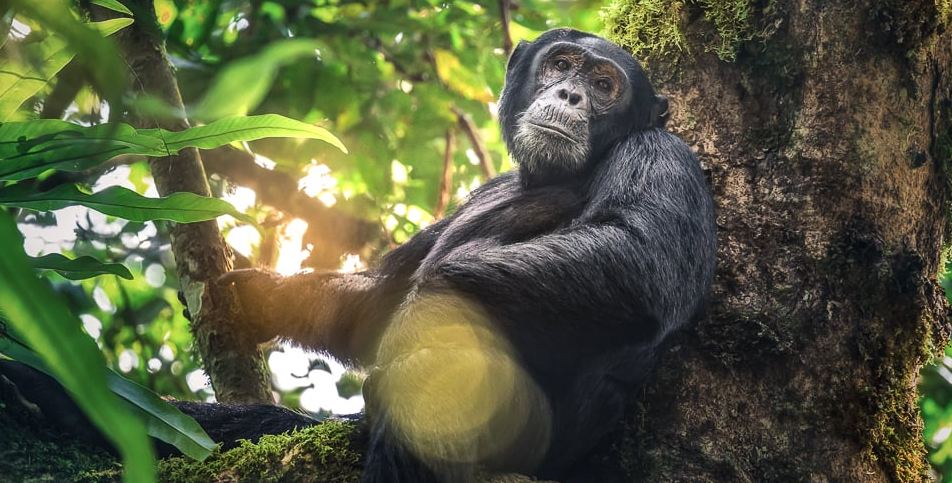 This affordable 3-Day Kibale Chimp Trekking Tour takes you on a rewarding journey to Kibale Forest National Park in western Uganda to see wild chimpanzees…
Our 2-day chimp trekking adventure takes you to Kibale Forest National Park to track wild chimpanzees on foot. And you'll…
6. Ziwa Rhino Sanctuary
Located about three hours north of Kampala, Ziwa Rhino Sanctuary is one of the top tourist attractions in Uganda and the only place in the country where you can see rhinos in the wild.
And not only can you see them; you can get incredibly close to them too as you track them on foot. Rhinos were declared extinct in Uganda due to poaching in 1983.
In 1997 Ziwa Rhino Sanctuary was established to reintroduce them, and today, thanks to a successful breeding programme they now have 32 rhinos, including several babies.
Ziwa is easily doable in a weekend, and you can also stay overnight at the Sanctuary for that extra personal experience. Many people take a long weekend and combine a trip to Ziwa with a visit to Murchison Falls National Park
7. Murchison Falls National Park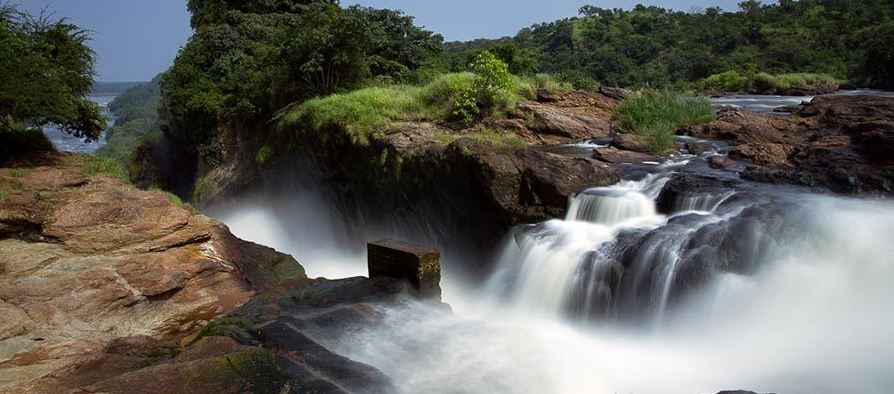 Carry on north from Ziwa, and after another 1-2 hours you'll come to Murchison Falls National Park, which is arguably Uganda's best, and is certainly its most popular park and a fantastic place for a weekend trip from Kampala.
Murchison combines the best of Uganda – stunning scenery, amazing wildlife, and of course the famous Murchison Falls – the world's strongest waterfalls: where the path of the River Nile narrows to a 8-metre gap and the full force of the frothing water surges through this slim fissure and plunges over at 300 cubic metres a second.
In two days you can easily visit the Top of the fall, take a boat ride along the river, and do a game drive in the park. If you make it a long weekend you'll have time to spend a few hours at Ziwa on the way there or back too.
Here are our Murchison Falls safari trip packages you can take a look;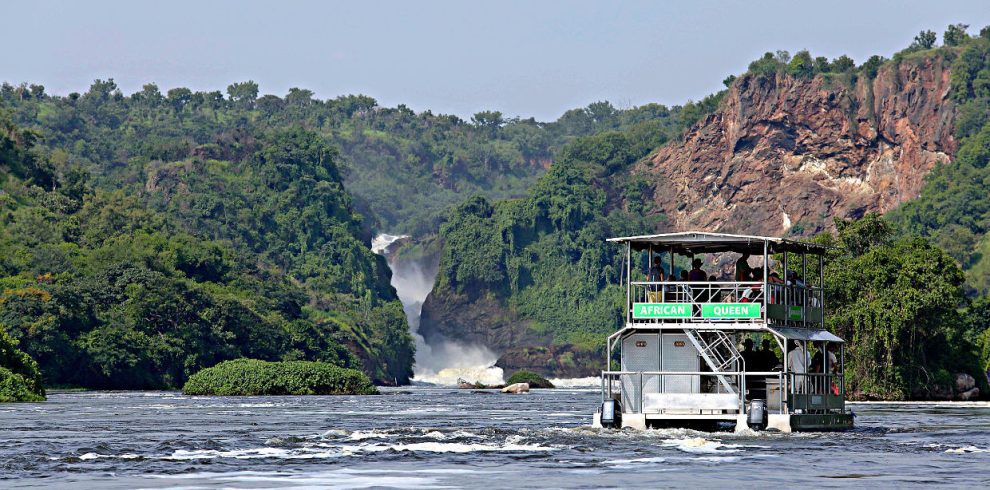 2 Days Murchison Falls Safari: Overview Book this 2 Days Murchison Falls safari if you're looking for a rewarding safari…
3 Days Murchison Falls National Park Tour This short and affordable 3 days Murchison Falls safari in Uganda takes you…
8. Queen Elizabeth National Park
The Queen Elizabeth National Park is located a long distance from Kampala, but it is also a great place for a quick weekend escape.
The national park is located in southwestern Uganda. It occupies an area of 1978 km2 in a region of rolling plains, east of Lake Edward and on the southern foothills of the Rwenzori Mountains.
The park is known for its wildlife; among the species are hippos, elephants, leopards, lions and chimpanzees. It is now home to 95 species of mammals and over 600 species of birds.
Here is our Queen Elizabeth safari trip package you can take a look;
This 2 Day Queen Elizabeth Safari is recommended for those who have tight business schedules or need a great weekend…
You can book this 3 Day Queen Elizabeth National Park Safari in Uganda and experience one of Uganda's best scenery…
Our short 4-Day Murchison Falls Wildlife Safari in Uganda offers you a decent chance of seeing all the Big 5…
5. Kalangala Ssesse Islands in Lake Victoria
Looking for a relaxation vacation on the weekend, the Ssesse Islands are by the best destination to think of. Located in the middle of Lake Victoria, Ssese is an archipelago of 84 islands.
Some of them have been have been developed for tourism with beautiful cozy resorts, lovely palm-fringe white sand beaches, boat cruises, nature walks, bonfire and relaxation.
The best developed island is the main Bugala Island that has nice beautiful, the most popular being the Brovad Sands Beach Hotel, and a forest for nature walks to spot monkeys and other wildlife. Ssese Islands can be reached by a ferry from the shores at Entebbe to Bugala and it is a 3 – 4 hours
Here is our Ssese Island trip package you can take a look;
This 3 Day Kalangala Ssese Islands Tour takes you to Ssesse, a lush archipelago of 84 secret tropical islands along the northwestern shore of Lake Victoria.