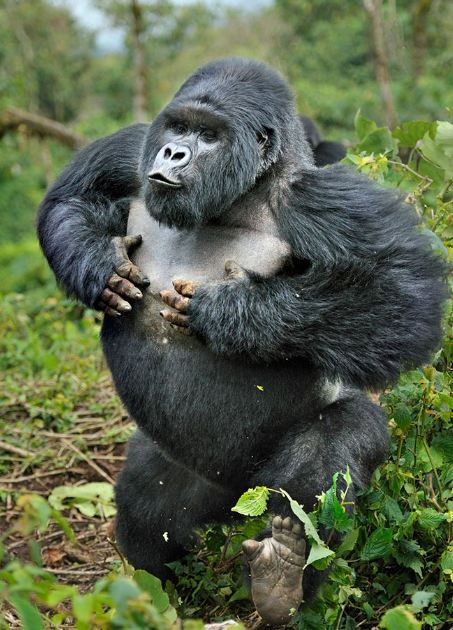 Uganda Gorilla Safaris | Gorilla Trekking Tours For 2023/2024
Are you looking for pocket-friendly, value-for-money Uganda gorilla safaris or gorilla trekking tours in 2023/2024?
Speak to one of our Uganda safaris experts for inspiration or friendly advice.
We organize customized Uganda gorilla safaris. We take you to the tropical rainforest jungles of Bwindi and Mgahinga to see the mountain the largest and most charismatic of the great apes. These gentle apes are so closely related to us (the difference in our DNA is only 1.5%).
Mountain Gorillas are also highly endangered species and naturally restricted to a niche area of forested highlands. It is estimated that only 1063 existed in the entire world. Bwindi Impenetrable Forest is known to possess half of the world's mountain gorilla population.
Other gorillas reside in Rwanda and the Democratic Republic of Congo. The gorilla habitat is small and shrinking because of overpopulation.
The income derived from gorilla trekking tourism is crucial to secure their future. By booking a Uganda gorilla tour, you have the opportunity to contribute to the fight for their survival. More About Trekking Gorillas in Uganda
Uganda Gorilla Safaris Packages
Our Uganda Gorilla Safaris packages take care of all the hustle and bustle of safari tours in Uganda. We process your Uganda gorilla trekking permits and entry fees.
We put together your itinerary and transfers. And we make sure you're booked in the best accommodation facilities/Uganda safari lodges. Besides gorilla trekking, most of our Uganda gorilla tours packages feature other safari experiences. You can enjoy safari game drives and boat cruises in savannah national parks of Uganda.
You can also go chimpanzee tracking in Kibale Forest National Park, trek the Rwenzori Mountains, raft on the Nile River, relax at scenic Lake Bunyonyi or take a community tour to learn about the people and culture in Uganda.
More Uganda Safari Packages Featuring Gorilla Trekking
14. Questions About Uganda Gorilla Safaris
1. What Is Gorilla Trekking?
Gorilla trekking is a hike into the thick forests with an experienced local guide in search of a family of habituated wild gorillas. Gorilla trekking is awesome and leaves tourists with unforgettable story to narrate in life. This activity is currently available in three African countries of Uganda, Rwanda and DR Congo.
2. Where To See Gorillas In Uganda?
Gorillas in Uganda are found in Bwindi Impenetrable Forest National Park and Mgahinga Gorilla National Park. Bwindi is the best place to see gorillas in Uganda. The park is inhabited by about 500 individual gorillas, known as the Bwindi population, which makes up half of all the Mountain Gorillas in the world.
3. When Is The Best Time To Trek Gorillas?
While Uganda gorillas can be trekked throughout the whole year, drier months of June, July, August, and early September then December up to February are the most preferred.
4. How Much Is A Gorilla Permit In Uganda?
Currently a Uganda gorilla permit cost USD 700 per person for foreign non-resident visitors and UGX 250000 for East African Citizens. Read more about Uganda gorilla trekking costs.
5. When Should I Book A Uganda Gorilla Permit?
We advise you to book your Uganda gorilla permit at least three months in advance. This is because of the shortage most especially during high season. You can contact us with the date when you intend to book Uganda gorilla safari. And we will advise availability of gorilla permits on that day.
6. What Is Included With The Gorilla Permit?
A Uganda gorilla trekking permit allows you one hour with gorillas. The cost of the permit includes park entry fees and services of park the pack ranger guides who will escort you to the forest.
7. Is Gorilla Trekking Worth The Money?
Yes, gorilla trekking really is a bucket list experience that naturalists from all over the world dream of doing! It has proved one of best Africa wildlife experience according to TripAdvisor Reviews. It is worth the effort, time and money spent.
8. How Difficult Is Gorilla Trekking In Uganda?
Trekking gorillas in Uganda can be easy, moderate, or difficult. It depends on your fitness levels and the movement of the gorillas that day and their general location across the mountains.
The gorilla trek may involve 2 to 7 hours of hiking uphill and downhill in hot and humid conditions and through thick tangles of vines, roots and stinging nettles.
9. What Are The Chances Of Seeing Gorillas?
We can gladly confirm that chances of seeing gorillas in Uganda are 99%. The truth of the matter is that gorilla trekking in Uganda is so organized in a way that there is an advanced team of trackers who wake up every morning to find where these gorillas are.
10. What Is The Age Limit For Gorilla Tracking?
The age limit for gorilla tracking in Uganda is 15 years. For more information about Gorilla tracking Uganda age limit, contact Tulambule Uganda safaris.
11. What to Pack for a Uganda Gorilla Trekking Tour?
We advise trousers; long sleeved shirts or blouses, long socks to enable you tack in your trousers, garden gloves, a hat, sun glasses, hiking boots, insect repellents and some energy giving foods.
Read More on What To Wear For Gorilla Trekking
12. How Many People Are Allowed To Trek A Gorilla Family?
A maximum of 8 people are allowed to trek or visit a given gorilla family. Bwindi has about 22 habituated gorilla families and Mgahinga has one habituated family.
13. Is Gorilla Trekking Safe In Uganda?
Yes –gorilla trekking Uganda is safe. And Uganda is arguably one of the safest countries to visit in Africa. The local people are warm and welcoming towards visitors. Also, gorillas are not dangerous animals, despite their size, fearsome appearance, and unfair reputation. They are even vegetarians (predominantly).
14. Is Uganda Or Rwanda Better For Gorilla Trekking?
Both are great options, but which is best depends on your needs. Read more about our guide on gorilla trekking Rwanda Vs Uganda.