Uganda Gorilla Safaris | Gorilla Trekking Uganda, Bwindi
Are you looking for pocket-friendly, value-for-money Uganda gorilla safaris or gorilla trekking Uganda safaris in 2023/2024? Speak to one of our Uganda safaris experts for inspiration or friendly advice. We organize customized Uganda gorilla safaris.
We take you to the tropical rainforest jungles of Bwindi Impenetrable National Park and Mgahinga Gorilla National Park to see wild mountain gorillas – the largest and most charismatic of the great apes.
These gentle giant apes are so closely related to us (the difference in our DNA is only 1.5%). Mountain Gorillas are also highly endangered species and naturally restricted to a niche area of forested highlands. It is estimated that only 1063 existed in the entire world. Bwindi Impenetrable Forest is known to possess half of the world's mountain gorilla population.
Other gorillas reside in Rwanda and the Democratic Republic of Congo. The gorilla habitat is small and shrinking because of overpopulation. The income derived from gorilla trekking tourism is crucial to secure their future. By booking a Uganda gorilla tour, you have the opportunity to contribute to the fight for their survival.
Our Best Selling Uganda Gorilla Safaris Packages
Our Uganda Gorilla Safaris packages take care of all the hustle and bustle of safari tours in Uganda. We process your Uganda gorilla trekking permits and entry fees. We put together your itinerary and transfers.
And we make sure you're booked in the best Uganda safari lodges. Besides gorilla trekking, most of our Uganda gorilla tours packages feature other Uganda safari experiences. You can enjoy safari game drives and boat cruises in savannah national parks of Uganda.
You can also go chimpanzee tracking in Kibale Forest National Park, trek in Rwenzori Mountains National Park, raft on the historic Nile River in Jinja and relax at scenic Lake Bunyonyi. Or take a community cultural tour to learn about the people and culture in Uganda.
Uganda Gorilla Trekking Rules
Gorilla trekking rules are essential to protect the health of the mountain gorillas, which are susceptible to human diseases. Gorillas will be stressed if there are too many visitors or if visitors behave inappropriately.
1. Feeling sick?
If you show any sign of illness on the day of your gorilla trek, please let your guide or the park staff know. They may decide to prevent you from trekking on that day.
Exposing gorillas to disease may be catastrophic for the entire population of these endangered apes. Also, if you are in the company of gorillas and need to cough or sneeze please look away and cover your face with a cloth.
2. Group size and frequency:
Each Uganda gorilla family is visited daily – only once. The trekking group size is limited to 8 tourists. And the interaction with the gorillas is limited to a maximum of one hour.
3. Minimum visitor age:
The minimum age for tourists who want to do gorilla trekking in Uganda is 15 years old. This is to prevent exposing the gorillas to childhood diseases such as mumps, chickenpox, measles etc. The re is no maximum age for gorilla trekking.
4. Photography:
Flash photography is not permitted – the flash may frighten the gorillas or provoke an aggressive reaction from these gentle giants.
5. Minimum distance:
Visitors must remain at least 7 metres (21 feet) from the gorillas. Gorillas may approach you, in which case you should retreat slowly to gain the recommended distance if possible.
6. Stay together:
Try to remain in your trekking group. This will make it easier for your guides to manage the situation and to prevent the gorillas from feeling threatened.
7. Your behavior while with gorillas:
Remain seated or crouching and keep your arms at your side when spending time with gorillas. Keep quiet – even when filming a selfie. Shouting, standing or gesturing with your arms may be perceived as a threat by gorillas.
Silverback gorillas have been known to beat their chests, roar and even charge at visitors/tourists. If this happens, remain seated and avoid eye contact with the gorilla. These threat displays look and sound scary but the gorillas soon calm down and go about their business without harming anybody.
8. Eating, drinking and smoking:
You are not allowed to eat, drink or smoke near gorillas.
This may attract gorilla attention, leading to unwelcome close encounters. Your food may also be bad for gorilla health.
9. Toilet activities:
Please go to the bathroom before you set out on a gorilla trekking tour.
If you need to go to the toilet whilst in the forest, you'll need to dig a deep hole to bury your faeces for about 30cm and fill the hole up afterwards. Your guides will lend you a machete for this purpose but you will need to bring your own toilet paper.
10. Litter:
Please keep all of your rubbish/garbage in your backpack and deposit it back at your lodge after the gorilla trekking adventure.
What Is Gorilla Trekking?
Your gorilla trekking adventure usually involves hiking for two to seven hours to find your allocated gorilla family – with your guides starting to track from the previous day's last-known position.
Once you have located your family of habituated mountain gorillas, you will spend one hour with them. Your trek group size will be limited – usually to 8 participants.
Gorilla trekking is currently available in three African countries of Uganda, Rwanda and the Democratic Republic of Congo.
Short Gorilla Safaris Uganda Trips
The perfect Uganda gorilla safaris for time-challenged travellers.
3 Days Gorilla Tour via Kigali
4 Days Wildlife & Gorilla Tour
5 Days Gorilla & Wildlife Tour
5 Days Gorillas, Chimps, & Wildlife,
5 Days Gorillas & Water Rafting
How Difficult Is Gorilla Trekking In Uganda?
The trekking pace is relaxed – expect frequent stops to admire the incredible views or identify unique birds. But high humidity, steep hills and dense nature of the jungle take their toll. You should be fit enough to walk for 2-7 hours at a relaxed pace.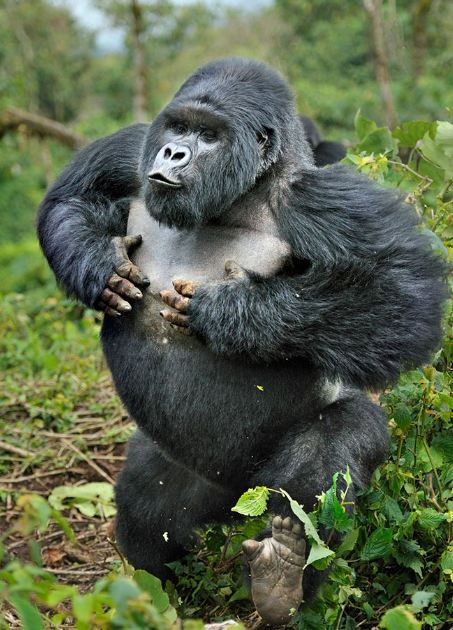 Long Uganda Safaris Packages Featuring Gorilla Trekking
Important Uganda Gorilla Trekking Safari Tips
What to pack: Drinking water, snacks for while you walk, your lunch, a raincoat/jacket, several layers of clothing including warm top, long-sleeved shirt and long pants/trousers, wide-brimmed hat, hiking shoes or boots, a towel, insect repellent, as well as equipment such as binoculars, cameras and lenses.
Here is a complete packing list for your Uganda safari.
Backpack: Carry a day pack for the above items;
Porter: Hiring a porter for the trek is highly recommended. He will carry your backpack – freeing you to carry only binoculars and perhaps a camera. The cost is a fraction of your daily expenses in gorilla-land, yet it makes a big difference in the porter's life;
Photography: The forest of Bwindi Impenetrable is dark, and the use of large lenses will be limited. Keep that big lens in your backpack, and use a general-purpose lens on your camera. Keep a dry lens cloth handy to wipe away dew and raindrops. Flash photography is not permitted while with the mountain gorillas;
Waterproofing: Bring a few waterproof bags for equipment in case of showers and high humidity;
Weather: Mountain gorilla treks are at high altitudes in high rainfall areas. The weather can swing from clear and hot to torrential rain and cold in minutes.
Chances of Seeing Gorillas
We can gladly confirm that chances of seeing gorillas in Uganda are 99%.
The truth of the matter is that gorilla trekking in Uganda is so organized in a way that there is an advanced team of trackers who wake up every morning to find where these gorillas are.
More Uganda Gorilla Safaris Packages
More Useful Information
Ready to plan your Uganda gorilla safari?
To discuss one of the above Uganda gorilla safaris, click on them and follow the prompts to enquire. Otherwise, if you would like a safari tailored just for you, please click the green button below;