Opening with views of savannah plains and ending on the powdery sandy beaches of Zanzibar Island, this 10 Days Tanzania Safari & Zanzibar Beach Holiday has been designed to deliver memorable experiences and value.
Your safari will begin in Arusha City, the long-serving logistics hub for the region and a night at one of the best safari lodges. Then, you will sit back in the care of an experienced safari driver guide and let the African Great Rift Valley landscape open up. And there is plenty to see en route as you drive to the Ngorongoro Crater – one of the Seven Natural Wonders of Africa and a a renowned Big 5 haven.
You have an extensive game drive on the crater floor and explore the surrounding conservation area where red-robed Maasai herdsmen watch their cattle against a background of wildlife.
You then drive to the Serengeti where you can look forward to exceptional wildlife game viewing. Your camp here can be a mobile one, moving across the savannah with the migrating wildebeest and zebra herds, enabling it to set up where the action is, whether it is the birthing season, the crocodile-filled river crossings or the high-tempo rutting season.
After a week of wildlife adventure, it is time to fly to Zanzibar Island and check in at Pongwe Beach Hotel. Here you can be as active or as relaxed as you like; the resort specializes in both energetic and tranquil activities – from scuba diving and snorkelling to pampering massages and beauty treatments. It is the perfect ending to a safari, and makes this a great choice for couples and honeymooners.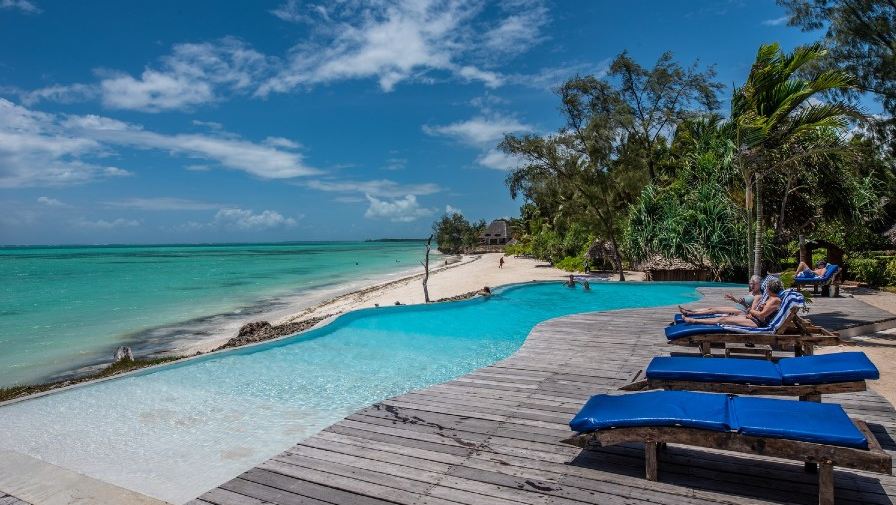 Highlights of 10 Days Tanzania Safari & Zanzibar Beach Holiday
Big 5 game sightings and seasonal Wildebeest Migration viewing
Morning and afternoon game drives in Tanzania's best game parks
Guided drive-and-fly logistics for great value and comfort
Secluded Zanzibar beach retreat with diving, snorkelling and an ocean-side spa
Details of 10 Days Tanzania Safari & Zanzibar Beach Holiday
Day 1: Arrive in Arusha | 1 Night
This 10 Days Tanzania Safari & Zanzibar Beach Holiday package starts in northern Tanzania, where you are collected from the Kilimanjaro International Airport (JRO).
The airport is not called the "Gateway to Africa's Wildlife Heritage" for nothing; you are close to some of the best-known wildlife reserves in the world. You will be met by our representative who will transfer you to your comfortable hotel in Arusha city, less than an hour away to the west.
Arusha is the safari capital of Tanzania. The city is situated on the southern slopes of Mount Meru, close to Mount Kilimanjaro. Built by the Germans as a center of colonial administration because of the temperate climate, Arusha is a good spot to take a day off from your safari if you have extra time.
You'll have dinner at the hotel tonight and also learn a bit about where you are; fantastic Tanzania!
It is a world-class safari destination, boasting some of the best wildlife reserves on Earth, as well as the incredible cultural richness and some very cool geographical features, not least Mount Kilimanjaro, the highest free-standing mountain on the planet.
Accommodation Options:
Luxury: Impala Hotel/Arusha Coffee Lodge/Kibo Palace Hotel
Midrange: Outpost Lodge
Meal Plan: Dinner
Day 2 – 3: Explore a UNESCO World Heritage Site | 2 Nights
After breakfast at your hotel in Arusha, you will embark on scenic a road transfer via the colourful town of Karatu to your lodge near the Ngorongoro Crater or on the crater rim. The Ngorongoro Crater is a UNESCO World Heritage Site and one of Africa's most iconic natural wonders.
After lunch and relaxation, you begin with an afternoon drive on the crater floor, followed by a full-day safari the next day. The world's largest intact volcanic caldera, this steep-sided Crater is home to some of the densest concentration of large animals in Africa and has built its reputation on peerless Big 5 game viewing: look out for elephant, rhino, buffalo, lion and leopard.
For those seeking a more relaxed experience, there is a range of activities, such as nature walks and cultural visits to local villages for a unique and unforgettable experience.
Accommodation Options
Luxury: Ngorongoro Serena Safari Lodge/The Highlands
Midrange: Rhotia Valley Tented Lodge
Meal Plan: Breakfast, Lunch & Dinner
Day 4 – 6: An Exceptional Serengeti Safari | 3 Nights
After an early breakfast and a short crater rim walk (fantastic for dramatic crater photographs) you will say our goodbyes to the wonderful staff at the lodge and set off to your next exciting destination of this wonderful 10 Days Tanzania Safari & Zanzibar Beach Holiday.
Your drive will take you through the Ngorongoro Conservation Area and into the famous Serengeti Game Reserve, another UNESCO World Heritage Site. Serengeti offers a great opportunity to witness the Great Migration, the Greatest Show on Earth.
In fact, the Great Wildebeest Migration is an ongoing process and not an event. About 1.5 to 2 million wildebeest and zebras form the largest land mammal migration on Earth as they continuously in search of fresh grass to graze and water to drink across the endless plains of Serengeti in Tanzania and the Maasai Mara in Kenya.
Along the way, they cross several rivers, a sometimes chaotic and dramatic process if the river banks are steep and the water deep and fast flowing. Monstrous Crocodiles trawl the muddy waters, and hyenas, lions and leopards line the river banks as they too, make the most of the situation.
The great migration follows a clockwise direction, with exact timing varying yearly, depending on the rains. December to February usually sees most of the herds giving birth in the southern Serengeti plains, when the grass is green and highly nutritious.
From March to May, the grasses have dried up, and the herds begin moving northwards through the Serengeti National Park, ending up in the Maasai Mara National Reserve area in mid to late July.
The herds move repeatedly back and forth between the northern Serengeti in Tanzania and Maasai Mara Reserve in Kenya until late September or mid-October – with the regular river crossings across the often-treacherous Mara River being a focal point for tourists. Then the herds start to move back south through the Serengeti, although stragglers will still be seen in the Maasai Mara into late October.
Expert guides can take you on thrilling game drives, hot-air balloon safaris; nature walks, and visits to local Maasai villages. You will witness the incredible diversity of wildlife that calls this great African wildlife park home. You can witness the 'Big Five' – lions, elephants, leopards, rhinoceros, and Cape buffalo – as well as a variety of other animals, including giraffes, hippos, cheetahs, and hyenas.
Accommodation:
Luxury: Serengeti Sopa Lodge/Serengeti Serena Lodge/Ubuntu Migration Camp
Midrange: Serengeti Kati Kati Camp
Meal Plan: Breakfast, Lunch & Dinner
Days 7: Take A Flight to Zanzibar | 3 Nights
After breakfast, you'll drive to the nearest Serengeti airstrip for your scheduled short-haul flight to Zanzibar Island. Upon arrival at Abeid Amani Karume International Airport, you'll be transferred by road straight to the Pongwe Beach Hotel, a charming boutique hotel situated on the beautiful island of Zanzibar on the east coast.
Pongwe Beach Hotel boasts a stunning beachfront location, surrounded by lush tropical gardens and crystal-clear waters of the Indian Ocean. You can enjoy stunning views of the ocean or garden from your private balcony. The restaurant at the hotel serves up a range of delicious dishes, including fresh seafood and locally sourced ingredients – a taste of Zanzibar's rich culinary heritage.
You can also take a dip in the hotel's beautiful swimming pool, relax in the tranquil gardens, or explore the nearby coral reefs, which are home to a diverse array of unique marine life.
Day 8 – 9: Relax in an idyllic island paradise
After all the Serengeti National Park action, you might want to do nothing except soak up the sun beside the pool or in your hammock with a refreshing cocktail from the lodge's bar. Pamper yourself with wonderful, de-stressing massages and spa treatments.
If you are feeling active, set out on diving, snorkelling or Kayaking excursions. Or simply use one of the hotel's mountain bikes to take a ride through the gorgeous palm-filled jungle surrounding the property.
You can also take a day trip to explore the historical cobbled streets of Zanzibar Stone Town, the island capital's old quarter, buzzing with colourful markets and local flavours.
Feast on fresh seafood combined with local produce in Pongwe Beach Hotel cozy lounge area or around the pool. Marvel at the gorgeous sunset every night with a delicious drink in hand.
Day 10: You Tanzania Safari & Zanzibar Beach Holiday Ends
After breakfast you are transferred for your onward travel arrangements and the end of this 10 Days Tanzania Safari & Zanzibar Beach Holiday.
10 Days Tanzania Safari & Zanzibar Beach Holiday Inclusions
4×4 vehicle and driver
Park fees
Private naturalist driver-guide
Scheduled activities
Tourism Levy
Flight to Zanzibar
10 Days Tanzania Safari & Zanzibar Beach Holiday Exclusions
International flights
Airport taxes
All meals and drinks not specified
Tips and gratuities
Items of a personal nature