Do you need a break? Well, this 4-day Zanzibar Island holiday is the perfect quick getaway to paradise. This small tropical island of Tanzania offers a variety of exotic experiences with its gorgeous sandy white beaches, rich cultures and intriguing history.
Tour Stone Town, the historic old quarter of Zanzibar City, and a UNESCO World Heritage Site.
Take a sensory adventure on a Spice Tour and see why Zanzibar is known as 'the Spice Island'.
Unwind at an idyllic Zanzibar beach resort, enjoying tropical beaches, superb diving, spa treatments, water sports, fresh seafood, and much more.
This 4 Day Zanzibar Beach, Stone Town and Spice Tour gives you a taste of Zanzibar's highlights that will leave you longing to return for more.
Details of the 4 Day Zanzibar Island Holiday
Day 1: Stone Town – Zanzibar Island
Our 4 Day Zanzibar Island Holiday Package begins at the international airport near Zanzibar City. When you arrive at the airport our company representative will be there to welcome you to the Spice Island of Zanzibar and transfer you to your hotel in Stone Town.
At your seaside hotel, you have some time to freshen up and relax. After that, your guide will pick you for a walking tour of the historic Stone Town. It is as if time stood still in this interesting old quarter of the city, a UNESCO World Heritage Site. The eclectic architecture is a testament to the various cultures– African, Arabic, European and Indian–that have occupied this exotic island.
Wander through winding alleys and admire the ornately carved and studded wooden doors, archways, and weathered shutters. Primarily a Muslim country there is numerous mosques in Stone Town as well as two cathedrals to serve the Christians who arrived with the British.
Visit the Old Fort, built by Omani Arabs after the Portuguese were expelled. It has served as a prison, garrison and today is a drawcard for tourists with its cultural center, market, restaurants, and amphitheater.
The old slave market is the site today of the Anglican Cathedral Church of Christ, a building that houses many tributes to the city's tragic past, one of which is an altar built over the spot where the whipping post stood. All newly captured Africans were tied to the tree here and whipped to test their mettle. Those who did not cry or faint fetched a higher price at market. Slave trade was a thriving industry in the 18th and 19th centuries until shut down by the British in 1873.
The guide has many stories to tell, some amusing but many that tell the tale of the hardship experienced on this island. Stone Town has a bustling market and many gift shops that have souvenirs and handicrafts on sale. The colorful market is filled with the aroma of the spices that give this island its Spice Island moniker.
After a busy day, your guide will escort you back to your hotel next to the ocean. Enjoy sundowners and dinner on the hotel terrace or step out again to dine at one of Stone Town's restaurants.
Accommodation: Tembo House Hotel in Stone Town (or similar)
Includes: Airport transfer & walking tour of Stone Town
Day 2: Spice Tour & Beach Resort – Zanzibar Island
On day two of this 4 Day Zanzibar Island Holiday Package, we leave Stone Town behind. Your guide will pick you after breakfast at the hotel and transfers you north to your Zanzibar beach resort. En route, you stop to have an aromatic Zanzibar Spice Tour on a plantation.
Introduced in the 19th century by the Omani Arabs at a time when spices were a valuable commodity worldwide, spices became prime source of income in Zanzibar after the demise of the slave trade.
Spices play an important role in the lives of people in Zanzibar. They are used in their cuisine, as a cure for many illnesses, and for the dyes and henna that are used for decoration at weddings and festivals.
When you see spices such as cloves, black pepper, cinnamon, nutmeg, and turmeric root growing in the plantations, it is easy to understand why Zanzibar is known as The Spice Island.
You can also taste some of the unusual fruits that are grown here, such as custard apple, jack fruit, carambola and rambutan. Lipstick tree, lemongrass and henna bush are some of the plants grown here.
After the heady aromas of the spice farm, it is time to continue north to the beach resort.
On your Zanzibar beach holiday, you stay at the Ocean Paradise Resort & Spa (or similar). This lush and well-equipped beach resort is located in Pwani Mchangani, on the northeastern shores of the main island.
Arriving at the resort, it is time to kick off your shoes and head to the beach or take a dip in the large swimming pool and enjoy cocktails at the poolside bar. After dinner and a laid-back evening, retreat to your comfortable chalet and fall asleep to the sounds of the Indian Ocean.
Accommodation: Ocean Paradise Resort & Spa (or similar)
Meals: Breakfast & Dinner
Includes: Transfer to Ocean Paradise Resort & Island Spice Tour
Day 3: Zanzibar Beach Resort
Day three is yours to enjoy the beach paradise of Zanzibar Island! Watersports enthusiasts will be spoilt for choice, with a variety of watersports and ocean activities to choose from.
If you interested in watersports, the Zanzibar Beach Resort has a professional PADI accredited dive center on-site to organize and oversee scuba diving and/or snorkeling trips.
With some of the best diving in the whole world and a company that knows the best locations, your scuba diving adventure in Zanzibar is in good hands.
The qualified divers can also provide guidance to beginners and new divers. Other watersports include snorkelling, windsurfing, kayaking, and sailing, or you may choose to take a dolphin tour or a boat cruise trip.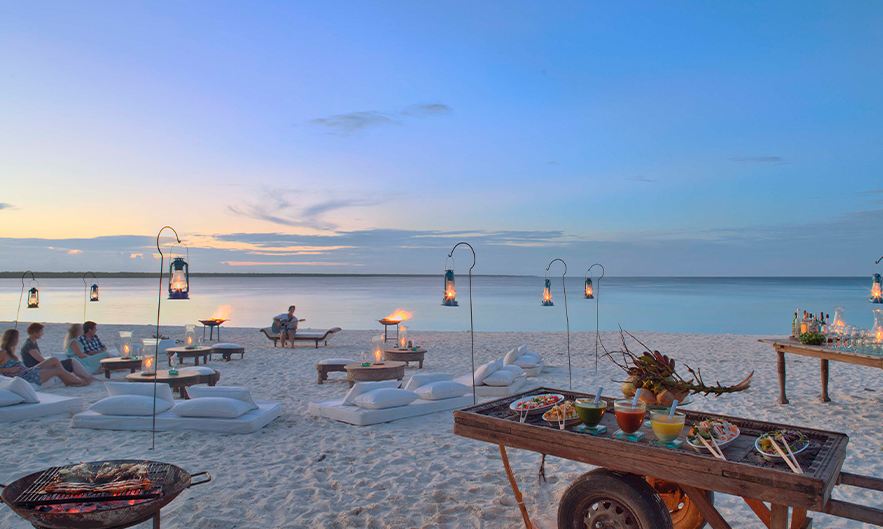 On dry land, there is beach volleyball, billiards, table tennis and a fitness center.
If that is all too energetic for you, you can visit the spa or chill by the pool, soaking up some rays. If you are keen to explore more of what is Zanzibar Island offers, book a tour with the hotel concierge.
You can also take a leisurely stroll around the resort which is set in a 6.5-hectare garden of lush tropical vegetation with a waterfall and abundant birdlife.
In the evening, you relax, toast the sunset with a sundowner, and dine to the sounds of the resident, resort band. Fall asleep under your mosquito net to the gentle soundtrack of the Indian Ocean waves.
Accommodation: Ocean Paradise Resort & Spa (or similar)
Meals: Breakfast & Dinner
Day 4: Beach Resort to Airport – Zanzibar Island
Wake up bright and early this morning for a final stroll on the sandy beach or a last swim in the sea. All too soon this short 4 Day Zanzibar Island Holiday Package comes to an end.
Your driver will pick you from the beach resort after breakfast for your transfer back to the airport where you can continue with onward travel arrangements.
Meals: Breakfast
Includes: Transfer to the airport
Zanzibar Island Holiday Accommodation
Tembo House Hotel – Stone Town
The historic Tembo House Hotel is situated on the beachfront in the old Stone Town part of Zanzibar City.
This lovingly-restored hotel is in a prime location near Stone Town's historical sites, attractions, and restaurants.
The building itself housed the American Consulate for 50 years in the early 19th century, before becoming the trading offices of Cowasjee Dinshaw & Partners, which is one of the largest trading companies in the Indian Ocean.
Celebrities that have stayed in the building include Freddie Mercury and Mahatma Gandhi. The hotel's pleasant restaurant spills out onto spacious seaside terraces, serving local and international cuisine.
Tembo House Hotel also boasts an attractive courtyard featuring a swimming pool with deck chairs and shaded lounge areas. The hotel is decorated in an eclectic style with a distinctive Zanzibari character.
The interiors feature ornate antiques and carved wooden furniture with bright splashes of color and influences from diverse cultures.
The rooms are all en-suite and most have a balcony with views of the ocean or pool.
Each room has a small lounge area with a TV and is air-conditioned. The en-suite bathrooms have a shower and a traditional hammam bath. The rooms are furnished with interesting antique pieces and ornaments, including Swahili beds (carved wooden four-poster beds).
Ocean Paradise Resort & Spa – North Zanzibar
Located on the northeastern shores of Zanzibar Island, in Pwani Mchangani, the Ocean Paradise Resort & Spa is set in a large, tropical garden with coconut palms, water features, and a large swimming pool.
This luxury beach resort overlooks the turquoise waters Indian Ocean, near Kiwengwa and Mapenzi beaches. With individual, typical African style round chalets and a roof thatched with makuti (coconut palm) your superior room is surprisingly sophisticated.
The room features a king-size bed with a mosquito net, en-suite bathroom with shower, ceiling fan or air-conditioning and other facilities typical of a hotel, such as TV, coffee machine, laundry, and room service. All room features a terrace, ideal for a sundowner as you watch the world go by.
You can stay cool in what is one of the largest swimming pools in Zanzibar and relax with a drink from the pool bar. Ocean Paradise Resort offers a choice of restaurants that offer international and authentic Zanzibar cuisine and, of course, superb seafood.
Indulge in a spa session after a busy day, prepare for the evening with a relaxing massage, facial or try the Jacuzzi, steam room, or sauna.
For the energetic, there are a fitness center, table tennis, beach volleyball, billiards, and a variety of watersports, including diving, kayaking, windsurfing or take a dolphin tour. (NB some activities are at extra cost). Both accommodation establishments offer free Wi-Fi access.
Optional Extras and Excursions
For up-to-date and confirmed pricing info for optional items, please drop us an enquiry.
Windsurfing, sailing and, kayaking
Snorkeling & scuba diving
Boat trips and dolphin tours
Dhow sunset cruise
Includes:
Airport transfers
3 nights' accommodation
All meals as specified in itinerary
Drinks (excluding champagne, private cellar wines and spirits)
Sundowners
Spice tour
Stone town tour
Boat cruise
Beach walk, relaxation, swimming
Laundry
Excludes:
International flights (arranged upon request)
Visas (arranged on request)
Travel and medical insurance
Any extra activities not specified above
Items of a personal nature
Gratuities
Premium drinks described above