What Is Special About Tarangire National Park?
What is special about Tarangire National Park? Well, Tarangire National Park is best known for its big herds of elephant. It is home to one of the largest populations of elephants in Africa.
However, Tarangire is often treated simply as a stop-over between the more popular destinations on Tanzania's northern safari circuit. Yet those visitors who choose to take a tour to this varied and fascinating national park are richly rewarded by one of the most underrated safari destinations in Africa. Tarangire has every ingredient needed for the perfect safari, including magnificent scenery and abundant wildlife.
Therefore, if you are seeking an off-the-beaten-path safari experience in Tanzania, Tarangire National Park should be at the top of your list! With its unique features, this region offers a truly special safari adventure. Let us explore what sets Tarangire National Park apart and why it must be visited by any safari enthusiasts.
More animals, fewer people
Despite its easy accessibility Tarangire National Park is one of Tanzania's lesser-known and less visited parks. A perk of this is that those who visit Tarangire get to enjoy a relatively uncrowded safari in this this lovely quiet park. What's more, the biodiversity of Tarangire is next level.
This is a great destination if you are all about the animals! In fact, a Tarangire National Park safari at the right time of year can deliver some of the best game viewing in Tanzania.
Incredible Natural Beauty
Tarangire is one of our favourite Tanzania safari parks, partly because it is quieter than the other reserves, but also due its incredible natural beauty. This 2850km2 park is really is an awe-inspiring place. Here, the Tarangire River runs up the middle of the park through diverse habitats and varied landscapes.
Gentle rolling hills scattered with open acacia woodlands, giant baobab trees and seasonal swamps provide a spectacular and attractive setting.
Well-known regions of Tarangire that are easily visited include Kitibong, Lemiyon, Burungi and Matete, as well as the Tarangire River itself. Each region is unique and has its own secret wonders to reveal.
A memorable sight in Tarangire are the mystical 'upside down tree' or baobab that can be seen in large numbers along some of the park's northern game circuits. Giant wonders of nature, these bulbous trees impose themselves upon the backdrop, dwarfing even the enormous herds of elephants that forage around them. Tarangire is the best place in northern Tanzania to see this oddest-looking tree in Africa.
Another scenic attraction of Tarangire is its many earth termite mounds that dot the beautiful landscape. The ones that have been abandoned by termites are often home to families of Common Dwarf Mongoose.
The Tarangire Mammal Migration
Life in the park's northern area (in terms of lodges, camp and wildlife) revolves around the twisting bends of River Tarangire. This river plays a key role in Tarangire National Park's most remarkable natural phenomenon — the Tarangire mammal migration.
While not involving the same number of wildlife as the famous Serengeti Great Migration, Tarangire's mammal migration is arguably equally sensational given its strict seasonality and the exceptional variety and densities of wildlife. Tarangire National Park lies in a massive ecosystem that includes the Maasai Steppe, Lake Manyara National Park, and the area from Lake Nation to Mount Kilimanjaro.
During the season every year, River Tarangire becomes one of the only available sources of water. And tens of thousands of wild animals are drawn to its banks and floodplains from miles in every direction. These include several species of antelope, buffalo, giraffe and zebra. Elephants also arrive in their hundreds, and Tarangire National Park is believed to have one of Africa's largest elephant populations.
Largest Elephant Population
The most outstanding feature of Tarangire National Park is that it a place of refuge for the largest population of elephant in northern Tanzania. This park is indeed an elephant enthusiast's paradise.
It is not possible to spend time in Tarangire without encountering these magnificent gentle giants, feeding at the base of a baobab, playing in the mud of the marshes or strolling through the riverine forests.
They are often present in huge herds that may number close to 350 individuals — an incredible sight for even the most seasoned safari-goer.
These graceful giants were poached heavily during the 1980s, but their numbers have now dramatically rebounded, as Tarangire is currently experiencing an elephant 'baby boom'. While out on safari, you'll notice that a large proportion of the elephants encountered are less than 10 years old and baby elephants are abundant.
Elephant viewing in Tarangire is outstanding. If you've ever seen an elephant, especially in the wild, you know what an awesome presence these graceful giants have. Words cannot describe the feeling that transpires when you take that awe and multiply it by the sheer mass of elephants that one can find in Tarangire!
Set against stunning scenery, elephant viewing will undoubtedly prove to be one of the biggest highlights for a safari in Tarangire.
Wildlife in Tarangire National Park
Elephants aside, Tarangire National Park has the greatest concentrations of wildlife outside of the Serengeti ecosystem. The dry season influx of ungulates sees a profusion of Plains Zebras, Blue-bearded wildebeests, gazelles, elands, hartebeests and buffalos assembled near the Tarangire River, or around residual pools in the swamps.
Such abundance of prey attract the attention of the national park's many resident predators — mainly the ever-attendant lions. The lions of Tarangire's Silale Swamps are especially famous, not only for their marshy hunting skills, but also for their habit of lounging in the branches of trees, possibly to escape the tsetse flies.
Cheetahs and leopards are also present, although less regularly seen. And even African painted wolves or wild dogs pass through the park on occasion.
Away from the wetter areas of the park, visitors may even be fortunate enough to spot a gerenuk or fringe-eared Oryx, making Tarangire National Park one off the few places in Tanzania to see these arid specialists. Rhinos and hippos have been unfortunately poached to local extinction in Tarangire.
A Wonderful Birding Destination
Tarangire is one of the most diversified parks in East Africa for birding. Over 550 species of birds have been recorded in the park. It is good for raptors and even the non-birding enthusiast will be astounded by the abundance and diversity of these powerful airborne predators.
Raptors often seen include the tawny eagle, martial eagle, fish eagle long-crested eagle, Bateleur eagle, and spotted eagle owl. Other special birds include flocks of yellow-collared Lovebirds, ostriches, Red-necked Spurfowl, Lazy Cisticola, Black Bishop, Pangani Longclaw, Bare-faced Go-away-bird, D'Arnaud's Barbet, Mottled Spinetail, Banded Parisoma, Jameson's Firefinch and African Silverbill.
Bird watching enthusiasts can search for the sought-after endemic rufous-tailed weavers and ashy starlings, or search for the flash of colour signaling the arrival of the dazzling red-and-yellow barbets.
Best Time to Visit Tarangire National Park
We would recommend that June to October is the best time to visit Tarangire National Park. The region experiences its dry season during these months, which creates the ideal conditions for optimal game viewing. But this is not to say that any other months outside this period are a no-go – far from it! This national park is a great destination to enjoy year-round.
You can use our month-by-month guide below to see which time of the year is best for you to travel to this Tanzania's hidden gem.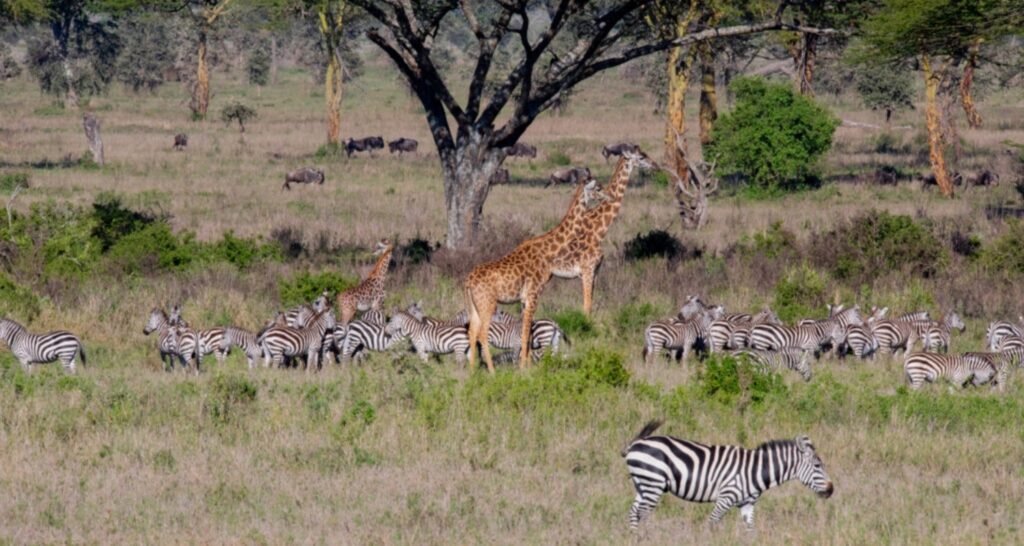 Visiting Tarangire National Park from January to March
January to March sits in the middle of the green season (rainy season) of Tarangire National Park. At this time the vegetation is at its greenest and fullest, providing incredible natural backdrops for your safari adventures. It is also the best time to enjoy bird watching in the area.
Visiting Tarangire National Park in April & May
April and May follows in the peak wet season of Tarangire, where the park sees heavy downfall and the risk of malaria is at its highest. It's not all doom and gloom though. This period coincides with the region's low tourist season, which means you can take advantage of the cheaper accommodation rates and fewer crowds.
Birdwatching is excellent at this time, and game viewing is good, although you won't see as many animals as you would in the dry season. This is largely due to the dense vegetation making it difficult to spot game, as well as dry season game, such as Oryx and gerenuk, migrating out of the park.
Visiting Tarangire National Park from June to October
For best game viewing conditions, June to October is when to visit Tarangire National Park. Falling in the dry season of the area, the vegetation thins out, making wildlife much easier to view, and the rapidly depleting water supply leaves only a handful of water sources for animals to congregate around.
If you visit Tarangire in the dry season, you might see the area's most unique attraction, the tree-climbing lions, as well as wildebeests, leopards, giraffes, spotted hyenas, zebras and elephants. And best of all, the mosquito and fly populations are at their lowest from June to October. This means that the risk of malaria is also at its lowest.
Visiting Tarangire National Park during November & December
November and December marks the beginning of Tarangire's green/rainy season. The landscape receives its first drops of rain in months, bringing the landscape to life. The vegetation changes from dull, lifeless browns to vibrant, lush greenery. Flowers start to bloom, and acacia and baobab trees are revived. Animals bring new life into the world, and migrant birds return. In a nutshell, Tarangire National Park is reborn during this period, and it is a magical sight to behold in person.
Safari Activities in Tarangire National Park
Game drives in Tarangire National Park are a popular choice, providing you with the opportunity to explore the area's vast plains and various habitats.
However, Tarangire is probably most popular for its walking safaris. These guided walks allow you to observe the national park's flora and fauna up close, providing a deeper connection to nature.
Alternatively, some camps and lodges offer photographic safaris, hot air balloon trips,
Camps and Lodges in Tarangire National Park
Travellers planning a safari to Tarangire National Park will be pleased to hear that there's plenty of excellent accommodation amidst park's picturesque landscapes. These range from family-friendly camps to honeymoon hideaways. Some of the best lodges Tarangire include;
Sanctuary Swala Camp
Tarangire Treetops
Little Chem Chem
Tarangire Sopa Lodge
Oliver's Camp
Tarangire Kirurumu Camp
Roika Tented Lodge
Are You Ready to Start Planning Your Tarangire National Park Safari?
At Tulambule, we love to take our travellers to explore Tarangire National Park. It is a hidden wonder of Tanzania, in our opinion, and a game drive there never disappoints!
The park can easily be accessed on a short drive from Arusha city and Kilimanjaro International Airport. This makes it a great safari destination. Not only can and should you do a game drive in Tarangire National Park, you can also enjoy a walking safari in parts of the park!