11 Best Things To Do In Rwanda 2023/2024
When it comes to planning a safari to Rwanda, most people think of encountering the majestic mountain gorillas in Volcanoes National Park. But Rwanda has so much to see and do, those who know it well will tell you. The country is well-known for its stunning natural beauty, diverse wildlife, and rich cultural heritage. Here is our guide to the best things to do in Rwanda on your safari.
1. Trekking Gorillas in Volcanoes
The famed gorilla trekking adventure is understandably number one of best things to do in Rwanda.
No Rwanda safari would be complete without experiencing this incredible adventure in Volcanoes National Park. Led by experienced local guides, you'll embark on a trek through the verdant greenery of the park, ascending to high elevation levels to encounter the habituated families of mountain gorillas.
It is among those lifetime wildlife safari experiences. You will watch their fascinating behaviour, social interactions, and the playful antics of the baby gorillas.
Rwanda gorilla trek also a great chance to learn about the legacy of Dian Fossey and ongoing conservation efforts of these highly endangered apes through guided tours and educational exhibits. The "Gorillas in the Mist" story comes to life as you immerse yourself in the habitats of these marvelous creatures.
A Rwanda gorilla trekking permit costs $1500 which is quite expensive, much higher compared to the permit for gorilla trekking in Uganda; but this implies that more money goes into conservation.
2. Big 5 safari in Akagera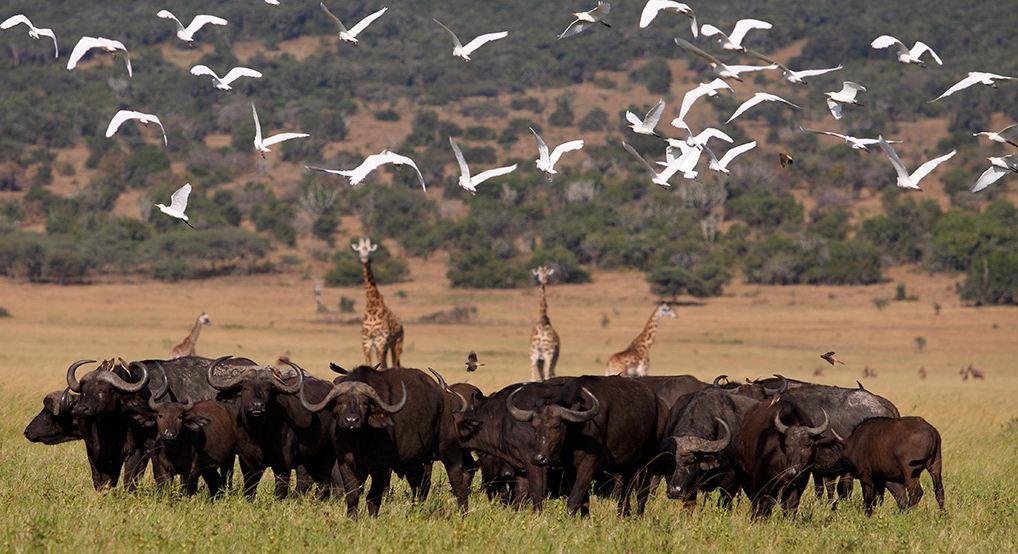 One of Rwanda's hidden gems is Akagera National Park.
This scenic savannah game reserve is where you can spot the iconic Big Five animals of Africa. Spanning some 1,200 square kilometers, the park contains diverse ecosystems, including lakes, savannah grasslands, rivers, and wetlands, which support a wide variety of wildlife.
With the reintroduction of rhinos and lions as well as the successful conservation efforts for elephants, leopards, and buffalos, Akagera National Park is now great Africa safari destination.
You can enjoy game drives, boat cruises or guided walking tours to discover the park's vast landscapes and observe these wonderful creatures in their natural environment. There are also opportunities for camping, so you can immerse yourself fully in the wilderness.
3. Golden monkey trekking in Volcanoes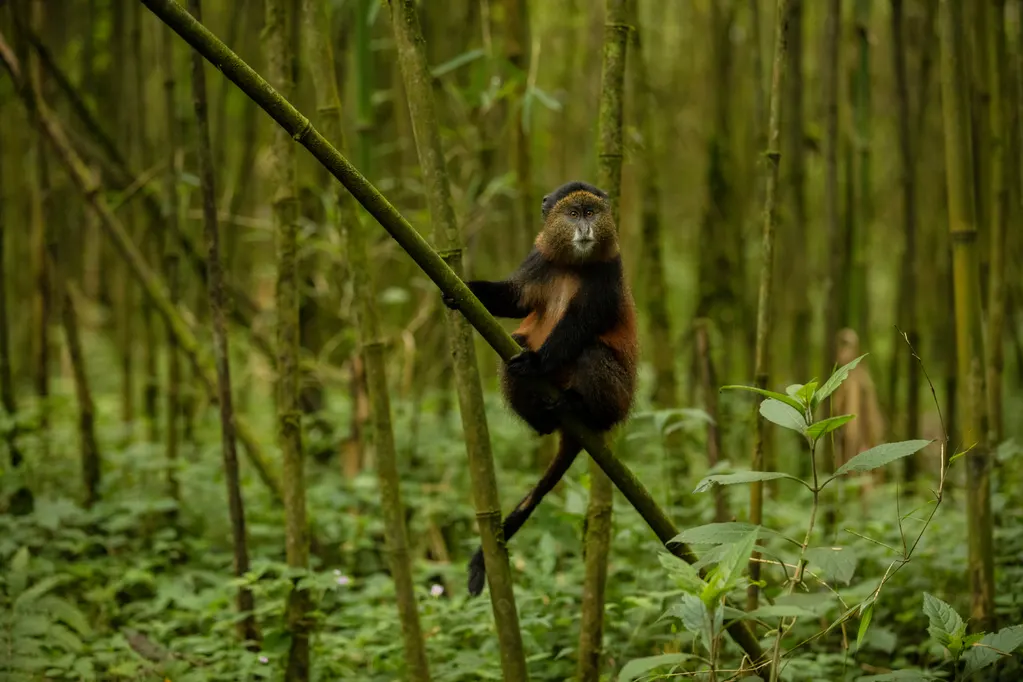 In Volcanoes National Park, you also can also have astonishing trek see the golden monkeys. These lively primates are endemic to the Albertine Rift Valley region that spans Uganda, Rwanda and the DR Congo. They are also listed as endangered, which makes a trek to see them a more special experience.
Golden monkey trekking take you through green bamboo forests, where you can see these creatures up close in their natural environment. However, keep in mind that responsible tourism is vital during the treks, as it ensures a minimal impact on the well-being of the monkeys.
Rules and regulations, like maintaining a safe distance, not feeding them, and limiting group sizes, are strictly applied. By obeying these guidelines, you can help protect these rare and endangered monkeys, as well as the beautiful places where they live.
4. Chimpanzee tracking in Nyungwe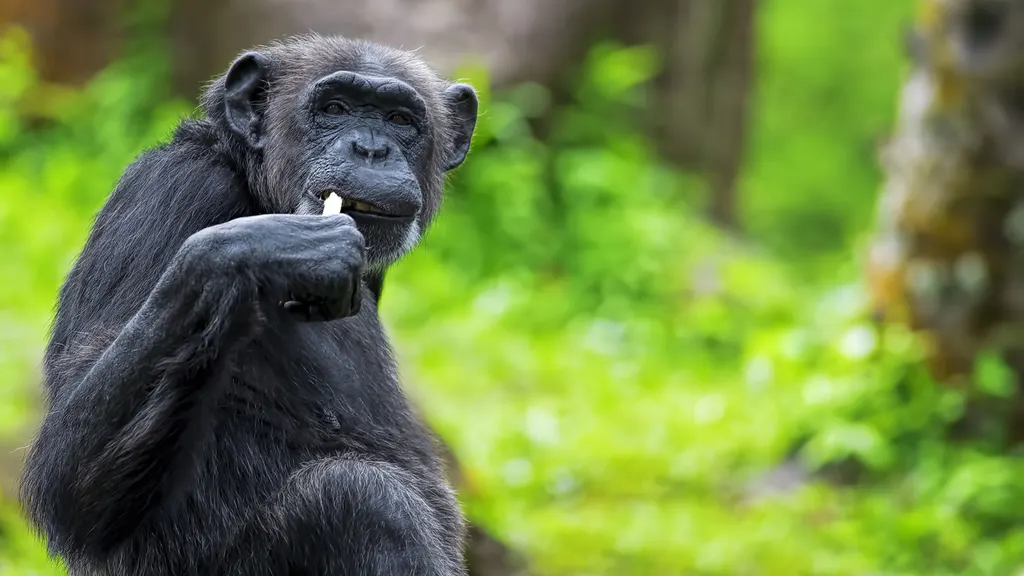 Another of the best things to do in Rwanda is to track the endangered chimpanzees in East Africa's largest remaining Afromontane rainforest. That forest's name is Nyungwe, and it is protected in a stunningly scenic and biodiverse 1,015 square kilometer national park set on the Albertine Rift Valley escarpment above the beautiful Lake Kivu.
Around 500 chimps roam this green forest, but the main site for trekking is Cyamudongo, an isolated forest annex whose community of chimpanzees is well habituated to human visitors.
These humanlike apes share nearly 99% of our DNA, and tracking them through the jungle of Nyungwe Forest is one of many magical safari experiences in Rwanda. The chimpanzee tracking permit costs only $90 (compare with $1500 for mountain gorilla trekking)
5. Nyungwe Forest Canopy walk
Nyungwe Forest canopy walk has become one of best attractions showing Rwanda's beautiful nature. Featuring prominently in pictures of travel magazines, it is indeed among the best things to do in Rwanda. This adventure offers an incredible experience of one of Africa's oldest forests. The canopy walkway suspends over a deep valley and offers incredible views across the forest clad mountains. It also offers special access into the canopy as you walk at eye-level with canopy residents like monkeys and birds.
If you are a fan of hiking, Rwanda offers a variety of options. The Volcanic Virunga Mountains such as Mount Bisoke or Mount Muhabura can be conquered on day treks.
The hikes take through several terrains, from dense bamboo forests to the edge of a stunning crater lake at the mountain's summit. You even have a chance to spot gorillas and golden monkeys.
However, Rwanda's hiking destinations extend beyond the Virunga's. The country is blessed with rolling hills, mountain ranges, and scenic trails that cater to hikers of all levels. Nyungwe, known for its tropical rainforests and diverse wildlife, offers many hiking trails. Exploring the dense forest trails, you may encounter blue monkeys, colobus monkeys and so many bird species that you may actually lose count.
Rwanda is a great place for cycling tours because of her spectacular scenery of lush hills and mountains, sprawling forests and beautiful lake shores. The most popular biking trail where most cycling is done in Rwanda is the Congo-Nile trail. This trail begins from the southwest of Rwanda in Nyungwe and passes Lake Kivu to the north in the foothills of the volcanic Virunga Mountains.
The people of Rwanda have a rich culture that dates back many centuries ago. Even with modernization this culture in Rwanda has been preserved and is lived by many societies.
There are several projects around the country that give visitors a chance to meet the locals in a traditional setting. You can visit a host family and experience their day-to-day traditional life or visit museums where the history and culture of Rwanda is exhibited through dances and folklore, craft weaving.
Lake Kivu, one of Africa's Great Lakes, is not only gorgeous but also a great source of fun. Here you can relax on the beach or take a boat trip. The best time to go for a boat cruise on Lake Kivu is at sunset or sunrise when you will be able to appreciate the stunning scenery from a different perspective.
You can also participate in many other water activities like fishing, kayaking, and paddle boarding, immersing yourself in the lake's serenity. If you are adventurous, snorkelling and diving in in the lake offer an opportunity to discover the underwater world. Dive sites, such as the underwater methane gas fields and submerged coffee plantations, provide unique and memorable experiences.
9. Tour Kigali Genocide Memorial
While Rwanda posses natural beauty and wonderful wildlife, it is also important to learn about its recent history and pay tribute to the victims of the 1994 horrific Rwandan Genocide.
The Kigali Genocide Memorial in Kigali City is a poignant but significant place that offers visitor an insight into the country's tragic past. The memorial is a remembrance and educational center, honouring the victims and offering a space for reflection.
Exhibitions, photographs, and personal accounts convey the stories of the genocide, shedding light on the atrocities committed and the long-lasting impact on the local people. It's a perfect place to remember, learn, and promote peace and unity.
10. Birding for Albertine rift endemics
Rwanda is one of the best places in African for bird enthusiasts. This tiny country has more than 700 bird species. Rwanda is mostly birded for Albertine rift valley endemic bird species which are 27 of the total 40. Nyungwe Forest is a premier bird-watching destination, providing a chance to spot a wide range of bird species, such as the
Rwenzori turaco
Albertine owlet
Great blue turaco
Albertine boubou
Archer's robin-chat
Black-faced apalis
Blue-headed sunbird
Congo bay owl
Dusky crimsonwing
Grauer's swamp warbler
Grauer's warbler
Handsome francolin
Kivu ground thrush
Kungwe apalis
Neumann's warbler
Purple-breasted sunbird
Red-collared babbler
Red-faced woodland warbler
Red-throated alethe
Regal sunbird
Rockefeller's sunbird
Ruwenzori apalis
Ruwenzori batis
Ruwenzori double-collared sunbird
Ruwenzori nightjar
Ruwenzori turaco
Strange weaver
Stripe-breasted tit
11. Attend Kwita Izina Baby gorilla naming ceremony
Kwita Izina means "giving a name" . It is a tradition of giving baby gorillas names born in the past year. It happens every 6th of September every year.
The tradition was borrowed from the Rwandan culture where communities come together to name a new born baby in the community. Kwita Izina is being used to raise awareness and promote gorilla conservation. The ceremony is open for visitors to attend and it is a wonderful ceremony to plan and add to your trip and gorilla adventure in Rwanda.
Things you should NOT do in Rwanda
Every country has those sensitive issues one needs to be careful about. They may be simply traditions of the locals or particular laws. Rwanda too has things you should tread carefully about when you are a tourist or visitor. As you plan for your safari in Rwanda please take note of the following.
1. Avoid careless talk about the genocide
The genocide happened more than 20 years ago but for a big population of the country it still feels like it happened just yesterday. It left wounds in the minds and hearts of many Rwandans which will take generations to heal. The genocide is a sensitive issue in Rwanda that you should not talk about careless otherwise you risk pricking wounds that are trying to heal.
If you want to ask questions or make comments do so with someone known to you and in confidence. They should also be comfortable with the subject, but if they are not, please do NOT insist on the subject.
Otherwise there are several genocide memorials and museums in the country that are open for tourists, you can visit one and ask as many questions and they will be answered. An easy one is the Kigali Genocide Memorial in the capital Kigali.
2. Asking one if they are Hutu or Tutsi
Asking one if they are Hutu or Tutsi is in fact a taboo in Rwanda.
After the genocide against the Tutsi, the Rwandan people decided to abandon their ethnic identifications which were a catalyst for division and eventually the genocide.
The Rwandans decided to all identify each other as simply Rwandan and nothing more or less. Please desist from asking anyone if they are Hutu or Tutsi, you will cause a lot of discomfort and heartache. There are in fact anti-tribalism laws, so avoid the tribal or ethnic talk all together.
Rwanda has made a name as being arguably the cleanest and tidiest d country in Africa.
Kigali is one of the cleanest cities in the world, so much that tourists from first countries are wowed by what they see upon arrival in Rwanda. This level of cleanliness has been achieved because the country decided to move towards this direction, creating a utopia of sorts given the mess that is African cities!
As a tradition, every last Saturday of the month all people in Rwanda engage in communal cleaning of the areas around them. Even the president participates! Littering and engaging in acts that cause disorder are frowned upon and so the culture of cleanliness and tidiness has been built among the Rwandan people.
Do not liter, urinate in random areas not toilets, walk in the lawns, etc.
4. Do not bring plastic bags to Rwanda
In a bid to protect the environment the Rwandan government burned the use of plastic bags. Please do not carry plastic bags to Rwanda; they will be confiscated at the airport or the border.
This initiative is paying off as the capital Kigali is featuring prominently in international publication as one of the greenest cities in the world.
5. Disrespecting Rwandan women
Rwandan women are some of the most beautiful on African continent.
And it is said during the time of the African Traditional Society neighboring kingdoms would invade the kingdom of Rwanda just to capture and steal their beautiful women.
If you come with the mindset of the ancient African traditional society to abuse Rwandan women you are in trouble my friend, as the Rwandan woman is one of the most empowered and protected on the African continent. Desist from ogling, molesting and speaking vulgar words to women in public. Respect the women and men too.
Final Thoughts on Best Things to do in Rwanda
As you leave Rwanda, you will carry with you not only cherished memories of its natural wonders but also a deeper appreciation for the country's rich cultural heritage, diverse wildlife, and ongoing efforts to protect and sustain its remarkable beauty.
Rwanda is a destination that offers the perfect blend of adventure, culture, and conservation, making it an unforgettable journey for any traveler seeking to explore the unusual and discover the extraordinary.