Nyungwe Forest National Park | Chimpanzee Trekking Tours in Rwanda
Best known for its mountain gorillas, the Central/East African Country of Rwanda also offers the opportunity for chimpanzee trekking tours in the most extensive protected montane forest in Africa. That forest's name is Nyungwe Forest, and it is protected in a magnificently scenic and biodiverse 1,015 km2 park set on the Rift Valley escarpment above Lake Kivu.
Nyungwe National Park is home to around 500 wild chimpanzees that roam its vast rainforest jungle. But the main chimpanzee trekking site is Cyamudongo, an isolated forest annex whose community of 30 chimpanzees is well habituated to visitors.
These humanlike apes share nearly 99% of our DNA. And trekking through the jungle of Nyungwe Forest National Park to encounter them is one of many magical experiences on offer in this underrated Rwanda safari park. In fact, we include it in our 11 best things to do in Rwanda.
Nyungwe National Park is a Natural World Heritage Site
On September 19, 2023 Rwanda's Nyungwe National Park has been inscribed on the list of the World Heritage Sites by UNESCO. Nyungwe also becomes the first site in Rwanda to be featured on the UNESCO World Heritage list which are places of global importance.
That is to mean, sites that should be recognized and protected because they possess a biodiversity (in the case of the Nyungwe) or something and that is not found in many places in the world and should therefore be protected for the future generations to find.
Location of Nyungwe Forest In Rwanda
Nyungwe Forest National Park is located in the southwest corner of Rwanda. The back is situated about a 4-5 hour drive from, the capital city Kigali on good if sometimes winding roads. There are some attraction along the way that include Nyanza King's Palace and the Ethnographic Museum should you wish to break the trip.
FAQs about Chimp Trekking in Nyungwe Forest Rwanda
1. How does chimp trekking in Nyungwe compare to other places?
The chimpanzees at Nyungwe Forest are now well habituated, so they are used to seeing people and not very shy. The actual chimpanzee trekking adventure in Nyungwe Forest of Rwanda is relatively similar to what it is in other places in Africa that offer chimp treks.
However, one main difference is that Nyungwe Forest National Park's the main chimpanzee trekking site (Cyamudongo) is over a 2-hour drive from the park reception center and from most safari accommodation, so a very early start (usually around 5:30 AM) is required.
Another difference is that the small size and steep slopes of Cyamudongo Forest in Nyungwe National Park mean you typically have to walk shorter distances than at other places, but the terrain is tougher.
2. What fitness level is required For Chimpanzee trekking in Rwanda Nyungwe Forest?
You need a relatively high level of fitness and agility to track chimpanzees of Nyungwe Forest National Park. Indeed, of all the major chimpanzee trekking destinations in East Africa, Nyungwe Forest is probably the most physically demanding, due to the steep slopes and slippery underfoot conditions.
That said, the distances involved are not great, and most people who are sufficiently fit to participate in Gorilla trekking in Volcanoes National Park will be fine in Nyungwe Forest.
3. Are chimpanzee sightings in Nyungwe Forest National Park guaranteed?
The short answer is no. Chimpanzee sightings cannot be guaranteed on a Nyungwe Forest chimp trekking tour. But this is true of almost all chimpanzee trekking locations, simply because chimps (unlike mountain gorillas) tend to be very active.
Even in Kibale Forest National Park of Uganda which the best place in the world to see wild chimpanzees, the chances of encountering them are around 95%. Chimpanzees travel long distances at a pace no person could hope to match in the tangled forest jungle undergrowth.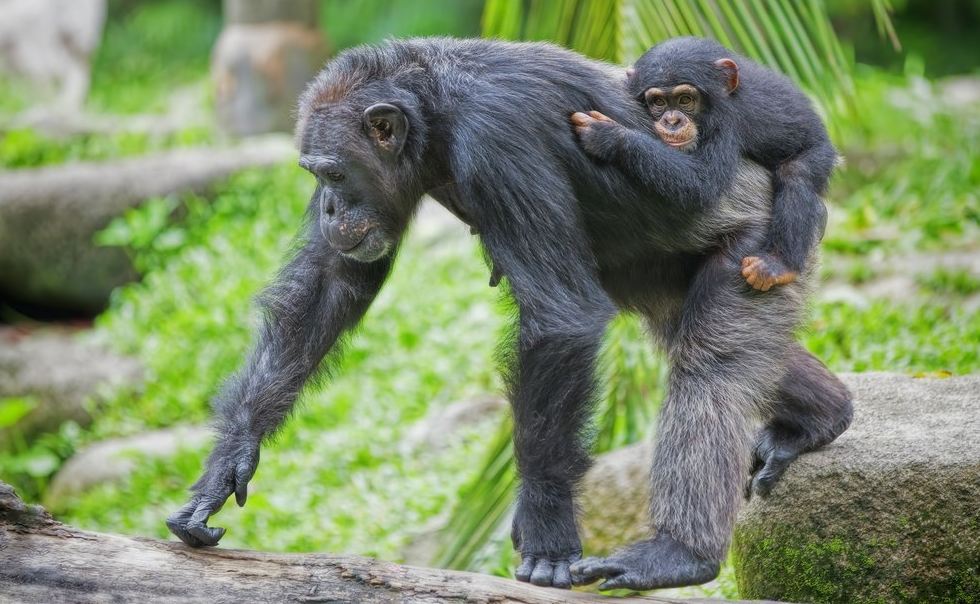 4. Is chimpanzee trekking in Nyungwe Forest safe?
Nyungwe Forest National Park is a very safe place to track wild chimpanzees. While chimps can be quite imposing in appearance, and they are far stronger than human, Nyungwe Forest's habituated chimpanzee community is not bothered by human guests and shows no aggression towards them.
As a precaution, children under below the age of 12 are not allowed to track chimpanzees in Nyungwe National Park. But adults have little to worry about, provided they follow the guidelines and instructions given by their tracking guide.
The most significant risk in Nyungwe Forest National Park is losing your footing on the tangled slopes. This will be greatly reduced if you use one of the walking sticks that are offered to all trekkers and put on strong hiking shoes or boots.
5. Can I combine chimpanzee trekking in Nyungwe Forest With gorilla trekking?
You most certainly can! In fact, for most travellers who go for chimpanzee trekking in Nyungwe Forest National Park, the excursion is made as an add-on to a safari whose main focus is mountain gorilla trekking in Volcanoes National Park.
While planning your Rwanda safari itinerary, please not that although Rwanda is a small country, these two primate parks lie at opposite ends of it. It is worth breaking up the long drive with a night or two on the shores of the gorgeous Lake Kivu or in the Kigali city, the capital of Rwanda.
Also, when you are in planning mode for Rwanda safari holiday, you could also consider adding Akagera National Park, a very scenic savannah reserve that is home all the African Big Five animal (lion, leopard, elephant, buffalo and rhino) and numerous antelopes.
6. What other animals am I likely to see in Nyungwe National Park?
While chimpanzee viewing is the focus of many Nyungwe Forest safaris, other hikes offer the opportunity to see many of the other 86 mammals and over 310 bird species recorded in the park.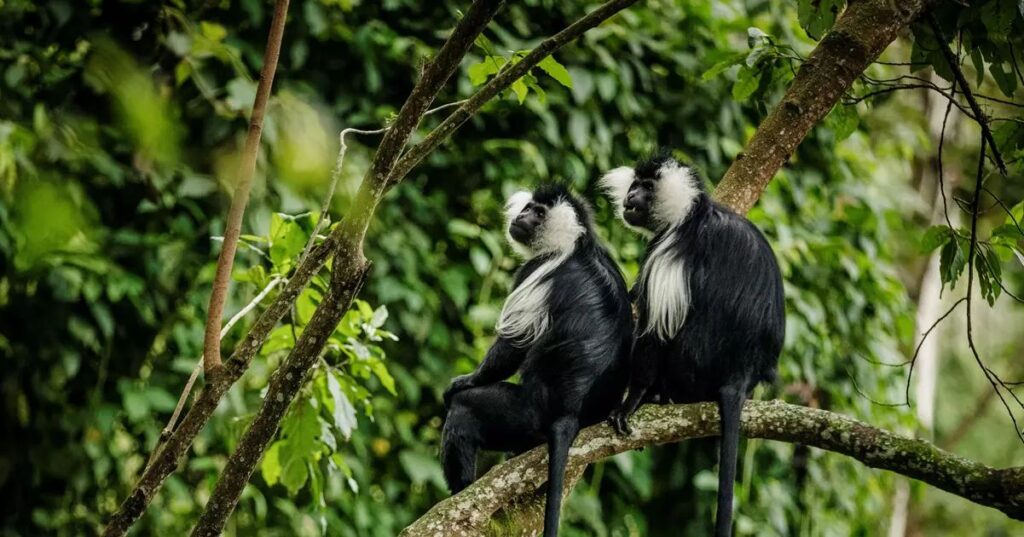 The owl-faced monkey was only recently confirmed to occur in Nyungwe National Park, and this is the only population of this rare monkey species to occur outside of DR Congo.
The forest is also home to the largest mega-troop of Rwenzori pied colobus in Africa, numbering over 400 of these striking black and white monkeys. This well-habituated mega-troop also attracts the company of a myriad of additional primate species such as:
Vervet monkeys
Blue monkeys
Olive baboons
Grey-cheeked mangabeys
L'Hoest's monkeys
Silver monkeys
Dent's Mona monkeys
Red-tailed monkeys
Chimpanzees of Nyungwe Forest National Park are also drawn to the colobus monkeys, although for completely different reasons: food. They hunt the smaller monkey species and an opportunity to witness a chimpanzee raid is a once-in-a-lifetime experience, as the forest explodes into shrieks of terror and the excited howls of the hunting chimps.
The exceptional birdlife of Nyungwe Forest National Park includes 30 Albertine Rift endemics, which are restricted to the western branch of the Rift Valley. These include:
Albertine owlet

Red-collared mountain babbler

Rockefeller's sunbird

Mountain masked apalis

Ruwenzori turaco

Dwarf honeyguide

Handsome francolin

Neumann's short-tailed warbler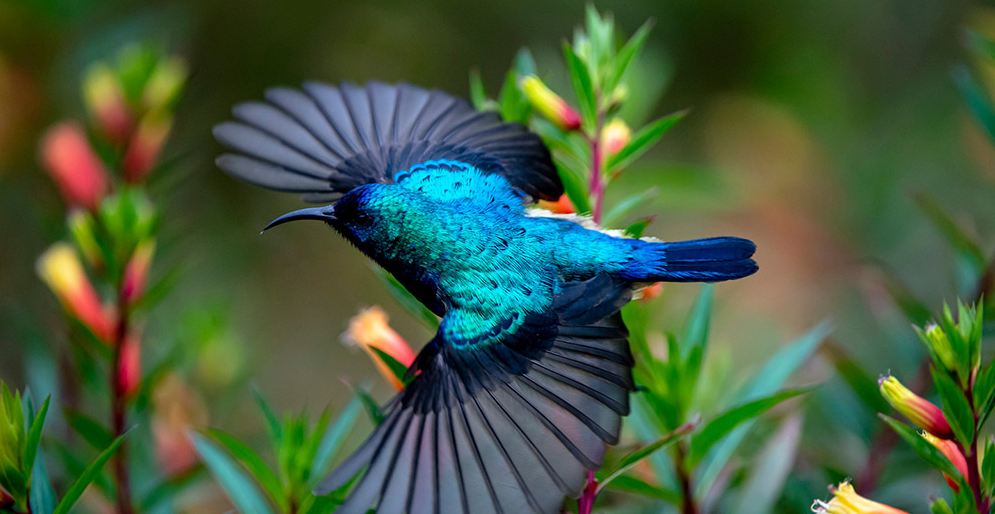 While the birds and primates tend to take centre stage in Nyungwe, there are other mammal species wandering the forest paths, climbing the ancient trees, or slinking through the undergrowth. Camera trap studies have revealed that Nyungwe is home to an assortment of creatures, from Congo clawless otters, lithe servals to golden cats and Lord Derby's scaly-tailed squirrels
Congo clawless otters
Lithe servals
Golden cats
Lord Derby's scaly-tailed squirrels
Nyungwe Forest National Park's extraordinary biodiversity also extends to the oft-overlooked plant life. There are over 1,000 different recorded plant species, of which 250 are endemic to the Albertine Rift. About 140 of these plant species are orchids, which add their splashes of colour to the blanket of green and brown around them.
1000 plant species
140 species of orchids
You can also look out for the formidable Rwenzori three-horned chameleons. Nyungwe Forest National Park is also known to be home to the Bururi long-fingered frog (Cardioglossa cyaneospila), a species once thought extinct. Last seen in 1949, the 3.2-centimeter-long amphibian was found during a December 2011 biodiversity survey in the small central African country of Burundi.
7. What Other Hikes And Activities Are Available In Nyungwe Forest?
Nyungwe Forest National Park is a true hiker's paradise. The forest is crisscrossed by a 130km network of well-maintained day trails that offer great opportunities for bird watching, monkey viewing and enjoying the magical forest interior.
The shortest and most popular is the Igishigishigi Trail, which features a 160m-/525ft-long canopy walkway suspended between facing slopes above a fern-lined stream.
Other trails lead to Kamiranzovu Swamp, Ndamabarare Waterfall and Mt Bigugu, where you can see the most remote source of the world's longest river, the Nile River.
8. Other Attractions around Nyungwe National Park
Tea is among the largest exports of Rwanda and several tea plantations – including Gisakura, Kitabi and Gisoyu – are found along the fringes of Nyungwe Forest National Park.
Not only do these plantations provide vital employment for local communities and educational experiences for tourists, but they also serve as buffer zones around the park.
There are also several beekeeping cooperatives active near the park offices. While beekeeping is a traditional practice in the area, the members of the cooperatives are now producing additional products such as candles, as well as honey, which are sold to visiting tourists.
Those interested in learning more about the surrounding communities' traditions can also visit the cultural centers and villages, some of which also offer campsites and other facilities.
9. What are the accommodation options at Rwanda Nyungwe National Park?
Nyungwe National Park offers accommodation to suit most tastes and budgets. At the very top end is a boutique lodge called One&Only Nyungwe House, but there is also a good selection of mid-range and budget safari lodges, as well as a few campsites.
Munazi Eco Lodge, currently under construction and due to open in early 2024 will be a fully-catered camp featuring 10 ensuite chalets set deep within the forests of Nyungwe – the perfect option for immersing yourself in the forest experience. Many travellers with also choose to stay on the shores of Lake Kivu and travel to and from the park on relatively good roads.
Nyungwe Top View Hill Hotel
One&Only Nyungwe House
Munazi Eco Lodge
10. What to Pack for Nyungwe Forest safari?
The dense forests and rugged landscapes of Nyungwe necessitate exploration on foot.
As might be expected for an experience that involves hiking in a rainforest, appropriate footwear is an absolute must – preferably waterproof but, most importantly, worn-in and sturdy. The climate in Nyungwe Forest is relatively mild, with temperatures seldom reaching over 30˚C.
Still, it receives high rainfall levels every year, so waterproof gear for valuables is essential. Long trousers and sleeves will protect against the forest's more intrusive insects, and it is worth keeping in mind that the weather can be capricious and high altitudes mean cold temperatures at times.
Waterproof hiking shoes
Long trousers
Long-sleeved shirts
Sunscreen, insect repellent.
Camera
A pair of binocular