Wondering where to stay in Sipi, Mbale and Mount Elgon Area in Eastern Uganda? This complete selection of private safari hotels and lodges in Sipi, Mbale and Mt Elgon Areas ranges from luxury, mid-range to budget options.
A stay at these hotels includes delicious meals, Sipi falls hike, Mount Elgon hike, sunrise and sunset walks, bird watching, cave adventures, coffee tours and cultural experiences.
Our Uganda safaris specialists can offer expert advice and select the best safari lodges & hotels in Sipi, Mbale and Mount Elgon Areas to suit you, as well as assist in car hire or road transfers.
These recommended Sipi falls, Mbale and Mount Elgon hotels and lodges are located throughout the area and all offer something special.
hotels & lodges in Sipi, Mbale and Mt Elgon Areas
Price range: $98 to $486
Mbale Resort Hotel is set against the backdrop of the slopes of Mount Elgon in the heart of Mbale City. The hotel has 74 rooms that are categorized as Executive Double, Executive Twin, Executive Triple, Executive Business Suite, and Presidential Suite.
It offer quality services and rooms meet international hotel standards. Some of the rooms have balconies with spectacular panoramic views of the Wanale Hill.
2. Mount Elgon Hotel and Spa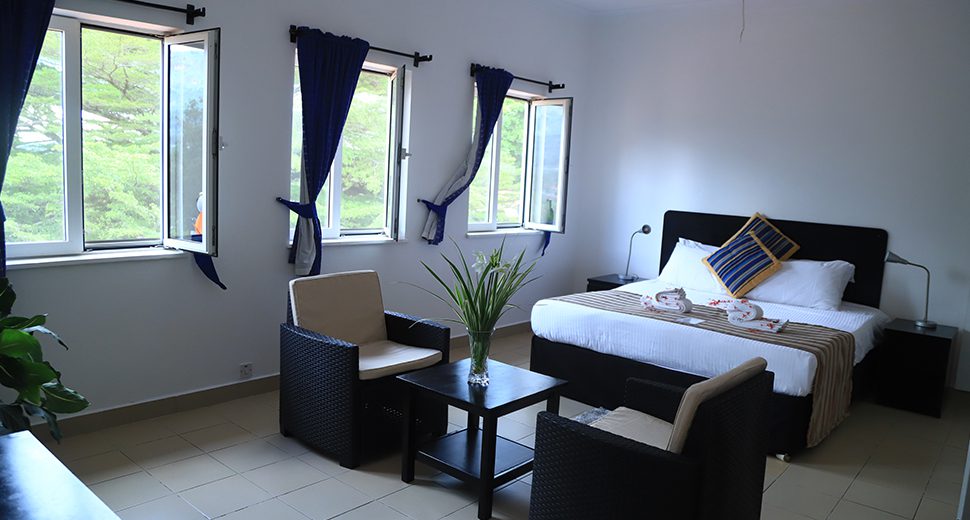 Price range: $90 to $180
Located in the peaceful suburbs of Mbale, this mid-range accommodation was converted from an old colonial building in the 1950s. Mount Elgon Hotel offers 3 types of accommodation: Executive Rooms, Superior Rooms and Standard Rooms.
The Executive Rooms have hosted several VIP guests, including politicians and members of royal families. After a long day of walking, hiking and trekking, you can choose whether to recuperate in the spa, the mini-gym, or the restaurant. You can even book a cocktails and wine tasting experience and enjoy a bespoke drinking experience.
3. Sipi Heritage Lodge (Formerly Sipi River Lodge)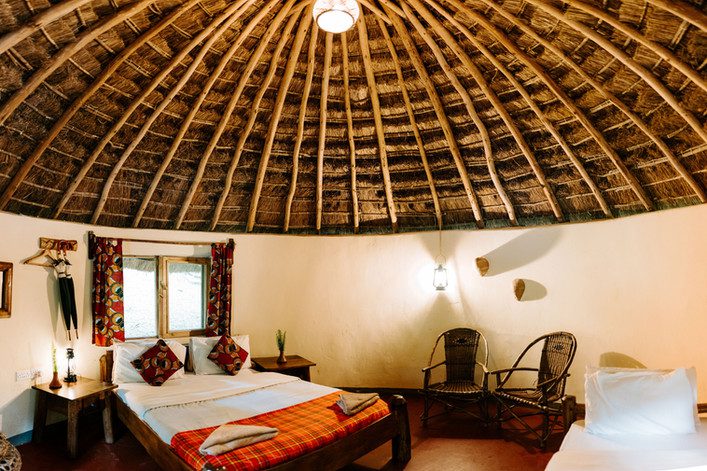 Price range: $64 to $165
Formerly known as Sipi River Lodge, Sipi Heritage is a luxury lodge, found in Sipi Falls area. The lodge offers quality accommodation.
It stands in lushly wooded grounds on the slopes of Mount Elgon, an extinct volcano that ranks as Africa's eighth-tallest massif at 4,321m/14,177ft.
This is a great base for hiking in the fertile Elgon foothills and visiting a trio of pretty waterfalls that adorn the Sipi River. The main Sipi Falls is only a few minutes' walk away, and the middle cascade actually stands in the grounds, within view of some of the cottages.
With a cozy rustic feel that might be transplanted from the English countryside, this isn't your average safari lodge, and the relatively high altitude ensures it enjoys a pleasant temperate climate.
Price range: $20 for Camping; Rooms $25 to $300
Rafiki Lodge Sipi offers midrange and luxury accommodation in Sipi Area. The lodge is located on the cliff 1785m above sea level, with an amazing view of Sipi Falls and the Valley.
The lodge consist of Banda's, Single, Twin, Double, and Triple Rooms, Family Cottage, Honeymoon Suite, Basic Rooms, and Camping ground.
Each accommodation is thoughtfully designed with the best perspective of Sipi Falls and the Valley in the mind to offer guests the most comfortable and special experience during the stay.
The honeymoon suite is set up in the most comfortable and romantic tone to accommodate the newlyweds. The lodge also has a restaurant and a Bar where you can enjoy freshly prepared meals and drinks, like Beer, Rum, Whiskey, and others. At the lodge's lounge area there is free Wi-Fi.
5. Kapkwai Forest Exploration Center
Located at the entrance of Mount Elgon National Park, the Kapkwai Forest Exploration Center offers budget accommodation in Mount Elgon area.
It was originally built as a base for students who came to visit the rich forest.
The accommodation is functional but comfortable and travellers can choose between 4 cottages and 4 stationed tents. There is also an on-site canteen that sells food and drink, allowing you to refuel after a long day of activity.
Price range: $69 (UGX 250,000) to to $115 (UGX 430,000)
Mise Cave Lodge has 9 self-contained rooms that are categorized as: Single Occupancy Standard Room, Double Occupancy Standard Room, and Honeymoon Room. Situated amidst the forest, this intimate resort is perfectly positioned between 2 cascading waterfalls.
It is located next to Mise Cave which played a major role in ancient times and even up to today as it is used for different purposes.
Of course, the cave is one of the tourist attractions, but as well as traditional coffee ceremonies are taking place at certain times in this cave.
Sipi Valley Resort is located on the slopes of Mount Elgon at about 19214 feet above sea level. It is a comfortable lodge that offers beautiful views over the Karamoja region plains, the Sipi Valley, and the three Sipi Waterfalls. It caters for individuals, groups, couples, and families.
Sipi Valley Resort's room includes Single and double/twin rooms as well as a luxury self-contained tent. You can stay here on bed and breakfast basis, half board basis, and full board meals. If you are interested in camping, you can bring your tents and hire them at the resort.
Price range for International rate: $62 to $120
Price range for local rate: UGX 180,000 to UGX 350,000
The rates for camping ground is UGX 20,000 and for tent and camping ground is 50,000.
Children under 8 years pay 30% of the adult rate when sharing a room with 1 or two adults.
Lacam Lodge offers midrange and Budget accommodation. The lodge is located on the cliff with a great view of the Sipi Falls.
The lodge has wooden Bandas that are made of timber and grass thatched. Some rooms are self-contained with bathrooms and toilets en suite.
The lodge also offers non- self-contained Bandas for budget travelers at a lower rate. There is also space for camping where guests can pitch their tents. Accommodation and camping are full board, including full English breakfast, 2 course lunch and 4 course candle-lit dinners.
9. Home of Friends Guesthouse
Home of Friends Guesthouse is located just outside Kapchorwa Town, on a secured compound, and in the heart of Uganda's Land of Running Champions. The choice of accommodation here ranges from budget family house, private single, double, twin and triple rooms to campsite.
Popular Trips Including Sipi Falls, Mbale and Mt Elgon Areas
The Uganda tours below showcase just some of what is possible. Use these itineraries as starting points, or to draw inspiration. Then get in touch, and let our expert team help craft the perfect itinerary for you.