The 3 Day Sipi Falls Tour let you explore Kapchorwa region and amazing Sipi waterfalls. The Sipi Falls is a series of three beautiful waterfalls (85m, 65m, and 100m) in the Eastern region of Uganda on the edge of Mount Elgon National Park. It is a very peaceful and pretty spot.
It's perfect place for a weekend trip or short tour to escape the noise and bustle of the Kampala. You will embrace the tranquility of some of Uganda most beautiful landscapes. You will also see a little more of Uganda and inhale some fresh air in one of the country's most popular hillside retreats. You will have a variety of exciting activities to enjoy, including:
Waterfall hikes
Cave explorations
Authentic cultural encounters
Rock abseiling
Sightseeing
Photography
Coffee tours
We are happy to adjust the 3 days Sipi Falls tour itinerary to fit your interest and budget. It can be adjusted to a 2 day Sipi Falls tour if you wish to fit it over a weekend. Please contact us for more information.
3 Day Sipi Falls Tour Details
Day 1: Travel to Sipi Area; Community Tour
Your 3-Day Sipi Falls Tour starts today. You will be picked up from the airport in Entebbe, your hotel in Kampala or any other agreed place of pick up and embark on a 4 to 5 hour drive east to Kapchorwa, home to the great Sipi Falls.
Nestled in the highlands of the Mount Elgon region near the border with Kenya, Kapchorwa's character is defined by its verdant hills, cascading waterfalls, and panoramic views.
This area is home to the indigenous Sabiny people, known for their strong ties to tradition and rich cultural practices. Pass through Mabira Forest, Jinja, and Iganga before turning off to join the Tirinyi highway leading to Mbale. On arrival, check into the hotel for lunch and relaxation.
Later, you will explore Sebei culture with a special cave experience. This intimate excursion will bring you face-to-face with the ancient traditions, songs, and stories of the Sabiny people, all within the natural setting of a cave. Hear captivating stories and legends that have been passed down through generations, dance to their tunes, and savor delicious warrior snacks, freshly prepared over a roaring fire.
You'll learn about various aspects of Sabiny culture, including the customs surrounding circumcision, name-giving ceremonies, the significant role of war, and campfire storytelling.
Accommodation Options:
Luxury: Sipi River Lodge
Midrange: Lacam Lodge
Budget: Lacam Lodge/The Crow's Nest/Moses Campsite
Meal Plan: Lunch & Dinner
Day 2: Sipi Waterfalls Hike: Optional Rock Abseiling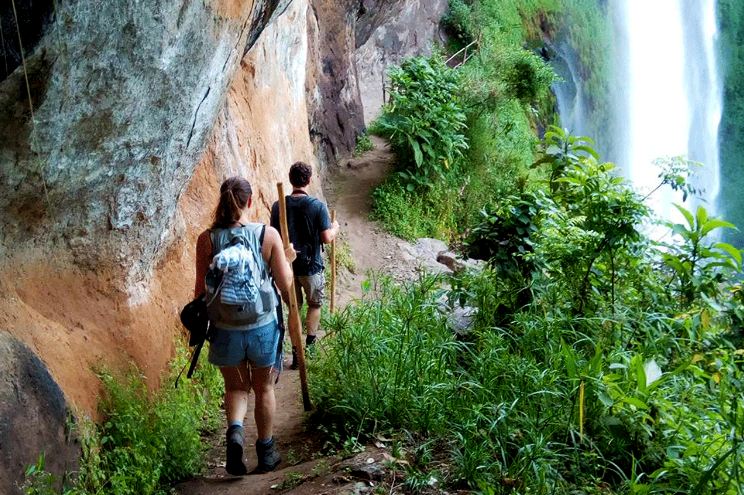 After an early breakfast, meet the local site guide and set out to hike the Sipi Falls trail.
The Sipi Falls consists of a set of three pretty waterfalls at different spots where the Sipi River flows over big cliffs towards the base of the Mountain Elgon. They measure 85 meters, 65 meters and 100 meters long. The hiking trail stretches for around 4 miles (7 kilometers) and features steep ascents and ladder climbs. It goes through local communities, tea plantations and farmlands.
As you hike along you will be treated to panoramic views of green mountain slopes and the distant flat plains of Karamoja. You shall hike up to start with the topmost waterfall (85m), and then follow the trail down to visit the second waterfall (65m).
After these first two waterfalls, you shall break off for lunch at a nearby lodge and refresh a little. After that you shall descend to the last waterfall of 100m, which is also the main waterfall. It forms a big whirlpool, a natural swimming pool. Take in the misty atmosphere near-constant rainbows, and panoramic views.
If you are missing a bit adrenaline in your day of Sipi Falls Hike, you can also take a rock abseiling adventure from the top of this 100-meter-high Falls. Equipment (rappels) is provided as well as highly-trained guides to take you through this exhilarating adventure.
You will hung from a rope in the cool mist of the cascading falls right beside you, as you enjoy the spectacular panoramic view of the valley below.
This thrilling experience is not available anywhere else in Uganda except Sipi! You will return from Sipi Falls and travel back to the lode relaxation, dinner and overnight
Accommodation Options:
Luxury: Sipi River Lodge
Midrange: Lacam Lodge
Budget: Lacam Lodge
Meal Plan: Breakfast,Lunch & Dinner
Day 3: Coffee tour & Transfer back to Kampala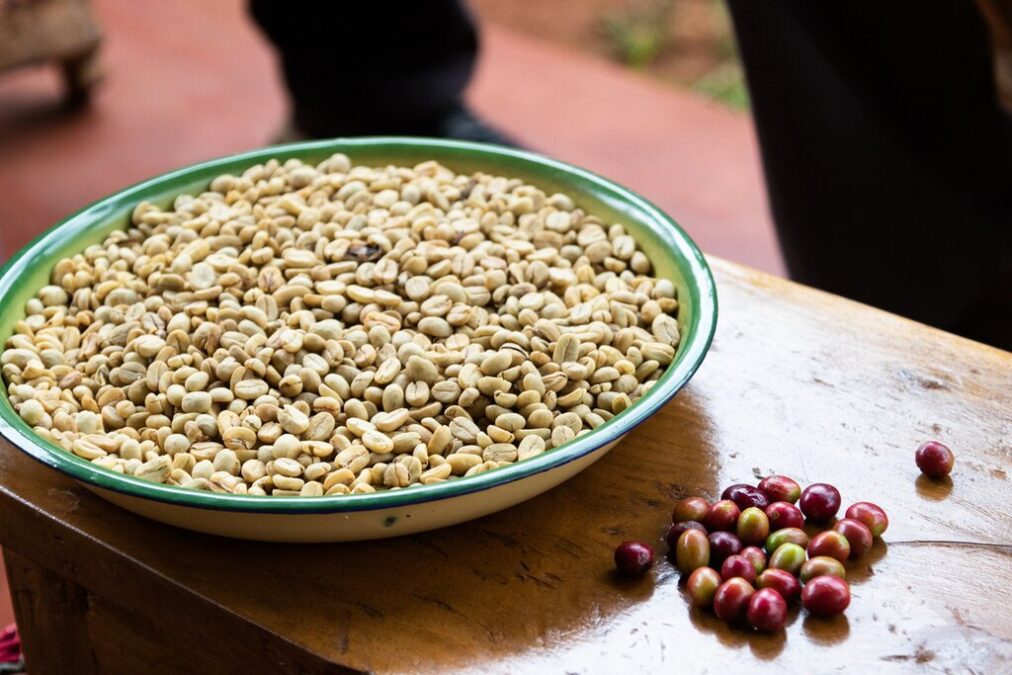 Aside from the falls themselves, a highlight to visiting Sipi is a 3 to 4 hours tour that takes you through the intricate details of how coffee is produced at a nearby family farm. The Sipi Falls area is great for growing Arabica coffee. So, lace up your walking shoes again for another amazing hike.
Begin with a scenic walk through banana plantations and local homes, leading you to a traditional homestay where an authentic coffee experience awaits. You'll be warmly welcomed by a local who will take you to explore coffee plantations and learn how the coffee plants are planted and grown.
You can also try your hand at planting a seedling. You will pick the coffee berries, to deshell and grind them with a traditional mortar and pestle, and roast them on an open fire, before – the best part – finishing with a fine cup of strong Arabica coffee.
Gain a newfound appreciation for the work that goes into your morning brew, and enjoy a local lunch. Then embark on a five-hour drive back to Kampala or to Entebbe for onward journey. Safe travels!
Accommodation: Not Included
Meal Plan: Lunch & Dinner
3 Day Sipi Falls Tour – Inclusions
Transport in 4WD tour vehicle
English speaking guide
Accommodation and meals as indicated in the tour description
Bottled water
All activities included in the itinerary
3 Day Sipi Falls Tour – Exclusions
Optional activities
Air fairs
Luxury drinks such as alcohol
Travel insurance
Tips and gratuities
Laundry and other personal expenditures