The best time to visit Zanzibar is during the dry season from June to October and December to February. This also coincides with the high Tanzania safari season, making the Zanzibar Archipelago a perfect post-safari choice.
During this time, the heavy rains have cleared. And the weather conditions are perfect for long days, relaxing in the sun and exploring the wonderful sights of the 'Spice Island', maybe on a romantic Zanzibar honeymoon.
It is also possible to visit during the rainy season, when there are fewer visitors. And you're more likely to get good bargains from lodges and hotels (the ones that remain open) and trips.
The rain can be heavy, but is not usually constant; the sunsets can be particularly magnificent; and pineapples are in season! Travel can be trickier, with roads damaged and buses delayed, but you'll get there eventually.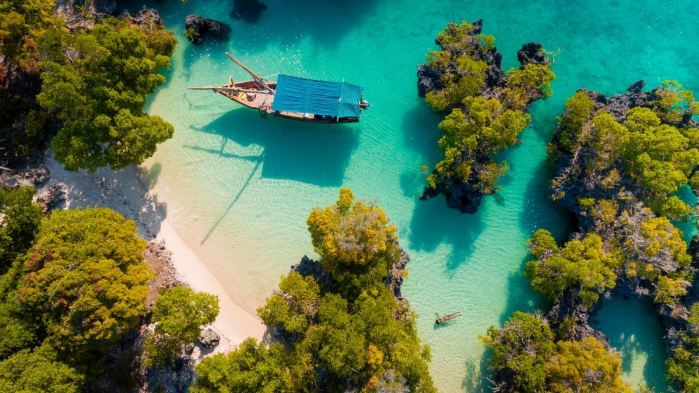 Climate Guide for Zanzibar
The climate in Zanzibar is dominated by the movements of the Indian Ocean monsoon winds, and characterized by wet and dry seasons.
The northeast monsoon winds (known locally as the kaskazi) blow from November/December to February/ March, and the southwest monsoon winds (the kusi) blow from June to September/October.
The main rains (the masika) fall from mid-March to the end of May, and there is a short rainy season (the vuli) in November. Throughout the year, humidity is generally quite high (less so in the rainy season), although this can be relieved by winds and sea breezes.
Temperatures do not vary significantly throughout the year.
Daytime temperatures averages around 26°C (80°F) on Zanzibar Island from June to October, and around 28°C from December to February, though in this latter period the humidity is often higher, so temperatures feel hotter.
Pemba Island tends to be cooler and gets slightly more rain than Zanzibar Island.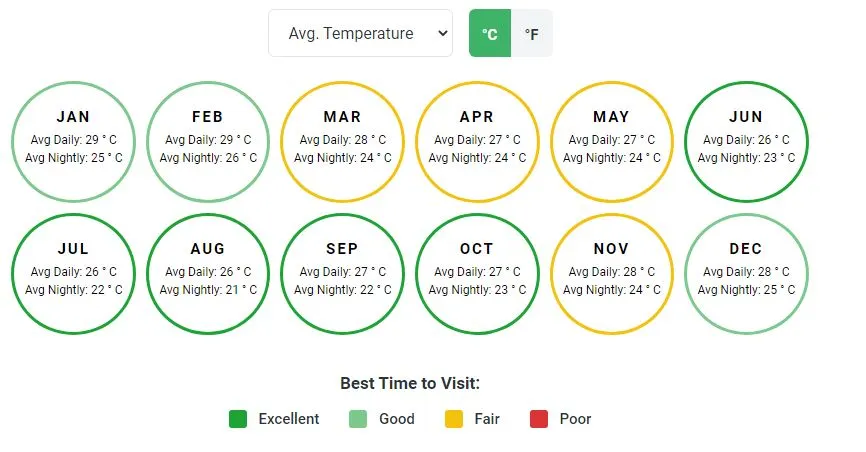 Month-by-Month Guide for Visiting Zanzibar Archipelago:
Travelling to Zanzibar between January & July
If you don't mind the heat and humidity, this is a great time to visit Zanzibar. The days are sunny and hot. The months of January through March offer some of the best diving conditions.
A good underwater dive is all about wind, the tides and what you can see underwater – lagoons and coral reefs can be explored in clear waters, especially on the south coast.
The weather in Zanzibar will begin to turn from about mid-March as the 'long rains' become more imminent.
April and May mark the beginning of what is known as the 'long rains' on these islands. Rainfall in April and May is far heavier than any other time of year, and results in mild and very wet weather on the beaches.
If you want to enjoy the best weather Zanzibar has to offer, this is not a good time to visit.
A dream beach holiday in Africa usually involves sun-drenched shores; palm fringed beaches and glorious sunsets. Expect all this and more during the dry season at luxury Zanzibar resorts.
The months from June to October are the best times to visit Zanzibar as the heavy rains have cleared. These weather conditions are perfect for long days, relaxing in the sun and exploring the wonderful sights of the 'Spice Island', maybe on a romantic Zanzibar honeymoon holiday.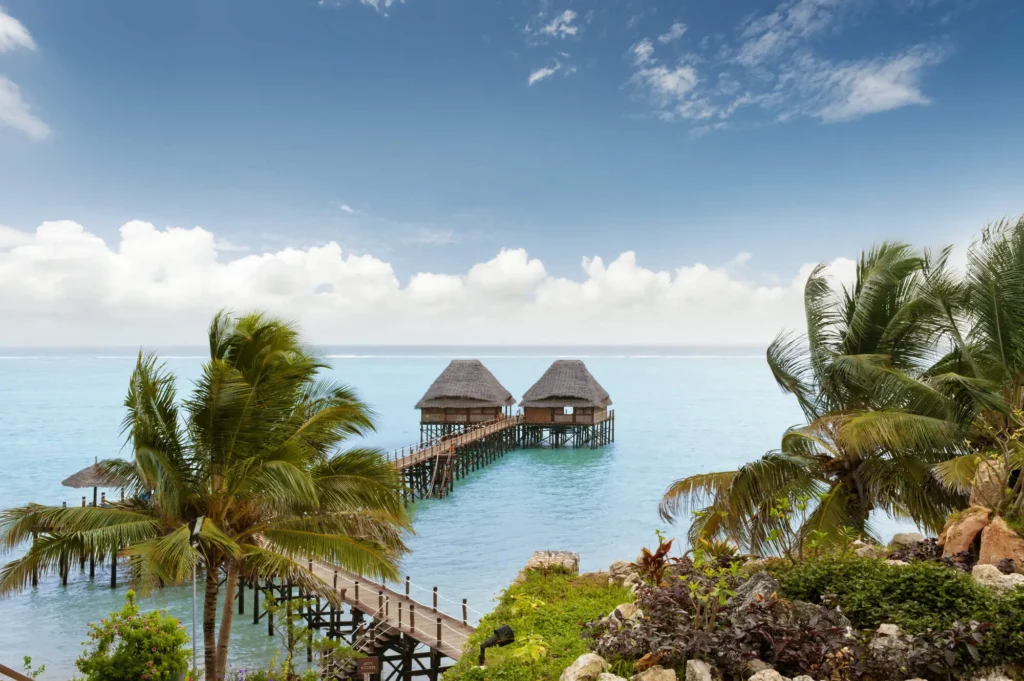 Visiting Zanzibar from August to October
August is one of the last months on the Zanzibar Archipelago with cooler weather. The climate during August through to October is not too hot and not too humid. Gradually, soothing breezes begin to make their way in from the south as the islands begin to warm up for the summer months.
September is a wonderful month all over Zanzibar, but the Mafia Archipelago has something special to offer – turtle hatching and incredible diving conditions in deeper channels.
Scuba diving enthusiasts do need to plan their dives carefully during the month of September, as some other offshore areas tend to become a bit rough.
October is an ideal time for travelling to Zanzibar as the days are made up of cool winds, calm seas and clear skies. The ocean's temperatures begin to rise, and the evenings gradually become warmer, just before the rains of November begin.
Visiting Zanzibar during November and December
Typically expected to start in November when the temperatures rise, the 'short rains' break the dry mid-year winter.
Clouds usually build up during the mornings (which can be rather sunny and humid) and break in spectacular, but generally short-lived showers in the afternoons – giving you enough time to retire to the beach bar, enjoy a massage or yoga session before returning to your sun lounger.
There is however more chance of sunshine towards Christmas and New Year's Eve.
The Mafia Archipelago is where to go in Zanzibar in December because its main highlight is the opportunity to dive with whale sharks.
Festivals and public holidays
At holiday times, such as Easter and Christmas, the islands are popular with expats from Dar es Salaam and Nairobi as well as overseas visitors.
Expect full flights and higher hotel rates. Conversely, during the Islamic fasting month of Ramadan, many restaurants and shops in Zanzibar are closed during the day, and life runs at a generally slower pace.
Sports fans may like to tie in their visit with the Zanzibar International Marathon, held in November every year in early. Zanzibar islands share most public holidays with the rest of Tanzania.
Businesses and offices are usually closed on these days, while some tour companies remain open. Public Zanzibar holidays with fixed dates include:
1 January – New Year
12 January – Mapinduzi 'Revolution' Day
7 April – Sheikh Abeid Amani Karume Day
26 April – Union Day: Zanzibar and Tanganyika
1 May – Workers' Day
7 July – Saba Saba (Seven Seven)
8 August – Peasants' and Farmers' Day
14 October – Nyerere Day
9 December – Independence Day
25 December – Christmas Day
26 December – Boxing Day
The Muslim feasts of Idd il Fitri – the end of Ramadan – is celebrated by many people and is effectively a public holiday.
Dates of this holiday depend on the lunar calendar and fall 11 or 12 days earlier every year. The approximate date for Ramadan for the next year is 10 March to 8 April 2024.
What is the Worst time to visit Zanzibar?
March, April and May are the worst months to visit Zanzibar because of heavy rain and stormy weather. During this time of the year, you will experience more rains and less sunshine than at other times of the year. Anticipate the roads to be slippery and unusable.
Tourist activities and tours in Zanzibar that would typically be a highlight during other seasons, such as snorkeling or fishing trips, can't operate during this time.
Boats have difficulty navigating the choppy waters, which may result in canceled trips. Beaches also become inaccessible due to high waves.
What is the cheapest time to visit Zanzibar?
If you are on a tight budget and want to visit Zanzibar, March, April, May and November are the cheapest times. It is the off-peak season on the island as most tourists seek other warmer destinations.
During these months, expect reduced accommodation rates, flights, rental car costs, excursion fees, and food prices. You will also find fewer crowds of tourists at popular sites like Stone Town.
March marks the beginning of the long rainy season that lasts until May. It is the wettest month of the year in Zanzibar, so pack your rain gear.
On the plus side, humidity is lower, so it will not feel as hot outside. Locals are also less pre-occupied with tourist activities, allowing you to engage, interact and see more of what Zanzibar Island offers.
Take advantage of the lower prices at local markets to purchase souvenirs such as handmade crafts, spices, textiles, or jewelry.
November, like March through May, is another excellent time to save money and a Zanzibar holiday. It signals the onset of what the locals call "short rains." During this period, hotel, flight, and car rental rates hit their lowest point, allowing you to stretch your budget.
What is the best time to visit Zanzibar for honeymoon?
The best time to visit Zanzibar for a honeymoon holiday is the cool and dry months of spring which are from June to October.
Yes, Zanzibar is mostly safe to visit, and with the right precautions, you should not be in any danger. But, keep an eye on your valuables as petty theft is common in the country, especially around tourist attractions. Violent crime is rare.
Where to stay in Zanzibar?
There is a wide selection of accommodation in Zanzibar. In Zanzibar Stone Town, budget travellers can try Jambo Guest house or Lost & Found.
The mid-range options include Tembo House Hotel and Beyt al-Salaam, while top-end travellers can try Kisiwa House or Emerson Spice.
On the beaches, try Seles Bungalows in Matemwe or Demani Lodge in Paje for budget accommodation; Mnarani Beach Cottages in east Nungwi or Bellevue Guesthouse, just north of Paje in Bwejuu, for mid-range; and Pongwe Beach Hotel in Pongwe or Matemwe Lodge in Matemwe for top end.
Ready to Start Planning your Visit to Zanzibar?
Chat with someone who's been there. Get in touch with one of our African Safari and Holiday Experts to help tailor-make a trip that is right for you: