Lemala Wildwaters Lodge is one of the best lodges in Jinja area.
This unique Uganda safaris lodge is an innovative example of how to blend adventure travel with luxury lodging. As the name suggests, it is part of the Lemala, a company that offer top notch camps and lodges across Africa.
Lemala Wildwaters Lodge offers 10 spacious suites within 6.5 hectares of pristine riverine forest that make up an island in the middle of the world's longest river. Every suite boasts a balcony with breathtaking views and an outdoor tub for alfresco bathing.
The suites also feature queen-sized daybeds where you can relax while reading a book from the lodge's library. Whether you are in your suite or out on the water, Lemala Wildwaters Lodge promises a stress-free Uganda safari holiday or honeymoon in Uganda.
Many travellers use this lodge for relaxation after a long safari in Uganda or as their base while they spend some days doing adventure activities around the Jinja area.
How to Get To Lemala Wildwaters Lodge
To get to Lemala Wildwaters Lodge, most travellers choose to drive from Kampala. The driving distance is approximately 80 kilometers on the Jinja Road. It is followed by a further 25-kilometer journey from the town to Wildwaters Lodge.
The journey ends with a boat cruise across the Nile onto the private island where Lemala Wildwaters Lodge is located. You then walk through pristine, emerald-green jungle that teems with birdlife – until you arrive at one of the most unique lodges on African continent.
Accommodation at Lemala Wildwaters Lodge
Wildwaters has 9 standard suites and one family suite. All are dotted around the island. They are connected to the communal lodge along wooden walkways through the forest. Each suite has timber floors, canvas walls, and a thatch roof, and all options are very spacious.
The standard suites feature private balcony with a double bathtub as well as a king-size bed with mosquito nets. It also has bedside tables and lighting, a three-quarters-size day bed, ample storage space and a safe. There are also well-appointed en-suite facilities such as flush toilet, washbasin, and walk-in shower, with complimentary toiletries.
Wildwaters Lodge's family suite has all the amenities of standard suites, as well as an upper floor with twin beds for children and the bathtub in the bathroom instead of on the balcony.
Facilities at Lemala Wildwaters Lodge
The communal area at Lemala Wildwaters Lodge is located on a rock peninsula, with the Nile rapids all around. It is made out of stone, timber, and thatch, in harmony with the verdant rainforest of the island.
Inside, you will find a lounge with comfortable sofas and armchairs, many reading material, and even a telescope for taking a closer look at the wildlife of the Nile.
There is also a dining room with chic chairs and tables on sleek wooden floors.
The dining room is next to the bar, and flows out onto a veranda for al fresco meals.
Guests may also choose for private dining in the well-kept gardens, with a little advance notice.
Lemala Wildwaters Lodge' grounds also include a swimming pool – bordered by sunloungers. It is an ideal place to cool off in the heat of the day.
All communal areas have free Wi-Fi.
A day spa and massages are available on request
The lodge power is supplied 24hrs by the national grid
There is also a generator back up.
Power is 220v and the plugs are 3-pin square UK standard.
Adapters are available from the reception on request.
Dining at Lemala Wildwaters Lodge: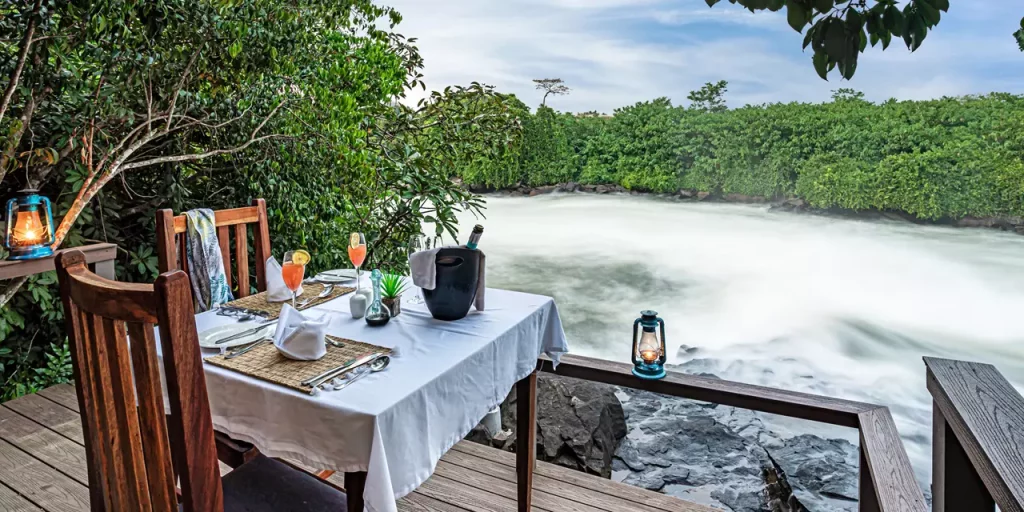 The restaurant at Lemala Wildwaters Lodge offers freshly prepared meals.
It accommodates most dietary requirements including vegetarian, vegan and gluten-free amongst others. All dietary preferences must be advised at the time of booking.
Breakfast is a wholesome and hearty start to the day while lunch is a relaxed affair featuring a selection of courses from the a la carte menu.
A pre-breakfast coffee service will be delivered to your suite, allowing you to enjoy your early-morning in bed or on your private terrace.
Dinners are served by lantern and starlight, and each of the 5 courses will have you looking forward to the next taste sensation.
Guests in the mood for a little privacy may choose to take their dinner in their suite.
Activities You Can Do While Staying Wildwaters
Boat Cruise to the source of the Nile River
Special floating expedition for families
Bungee jumping into the Nile River
Kayaking
Stand-up paddleboarding
Horse rides along a section of the riverbank and into a local village
Quad bike rides to the Bujagali Falls and the area's forest and farmlands.
Sport fishing
Mountain biking
Tubing
Lemala Wildwaters Lodge Rates
Rates are based on per person sharing per day and are on full board basis inclusive of accommodation in standard rooms, meals, house drinks, Wi-Fi and laundry. They do not include the cost of airstrip transfers or a professional safari guide and vehicle.
Rates are valid from the 1st of June 2023 until 31st May 2024.
$350 – Low Season (1 March 24 – 31 May 24 + 1 Nov 23 – 19 Dec 23)
$410 – Mid-Season (1 June 23 – 30 June 23 +1 Oct 23 – 31 Oct 23, + 6 Jan 24 – 28 Feb 24)
$470 – High Season (1 July 23 – 30 Sept 23, + 20 Dec 23 – 5 Jan 24)
Lemala Wildwaters Lodge Child Policy
Child children of 6 years and above are welcome but children over the age of 12 are most welcome.
Parents must understand that Wildwaters Lodge is situated on an island surrounded by grade 5 plus rapids.
They must be supervised at all times and will not be allowed to roam free on the island without being accompanied by a parent.
They must also remain under adult supervision at all times.