23 Top Things To Do In Jinja in 2024
We want to share our guide to the best things to do in Jinja town. Jinja is one of the best places to visit in Uganda. And it is a hugely popular destination for short Uganda tours or weekend trips from Kampala, principally because of its reputation as Uganda's adventure capital.
Located about 2 hour drive to the west of Kampala on the banks of the Nile River, it's a mecca for thrill-seekers of all kinds, tempted by the draw of the river's fierce white water.
White water rafting and kayaking are the two most popular things to do in Jinja.
But if you are not feeling brave enough for that, there are plenty of other ways to fill your time, including sunset boat cruises, quad biking, mountain biking, tubing on the Nile, visiting the famed 'Source of the Nile', or just chilling out and enjoying the buzz of the town.
But why Jinja is called so? How many days do you need in Jinja? How to get to Jinja? Where to stay in Jinja? Is it worth it to go to Jinja? When is the best time to visit Jinja? We answer these questions and share all our favourite things to do in Jinja in this handy guide…
Frequently Asked Questions About Jinja
1. Why Jinja is called so?
The name "Jinja" originates from the languages of the two tribes, the Baganda and the Basoga, who lived on either side of the Nile River in the region.
The word "Jinja" means " Stone or Rock" in both languages. In most of Africa continent, waterways like the Nile hampered movement of people. This explains the ethnic boundaries along the Nile River as one moves north from the river's source on the northern shores of Lake Victoria.
But the area around Jinja was large flat granite rocks where small boats could be launched to cross the river. This partly explains why, despite this barrier, the two tribes have very similar languages.
The word for stones or rocks in the language of the Baganda is 'Ejjinja (Plural Amayinja), and for the Basoga dialect this became "Edinda". The British colonialists used this reference to name the town they established – "Jinja".
2. Is it worth it to go to Jinja?
Yes, Jinja city is one the best tourist destinations in Uganda and has been dubbed the "Adventure Capital East Africa." This is due to many adventures one can do in Jinja. Jinja is also famous for having the source of the Nile – the longest river in the world.
And it makes for a great place to visit before or after your safari in Uganda. Whether you are looking to see where the legendary Nile River begins its long journey north or wanting to get your adrenaline pumping with some extreme sports, Jinja is worth a visit.
3. How Many Days Do You Need in Jinja?
Some people visit Jinja only as a day trip. If you're going to do white-water rafting, we can arrange transportation to and from Kampala, so you don't have to spend the night in Jinja. However, if you plan to do more than that and enjoy Ugandan countryside at a more relaxed pace, I would recommend spending at least 2 days.
4. How to Get to Jinja from Kampala?
Jinja city is very close to Kampala, the capital of Uganda. It is easily reached in one and half hour (80km) drive from the capital. So, you can take a day trip to Jinja, enjoy thrilling adventures and get back before nightfall. Or you can book into a hotel in a serene spot along the Nile River and indulge in the several adventure activities Jinja has to offer.
5. Where To Stay In Jinja?
6. When is the best time to visit Jinja?
Because the temperatures are pleasant year-round, rainfall is the primary factor affecting your experience in Jinja. Uganda has two dry seasons and two wet seasons.
The dry season months from June to August and December to February are considered the best time to visit Uganda, and the same applies to Jinja. The dry season of December to February coincides with summer breaks in Europe and the United States, when family safaris are popular, so it is an excellent opportunity to visit Africa.
And a visit to Jinja during this period would also work very well when extending out to Serengeti National Park in Tanzania for the Great Wildebeest Migration experience of the calving season.
Best Things To Do On A Jinja Tour
1. Boat Cruise To The Source Of The Nile
A boat trip to the source of the Nile is the perfect way you can enjoy a few relaxing hours on the Nile on your Uganda tour in Jinja.
It takes you to the exact spot where the world's longest river exit Africa's largest lake to begin an epic 6,650 km journey north to the Mediterranean Sea.
Here, water bubbles can be seen, indicating that water is sprouting from the ground before it mixes with water from Lake Victoria to flow northwards.
The stretch of rapids along the upper Nile River in Jinja is considered one of the most spectacular places in world to go white-water rafting.
A full-day white-water rafting trip covers 9 rapids (four Grade 5 and five Grade 4) rafting over a distance of 20kms to end at Itanda Falls. You can also opt for half-day rafting. And there is a choice of rafting packages that cater to families, groups that cater to all levels and experience.
Tulambule Uganda safaris can organize 1 day white water rafting trip for you.
4. Kayaking On The Nile River
Kayaking is another fantastic way you can experience the Nile up close on your Uganda trip in Jinja. Even if you are a first-timer, after a short introductory course, you can effectively navigate your kayak with the Nile crashing around you.
You can take half or full day kayaking excursions. You can kayak solo or try out tandem kayaking on double kayak.
Tandem kayaking is ideal for first-timers since it allows those with little or no kayaking experience to take on some of the biggest and best rapids in a day.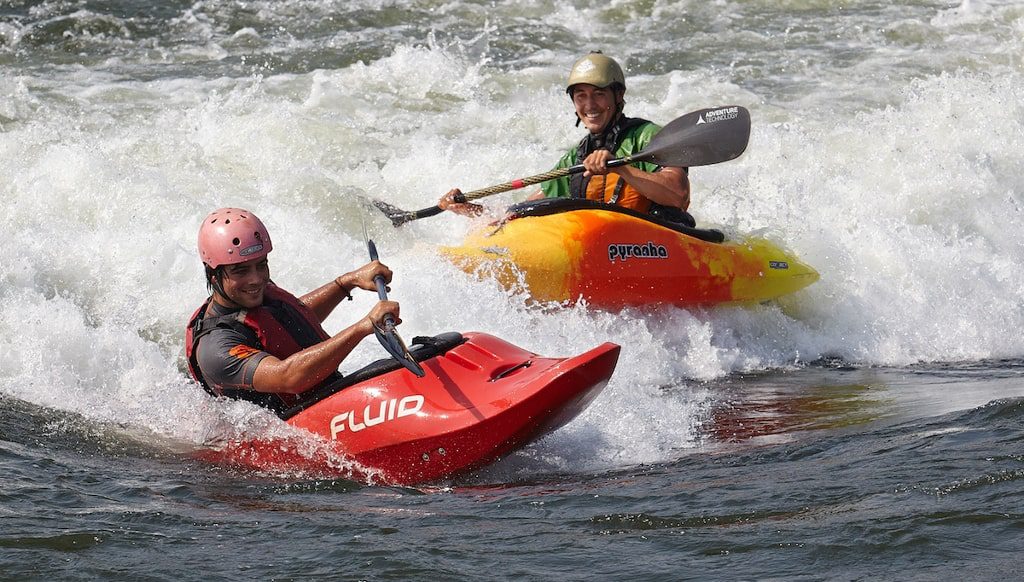 Nile river tubing is another of the fun things to do in Jinja.
The activity entails floating along the Nile on an inflatable tube while sunbathing, watching birds, beautiful islands, and green forests.
You can enjoy flat/lazy tubing, white water tubing and extreme tubing adventures. The activity is great for all ages and makes fun for team building excursions, family trips and weekend getaways.
Bungee jumping over the Nile River in Jinja is the epitome of adrenaline adventure activities!
You leap from a 44 meter-high platform into the Nile.
This activity is not for the faint-hearted; rather, it is for the daredevils.
River Nile and Lake Victoria are home to one of the biggest freshwater fish species in the world, the mighty Nile Perch and the tasty tilapia.
We can provide you with the opportunity to hunt these fish on both water bodies. You can book full day, morning, or afternoon fishing trips which cater for either the first-timers or the expert anglers.
All fishing gear, safety gear, and drinking water is supplied. Tulambule Uganda safaris know the areas which have the highest concentration of fish for a great sport fishing experience in Jinja.
Nyege Nyege is a relatively new festival that has become a phenomenon as it is arguably the most sought-after festival in Uganda and East Africa.
Revelers throng Jinja from all over the world to experience art, enjoy different types of music entertainment with artists and djs coming from different countries, eat an array of dishes and freely express themselves during the 4 day festival
If you are to spend like two days in Jinja, consider going on a 2 hour sunset boat cruise.
You watch the sun as it settles over the shores of Lake Victoria and the River Nile!
Sunset cruises accommodate couples and families, as well as large groups requiring a two-level pontoon boat for special events.
Mountain biking tours are a great way to explore Jinja and the banks of River Nile, with a knowledgeable local guide.
They take you through towns, villages, and small farms, with spectacular views of the Nile, along the way. You can also enjoy a thrilling 20 km ride from Jinja to Mabira Forest.
You ride through the forest on narrow tracks with a canopy of trees providing shelter from the sun as you experience nature at its best. This ride wanders through small villages, sugar and banana plantations and gives a good taste of rural Uganda.
Quad biking is another thrilling Jinja adventure activity.
It is also family-friendly as children are catered for. The quad bike routes run along the Nile, giving you an unparalleled view of the river as it meanders through the countryside.
The tour last between 1 and 3 hours and can include visits to local villages.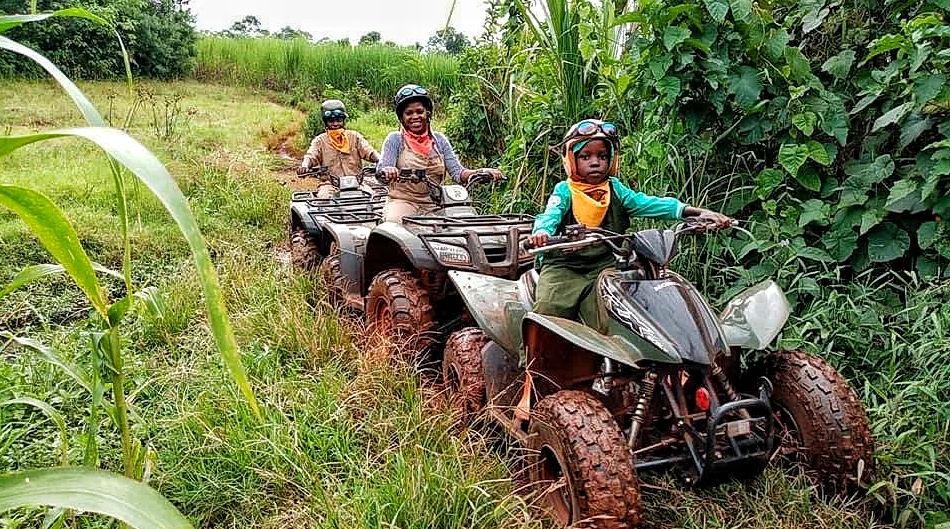 A two to three hour horse ride is also one of the fun things to do in Jinja.
You explore the beauty of the legendary Nile River with people waving at you as you ride through local villages. The horses are very well trained and maintained by their Australian owners. There are horses for riders of all experience levels.
If you would like an authentic Uganda safari tour experience in Jinja, we highly advise you to take a community village walk in Namwendwa, just east of Jinja.
During your tour, you learn how to prepare local food, brew your own Ugandan Gin ("waragi"), and of course, meet the local people.
14. Relaxation In The Middle Of The Nile
After an adrenaline-pumping adventure in Jinja, you can cruise a few kilometers downstream Nile to the Wildwaters Lodge, one of the most tranquil lodges you'll ever encounter in Africa. It is located on roughly 6 ha s on Kalagala Island, on a unique private island mid-stream within the Nile River.
It is uniquely perched on granite rocks with dramatic and exciting rapids roaring all around. It offers a relaxing and intimate location for honeymooners and couples looking for some quiet time.
You can take a tour through the city as you explore the lively streets, local markets, and shop for souvenirs ranging from clothes, jewelry, musical instruments, bags, wallets, curving, molds, to paintings.
16. Sundowner Along River Nile
There is no better way to spend your evening than on a sundowner along River Nile to Lake Victoria in Jinja. You sip on a cocktail as you enjoy the magnificent views of the Nile and the lush countryside.
17. Relax At Samuka Island
Samuka Island is a small lush island in Lake Victoria that is reached via a 30 minute boat ride from the lake shore at the source in Jinja.
The island is seated on a 15 acre piece of land and wholly occupied by the resort. It offers a unique opportunity to escape and relax in total peace and tranquility.
The island has got cottages, a lovely swimming pool, restaurant and bar. Outdoor games like volley ball and football are available. It's also very ideal for those into camping.
18. Visit Mahatma Gandhi Monument
Gandhi is one of the greatest and most charismatic leaders of the 20th century.
He is also considered to be the father of the nation of India and is remembered for the great role he played during India's transformation into a democratic nation.
Gandhi is also remembered for his work in Africa and one of his last wishes was to have some of his ash sprinkled on the river Nile. A guide can give more details about Gandhi and his work of activism especially in South Africa. Don't go without taking a photo with the famous monument.
19. Golfing At Jinja Golf Club
Jinja city has two famous golf courses to play golf while in the adventure city. These include the Jinja Source of the Nile Golf Course and the Big Game Mini Golf Course. The Nile Golf Course was established in 1912 by the colonial administrators and is one of the top five golf courses in Uganda.
It is a 9-hole course and is open to everyone who wishes to test their golfing skills. It also has other facilities like a swimming pool, a snooker table, a tennis court, a bar and a restaurant.
The big game mini-golf course is much smaller course and designed for families with children. It has ten holes that are decorated with animal sculptures and takes less than an hour to complete.

More Things To Do Outside Jinja
Mabira Forest is located about 20 minutes' drive from Jinja. Actually while traveling from Kampala to Jinja you go through this green expanse of forest located along the Kampala – Jinja highway.
Mabira is the biggest natural forest in the central region of Uganda.
It spans 306 square kilometers and home to a number of wildlife such as monkeys, months, butterflies, squirrels, reptiles, plants, trees, birds, etc.
The forest normally does not miss on itineraries of nature lovers going on a day trip to Jinja.
On the way to Jinja one can stop over for bird watching, zip lining, nature walk, mangabey monkey tracking, mountain biking, picnic and camping.
Sezibwa Falls is another great spot located 30 minute drive on the Kampala – Jinja highway.
It also provides a nice stopover on trips to Jinja. Here, you can enjoy a hike to see the beautiful waterfall and take in the lovely natural surrounding. You can also learn about the cultures and traditions associated with the place.
Sezibwa is an important Buganda Cultural Site where traditional worship of ancestral spirits is still practiced. There is an interesting tale that the Sezibwa falls and the river were created by strong spirits which then decided to stay at Sezibwa.
The traditionalists then set up shrines at the site to worship and make sacrifices to these spirits in return for blessings and favors. A site attendant will take you on a guided nature and cultural walk to explore the natural beauty of the falls and cultural heritage.
Jinja is not a known destination for hiking. But Kagulu hill is a famous hill with cultural and historical significance. It is known for being the first settlement of the Basoga people who occupy Jinja.
Standing at 3048 m, the hill is worthy a day's hike for the hiking enthusiasts and rock climbing lovers. It is also a good place those seeking to learn more about the traditions of the people in this area.
Kagulu is also located in Buyende district about 2 hours' drive from Jinja.
Sipi Falls are arguably the most beautiful waterfalls in Uganda.
The falls are quite a distance away from Jinja, farther in eastern Uganda, however it is a highlight worthy including on the trip to Jinja for the hiking enthusiasts.
Sipi falls are located in the foothills of Mount Elgon – Africa's eighth highest mountain at 4321 meters. The drive from Jinja to Sipi is about 3 hours.
From Jinja you can go hike to the falls, do the abseiling adventure on the falls, take a coffee plantain tour, and get back to Jinja in one day.
Can I Combine a Safari With Jinja?
Absolutely! In fact, we would recommend combining your visit with a wildlife safari, gorilla trekking tour or chimpanzee trekking adventure. Great safari parks to combine with your visit to Jinja include: