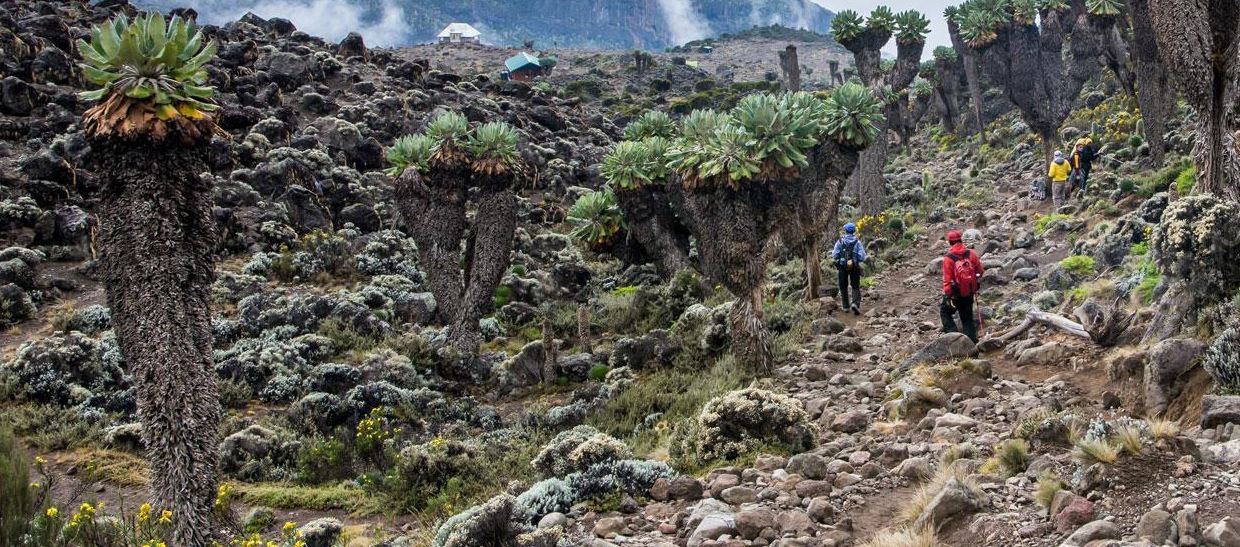 Uganda Hiking Safaris: Mountain Climbing, Trekking, Walking Safaris In Uganda 2023/2024
Uganda hiking safaris are an exciting way to explore Uganda experientially.
Uganda is a wonderfully scenic hiking and trekking destination in East Africa.
Aptly referred to as the 'Pearl of Africa', it is a country of incomparable natural beauty, cultural richness, and wildlife diversity.
People are drawn from across the globe to trek the majestic Mountain Gorillas. However, this is just the start of the Uganda safaris experience.
Uganda is home to dense, tall forests that hide the sun and tracts of tea plantations where tea workers deftly pluck the green leaves off tea bushes.
Mountain ranges dot the countryside, rising in places to snowy peaks that melt into the clouds. This is a magical landscape that is best explored on foot.
Hiking trails meander through several national parks in Uganda, past lively villages, offering breathtaking views over verdant valleys sloping down to the plains.
If you have walking/hiking shoes, we will show you how to step to Africa's rhythms and discover Uganda's best hikes.
Where To Go Mountain Climbing, Trekking, & Hiking In Uganda?
1. Rwenzori Mountains
The Rwenzori Mountains were named a UNESCO World Heritage Site because of both their beauty and biodiversity.
They are the highest block mountains in Africa. The mountains form the jagged western border of Uganda with the Democratic Republic of Congo.
The 3 tallest peaks are Margherita (5109 meter), Alexandria (5083 meters) and Albert (5087 meters), all on Mount Stanley, Africa's third-highest mountain.
Rwenzori is also one of the only 3 mountains in Africa with permanently snowcapped peaks. It supports an extraordinary number of rare plants and animals, and new examples of both are still being discovered.
There is dense rainforest on the lower slopes transitioning to the bizarre afro-alpine moorland on higher reaches.
Rwenzori is hiking heaven. Hardly anybody is there, which makes visitors feel like they have the world to themselves – a geographer once referred to them as the 'Mountains of the Moon', which is a fitting description of their isolated feel.
Delightful day hikes in the foothills are available or multi-day, multi-peak ascents for experienced mountaineers. These treks are conducted by knowledgeable local operators who have spent years carving routes through the forest, feeling their way up cliff faces to make the adventure possible.
2. Bwindi Impenetrable Forest
Enjoy a hike in search of incredible creatures – the gorillas.
The total mountain gorilla population is tiny: less than 2000 survive in the Virunga Volcanoes that straddle the Democratic Republic of Congo, Rwanda and Uganda, and in the last country's Bwindi Impenetrable Forest – a UNESCO Natural World Heritage Site.
Bwindi is an ancient rainforests with altitudes that ranges from 1,160 to 2,607m.
Trekking up through its lush, dense vegetation to locate one of the 22 habituated gorilla families is not for softies. It's steep, it's muddy, it's overgrown, and it can be wet, cold, hot – or all 3 in one day.
A limited numbers of permits costing $700 per person allow visitors to spend up to one hour with a family of mountain gorillas.
There is also other forest nature walks and birding watching trips in the area, plus opportunities to meet the Batwa people, the original inhabitants of the forest.
3. Mount Elgon National Park
An extinct shield volcano on the border of Uganda and Kenya, Mount Elgon's best treks – the trails up to Wagagai Peak at 4321 meters – falls on the Uganda side with views over Uganda and Kenya.
Elgon was one time, Africa's highest mountain. But millennia gradually reduced it to the current height of 4321m – 8th in Africa. However, the mountain still has the largest base in the world, and the world's largest caldera
Mt Elgon hike offers amazing sights of rolling hills, caves created by ancient lava tubes, cliffs, gorges, waterpools, falls, rivers, rare plants, and hot springs. There are two trails that lead to the peaks, taking 4 to 6 days.
Best of all, Elgon is relatively uncrowded and tranquil. Park fees include a guide and ranger (you can't hike without a guide).
4. Sipi Falls
The Sipi Falls are a series of three pretty waterfalls (85 meters, 65 meters, and 100 meters), situated in the foothills of Mt Elgon but outside Mount Elgon National Park.
Sipi Falls are the most beautiful waterfalls in Uganda. They are easily accessible from Kampala, has become very famous for scenic day hikes. The hike to the 3 falls covers a trail of about 7 km and on average takes up to 4 hours to complete.
The trek takes you through villages as well as coffee and banana Plantations. It also offers superb views of towering wall-like cliffs, the green slopes of Mt Elgon from above, to the flat terrain below the foothills across Kapchorwa, and in the distance panoramic views of the plains of dramatic Karamoja region.
It is possible to hike off on your own, but we advise taking a local tour guide who can describe the flora and fauna and also negotiate the passage through private property.
5. Virunga Mountains – Volcanoes
Uganda's Mgahinga Gorilla National Park shares 3 of the 8 magnificent Virunga Volcanoes which straddle along the borders of Uganda, Rwanda, and DR Congo.
The volcanoes are located in southwestern Uganda along the border with Rwanda and the Democratic Republic of Congo.
All 3 volcanoes on Uganda side have long since retired from spewing lava (though there are 2 active volcanoes in the range in Congo), but their presence in the park is no less dramatic for their dormancy.
Mounts Muhabura (4127m), Sabinyo (3645m), and Gahinga (3474m) are the products of ferocious geological forces that shaped this section of the Albertine Rift.
Mt Sabinyo, whose name translates to 'old man's teeth' offers the most spectacular and popular hike. It is the most challenging of the 3 because of a more rugged terrain with many craters, but most fun and offers breathtaking views into the gorges of Rwanda and Uganda.
When you trek to its top, you'll have a unique opportunity to stand in Uganda, Rwanda, and Congo at the same time!
In Mgahinga, you can also take the Batwa Trail the leads from the base of the volcanoes.
The trail is a living museum where you can learn about the Batwa People, a pygmy tribe that lived a hunter-gatherer lifestyle in the Mgahinga National Park for thousands of years. Mgahinga also offers gorilla trekking.
6. Top Of The Murchison Falls Hike
Another of Uganda's famous waterfall hikes is a hike at the top of the world's strongest waterfall. The Murchison falls have been described as the most spectacular thing to happen to the Nile along its entire 6,700 kilometer length.
The falls are not very big or wide like some you may have seen before. But, here the world's longest river which is 50-metre-wide river forces itself through an 8-metre- wide rocky gap before falling 45 metres to what has been termed the "devil's cauldron" below, forming a plume of spray marked by a thunderous roar and a permanent rainbow.
You can feel the force of the water beneath the rocks underfoot. You'll need to shout to make your voice heard above the tons of water thundering beneath you. It is a truly unforgettable experience!
This hike is not done as an independent hiking tour but rather as part of Uganda wildlife safaris to Murchison Falls National Park – Uganda's biggest park that is home to hundreds of bird species, primates, reptiles, and mammals (including four of the 'Big Five').
7. Kibale Forest National Park
Enjoy a hike in search of our closest living relatives.
Kibale Forest has the highest density of primates in Africa. It is also the premier destination chimpanzee trekking in Uganda, sheltering a population of over 1,500 of these complex, intelligent primates.
Most of the park is dominated by evergreen rainforest, with a floral composition that marks a transition from typical high-altitude Afromontane to lowland forest.
Among 300 tree species, rare hardwoods tower above the forest floor from massive buttresses. Interspersed between them, fruit-laden figs keep the park's impressive primate densities well-sated.
Beneath the thick canopy, the winding trails are widely acknowledged as some of the most picturesque on the continent, lined with a thick layer of shrubby undergrowth. On the park's fringes, the community-run Bigodi Wetland offers amazing swamp walks for primate enthusiasts and birders.
8. Mount Morungole – Home Of The Ik Tribe
It is also possible to take a challenging hike up into Mt Morungole (2,749m) to meet the Ik people, one of the most marginal communities on Earth.
In 1972, the Ik became popular when British-American anthropologist Colin Turnbull published his book "The mountain people" in which he described the Ik people he came across as people who did not love.
However, your tour of Ik village will disapprove that, they love, welcoming and Turnbull simply got it wrong.
This 8-hour-hike takes place in the remote in northeastern Uganda, just outside one of the most scenic parks in Africa, Kidepo National Park, where there are also many other hiking trails within Uganda.
9. Mount Moroto – Home Of The Tepth Tribe
The scenic hike on the volcanic Mount Moroto (3085m), the highest mountain of Karamoja region in north east Uganda offers a great opportunity to meet the Tepeth, one of Uganda's smallest tribes.
It is one of the best outdoor adventures and authentic cultural experiences in Uganda. During the hike you will learn about culture; spirits, gods and sacred sites of these fascinating mountain people.