Mgahinga Gorilla National Park is located in the far south western corner of Uganda on the borders of Democratic Republic Congo and Rwanda.
This scenic little of park 33.7 square kilometers protects the vital protect part of the Virunga Mountains, a chain of 8 volcanoes, of which 3 are in Mgahinga.
All 3 of the volcanoes in Mgahinga have long since retired from spewing lava (though there are 2 active volcanoes in the range in DR Congo's Virunga National Park.
With the Volcanoes National Park (160km2) of Rwanda in the south and Congo's Virunga National Park (7,769 km²) to the east, Mgahinga is part of the Greater Virunga Conservation Area. This trio of national parks acts as the guardians of half of the world's endangered mountain gorillas living on the forest-swathed slopes of the imposing volcanoes.
Gorilla trekking in Mgahinga is the main attraction, but it is less popular than Bwindi Impenetrable Forest National Park, due to having only habituated family. However, there is more on offer in Mgahinga Gorilla National Park than just gorillas.
How To Get To Mgahinga Gorilla National Park?
By Plane: Entebbe Airport is how most visitors enter Uganda and travellers should be aware of the latest Uganda visa requirements. It is possible to take a domestic flight from Entebbe to Kisoro.
By Road: Mgahinga Gorilla National Park lies 14 km from the small town of Kisoro along a rough ascent road (allow 45 minutes). A 4WD vehicle is recommended for this road at all times and is essential in the Wet seasons (from February to May and September to November).
The park is 510 km / 317 miles from Kampala (at least 9 hours' drive) and it can be reached by road from Queen Elizabeth National Park (around 6 hours) or Lake Mburo (5 to 7 hours). Carrying a small amount of local currency, the Uganda currency (UGX) is advised for smaller purchases.
Activities To Do In Mgahinga National Park
Mgahinga Gorilla National Park owes its existence, at least in part, to the presence of the endangered (once critically endangered) mountain gorillas. Today they are probably the park's most famous residents. Mountain gorillas are a subspecies of the critically endangered eastern gorilla, and there are believed to be just over 1,000 remaining on Earth.
Approximately 80 of the world's gorilla population is found in this tiny park Mgahinga has one gorilla family called Nyakagezi that receives guests on gorilla trekking adventures every day. The Mgahinga gorilla treks are quite different from Bwindi Gorilla trekking tours. This is because it is a hike that is done along a range of ancient volcanic mountains.
Mgahinga's only gorilla family is a fascinating one being that it has 3 giant silverbacks that quite impressively get along very well. Like in Bwindi Impenetrable Forest, the Uganda gorilla safaris in Mgahinga Park can be challenging or easy. And they can last between 2 to 8 hours depending on your fitness levels and where the gorilla family is on any given day.
All gorilla treks begin with an 8:00 am briefing. This is followed by a journey into the forest led by an expert local ranger guide. A maximum of 8 guests are allowed to visit a mountain gorilla family every day. And they spend up to l hour with the gorillas.
So you will want to have your camera with you to capture the moments. All visitors on gorilla trekking safaris to Mgahinga Gorilla National Park will need a gorilla trekking permit.
2. Tracking Rare Golden Monkeys
As the park tagline goes, Mgahinga Gorilla National Park is "where gold meets silver". This is indeed seen in how silverback gorillas and golden monkeys share a close range of habitat. These beautiful Old World monkeys are almost as rare as their gorilla relatives.
They are also endemic to the Virunga area. With their gorgeous facial mane, auburn capes of fur, and perpetually surprised expressions, golden monkeys are the perfect photographic subjects. And their antics are endlessly entertaining. The Golden Monkeys love to eat bamboo shoots.
They live in large groups of up 100 individuals in the bamboo forest in the lower zone of the mountains which makes finding them easier when trekking.
The Golden monkey tracking activity begins with a briefing by the ranger guides at the park headquarters at 7.30 am. The actual trek commences at 8.00 am. It is one of the most fascinating things to do in Mgahinga before or after gorilla trekking.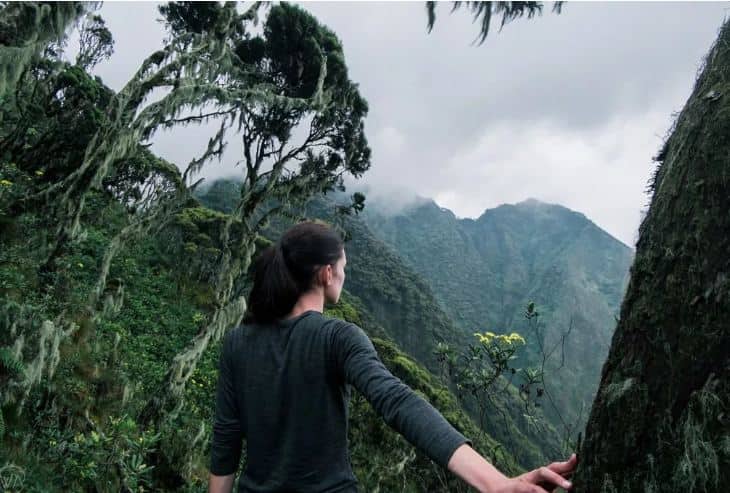 Mgahinga Gorilla National Park's skyline is dominated by three extinct virunga volcanic cones. These are Mount Muhabura (4,127 meters), Mount Gahinga (3,474 meters), and Mount Sabyinyo (3669 meters). They all offer unique and exciting hiking tour experiences.
All hikes are accompanied by a team of UWA rangers. And each of the 3 volcanoes can be summitted in one day, which makes these single-day hikes a perfect day addition to a gorilla tracking safari. Although Muhabura with its crater lake is the highest of the three, Mt Sabyinyo whose name translates to 'old man's teeth' proves to be the toughest and most popular.
It also offers the most spectacular volcano hike in Mgahinga Gorilla National Park. Sabinyo has three challenging peaks to climb. Its trekking trail takes you up a ridge along the eastern side of peak one. If you decide to continue, the ascent to peak two involves hiking a ridge with breathtaking views into the gorges of Rwanda and Uganda.
Lastly, the ascent up to peak three is steep with several ladders and much scrambling – you're sure to get your hands dirty along the way. On top of peak three (3669 meters) you will have a unique opportunity to stand in Uganda, Rwanda, and Congo at the same time!
Mount Sabinyo hike traverses all different vegetation zones, and there is a decent chance of seeing golden monkeys, Duikers, Rwenzori Turaco and Sunbirds along the way.
4. Batwa Cultural Heritage Trail Experience
The three to four-hour Batwa Cultural heritage trail is an unforgettable Uganda cultural safari experience. The trail introduces you to the Batwa People, the last surviving members of the pygmy tribe that has relied on the forest for centuries for shelter, food, and medicine.
The Batwa lived happily and peacefully as hunter-gatherers in the forest. They did not destroy the forest. They coexisted peacefully with the gigantic gorillas. In 1991, however, times changed for them. In the cause of preserving the rainforest and endangered mountain gorillas, the Batwa were forced out the forest and relocated to neighboring communities.
Here they suffered terribly as they had no skills and means to adapt to modern life outside the forest. But, as part of their rehabilitation and cultural conservation in harmony with tourism, the Uganda Wildlife Authority (UWA) established the now famous Batwa Cultural Heritage Trail.
It is conducted in the park under the direction of a native Twa guide.
You get the chance to discover some of their forest secretes such as lighting fire by rubbing sticks together, bivouac building that they lived in, hunting and trapping techniques; target practice with a bow and arrow, how to fetch water in a bamboo cup.
You also learn about their food gathering skills; nutritious leaves and plants that are found in the forest; as well as plants, roots, herbs, bark from trees that they used as medicine for centuries. The trail ends inside the Garama Cave, which is 343 m long and 14 m deep. Garama Cave and is now inhabited only by bats, but your Twa guide will explain how they lived and fought from this cave.
5. Birding For Albertine Rift Endemics
Like Bwindi Impenetrable National Park, Mgahinga National Park offers some of the best birding in Uganda. High levels of endemism and the challenges of forest birding make this one of the most electrifying places to search for the feathered specials that keeps eager birders awake at night.This birding haven has about different recorded species, including 12 Albertine Rift endemics, including: Rwenzori Turaco, Rwenzori nightjar, Rwenzori batis;
Handsome francolin, Kivu ground thrush, Dusky Crimsonwing, Red-throated Alethe. Archer's robin chat, Stripe-breasted tit, Blue-headed sunbird, and Regal sunbird
Mgahinga Gorilla National Park also offers a series of scenic nature walks. The most popular being the Sabyinyo Gorge walk which takes you through the park's incredible vegetation and landscape. This trail climaxes in one of the most stunning waterfalls. En route, you may spot some of the park's wildlife including chameleons, primates, giant earthworms, duikers, and birds. Gorge walks are led by a local ranger guide who explain the ecosystem
Lodges at Mgahinga Gorilla National Park
Guests at Mgahinga National Park can choose from a number of different options when deciding where to sleep. Accommodation ranging from luxury safari lodges to lower budget camping.
The standout luxury base for exploring Mgahinga Gorilla National Park, Mount Gahinga Lodge has a peerless setting below a trio of tall volcanic peaks of Virunga Mountains.
Under the same dynamic management since it first opened in 2002, the lodge comprises 7 massive cottages that combine local Bafumbira stone architecture with modern comforts and excellent amenities. Being only five minutes' walk from the main park entrance, Mount Gahinga Lodge is ideally positioned for gorilla trekking in Mgahinga, as well as other activities such as golden monkey trekking and day hikes to the Virunga peaks.
This lodge is built at the foot of the volcanoes with beautiful views of Lake Mutanda and the mountains in the park. There are 9 grass thatched bandas and 3 tents with private balconies. Besides the bandas, it is possible for visitors to pitch their own tents in designated places. Electricity is supplied using solar panels.
3. Amajambere Iwacu Community
Amajambere Iwacu Community Camp offers camping d for those with their own equipment. The meals are mostly Ugandan dishes and are served at the communal area in the camp. A campfire is set late in the evening for guests with cultural performances from the Batwa. The thing about booking with this camp is that you indirectly contribute to the well-being of the community.
When Is The Best Time To Visit Mgahinga?
Understanding the best time to visit Uganda is important as this will impact accommodation, flight prices, availability and the weather that visitors can expect on their safari vacation. Mgahinga is open for gorilla trekking the whole year, but the best times are during the drier seasons from June to August and December to January. At these times the trails tend to be easier to navigate and spending a precious hour with the gorillas might be more pleasant when it isn't raining.