Wondering where to stay in Murchison Falls National Park? This complete selection of best safari lodges in Murchison Falls National Park ranges from luxury, mid-range to budget.
A stay at these Murchison Falls National Park lodges includes delicious meals, river boat safaris, guided game drives, bird watching, and wildlife safaris.
Our Tulambule Uganda safaris specialists can offer expert advice and select the best safari accommodation in Murchison Falls National Park to suit you, as well as assist in booking flights, activities, car hire or road transfers.
These recommended lodges in Murchison Falls National Park are split between three locations: Paraa, the Albert Nile, and the Victoria Nile, and Kaniyo Pabidi and the Masindi road.
Prices range from $8 to $600 per night. Which accommodation is right for you will depend on many factors, including your budget, group size, and duration of stay.
Lodges in Murchison Falls National Park
Please see our top 10 recommended lodges for Murchison Falls National Park below but do contact us for personal recommendations and/or to check availability around your travel plans.
And remember that our Uganda travel experts have travelled extensively in and around Murchison Falls National Park as well across the whole of Uganda. We would love to help and have price-match guarantees across all Murchison Falls National Park accommodation.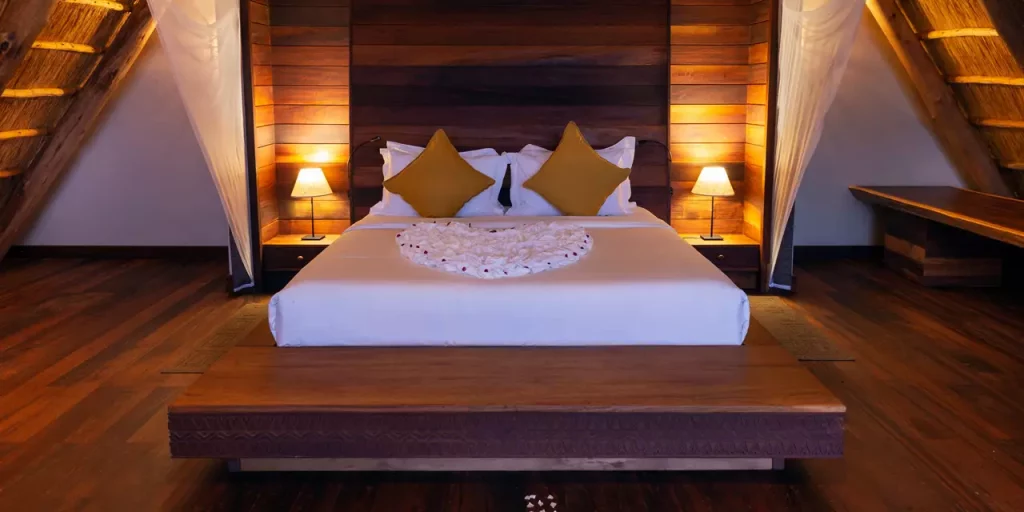 Nile Safari Lodge is situated on the south bank of the Nile River and has magnificent views out across the river. It is an eco-friendly, family-owned lodge which opened in 2017.
Guest accommodation at Nile Safari Lodge includes 8 luxurious bandas secreted along the bank of Nile. The emphasis here is on exclusivity and privacy, so it's perfect for a romantic getaway!
The rooms are spacious, with lovely wooden décor and their own shaded decking overlooking the river. All are elegantly appointed, with large beds, en-suite bathrooms, and an outdoor shower option that allows you a view of the stars.
Even more special is the Mzezi honeymoon banda which has its own plunge pool and star bed. If you are a Uganda family trip to Murchison Falls National Park, Nile Safari Lodge's Dunia family suite can accommodate up to 8 people. This suite has its own private swimming pool, super-comfy living room area, and views of the Shoebill peninsula.
The food at Nile Safari Lodge is excellent. Chefs prepare fine international cuisine with local twists, and they bake bread and pastries daily for you!
There are many private and beautiful spots for candlelit dinners, or you can eat communally and swap stories of the day's adventures. Also worth mentioning is the excellent cocktail bar and the Mtoni Spa, where you can enjoy treatments with panoramic views of the park.
Highlights
This eco-friendly lodge maximizes luxury and minimizes its carbon footprint.
The flexible dining experience caters for guests who want to operate on their own schedule.
All breads and pastries are freshly baked on-site.
Eight secluded bandas maximize privacy.
Paraa Safari Lodge was established in 1954. It is one of the oldest and largest of safari lodges in Uganda. The lodge is located in the Central Paraa area of Murchison Falls National Park.
It is situated on a slope overlooking the north bank of the Nile River as it flows through Murchison Falls, the world's strongest waterfall.
Para safari lodge has 53 comfortable and well-equipped rooms that are categorized as classic, deluxe and superior. It also has 3 safari tents, 2 suites and a cottage.
The rooms have undergone many face-lifts since 1954, but it still enjoys a wonderful location, best appreciated from the large and inviting swimming pool.
Paraa Safari Lode's restaurant is decorated in colonial style. Logistically, Paraa Safari Lodge is perfectly suited for boat trips to the bottom of Murchison Falls and wildlife game drives on the productive Delta game drive circuit.
Highlights
Its unique decor gives the lodge a distinctive ambience.
On Saturday evenings, The Captain's Table restaurant holds barbecues and performances from traditional dancers.
The Explorer's bar is located on the upper floor of the lodge, giving it a spectacular view of the Nile.
The lodge offers a broad range of accommodation to suit all needs (a cottage, suites, double, twin and single).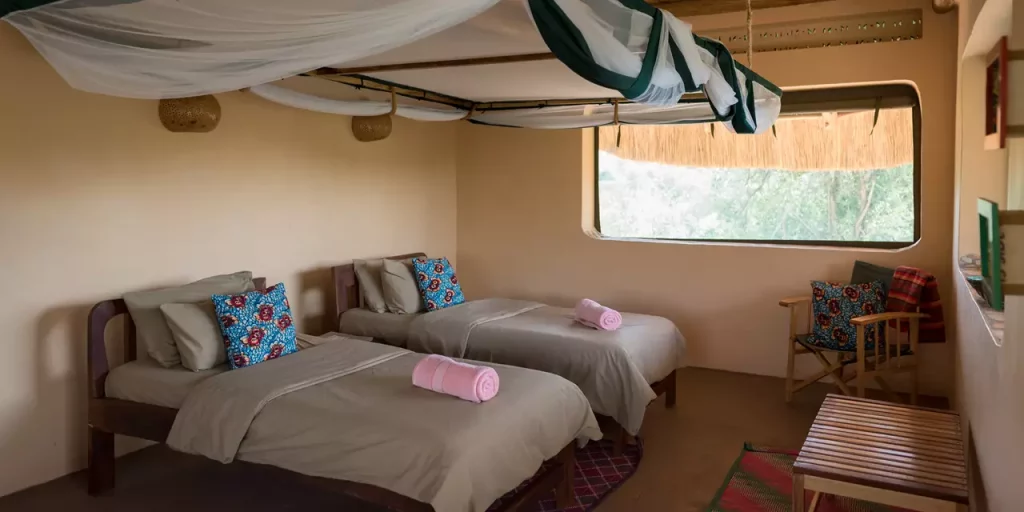 Situated on the southern bank of the Nile River, Murchison River Lodge was established by Chris and Georgie, a couple who wanted to provide quality accommodation for all travellers, regardless of their budget. This mid-range lodge offers accommodation in 4 categories;
Thatched cottages; each cottage the 4 cottages accommodates 4 adults or a family. Each has twin beds at ground level, and a double bed on a mezzanine floor. Other features include solar lighting, mosquito nets, shower room, towels, and a stair gate for children if required. This option also benefits from a wide veranda with sofa, hammock, and superb bush views.
Thatched Safari Tents: This category has many of the same amenities as the Cottage. All tents contain twin beds, and some have sufficient space for an extra bed and/or a cot. Two tents are positioned on the river bank, and every tent has a private permanent washroom.
Comfortable Camping: This option offers a similar set-up to the Tent option, except that guests have access to a toilet and shower block rather than use of their own facilities.
Campsite: This is perfect for adventurous travellers. It is situated away from the river, in a wooded area. It has a car park, two kitchen areas, an outside water source, and access to the toilet and shower block. Please note that you must bring your own camping equipment.
Highlights
The lodge is ideal for environmentally conscious guests since it runs entirely off solar power.
Murchison reconciles comfort with awareness of one's natural surroundings. The lodge is designed to help its guests connect with the ecosystem.
Excellent service, including an evening escort from the restaurant to your accommodation since hippos often wander into the grounds at night.
Pakuba Safari Lodge is the best mid-range of lodges in Murchison Falls National Park. The Murchison Falls National Park lodges near to the Albert Nile in the northwest offer the greatest choice of budget options. Of these, Pakuba Safari Lodge has the best location.
The 3-star lodge is situated on the east bank of the Albert Nile. It is was built on a site just up from the ruins of an old safari lodge formerly used by Idi Amin, now a picturesque ruin favoured as a hang-out by giraffes. Rooms are huge, stylish and rather minimalist.
Pakuba is a short distance from the Tangi Gate of the park. After an adventure-paced day at the park, you can cool off in its outdoor pool or sip your favourite tipple at the lodge's fully stocked bar. You may prefer to sit at your window and take in the scenic wilderness views. Fortunate guests may see animals such as a warthog, or even a giraffe from the lodge.
Highlights
A complimentary English breakfast will fuel your day of adventures.
Its outdoor pool offers stunning views of the meandering Nile.
Excellent service, including complimentary room service.
Isolated on the far-eastern reaches of the park, renovations have returned Chobe – one of Murchison Falls National Park's original 1950s lodges – to its former splendour. Its gorgeous river location is teeming with honking hippos, enjoyed from its classy outdoor restaurant.
The upstairs standard rooms are the best pick with great views, lovely decor and balconies. Its three-tiered swimming pool is another highlight. The place has the feel of a celebrity hideaway, and even has its own airstrip – though it's more popular with grazing buffaloes.
Highlights
5-star lodge provides unparalleled comfort.
Its fully equipped gym featured in CNN's list '10 Gyms with The Most Amazing Views' in 2011.
The Chobe Health Club and Spa provides excellent relaxation after a day of activities.
The game safari bush breakfast offers a bespoke dining experience.
Venturing further south, accommodation is available alongside the main road that runs between Masindi and Paraa area. Although these lodges do not have Nile frontage, they offer great access to the Budongo Forest, home to a myriad of birdlife and over 800 wild chimpanzees.
The Great value Budongo Ecolodge is located 8 kilometers north of the Kichambanyobo Gate. Originally the research station for the Jane Goodall Institute, it has been renovated to offer a pleasant and comfortable base for chimpanzee trekking, bird watching and forest exploration.
This wooded camp has 5 intimate eco-cabins. Each cabin features a private deck that overlooks the surrounding forest. The rooms are spacious, with large twin or double beds and a sitting area. They have fully equipped bathroom with a wash table, shower and separate composting toilet.
Budongo Ecolodge also has four nice dormitory rooms each with two double-deckers and screen windows. There is solar power, hot water, rainwater catchment and eco-toilets. If you're interested in seeing chimps, this is one of Uganda's best-kept secrets, with excellent, personalized guiding that's respectful of the animals. The restaurant serves good food too.
Highlights
Great location for exploring the Budongo Forest.
A terrace restaurant and bar provide a unique culinary experience in the depths of the jungle.
Its on-site visitor centre will answer all your queries about the local area.
Fort Murchison Lodge is part of the Dutch-owned Nature Lodges' a company that species in providing comfortable budget and midrange accommodation in Uganda's best safari parks.
The lodge takes the form of an ambient Islamic fort in a commanding location overlooking the Albert Nile. It is located just outside the northern park boundaries and offers a variety of comfortable accommodations to suit budgets from the mid to lower market.
It has fine dining; good service and rooms oozing with safari style (go upstairs for the best views). The gorgeous rooftop deck has loungers shared with darting multicoloured agama lizards. There is a swimming pool and Wi-Fi in the works.
If you are looking for a more classic safari-style accommodation, there is tented camping set up on an expansive campsite. The rooftop bar is another perk.
Twiga Safari Lodge is a unique option for travellers who are seeking a unique style of accommodation. This provides a contemporary take on a tented camp, combining canvas with solid construction.
Twiga's budget and mid-range accommodation is a fusion of Safari camping tents and thatched African cottages. Its 8 private cottages are located on the bank of the historic Nile River in Mubaako Paraa, opposite the Murchison Falls National Park.
Birds, monkeys and even hippos are often seen around the grounds of the lodge. This lodge offer free high-speed Wi-Fi and parking, the lodge has its own restaurant, bar, and gift shop.
Highlights
Bespoke accommodation. Enjoy a safari camping experience under the comfort of a thatched roof.
Only a five-minute drive from the ferry crossing to Murchison.
High-speed Wi-Fi allows you to share your adventures with your loved ones back at home.
Red Chilli Rest Camp is situated in the heart of the park at Paraa. With good tours and buoyant staff, this is one of most popular budget safari lodges in Murchison Falls National Park.
Red Chilli Rest Camp has basic bandas (thatched-roofed huts) that are good value as well as safari tents. Its restaurant-bar is set under a thatched roof with good river views and a roaring evening fire. Hippos regularly graze here at night, so bring a torch and give them a very wide berth.
Highlights
A range of accommodation options from DIY camping to superior family bandas with en suite facilities
Fully stocked bar & restaurant below an open thatched roof with spectacular views out towards the Nile.
The restaurant serves an a la carte breakfast and lunch menu daily.
Dinner is a choice of 3 different dishes daily (one always veggie).
BBQ area for self-catering.
Evening camp fire.
Absolutely no Wi-Fi – sit around the fire and chat about your safari instead!
Modern toilets and showers with provision for disabled visitors.
En suite bandas are fitted with solar hot water systems, power points & fans.
Electricity is supplied by our generator from 7am until 9am, 11am until 2pm and then from 5pm until 10pm daily.
10. Heritage Safari Lodge
Heritage Safari Lodge offers comfortable budget safari accommodation within 5 minutes' drive from Murchison Falls National Park.
Accommodation here consists of cottages as well as tents. There is also a camping ground that is popular with self-sufficient budget guests.
Heritage Safari Lodge's cottages are designed to allow unique and flexible bedding arrangement to suit each guest' need; single, double, triple, quadruple, and family etc.