MURCHISON FALLS NATIONAL PARK: OVERVIEW
Murchison Falls National Park is possibly the best game park for wildlife safaris in Uganda.
This scenic Uganda safaris park boasts a huge diversity of wildlife that is easier to see compared to other game parks in Uganda. It's also a great add-on to a long holiday itinerary that incorporate a visit to the Uganda gorilla safari park of Bwindi Impenetrable Forest
Murchison Falls National Park gets its name from the magnificent Murchison Falls – the world's strongest waterfalls on the Nile River. The falls were named by Sir Samuel Baker during his exploration of Uganda in the 19th Century. Baker named the falls Murchison after the famous British geologist Sir Roderick Murchison, who incidentally believed Africa to be a geologically boring continent.
As the largest Uganda national park, Murchison has over 450 birds and 76 mammal species, including 4 of the Big Five. And an itinerary that combines Murchison Falls with the nearby Ziwa Rhino Sanctuary and Budongo Forest provides you with a decent chance of seeing all the Big Five animals of Africa as well as chimpanzees and shoebills in the course of one short, affordable Uganda safari trip!
Notable visitors to the park include Ernest Hemingway, President Theodore Roosevelt and several British royals. Sir Winston Churchill also visited Murchison Falls which may have been what led him to declare Uganda the 'Pearl of Africa'.
A Brief history of RECOVERY
In the first half of the 20th century, Murchison Falls National Park and its surroundings was a hunting playground for the rich.
In 1909 – President Theodore Roosevelt of the United States of America visited Murchison Falls as part of the most lavish hunting safari of all time. By the end of his year-long East African safari, the Smithsonian-Roosevelt Africa Expedition had killed and collected 11,400 animal specimens for the Smithsonian Institution.
In 1952 – hunting activities became regulated in the area. As animal populations recovered, the then Bunyoro-Gulu Game Reserve became Murchison Falls National Park. In 1960s – Murchison Falls was one of the premier destinations for wildlife safaris in Africa, receiving more than 60,000 visitors every year.
In 1972 – with the rise of Idi Amin's despotic reign, however, the populations of wild animals in Murchison Falls National Park were greatly reduced by poaching and uncontrolled hunting. Rhinos were killed off entirely and other animal numbers suffered equally at the hands of desperate civilians and soldiers.
In 1979 – although Amin was overthrown, it was to be another 20 years before the Uganda Wildlife Authority was able to restore the core tourism area of the park. Recovering visitor numbers supported the painstaking work of restoring the park to its former glory.
Though poaching, especially snares set for bush-meat, has remained a serious threat on the outer fringes, concerted efforts have been made to make sure there is investment in surrounding communities. In addition to everything from education initiatives to employment schemes, 20% of the revenue from park fees is fed back to the local community. In short, the restoration of Murchison Falls National Park has built a solid foundation for the park's long-term future.
LOCATION and size OF Murchison Falls National Park
Murchison Falls is located in northwestern Uganda, about 300km by road from Kampala. The park covers 3,840 km2 of wilderness on both sides of River Nile west of Karuma Falls and east of Lake Albert. It's part of the greater Murchison Falls Conservation Area.
The landscape of Murchison Falls National Park is dominated by savannah-woodland habitat dotted with beautiful Borassus palm trees. The national park also encompasses vast tracts of tropical forests, swathes of grassland, and wetland habitats.
To the south, west and east, it adjoins Bugungu Wildlife Reserve (782 km2), Budongo Forest Reserve (825 km2), and Karuma Falls Wildlife Reserve (720 km2). These reserves are diverse ecosystems in their own right, but serve a vital function as buffer zones between the game park and the nearby local communities.
How To Get To Murchison Falls National Park?
Your Uganda safari to Murchison Falls can start from Entebbe or Kampala. From there you can get to Murchison Falls National Park by road. Your drive will take approximately 6 hours. However, along the way, you'll enjoy some incredible scenery and you can visit the Ziwa Rhino Sanctuary, a protected area that is home to Uganda's only wild rhinos.
The fastest way to get to Murchison Falls is by taking a small plane from either Entebbe International Airport or Kajjansi Airstrip in Kampala to a small airstrip located directly inside the park. The flight takes about 1½ hours.
Read More: Uganda fly-in safaris
Some Of Our Murchison Falls Safaris Packages
Murchison Falls National Park is a popular destination for short safaris in Uganda. Stand-alone Murchison Falls safaris usually range in duration from 2 to 4 days. They often include tracking chimps in Budongo Forest and rhinos in Ziwa Rhino Sanctuary. Also available are longer Uganda safari itineraries of 7 to 21 days that travel more widely in Uganda and incorporate a visit to Murchison Falls.
The Nile River And Murchison Falls
Murchison Falls National Park is divided by the historic Nile River – the longest river on Earth and one of the Natural Wonders of Africa – which creates a tapestry of riverine habitat and flows into the park's eponymous waterfall- its most distinctive feature.
The Murchison Falls marks Nile River's entry to the Great African Rift Valley. These dramatic falls are a jaw-dropping sight to behold. Here the Nile which is over 50 meters wide is forced through a narrow gorge just about 8 meters wide. It then plunges 45 meters to what has been termed as the devil's cauldron below, forming a plume of spray marked by a thunderous roar and a permanent rainbow.
The Murchison Fall is the world's most powerful waterfall!
Every second, the equivalent of 200 bathtubs full of water is forced through the tiny gorge. The falls are also lined by verdant plant life, can be viewed on foot from the top or at a more leisurely pace in a boat from below.
A little history about the Murchison Falls
The Murchison Falls is first mentioned to in the writings of John Speke, who upon visiting Karuma Falls to the east in 1862 was told that a few other waterfalls lay downriver, 'mostly of minor importance' but ' one within ear sound… Two years later, partly to fulfill the promise they had made to Speke, Samuel Baker and his wife Florence Baker became the first Europeans to explore the stretch of the Nile River between Lake Albert and Karuma Falls. As they were paddling about 30 km east of the estuary, Samuel Baker wrote:
"We could distinctly hear the roar of water and upon rounding the corner, a magnificent site burst upon us. On either of the river were beautifully wooded cliffs rising abruptly to a height of about 300 feet. Rocks were jutting out from the intensely green foliage.
And rushing through a gap that cleft exactly before us, the river, contracted from a grand stream, was pent up in a passage of scarcely 50 yards in width. Roaring furiously through the rock-bound pass, it plunged in one leap of about 120 feet (36m) perpendicular into the large abyss below. The fall of water was snow-white, which has a superb effect as it contrasted with the dark cliffs that walled the water, while the graceful palms of the tropics and wild plantation perfected the beauty of the view.
This was the greatest waterfall of the Nile, and in honor of the distinguished president of the Royal Geographic Society, I named it the Murchison Falls, the most important object through the entire course of the river".
Animals In Murchison Falls National Park
Which Animals Are Found In Murchison Falls National Park? The restoration efforts of Murchison Falls National Park have proved exceedingly successful and today you can expect to see a good variety of African wildlife. The national park is home to over 76 species of mammals including four of the Big Five.
The adjacent Budongo Forest is home to 600-700 chimpanzees, our closest relatives. Some of the communities have been researched and habituated for the past 30 years. It is one of the best places for chimpanzee trekking in Uganda. Here are key animals species you can see in Murchison Falls National Park.
1. Hippopotamus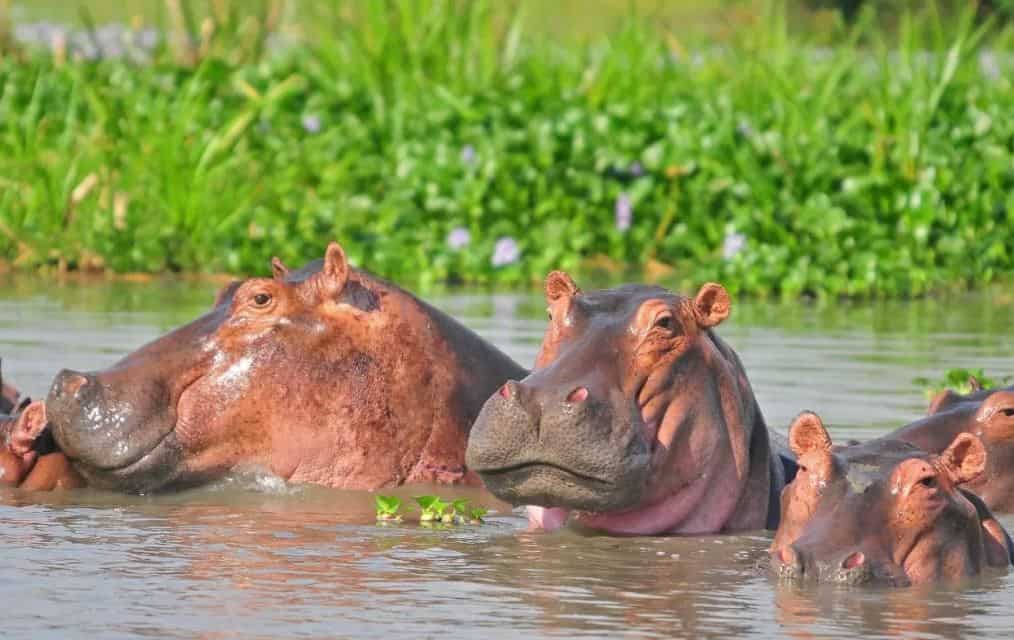 During your Murchison Falls safari, you'll see plenty of hippos. Hippos spend their days submerged in the cool water of the Nile with only nostrils, eyes, and ears exposed, blinking in the abundant sunshine.
Periodically they duck back under the surface of water and then bobble back up again, blowing excess water from their nostrils and flicking it from their little pink ears.
When night descends, these portly beasts emerge from water and graze by starlight under the cool relief of night. Despite their bulky appearance, hippos are swift on the ground and can run faster than you!
Hippos have been known to walk several miles from rivers while grazing, but by the time sunrise burns through the morning haze, they'll have taken refuge once again in their water retreat.
2. Nile crocodiles
Beneath the waters of the Nile River in Murchison Falls Park lurks hundreds of monstrous Nile crocodile- one of the largest crocodilian species on Earth, second only in size to the saltwater crocodiles of Asia and Australia.
These massive prehistoric looking creatures of up to 6 meters long boasts exceptional biting force and hunting abilities.
Younger crocodiles are primarily reliant on regular meals of invertebrates, amphibians, and fish.
But those that survive to adulthood will attain the status of apex predator, capable of ambushing large prey twice their size including buffalo, giraffe, humans, and even baby elephants.
3. Rothschild's Giraffe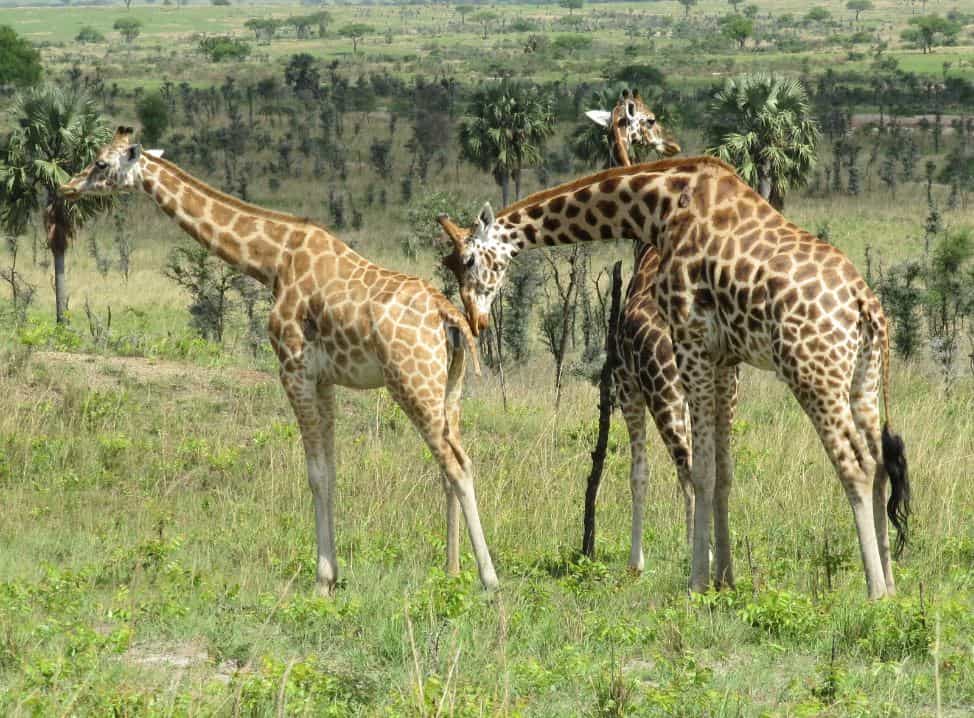 Murchison Falls National Park is home to approximately 1,250 Rothschild's giraffes, more than half the global population of this localized subspecies.
The giraffe herds here are possibly the largest you will ever see, often numbering 30-plus individuals – a memorable sight as they march through the borassus grassland in the northern part of the park.
As the tallest animals on Earth, giraffes do not exactly keep low profile and probably need little by way of introduction.
It is an animal so peculiar in appearance that its scientific name – Giraffa camelopardalis – reflects its perceived similarity to both a camel and … a leopard.
4. Common Warthogs
The endearing Common Warthog is a commonly seen animal in the bush in Murchison Falls National Park. Made famous by the character Pumba in the Lion King, these funny little animals resemble pigs.
Listed as one of Africa's "Ugly 5", the Warthogs feed on their knees. They are primarily grazers who spend most of the morning and late afternoon foraging.
When startled they run away with their tails sticking straight up in the air. But don't let their funny appearance fool you completely – the tusks on a male warthog can rip open a lion.
5. Olive Baboon
Also known as the Anubis baboons, Olive baboons are common primates you can see on your Uganda safari tour in Murchison Falls National Park. You can spot them almost everywhere in the park.
These versatile and highly intelligent monkeys are known to be a confident opportunist, so keep your tent flaps closed and your picnic lunch out of sight if you are on camping safari here.
The canine teeth of an adult male baboon are longer than those of a leopard.
He will use them in yawning threat displays to rivals but also as lethal weapons, both in attack and self-defense. Baboons, like us, rely on subtle social skills for survival.
6. Spotted Hyena
During your wildlife safari at Murchison Falls, you're likely to fall asleep to a distant, whooping serenade of laughing hyenas. Hyenas are among the most misunderstood animals in the world.
They are hated as cowardly, thieving; dirty, ugly, lazy…the list goes on. These impressions are embedded in human history and public consciousness then reinforced by mainstream media and films.
Fortunately, though, more and more people are coming to appreciate hyenas for the fascinating creatures they are. These Uganda animals play a vital role in the ecosystem by consuming carrion – they're Mother Nature's recyclers!
Their notorious (and often feared) laugh-like vocalization is just one of the many sophisticated ways in which they communicate.
7. Patas Monkey
Murchison Falls National Park is also one of the best places to see the unique ground-dwelling Patas monkeys.
These Uganda monkeys spend 60 percent of their lifetime on the ground. Trees are mainly used if danger arises.
Patas monkeys are also the fastest primates in the world; they can run up to 55 kilometers (34 miles) per hour!
They're social primates and live in large troops of up to 60 individuals! Female juveniles usually remain in family groups, whereas male juveniles usually leave these groups at sexual maturity.
8. Fish
The Nile River in Murchison Falls National Park is home to the great Nile perch, tigerfish and catfish!
The Tiger fish has beautiful colors of the rainbow, but one look at their vicious teeth leaves you in no doubt they are savage predators.
The Nile Perch is one of the world's largest freshwater fish. It can weigh more than 220kgs. The record largest Nile Perch in Murchison Falls was 114kg, caught by Kevin Nicholson in 2013, just eclipsing Tim Smith's 113kg catch in 2009.
World-famous anglers who have been on the Nile in Murchison looking for that big one include Zeb Hogan of the Monster Fish – National Geographic and Jeremy Wade – River Monsters presenter.
Africa's Big 5 Animals In Murchison Falls National Park
Hundred years ago, lion, rhino, leopard, elephant and buffalo were the most sought-after animals to hunt.
People would travel thousands of miles from Europe and America to Africa just to kill these beautiful animals of Africa! These days the Big Five are the most sought-after animals to see and shoot with cameras, not guns.
Murchison Falls National Park offers its visitors the opportunity to see four of these incredible creatures. More than 10,000 buffalos call the park their home. Murchison Falls is also well-known for its huge herds of African elephants – the world's largest land animals. Over 1,330 individuals live in the park and are at an increase. Lions are regularly observed on game drives north of the Nile.
Leopards are slightly more elusive to find on a Murchison Falls National Park tour but with a little luck and good timing you should be able to see them. Rhinos are yet to be reintroduced to the Murchison Falls National Park, but you can easily track them on foot in the neighboring Ziwa Rhino Sanctuary. The sanctuary is currently home to 34 Southern White Rhinoceros.
Antelopes In Murchison Falls National Park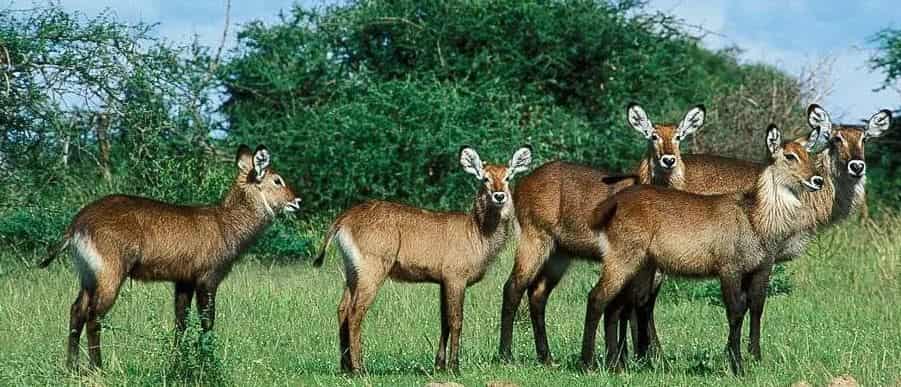 Antelope' is a term used for even-toed ungulate species with bony horns confined to Africa and Eurasia. They are known for their long, slender legs which give them great speed. Their unbranched horns do not shed like deer.
Murchison Falls National Park is home to several species of antelope, including Defassa Waterbuck, Bushbuck, Oribi, Sitatunga, Jackson's Hartebeest, Grey duiker and Bohor reedbuck. The park also hosts around 35,000 Uganda kobs – the Uganda national animal.
Birds In Murchison Falls National Park
Over 450 bird species can be found in the Murchison Falls National Park!
Because of this incredible diversity, the park is one of the best places Uganda bird watching tours. For birders and non-birders, the prehistoric Shoebill is high on the list of must-sees, and the swampy Nile Lake Albert Delta is one of the best places to spot one.
Other fantastic bird species you can see Murchison National Park include African skimmer, Abyssinian ground hornbill, Secretary birds, African fish eagle, Blue-throated roller, Beaudouin's snake-eagle, Blue swallows, Cassin's spinetail, Chocolate-backed kingfisher;
Northern carmine bee-eater, Great blue Turaco, Rock pratincole, Goliath heron, Red-throated Bee-eater, Grey-crowned crane, Saddle-billed stork, Nahan's francolin, Senegal Coucal, Pel's Fishing Owl, White-thighed hornbill, Red-winged Grey Warbler, Black-headed lapwing, African Darter, African Dwarf Kingfisher, Brown twinspots, and Black-headed Gonolek.
Murchison Falls National Park Entrance Fee
| | |
| --- | --- |
| Visitor Category | Fee |
| Foreign non-residents (Adult) | US Dollars 45 |
| Foreign residents (Adult) | US Dollars 35 |
| Children foreign non-residents | US Dollars 25 |
| Children foreign residents | US Dollars 15 |
| East African Citizens (Adults) | Uganda Shillings 25,000 |
| East African Citizens (Child) | Uganda Shillings 10,000 |
All Murchison Falls National Park fees are payable at the gate at time of entrance. You can also pay for the entrance fees at the UWA reservation office in Kampala.
The payment options also include Mobile money (Airtel money pay & MTN Momo pay), payment through Point of Sale (POS Machines), bank transfers, direct bank transactions and payment through the UWA online payment portal
Park fees are valid for 24 hours from the time of entrance.
Children are persons aged between 5-15 years. Persons below 5 years are exempt. Entrance fees are independent of safari package activities.
Murchison Falls National Park Activities: things to do in murchison falls national park
From game drives, boat safaris, hiking, sport fishing, chimp trekking, bird watching, sightseeing, bush breakfast, camping to sun-downers, Uganda's Murchison Falls National Park offers unforgettable experiences. Here is a brief description of the best Murchison Falls National Park activities. You can contact us for cost of each activity and more details.
1. Boat Cruise to the Bottom of the Falls
A safari boat cruise is a special experience that few parks are able to offer. Murchison Falls National Park offers boat safaris on the Nile that provides the perfect opportunity to see and photograph the animals.
The safaris start Paraa, which means 'the place of hippos' in Luo. The most popular option is the relaxing three hour boat cruise to the base of the Murchison Falls, which starts in afternoon. You cruise past hundreds of hippos, Nile crocodiles, and water birds, as well as elephants, buffalos and giraffes quenching their thirsty in the world's longest river. Then, finally, you pause a short distance from the bottom of the mighty Murchison Falls – the world's most powerful waterfall!
2. Nile Delta Lake Albert Boat Cruise
You can also go on a boat cruise of about 20 km (5 hours) downriver to the delta where River Nile enters Lake Albert. The area is a magnet for birdlife, as well as game, and is incredibly lush and pretty. It offers one of the best chances anywhere in Africa to see the rare Shoebill and it is highly recommended for visitors on Uganda birding tours.
Scheduled delta area cruises with a "breakfast on board" option are offered in the mornings departing from Paraa at 07.00 am. Your trip can also be tailor-made with a private boat and timings to suit your interests. You can even opt for a fishing boat cruise if you want. The boats have roofs, which is handy for protecting you from the sun.
Fees – US$55 per adult
3. Day Game Drives
Game drives take place on the northern side of Murchison Falls National Park, where many of the animals can be spotted easily roaming in the palm dotted savannah grasslands and between the woodlands. A 4X4 safari vehicle is advised.
A typical day game drive lasts 3 to 4 hours. It usually starts at 6 am as the sun comes up. Sunrise is the best time for game viewing as animals tend to be the most active during the "golden hours", when the first rays of sun come to rest on the savannah. You can also enjoy an evening game drive, starting at around 4.00 pm.
4. Night Game Drive
Murchison Falls is also offers night game drives to watch nocturnal action on the plains. Guided by armed rangers, night drives set out for the dark plains at about 19:00 and lasts for 2 hours. You can spot out the nocturnal creatures like hyenas, lions, leopards, civets, genets, porcupines, bush babies, nightjar, and hippos.
5. Top of Murchison Falls Visit
The visit to the top of the Murchison Falls is another exciting adventure to do in Murchison Falls National Park. It is at the "Top of the falls" from where you have a perfect view of the impressive falls and the river snaking below.
6. Bird Watching
If you are bird lover then Murchison Falls National Park cannot miss out on birding trip in Uganda. Birding will produce savannah species in the northern part, water species along the Nile and the Lake Albert. And the forest species in Budongo Forest!
7. Chimpanzee Tracking
Chimpanzee tracking in Budongo Forest is a perfect inclusion to the big game safaris in Murchison Falls National Park. After the safaris in the hot northern savannah plains, crossing over to the south in the cool and serene Budongo Forest Reserve is very refreshing and unwinding. The chimp trek offers unforgettable encounter with our closest relatives. You also get to see plenty of life in the forest such as monkeys, baboons, birds, butterflies, huge Mahogany trees and a variety of plants and shrubs.
8. Nile River Fishing
You can go fishing on the historic Nile River in Murchison Falls National Park to get the thrilling African vacation experience of snagging the legendary Nile perch, one of the world's largest freshwater fish.
You can also try catching catfish, tiger fisher and several other species that thrive in these deep blue waters. Fishing here is catch-and-release in designated spots. You will have the assistance of a skipper guide on board the boat and all the equipment you need will be provided. The largest fish ever caught in these waters weighed a record-breaking 108 kilograms.
Murchison Falls National Park Accommodation
Murchison Falls National Park offers basic yet pleasant camping sites and lodges for the more budget-restricted traveler. There are also a handful of lodges that offer mid-range and luxury accommodation and facilities.
| | |
| --- | --- |
| Paraa Safari Lodge | Luxury |
| Bakers Lodge | Luxury |
| Nile Safari Lodge | Luxury |
| Murchison River Lodge | Midrange |
| Pakuba Safari Lodge | Midrange |
| Fort Murchison Safari Lodge | Midrange/Budget |
| Red Chill Rest Camp | Budget |
| Hornbill Safari Lodge | Budget |
| Heritage Safari Lodge | Budget |
FAQs
1. What Is The Weather Like In Murchison Falls National Park?
The weather and climate in Uganda's Murchison Falls National Park is tropical and hot. Temperatures are quite uniform all year round. Daytime temperatures of approximately 31°C/88°F are common, with it cooling down at night to around 18°C/64°F.
2. When to Visit Murchison Falls National Park?
Murchison Falls National Park is a year-round safari destination and there is no truly bad time to visit. In terms of wildlife viewing, marginally the best time for a Uganda safari is the main Dry season, which runs from December to February.
These months are also good for bird watching tours, as Palearctic migrants are present in Uganda from November to April. However, January and February can be very hot, with midday temperatures routinely soaring over 33°C/91°F.
The Wet season, which typically begins in March and runs to November, tends to be more comfortable climatically, and the scenery is lusher/greener from June onwards. June and July are optimal in terms of relatively low temperatures and rainfall.
If you will also be trekking gorillas and/or chimpanzees while in Uganda, you might want to factor in the best months for these activities. The best time for Gorilla trekking is from December to February and June to August. Chimpanzees in Kibale Forest National Park are easiest to track from December to March and June to July.
3. How Many Days Do You Recommended For Murchison Falls Safari?
The most usual duration for a stand-alone Murchison Falls National Park safari tours is 3 days, but 2-day and 4-day safari itineraries are also offered by many Uganda tour operators. Given that the drive there and back requires at least 6 hours, a 2-day safari will be very rushed and is not recommended unless you absolutely cannot extend the trip any longer.
A 3-day safari Murchison Falls National Park safari will be more relaxed as it effectively doubles the time you spend in the park. In our view, 4 days is even better, especially if you want to track chimpanzees in Budongo Forest and visit Ziwa Rhino Sanctuary along the way.
4. How much does a Murchison Falls safari cost?
The typical price of a cheap 2- to 4-day Murchison Falls safari is around US$190 to US$250 per person per day. Midrange safari can cost from US$ 250 to US$ 300 per day and a luxury safari can cost from US$ 350 to US$ 600 per day. This will usually include accommodation, meals, transport, and park entrance and activity fees. It will exclude drinks, tips and any activities listed as optional. Expect to pay slightly more for a package that includes chimp trekking in Budongo Forest.