Lake Victoria is the key source of the world's longest river and ranks among East Africa's most important geographical features, but is seen by surprisingly few visitors.
With a surface area of just under 70,000 square kilometers, Lake Victoria also boasts the titles of Africa's largest lake by area, the world's largest tropical lake, and the world's second-largest freshwater lake by surface area after Lake Superior in North America.
Yet despite its vast size, the shimmering lake is quite shallow. It is only 80 meters at its deepest and there is little wildlife compared to the smaller Rift Valley lakes like Lake Albert, Lake George, Lake Nakuru, Lake Naivasha, or Lake Manyara. Named after Queen Victoria, the giant lake borders three East African countries: Tanzania occupies 49%, Uganda 45%, and Kenya 6%.
Traveling between these African countries via Lake Victoria is, sadly, a luxury of the past. Situated in a fertile basin, the area is predictably densely populated and heavily cultivated. And given that much of its shoreline is swampy and infested with bilharzia, swimming is not a good option.
Several hotels and lodges in Entebbe, Jinja, Masai Mara Reserve, or Serengeti National Park offer day trips or fishing expeditions to Lake Victoria but rarely feature on the Tanzania safari, Kenya safari, or Uganda safaris.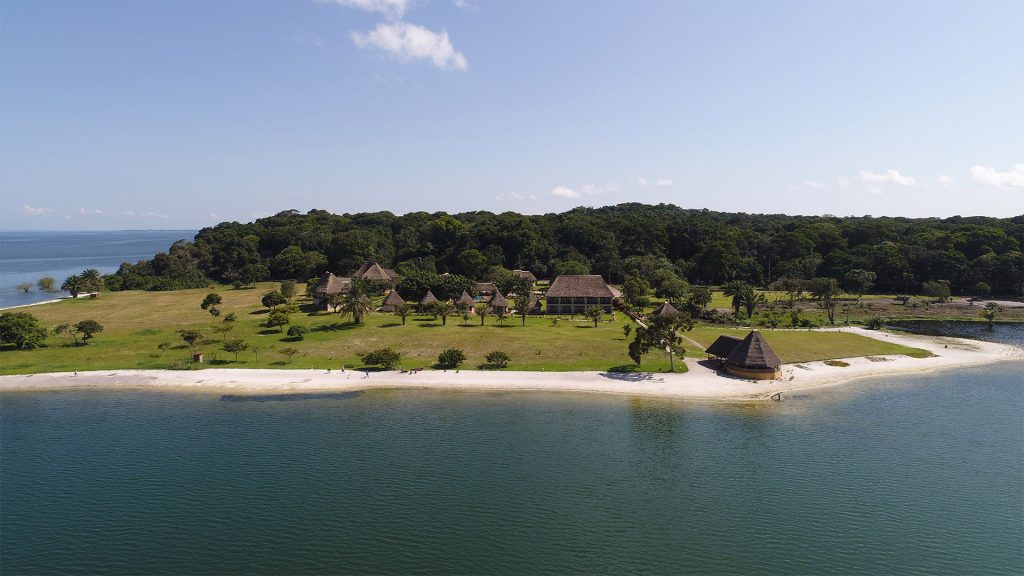 Although it has multiple local language names such as Nalubaale in Luganda and Ukerewe in Swahili, this magnificent body of water was renamed after Queen Victoria of England.
John Speke (the British explorer) was the first European to find the lake in 1858 during his expedition to find the source of the Nile and decided to dedicate his discovery to Queen and country. John Hanning Speke believed that the lake was, in fact, the source he had been looking for and this is now widely accepted as being true.
Quick Lake Victoria facts
Geologically, Lake Victoria very young at about 400,000 years old.
Lake Victoria covers a gigantic area of around 68,000km2
Lake Victoria is not that deep. Its basin is at an average depth of 40m.
Lake Victoria has dried up completely at least three times since it formed.
The lake was created by the same geological shifts that created the Great African Rift Valley
Lake Victoria receives 80% of its water from direct rainfall.
Lake Victoria receives its water additionally from rivers and small streams.
River Kagera is the largest river flowing into this lake
River Nile is only outflow from Lake Victoria, which exits the lake near Jinja in Uganda.
In terms of contributed water, this makes Lake Victoria the principal source of the Nile
But, the most distal source of the Nile is considered to be one of the tributary rivers of River Kagera which originates in either Rwanda or Burundi.
What Animals Are Native to Lake Victoria?
Besides the spectacular array of birdlife and wetland animals, Lake Victoria has fostered several native species. Among these are several types of cichlids, many of which are notable by their vibrantly-coloured scales.
More elusive – or, possibly extinct – is the Lake Victoria Deepwater Catfish. Dwelling at the bottom of the lake, this little-known catfish is thought to have been brought to near-extinction by the introduction of the Nile Perch – one of the world's largest freshwater fish.
Things to do at Lake Victoria
1. Visit Lake Victoria Islands
Rubondo Island National Park in Tanzania- situated in the southern part of Lake Victoria is one of its many islands. There is a good range of big game on this forested island – including giraffes, elephants, and chimpanzees. There is also a bird list of more than 400 species.
Ssese Islands in Uganda, located close to Entebbe City, offer visitors to Uganda the chance to soak up a little of Lake Victoria's atmosphere. The emphasis on these beautiful islands is less on wildlife and more on rest, relaxation, and interaction with the local fishermen.
Another wonderful island situated near the equator line and close to Entebbe is Ngamba Island, Uganda's sanctuary for orphaned chimpanzees rescued from zoos, illegal trade, and circuses, which are now free to roam the island and play in its towering trees and tangled vines.
2. Visit the Source of the Nile
The source of the Nile has long been disputed. It was initially thought to be Lake Victoria.
But, in 1837, Dr. Burkhart Waldecker, a German explorer claimed that the source could be traced further back to the headwaters of Kagera River, the largest river that flows into Lake Victoria.
Even as recently as 2006, explorers from New Zealand and UK said that the true source is in Rwanda's Nyungwe National Park.
Despite all the claims River Nile does certainly leave Lake Victoria as Victoria Nile in Jinja. Here, the water spills out of Lake Victoria on its 6700km journey north to the Mediterranean Sea in Egypt flowing fast from the get-go
The Speke Monument, one of the tallest monuments in Uganda stands in the exact place where Speke first beheld the 'Historic Nile River'.
Exploring the source by boat cruise is a popular option. The Grade 4 and 5 rapids of Nile here also offers some of the best white-water rafting and kayaking in the world.
3. Searching for Shoebills in Mabamba Swamp
Mabamba Swamp – a Ramsar Important Bird Area is located on the edge of Lake Victoria, about 57km from Kampala and an hour's drive from Entebbe.
The name derives from emamba – the local name for a species of lungfish.
This wetland consists of 16,500 hectares of papyrus beds, small channels, and lagoons – a bird watchers' dream destination. Mabamba is home to 300 bird species, including the massive shoebill – Uganda's most sought-after bird! Birding in Mabamba is a great experience.
You will have a traditional canoe ride, and a local guide will take through the maze of channels while educating you about the local ecosystem and the best photography spots.
You have the highest chance of seeing the Shoebill in the early morning, but you can also expect to see other remarkable species like the African marsh harrier, African Jacana and African fish eagle..
4. Tour the Uganda Wildlife Education Centre
Uganda Wildlife Education Centre (UWEC) was established in 1994 as a trust to revive the neglected Entebbe Zoo and provide leadership in educating Ugandans about the benefits of conserving the country's biodiversity.
Situated on the shore of Lake Victoria, UWEC now hosts several of Uganda's endemic species and offers a number of "behind the scenes" activities, which can be organized through Tulambule Uganda Safaris. Find out more about the Uganda Wildlife Education Centre.
5. Leisurely Boat Cruises on Lake Victoria
Why not treat yourself to a leisurely Lake Victoria sunset cruise? In late afternoon, you can cruise from Entebbe towards the equator line or local islands to view the sun over the horizon. You'll see fishermen as they cast their nets and enjoy the snacks and drinks provided on board.
Depending upon your cruise we meet In Entebbe, at Banga Beach or Nakiwogo, where safe parking is available. Excursion times for sunset cruises are around 1 to 1 hours in the late afternoon from approximately 5.00 pm but can be flexible, depending upon requirements.
6. Fishing Excursions on Lake Victoria
With Lake Victoria offering the opportunity to hook one of the world's largest freshwater fish the Nile Perch, anyone with some free time and an interest can enjoy this day out.
We offer half and full-day excursions for "catch and release" of Nile Perch and we know the best spots, and methods and also have experienced and knowledgeable skippers who have a good command of the English language.
Where to stay at Lake Victoria
1. 2 Friends Beach Hotel Entebbe
This mid-range hotel is located on the shores of Lake Victoria and it is one of the few hotels in Entebbe to make use of Lake Victoria's beaches, with its private patch of sand, complete with bamboo bar. While you cannot swim in the lake due to bilharzia, there is a swimming pool at the hotel, and the vibe is a permanent beach party.
2 Friends Beach Hotel can be conveniently accessed from Kampala and the best spots around Entebbe. The hotel is also located only a 10-minute drive from Entebbe International Airport but without any of the airport noise. It offers you one free airport transfer to or from the hotel.
2. Lake Victoria Serena Resort and Spa Entebbe
This luxurious 5-star hotel is run by Serena Hotels, a company with an impressive portfolio of deluxe properties across Africa and Asia.
The resort is set on the beautiful shores of Lake Victoria. It is conveniently located just a 35-minute drive from Entebbe International Airport – and it is also just a 35-minute drive from Kampala, offering the chance for guests to tour Uganda's capital too.
Lake Victoria Serena Resort & Spa is also a perfect overnight stop before or after a wildlife safari in Uganda. Accommodation here suits all types of travelers, and one category has even won Uganda's Leading Hotel Suite for three consecutive years at the World Travel Awards.
3. Lake Victoria Hotel (Entebbe)
Protea Hotel is situated next to Entebbe International Airport. It is a luxury 4-star resort hotel that offers excellent access to Lake Victoria.
Its restaurant provides a delicious à la carte menu and its daily specials are very popular. They often include Tilapia and Nile perch. A visit to the Tides Spa is a fantastic way to unwind after a day of adventures at the lake.
5. Mirembe Resort Beach Hotel (Ssese)
Mirembe Resort Beach Hotel is situated on the shoreline of Bugala Island in Ssese. The resort's name, 'Mirembe' is derived from the Luganda word for 'peace'.
The resort is designed to blend in with its stunning surroundings. It contains several accommodation options. You can choose between deluxe rooms, cottages, block houses, and tents.
The Restaurant has a traditional African grass-thatched roof. It serves a blend of African and continental dishes that are prepared with fresh, local ingredients.
Nkima Forest Lodge is a small eco-lodge overlooking the nearby Mabamba Swamp.
The lodge is ideally located for early morning and late afternoon trips into the wetland to search for shoebills and other waterbirds on a community boat trip.
Accommodation consists of 6 self-contained cottages with balconies.
Two-family cottages have two bedrooms which can sleep four adults or a family with three children or two singles sharing a bathroom. Other rooms can be single, double, or twin.
When is the best time to visit Lake Victoria?
The best time to visit Lake Victoria for birding, fishing, and boat cruises g is during the dry season from June to early September.
During this time, fewer water sources are available inland, causing a greater variety of birds to gather at Lake Victoria. However, the long rainy season of March to May can also be an exciting time to visit Lake Victoria.
If you are unperturbed by downpours and rougher waters, you can watch as Lake Victoria is rejuvenated by new flowers, grasses, and avian chicks.