Nairobi National Park | safari in nairobi national park, Kenya
Nairobi National Park in Kenya is one of the Africa's most distinctive landscapes. It is no match for the Maasai Mara National Reserve or Serengeti National Park, but where else in the world can you see a towering giraffe against a backdrop of skyscrapers?
Nairobi National Park is the only national park in world set inside a capital city. Some of the busiest roads of Nairobi run along the park's northern frontier. Also, Jomo Kenyatta International Airport runway is less than 3 miles from the fence of the park.
Shopping malls, schools, and every imaginable modern convenience is just a stone's throw from open savannah grassland where lions, zebras, giraffes, hippos, and their friends thrive.
Nairobi National Park is not zoo. The animals here are as wild as those of the Kenya's rural areas more often associated with traditional African safaris.
History Of Nairobi National Park
British colonists arrived in the area where Nairobi National Park is in the late 19th century. During this time, the Athi plains east and south of what is today Nairobi had abundant wildlife.
Maasai pastoralists lived here, herding their cattle among the wild animals. As Nairobi grew, it had population of around 14,000 people by 1910 and human-wildlife conflicts increased. Residents moved with guns at night to protect themselves against lions.
Animals were slowly confined to the vast plains to the west and south of Nairobi, and the colonial government set this area aside as a wildlife game reserve. Settlers from Nairobi including Isak Dinesen, author of Out of Africa, rode horses among zebras, impalas, and gazelles in this reserve.
The conservationist Mervyn Cowie was born in Nairobi. Returning to Kenya after a 9-year absence in 1932, he was worried to see that the amount of game animals on the Athi plains had decreased.
Expanding farms and livestock had taken the place of the game.
He later recalled this place as a paradise that was quickly disappearing. At this time, the area that would later become Nairobi National Park was part of the Southern Game Reserve.
Hunting was not permitted in the reserve, but nearly every other activity, including dumping, cattle grazing, and even bombing by the Royal Air Force was allowed. Cowie started to campaign for the establishment of a national park system in Kenya.
The government formed a committee to scrutinize the matter. Officially opened in 1946, Nairobi National Park was the first national park established in Kenya. Maasai pastoralists were removed from their lands when the park was created.
Is Nairobi National Park fenced?
Yes, Nairobi National Park is fenced on three side; northern, eastern and western margins. This is due to the fact that these areas surround Nairobi city. But, the park's southern border, which follows Mbagathi River, is open to the Kitengela Game Conservation Area to the south.
Animals can enter and leave the park through a wildlife corridor stretching to the Athi-Kapiti Plains to the southeast. Thus Nairobi National Park plays a crucial role in the larger Athi-Kapiti ecosystem by allowing for the seasonal migration of many of wild animals.
Animals You Will See On Your Nairobi National Park Safari
Apparently unworried by their proximity to civilization, the animals of Nairobi National Park flourishes in the surprising diversity of habitats available, including lush forests, marshlands, rolling savannah plains, and stretches of riverine valley.
Only elephant is the missing member of African Big 5 animals in Nairobi National Park. You will have to visit Masai Mara, Amboseli, Ol Pejeta, Samburu or Tsavo – among many other national parks and conservancies – to see elephants.
However, most famous inhabitants of Nairobi National Park are undoubtedly the black rhinos. The likelihood of seeing a black rhino here is higher than most other locations in Africa.
According to Kenyan authorities, the park is home to around a hundred of these critically endangered and rare creatures. It is also home to Southern white rhinos, although in smaller numbers.
And its success in rhino conservation has earned it the nickname "Kifaru Ark". Kifaru means 'rhino' in Swahili language) Also Nairobi National Park is considered a Lion Conservation Unit by the IUCN Cat Specialist Group. At the latest count, more than 40 lions inhabit the park.
2. Cheetahs, Leopards, and Servals
Leopards and cheetahs are less often seen, and encounters tend to be brief. However, the graceful Serval cat, their smaller spotted cousin is a common sight in Nairobi National Park.
This is one of the best national parks in Kenya to see these little hunters and one of Africa's most graceful cats. And the, time you spend with serval cats, the more you will learn about these mysterious little cats with their model-like legs, handsome faces, and sense of absolute self-possession.
3. Giraffes, Zebras, Impalas, Ostriches and more!
Long-necked giraffes and ostriches also inhabit Nairobi National Park's plains and they can be seen out-competing distant skyscrapers to dominate the horizon.
Herds of Common eland (the second-largest antelope in the world) nibble through the open woodlands. Hartebeests, gazelles, Impalas, and zebras are abundant, and hippos and crocodiles lurk in the park's rivers and dams.
Other animals in Nairobi National Park include spotted hyenas, black-backed jackals, and warthogs.
4. Birds In Nairobi National Park
Bird watching in Nairobi National Park is even more impressive than the diversity of mammals. Over 520 bird species have been spotted and recorded, which is one of highest counts of any national park in Kenya.
And if you are a keen birder, you can rack up a checklist of 200 different species in a day. Iconic grassland birds like secretary birds, yellow-throated Longclaw flourish, and flocks of grey-crowned cranes are common. Other special bird species include:
Jackson's widowbird
Madagascar pond-herons
Lesser falcons
Corncrakes
Abyssinian thrush
Fischer's lovebird
Hartlaub's bustard
Kori bustard
Lappet-faced vulture
Lesser kestrel
Martial eagle
Pallid harrier
Sharpe's longclaw
Sooty falcon
White-bellied bustard
White-headed vulture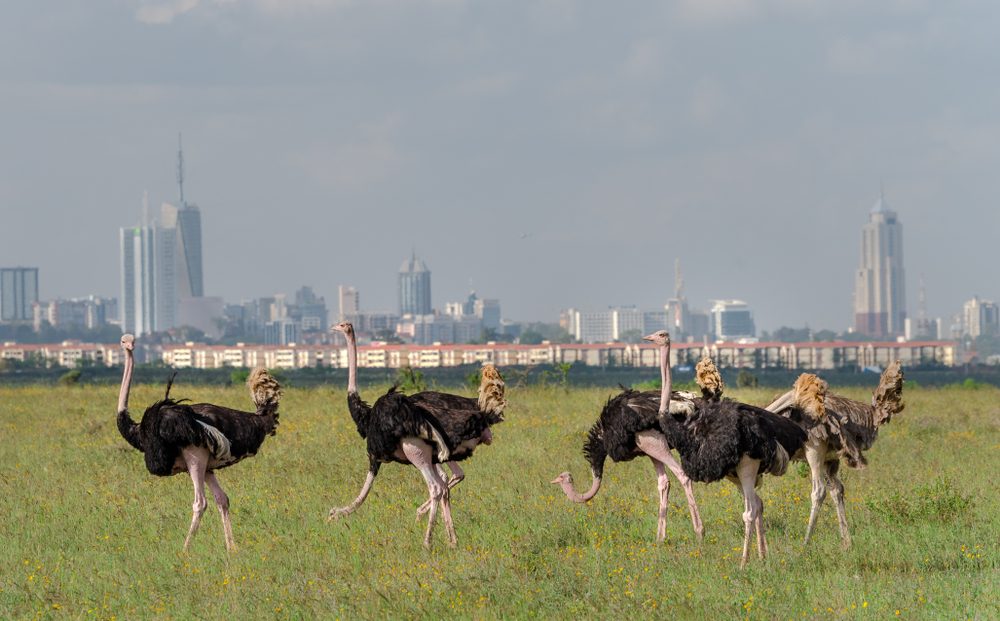 Mammal migration in Nairobi National Park
Kenya is most know for the Great Wildebeest Migration – an annual circular journey of about 1.5 to 2 million wildebeests and zebras that takes place in the Masai Mara National Reserve.
However, very few visitors on East Africa Safaris realize that East Africa was once home to several animal migrations as the seasons and rainfall dictated water availability and food abundance.
As is the case with countless ecosystems across the world, humanity's relentless growth and development has result into disappearance of these ancient cycles as roads, fences, and cities sprung up to block animal migration paths. But, some of these migrations still occur on a very smaller scale.
One such example is the movement of mammals to the plains of Athi-Kapiti and beyond from Nairobi National Park. During the rainy season months, wildebeest and Zebra herds, plus an assortment of antelopes, scatter across the open savannah plains of Athi-Kapiti.
As the rain dries up and the dry season sets in, many of these animals travel back north to the reliable water points in Nairobi.
Evaluating the ancient paths and magnitude of all-but-extinct animal migrations is a difficult task that frequently involves a fair bit of guessing.
While it is not possible to know for sure, it is probable that the Athi-Kapiti mammal migration formerly included large numbers of animals (including elephants), with species migrating all the way north through Nairobi to the permanent streams flowing from the snow-capped peaks of Mt Kenya.
Unfortunately, because of habitat degradation and land fragmentation, the Athi-Kapiti migratory has all but virtually vanished. The thousands of wildebeest spotted in Nairobi National Park towards the close of the twentieth century have been reduced to a few hundred.
However, migrations have been shown to return when impediments are eliminated, and promising Kenyan conservancies hold great hope for preserving wildlife corridors.
Where to Stay On Your Safari in Nairobi National Park? | Nairobi national park hotels
For adventurous visitors, Nairobi National Park offers 3 public campsites.
Nonetheless, many of the visitors to the park choose to take advantage of the proximity to Nairobi city and select one of the luxury lodge/hotel options near the park park's. You can opt to stay in the city and immerse yourself in Nairobi's vibrant (sometime chaotic) atmosphere
Nairobi National Park size implies that you can easily explore it in a day. But its variety of birds, plant, and animal life ensures that extended stays are never dull. The remaining migrating animals return to the park in the dry season from late June to October, making this the best time to see wildlife in Nairobi National Park. But, the park can be visited all year round.
What to Do in & Near Nairobi National Park? | Nairobi National Park Tour Activities
Your wildlife safari activities in East Africa are sure to include game drives, and you can experience the same sense of adventure and excitement in the urban safari park of Nairobi.
Wildlife game drives here are best enjoyed early morning and late afternoon when the animals are most likely to be active. They are done in wonderful comfort of 4×4 safari vehicle with a pop-up roof for easy animal viewing. Full day game drives are also offered.
More than 52 species of migratory and endemic feathered fauna are also found in the park, such as flightless ostriches, Secretary birds, Jackson's widowbird, and many more!
Nairobi National Park also offers nature walks along the trails near the hippo pools, as well as the Nairobi Safari Walk.
You may also request a sundowner where you travel to a breathtaking setting to enjoy a refreshing cocktail as the sun sinks into the horizon.
Nairobi National Park has many unfenced picnic sites where you can stop for a few hours and absorb the ambience or munch on some brunch. One such picnic area is located at the park's most popular attraction: The Ivory Burning Site Monument.
Here 12 tons of ivory was set fire by the Kenyan President, Daniel Arap Moi in 1989. This image of the burning ivory made headlines across the globe – a powerful and profound statement of wildlife conservation intent from the Kenyan nation. From that time, many stockpiles of seized ivory and horns of rhinos have been set alight as a commitment against poaching.
5. Visit David Sheldrick Trust's wildlife orphanage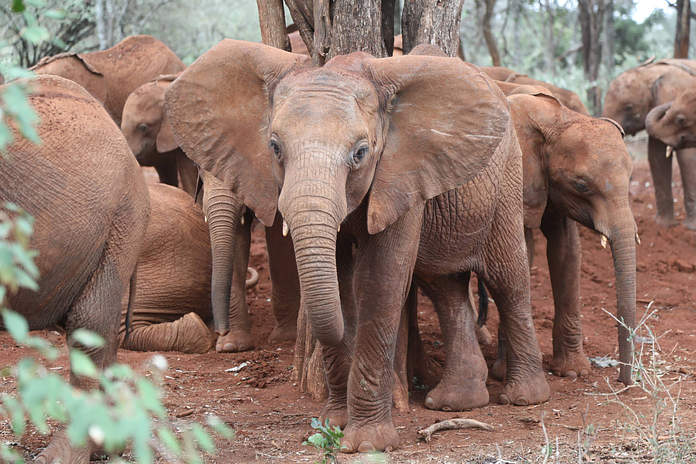 After a meaningful but emotionally difficult tour to the Ivory Burning Site, an excursion to the world-famous David Sheldrick Trust's wildlife orphanage may be in order.
Here you will be treated to the chance to meet hand-reared baby elephants and, sometimes, rhino orphans before they are deemed old enough to be released back into the wild.
6. Tour the Giraffe Centre
The nearby Nairobi Giraffe Centre which protects the highly endangered Rothschild's giraffe, combines serious conservation with enjoyable activities. Here, you can observe, hand-feed or even kiss one of the giraffes from a raised wooden structure, which is quite an experience. This is one of Kenya's good-news conservation stories.
In 1979 Jock Leslie-Melville (the Kenyan grandson of a Scottish earl) and his wife, Betty, began raising a baby giraffe in their Langata home. At the time, when their African Fund for Endangered Wildlife (AFEW) was just getting off the ground, there were no more than 120 Rothschild's giraffes (which differ from other giraffe subspecies in that there is no patterning below the knee) in the wild.
The Rothschild's giraffe had been pushed to the brink of extinction by severe habitat loss in western Kenya. Today the population numbers more than 300, and the centre has successfully released these charismatic creatures into Lake Nakuru National Park (home to around 45 giraffes).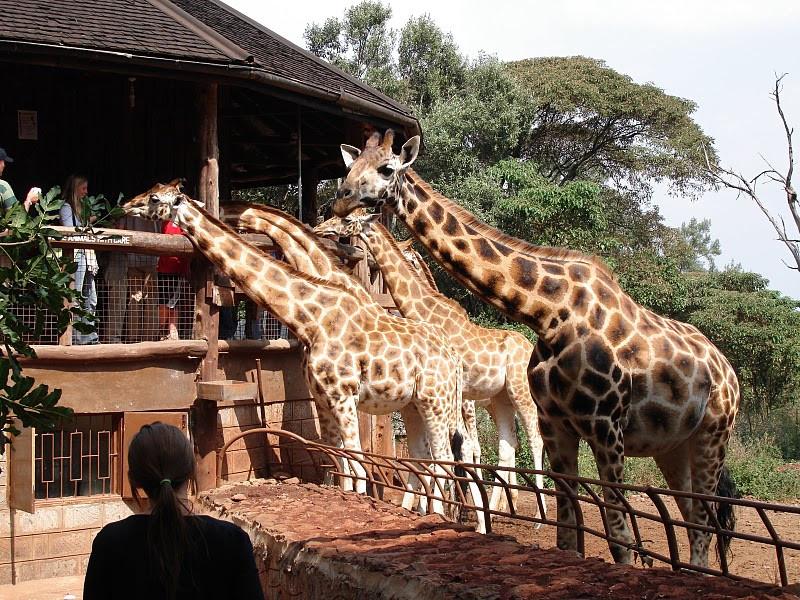 How much is entry fee to Nairobi National Park?
Citizens/Residents:
Adult: KSHS – 430
Child: KSHS – 215
Non-residents:
Adult: US$ – 43
Child: US$ – 22
Final thoughts on Nairobi National Park Tour
Nairobi National Park is a a perfect place to visit if you have a day or two in Nairobi city at the start or end of a wider Kenya safari tour, or in transit to larger Kenya wildlife safari parks like the Maasai Mara National Reserve or Amboseli National Park.